Hash browns topped with pancetta, peppers, onions, and broccoli, sprinkled with cheese and finished with eggs. I've got your all-in-one breakfast right here.
Have you all been enjoying Brunch Week this week? It has been an amazing week so far of delicious brunch recipes that have had me drooling on my keyboard every day.
Let's not take that statement out of context, mmkay? I prefer to not sound like a complete loon.
In case you missed Monday's Banana Bacon Pancakes and Wednesday's Springtime Sweet Rolls, this week I am joining my friends Susan, Terri, and 30 other bloggers for a week-long brunch celebration. We kicked things off on Monday with a fantastic giveaway from 11 incredibly generous sponsors (hurry, there is still time to enter to win!) and are bringing you mouthwatering brunch recipes every day through Mother's Day.
Truly, you have no reason not to make Mom the biggest and best brunch around this weekend.
Today we are backing away from the sweet brunch items and moving into the land of the savory. Breakfast skillets are one of my very favorite things to order when I go out for brunch – I have a hard time deciding if I want eggs, potatoes, something cheesy, something veggie-filled…I basically just want all the things. Breakfast skillets totally allow me to go without making any decisions before noon and get everything I want out of life breakfast.
Breakfast skillets are enablers.
This one happens in three simple stages:
1. Sauté up your veggies. Here I used red onions, bell peppers from Baloian Farms, and broccoli. If you are using any meat, now is the time to toss that in – for me, it was pancetta. Because, yum.
2. Crisp up your hash browns. Once you remove your veggies to a bowl, use that same skillet to crisp up the 'browns.
3. Assemble. Top your crisped hash browns with the cooked veggies, sprinkle on some cheese, and finish with eggs cooked to order. For this recipe, I give you instructions for baking them right on top of everything else, but you could also scramble, poach, fry…whatever you like.
There you have it! A simple process for creating your own breakfast skillets at home. Change up the ingredients as you like – or follow my recipe. It's up to you!
Make sure to check out the other amazing recipes from my fellow bloggers today:
Brunch Beverages:
Brunch Eggs:
Brunch Mains:
Brunch Breads:
Brunch Fruit and Sides:
Brunch Desserts: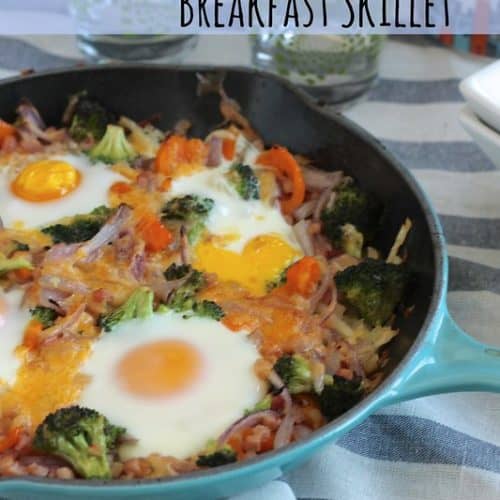 Ingredients
1/2

red onion

sliced

3/4

cup

diced colored bell peppers

1

cup

broccoli florets

4

ounces

pancetta

10

ounces

shredded hash browns

1/2-1

cup

shredded cheese

4

eggs

Salt and pepper
Instructions
Preheat oven to 400 degrees.

In a 10-inch oven-safe skillet, cook the onion, peppers, and broccoli with the pancetta over medium-high heat until the veggies are tender and the pancetta is crisp. Season lightly with salt and pepper. Remove to a bowl.

Add the hash browns to the pan. Cook until crisp on the bottom, 4-5 minutes, then flip. Season with Salt and pepper.

Top the hash browns with the cooked veggies and sprinkle with cheese. Make 4 indentations with a spoon and crack an egg into each indentation. Place the skillet in the oven and bake for about 15 minutes, or until the egg whites are set.

Remove from the oven and serve hot.