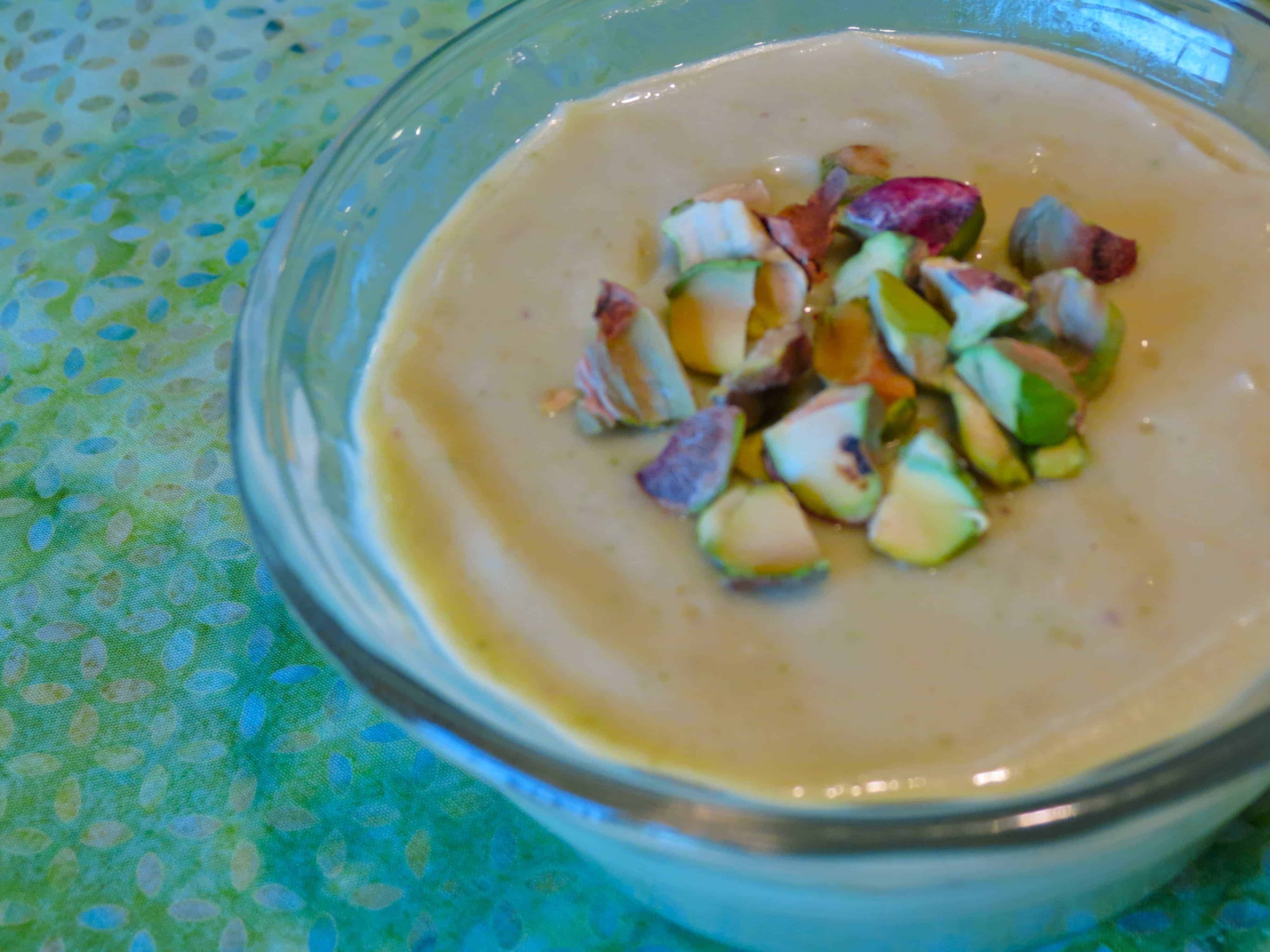 Happy St. Patrick's Day (a day early)!
Around 5 pm tomorrow, my mother will be busy in her kitchen making corned beef, cabbage and soda bread. I can count on one hand the number of times I have missed this meal over the past 23 years. This year I totally spaced buying corned beef OR cabbage and I'm not sure what kind of luck I would have finding either at this late stage in the game, so it looks like I will be missing it again. Maybe I will just make a pot pie instead. That's totally a logical swap, right?
No?
Ok, what if I own up to my Irish roots, not by drinking green beer (don't even get me started on how revolting that sounds) or putting green food coloring in everything (also somewhat revolting), but by making something delicious that also happens to be naturally pleasantly pale green?
Is that ok?
Yes?
Phew.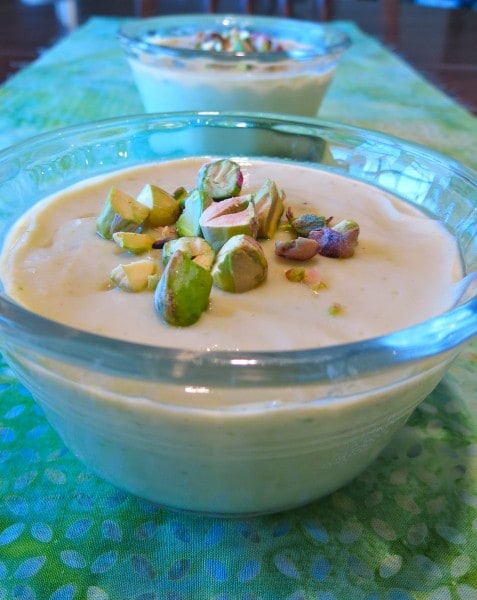 Here is a confession. I had to make this pistachio pudding twice to get it right. Not because I messed up the recipe the first time, but for another reason entirely. You see, in the effort to save time and make things easier, already shelled, roasted pistachios were purchased for the initial making of this pudding. Seems like a good idea, right?
Wrong.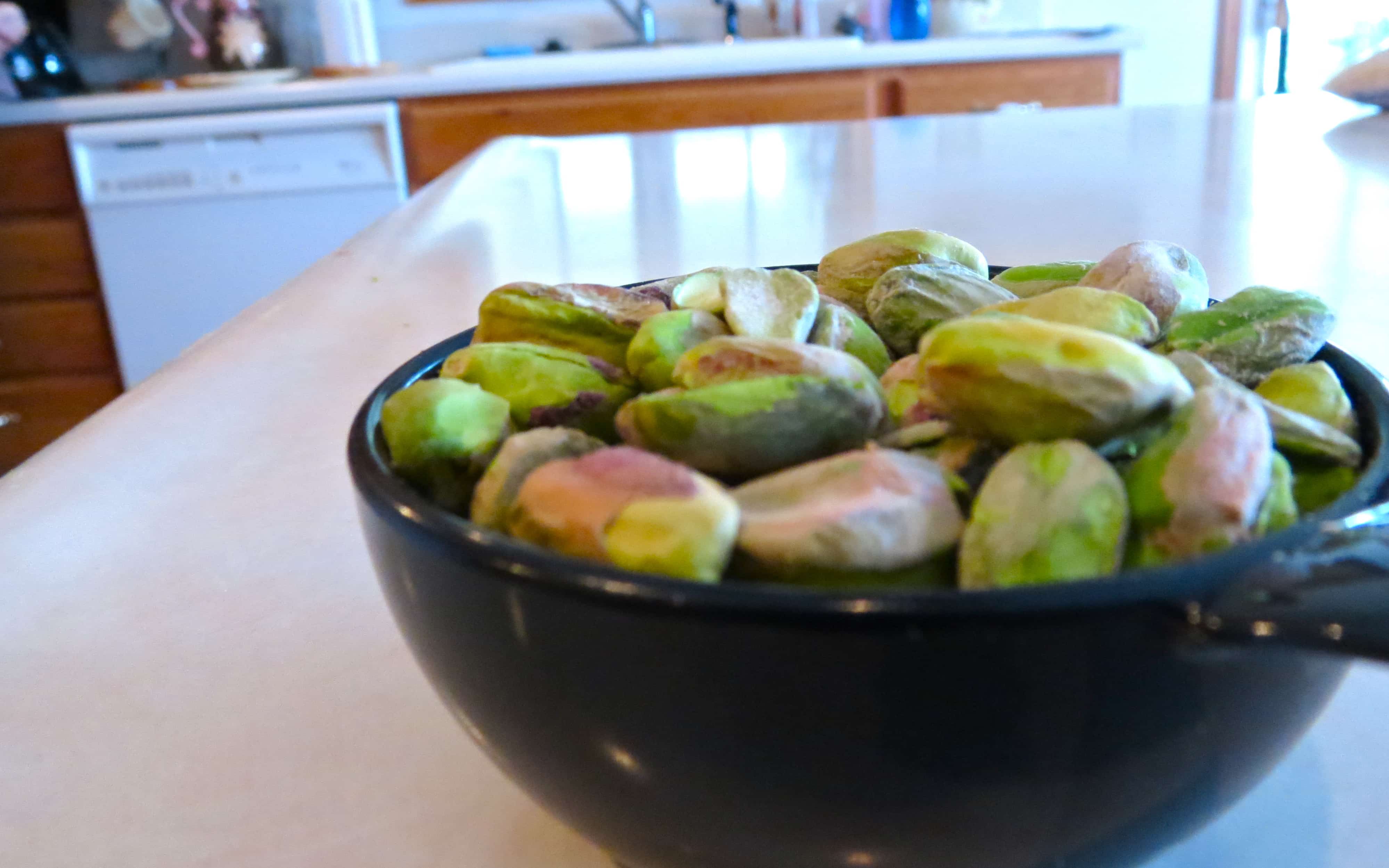 You see, the pre-shelled guys were shelled, THEN roasted – meaning that they were darker and lost a lot of their pretty green color! And while the pudding tasted fine, it didn't turn out green…it was brown. It still tasted great, but it didn't so much bring to mind leprechaun joy so much as something else that might come out of a leprechaun…
So. The moral of the story? Suck it up and buy the pistachios that are still in their shells. Yes, you will have to take a few extra minutes to shell them yourself, but you will actually end up with a nice, pale green pudding. The end result will be much prettier. Trust me.
If you forgot to buy your corned beef and cabbage, no worries. You can still get on the St. Patrick's Day celebratory bandwagon! Just…please. Skip the green beer.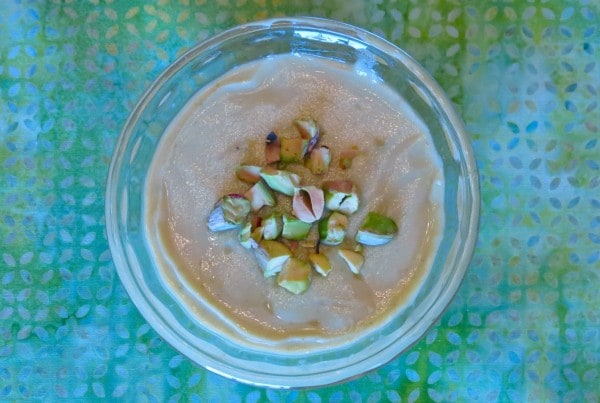 Ingredients
For the pistachio paste:
1/2

cup

salted pistachio nuts

use the ones in the shell

1/3

cup

granulated sugar

2

tablespoons

water
For the pudding:
2

cups

whole milk

2

egg yolks

1/3

cup

granulated sugar

2

tablespoons

cornstarch

pinch

of salt

1

teaspoon

vanilla

2

tablespoons

unsalted butter

softened

1/2

cup

pistachio nuts

chopped (for garnish)
Instructions
In a food processor, pulse the pistachios until roughly chopped. Add the water and sugar and blend until a relatively smooth paste forms.

Transfer the pistachio paste into a medium saucepan; slowly whisk in the milk. Heat over medium heat, whisking occasionally, until the mixture is steamy and hot.

While the milk mixture is heating, use a fork to whisk together the granulated sugar, egg yolks, cornstarch and salt. The mixture will be very thick, but keep stirring it until it is smooth. Once the milk mixture is hot, add about 1/2 cup of the milk to the egg mixture, whisking to combine. Repeat with another 1/2 cup of the milk. (This is called tempering the eggs - it heats them slowly and prevents them from scrambling when they are added to the milk mixture.) Add the tempered egg mixture to the saucepan.

Heat the pudding over medium heat, stirring constantly with a heat-proof spatula, until thick and bubbly, about 3-5 minutes. Remove from heat and stir in butter and vanilla until butter is melted.

Pass pudding through a fine mesh strainer set over a medium bowl. If you would like, add a few of the pistachio bits back into the pudding, taking care not to add any bits of cooked egg that the strainer may have caught.

Spoon the pudding into small ramekins. Wrap with plastic wrap so that the plastic touches the top of the pudding and refrigerate for at least 4 hours or overnight.

Top with chopped pistachios.

Pudding will last, covered in the refrigerator, for up to 4 days. (Well, in theory it will. Ours didn't make it more than a couple of days...)