Ok, so I'm not normally a big fan of pumpkin.
WHAT?!
Yeah, I know. Blasphemy. Especially considering that I grew up just a town over from the Libby's Pumpkin headquarters. The Morton Pumpkin Festival is one of the biggest happenings (ok…maybe the biggest happening) (ok…basically the only happening) in the area all year. And yet…pumpkin just isn't my favorite thing.
Here's the thing: Most "pumpkin" foods don't actually taste like pumpkin. They just taste like pumpkin pie spice.
Pumpkin pie spice ≠ pumpkin.

This year, though, pumpkin and I are back on speaking terms. Thanks to a soon-to-be-shared cake recipe I was working on, I had some leftover pumpkin puree in my fridge and decided to reincarnate my popular Sweet Potato Cookies in the form of Pumpkin Cinnamon Chip Cookies. Thanks to a heaping cup of pumpkin puree in the batter, these cookies really are pumpkin-y. A bit of maple syrup gives them sweet maple notes. And the cinnamon chips…ohhhh, the cinnamon chips. They're just glorious. They create little heavenly pockets of cinnamon in which I want to curl up and sleep. I want to put them in everything I make forever and ever, amen.
Now, the thing about these cookies is that they are actually, dare I say it…almost good for you. Let's evaluate, shall we? Half whole wheat flour. A cup of pumpkin puree. A scant 1/4 cup of oil. Dried cranberries. In fact, this is basically a muffin batter in cookie form; you could make this recipe into muffins if you so desired. I, personally, like eating cookies for breakfast. It makes me feel like a rebellious badass.
I need to get out more.
Now, for something really cool: Right now, you have the opportunity to Bake a Difference with OXO! Our friends over at OXO have a line of baking tools that are benefitting Cookies for Kids' Cancer. For every specially marked item sold, OXO will donate 25 cents in support of pediatric cancer research as part of its $100,000* pledge to Cookies for Kids' Cancer. (Look for specially marked OXO products at participating retailers.) The products will have the following image on the label: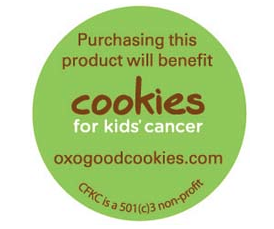 That's right. Making these cookies is also making a difference. How great is that?! And I have to tell you, OXO has some great products that they are including in this campaign. There is really something about this 6 piece measuring cup set that I just can't get enough of. I think it's the grippy handle. Or the fact that they easily snap on and off of their little ring. Or the fact that the set includes 2/3 and 3/4 cup sizes.
So buy, buy, buy and bake, bake, bake. 'Tis the season, after all.
Connect with OXO on:
Facebook | Twitter | Pinterest | Instagram
Connect with Cookies for Kid's Cancer on:
Facebook | Twitter | Pinterest | Instagram

*In 2013, OXO will donate up to $100,000 to Cookies for Kids' Cancer through specially marked baking tools, bake sale matches and other fundraising efforts. Cookies for Kids' Cancer is a recognized 501c(3) public charity duly incorporated under the laws of the state of New Jersey. Your donations are tax deductible to the fullest extent allowable by law. 100% of proceeds raised by Cookies for Kids' Cancer fund pediatric cancer research.
During the month of September, OXO will donate $100 to C4KC for each blog post dedicated to this campaign. I received samples of specially-marked products as part of the campaign, but received no other compensation for this post. All opinions are my own and simply reflect my desire to support a worthy cause!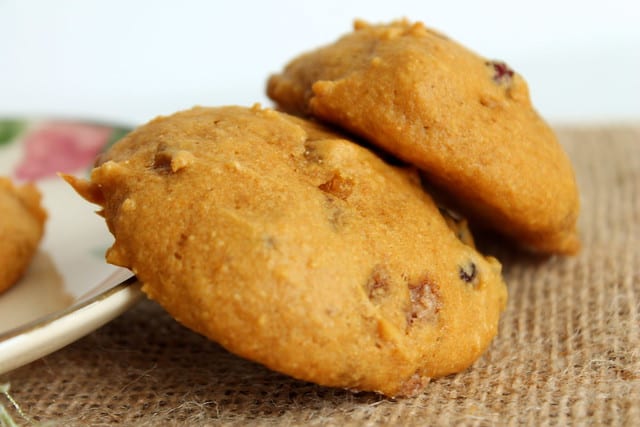 Ingredients
1

cup

all-purpose flour

1

cup

white whole wheat flour

1 1/2

teaspoons

baking powder

1

teaspoon

baking soda

1/2

teaspoon

salt

1/8

teaspoon

nutmeg

2

eggs

1/3

cup

brown sugar

1/4

cup

granulated sugar

1/4

cup

maple syrup

1/4

cup

vegetable oil

1

teaspoon

vanilla

1

cup

pumpkin puree

1/4

cup

+ 1 tablespoon cinnamon chips

1/2

cup

dried cranberries

optional
Instructions
Preheat oven to 350 degrees. Line baking sheets with parchment paper; set aside.

In a large bowl, whisk together the flours, baking powder and soda, salt, and nutmeg.

In a medium bowl, whisk together the eggs and sugars until thick and pale. Whisk in the syrup, oil, vanilla, and pumpkin until well combined.

Add the wet ingredients to the dry ingredients, stirring until just combined. Fold in the cinnamon chips and dried cranberries (if using).

Spoon dough, by heaping tablespoonfuls, onto prepared cookie sheets two inches apart. Bake for 10 to 12 minutes, until puffed and lightly golden around the edges. Allow to cool for a few minutes on the baking sheet before removing to a wire rack to cool.

Cookies will last, well wrapped, at room temperature for about 4 days.