Yeah, I've got a small obsession with roasting things lately.
Fire-Roasted Corn Salsa has made an appearance at dinner only 97,000 times in the past month. Roasted Cherry Barbecue Sauce is just a darn good idea. Then there was a Roasted Strawberry Sourdough Muffin incident earlier this summer. Oh, and Roasted Potato Salad.
Basically, I just want to roast ALL the things!
We've had this discussion before. Roasting fruits and vegetables brings out their natural sweetness, gives them a bit of a caramelized flavor, and makes your house smell outstanding. If there was an air freshener that smelled like roasted tomatoes, I would be on that like a fly on…nevermind.
Recently my momma went on a tomato-buying binge. She hit up our local produce stand (literally, a table set out in my former pre-calculus teacher's front yard – I love small towns) and bought 12 pounds of Roma tomatoes for $8. And then she did it again. And, if I am correct, a third time. What the heck did she do with all of those tomatoes? Well, she roasted them up and stocked the extra freezer with about a million jars tomato sauce (adapted from Girl Versus Dough's Heirloom Tomato Spaghetti Sauce) and this tomato soup. She also kindly gave me several pounds of the ruby-red jewels so that I could do the same.
Problem: In our excitement, we forgot that my freezer is a fraction of the size of my mother's. After making one batch of each recipe (yielding two jars of spaghetti sauce and three of soup), Boyfriend informed me that I am not allowed to buy anything else that needs to be frozen because there literally is no extra room in our freezer. Well, crap.
At least we will have Roasted Tomato Soup to enjoy with our Grilled Pimento Cheese this winter.
Recipe adapted from Joy the Baker.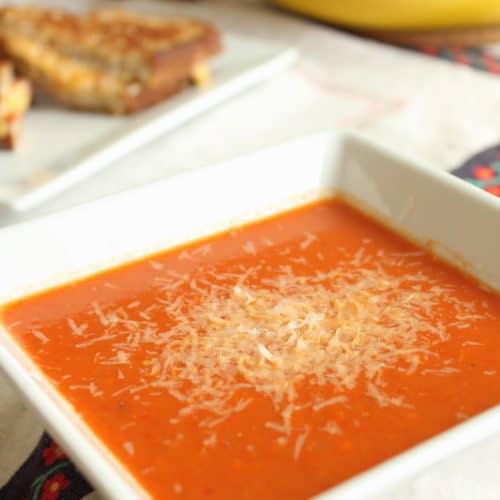 Ingredients
2

pounds

Roma tomatoes

4

tablespoons

olive oil

plus extra for roasting tomatoes

I medium red onion

diced

1

medium carrot

diced

1/2

large red pepper

diced

Splash of red wine vinegar

1/4

cup

flour

3

tablespoons

tomato paste

1

bay leaf

1

quart

chicken broth

1/2

cup

milk

Salt and pepper
Instructions
Roast the tomatoes:
Preheat oven to 400 degrees. Line a sheet pan with aluminum foil.

Quarter tomatoes. Toss with a few drizzles of olive oil and spread in a single layer on the prepared sheet pan. Sprinkle with salt and pepper. Roast for about 45 minutes or until caramelized and luscious.
Make the soup:
Heat oil in a large Dutch oven over medium heat. Add onion, carrot, and red pepper. Cook until onion is translucent and carrots are getting soft, about 7-8 minutes. Add vinegar and cook for another minute, while stirring.

Turn flame to low and add flour, stirring into the vegetables. Add tomato paste and cook for an additional minute. Slowly pour in the chicken broth, stirring constantly to avoid lumps. Add bay leaf and tomatoes. Boost the heat to medium-high and bring to a boil, stirring constantly, then reduce heat and allow to simmer for 30 minutes, stirring occasionally.

Remove from heat and remove bay leaf. Puree using an immersion blender (if using a standard blender, allow to cool slightly before blending, and only do about 1/3 of the soup at a time so as to avoid burns!) until the soup is your desired consistency. Return soup to the pot (if using a standard blender) and add the milk. Season with salt and pepper to taste. If not serving immediately, cool to room temperature before storing in airtight containers and freezing.
Notes
Use almond milk to make this soup vegan, or whole milk to make it extra rich and creamy.