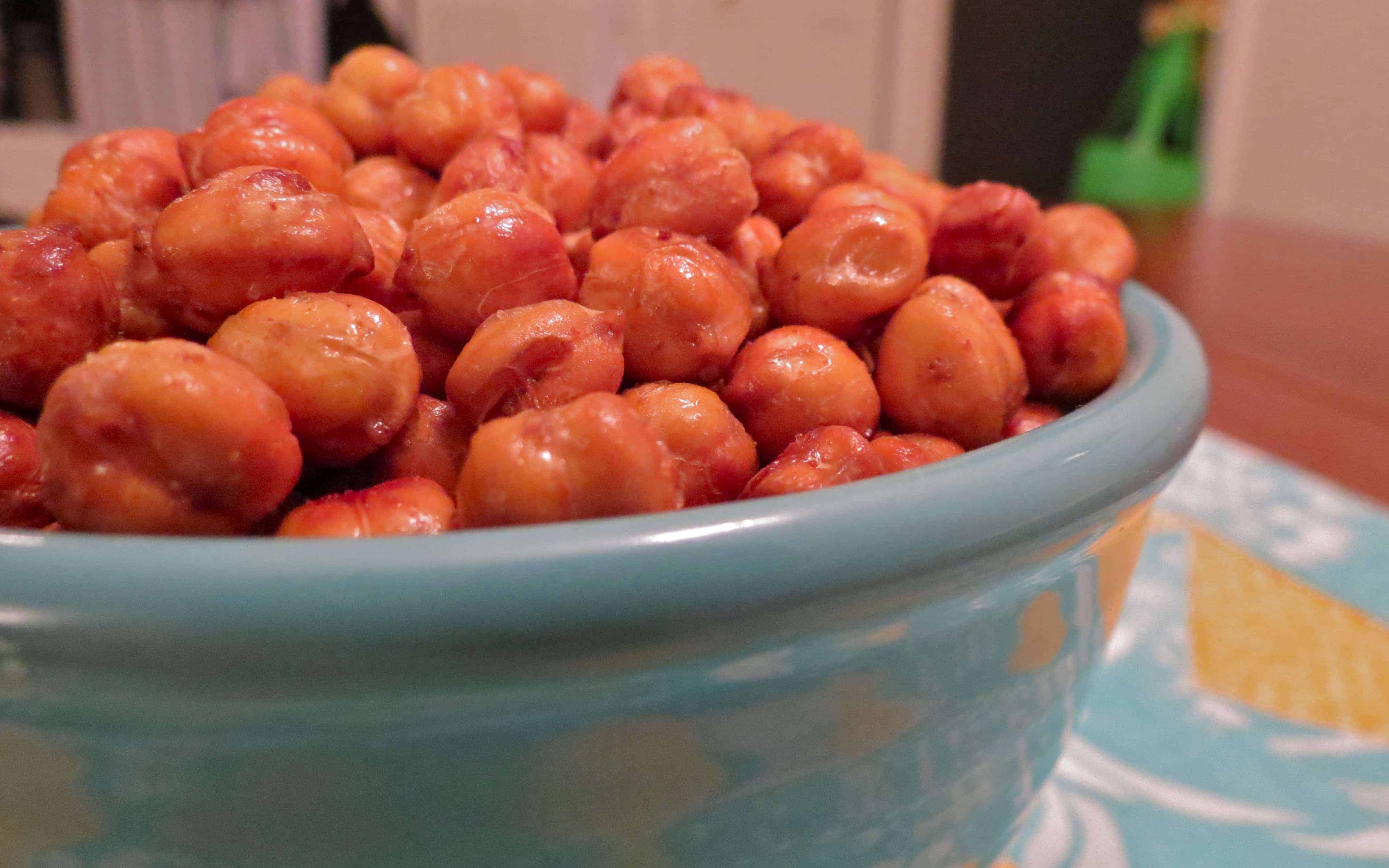 The world tells me that the Super Bowl is coming up.
Well, maybe not the world…but definitely Facebook, the news and my relatives that live just outside of Indianapolis.
But don't ask me who is playing. I couldn't begin to tell you.
Let's make a list of things that I know about football, shall we?
– It lasts forever.
– You've got 4 something-or-others (downs?) to go some distance (10 yards?). I think.
– One time in college I managed to get in the middle of the football team in line at the cafeteria and my life flashed before my eyes. I was terrified.
– It is a great excuse to eat.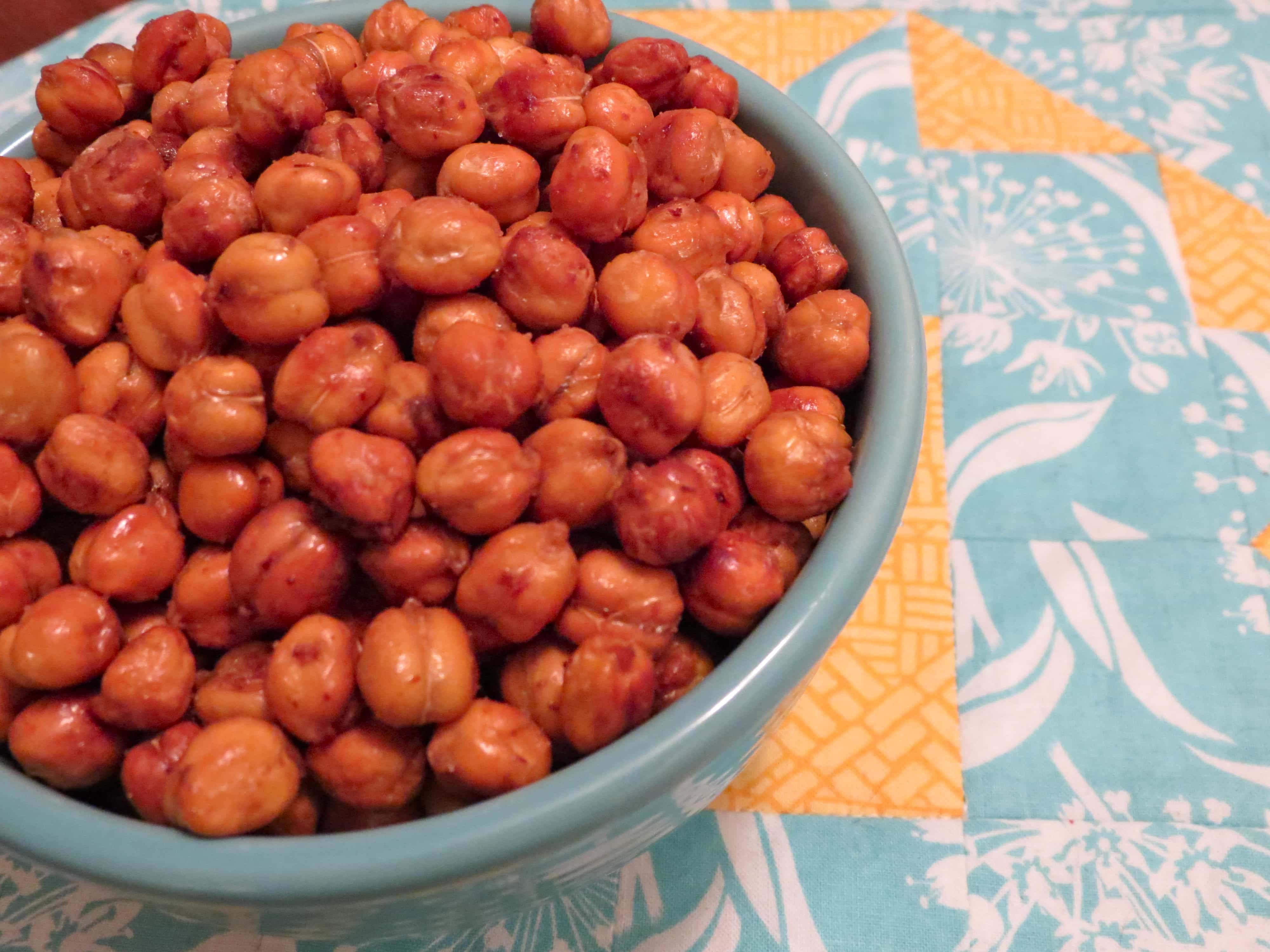 I'm going to go on the strength of that last one to keep you with me here. You see, even if I know basically nothing about football, that doesn't mean I can't share with you a perfect game-day snack recipe.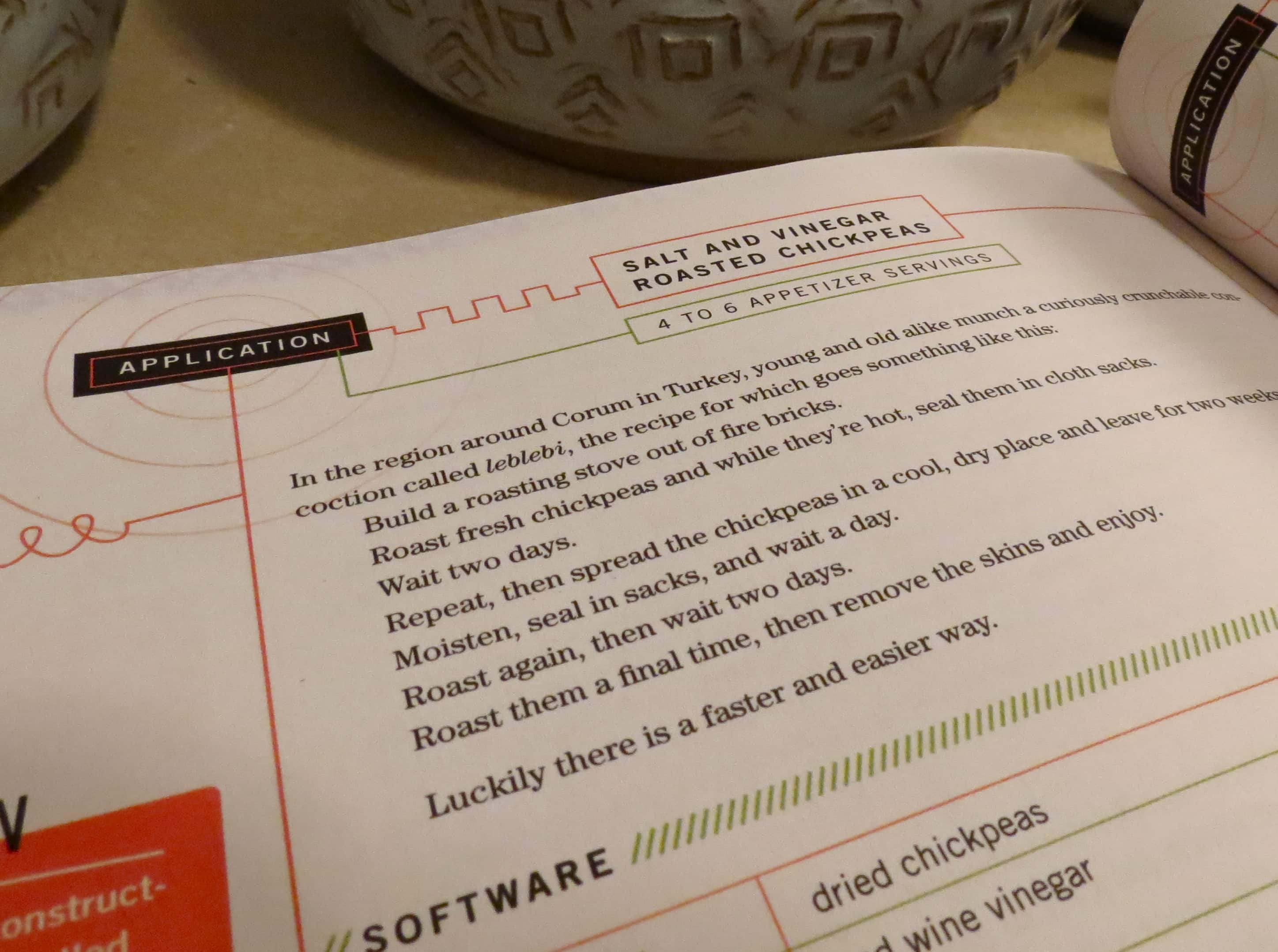 These roasted chickpeas are addictive. You'll plan to eat a handful and then next thing you know…you've eaten half the batch.
Not that that happened or anything.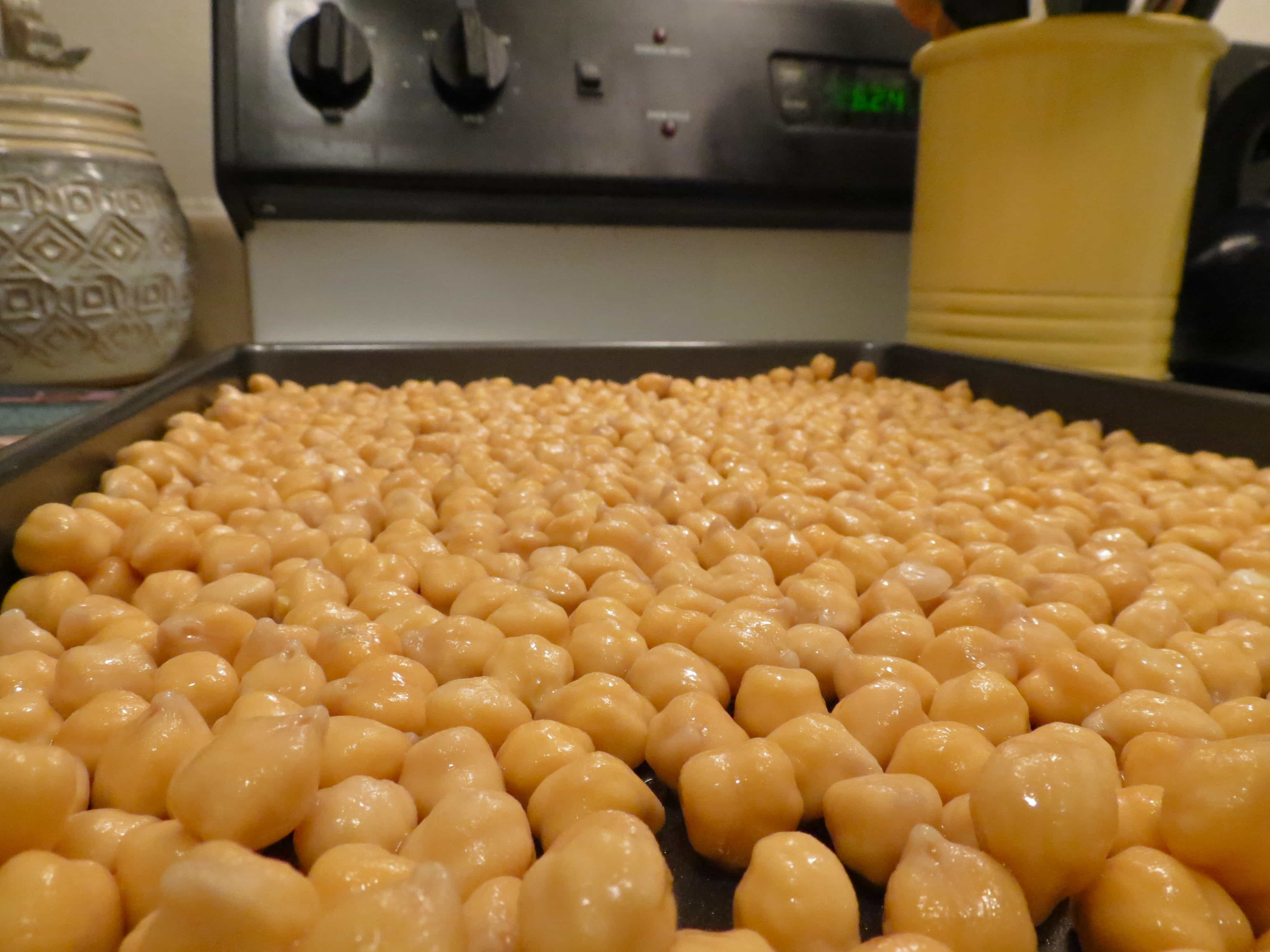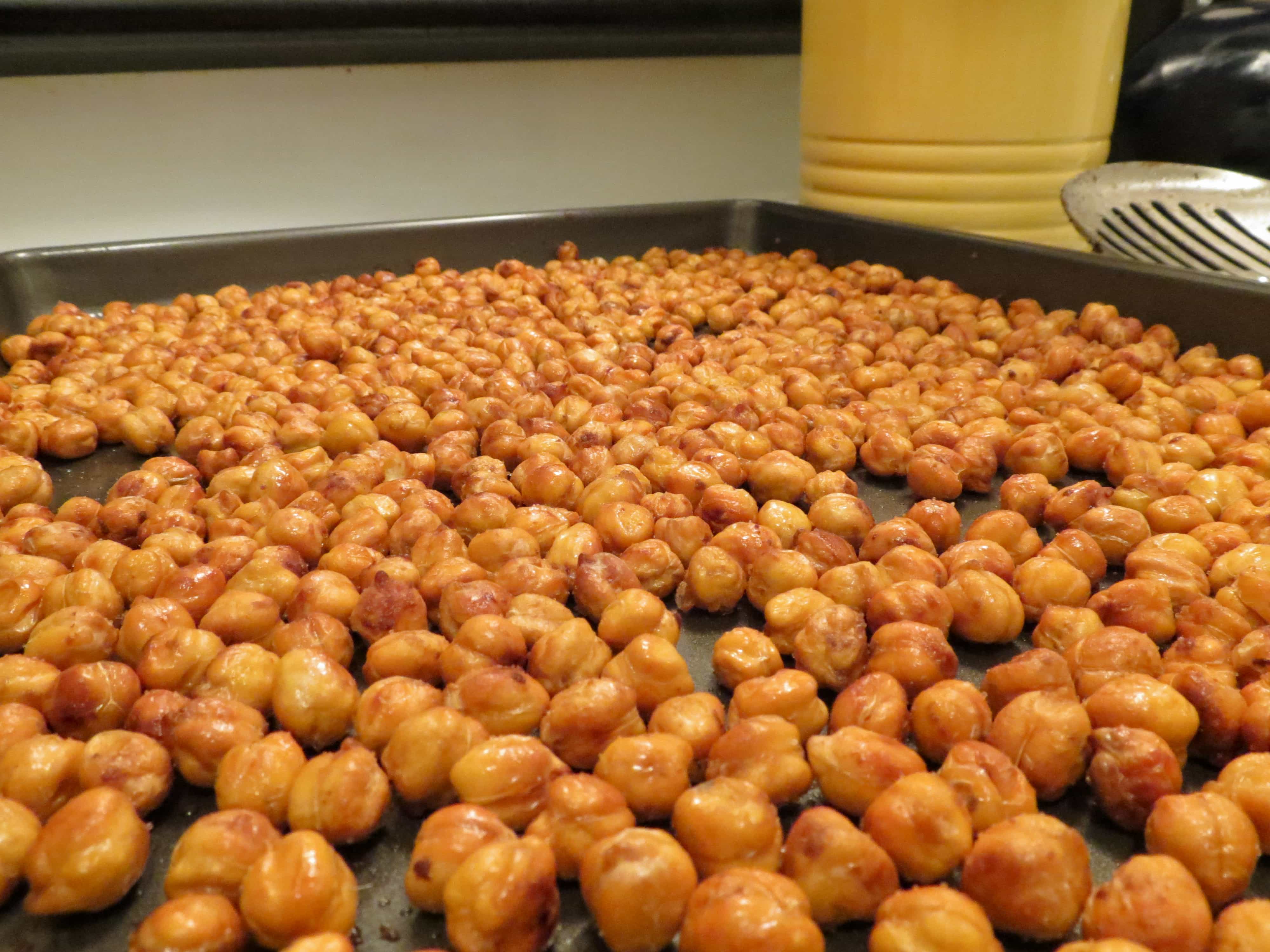 The salt and vinegar flavor combo here is not as strong as it would be in, say, a bag of potato chips (although salt and vinegar potato chips are one of my favorite things), so if you are looking for something with a little vinegar tang that won't completely clear out your sinuses, this might just be the snack for you.
Make them for the big game. Or just make them for a night of regular old TV watching. Whatever. Just make them.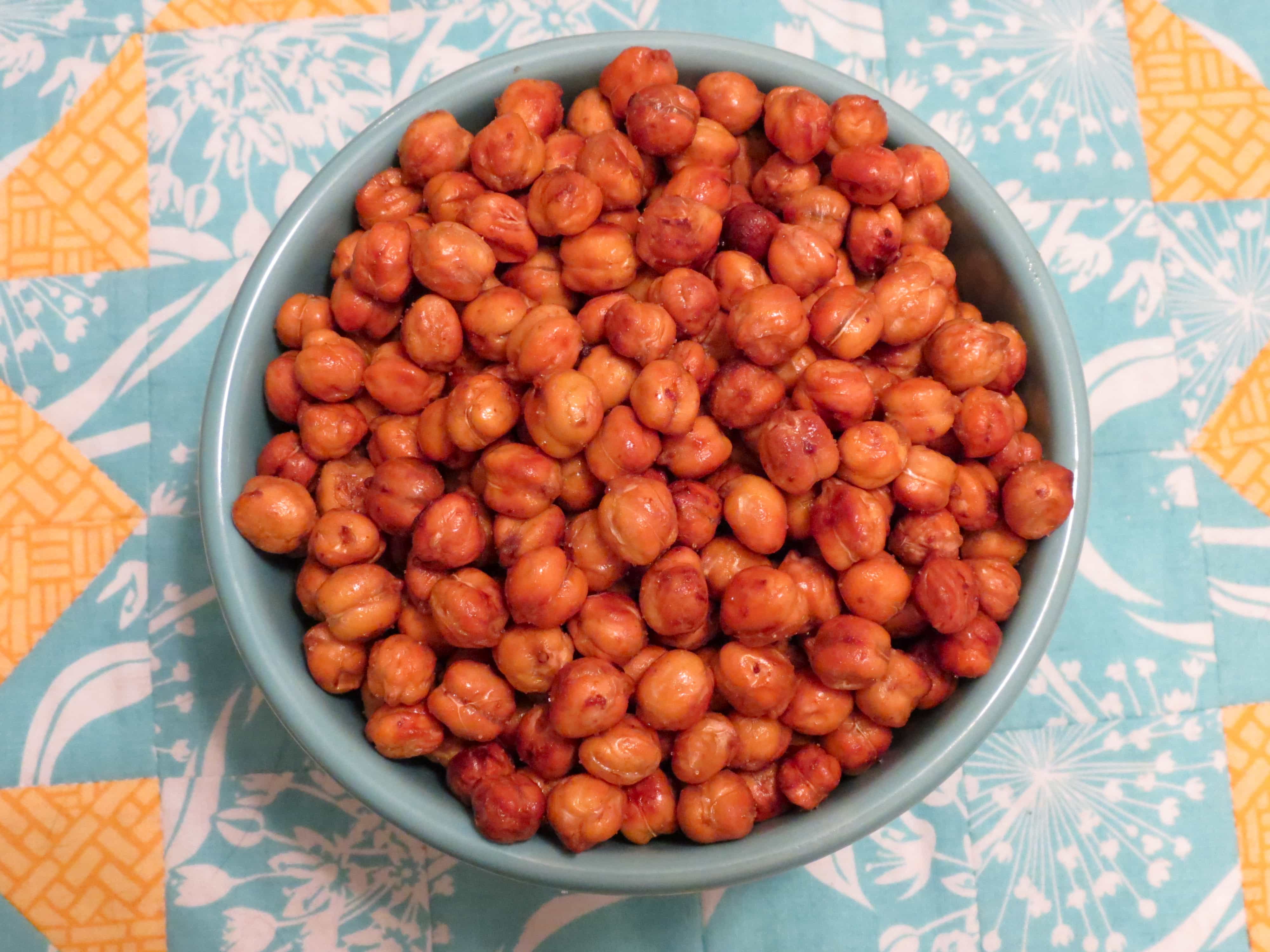 Update: Click the button below to find some "skinny" Super Bowl snacks, brought together by Kelly from the awesome Eat Yourself Skinny!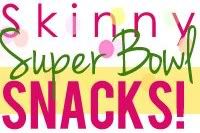 Ingredients
1

pound

dried chickpeas

1/4

cup

red wine vinegar

1 1/2

teaspoons

kosher salt

1

teaspoon

dijon mustard

1

teaspoon

lemon juice

1

tablespoon

olive oil

2

teaspoons

malt vinegar*
Instructions
In a bowl, cover chickpeas with 2-3 inches of water. Allow to soak overnight.

Preheat oven to 400 degrees.

Drain chickpeas and return to bowl. In a small, lidded container, shake together the red wine vinegar, 1 teaspoon of the kosher salt, dijon mustard and lemon juice. Add the olive oil and shake again to combine. Add vinegar mixture to chickpeas and toss to coat. (I used a lidded bowl for this to avoid making a gigantic mess.)

Spread chickpeas out onto a half sheet pan. Roast for 60-65 minutes, stirring every 15 minutes, or until chickpeas are a dark golden color and are crunchy.

Return chickpeas to the bowl. Add the remaining 1/2 teaspoon of salt and 2 teaspoons of malt vinegar. Toss to coat; return chickpeas to sheet pan and allow to cool. Store in a zip-top bag or lidded container.
Notes
*The original recipe used red wine vinegar both in the dressing and at the end. I like the extra tang that malt vinegar gives at the end, which is why I chose to use it, but you could easily use red wine vinegar both times and they will still be delicious.
Adapted from Good Eats 3: The Later Years