This is a sponsored post with Red Star Yeast, but all opinions are 100% my own.
MORE BREAD!
That's not just a proclamation that yes, I am giving you another bread recipe today (because clearly that is the case), but also pretty much what I am thinking on a 24/7 basis. Some people crave chocolate. I crave bread. Bread, bread, bread.
Summer is coming to a close, which means that cooler weather is in store. Cooler weather = soup weather. And these Sourdough Cracked Wheat Rolls? They're some of the most perfect soup rolls I've made in a while. They have a crusty, chewy exterior and a soft interior, perfect for dipping into a nice warm bowl of broccoli cheese soup – not that I have a favorite kind of soup, or anything. The cracked wheat adds just the perfect toothsome bite, making these into just the perfect heart roll. And because we use a little bit of our ever-reliable Red Star Yeast in our dough in concert with the sourdough starter, we are able to create a slightly tangy sourdough roll with a fraction of the rising time.
Are you a new EYHO reader, or perhaps still exploring the idea of baking with sourdough (or yeast in general)? I wrote a whole post dedicated to explaining how sourdough works (complete with an easy starter recipe), but the fine folks over at Red Star Yeast also have a whole host of lessons on yeast and baking available on their website to help you make the most of your bread-baking experience.
Recipe from Red Star Yeast.
Sourdough starter recipe and instructions.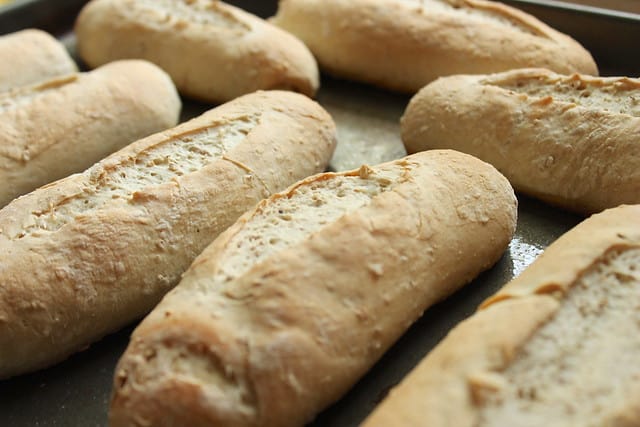 Ingredients
3

cups

bread flour

1

package

2 1/4 teaspoons Red Star Active Dry Yeast

1/3

cup

cracked wheat

2

teaspoons

salt

1

tablespoon

sugar

1

cup

sourdough starter

3/4

cup

water

1

tablespoon

vegetable oil
Instructions
In the bowl of a stand mixer fitted with a dough hook, combine 1 cup of the flour with the yeast, cracked wheat, salt, and sugar.

In a microwave-safe bowl or measuring cup, combine the water and the oil. Microwave on high for 30-45 seconds, until warm (but not hot). Add the warm water mixture and the sourdough starter to the dry ingredients. Beat for 4 minutes on medium speed. Gradually add the remaining flour, about 1/2 cup at a time, and knead for 5-7 minutes until the dough is smooth and elastic. Place in a lightly oiled bowl and turn to grease the top. Cover lightly with a tea towel and let rise until doubled in size, about a hour.

Turn the risen dough onto a lightly floured surface and gently press or "punch" down to remove air bubbles. Divide the dough into 8 equal pieces. On a lightly floured surface, roll each dough into a 4x6-inch rectangle; then, starting with the longer side, roll up each rectangle tightly, pinching the edges and ends to seal.

Place shaped rolls onto a greased baking sheet. Cover and let rise until doubled again, about 1 more hour. Near the end of the rising time, preheat oven to 400 degrees. With a sharp knife, make a lengthwise slash down the center of each roll and brush or lightly spray with cold water. Bake for 20-25 minutes or until browned. Remove from cookie sheet and cool on a cooling rack.
Follow Red Star Yeast on Facebook, Twitter, Pinterest, and Google+ for more great bread recipes and baking tips and tricks.