This buttery, herby focaccia gets its slight tang from an incredibly easy no-knead sourdough batter.
Things I learned this weekend:
If you make banana bread and watch too much Parks and Rec right before bed, you will have bizarre dreams about befriending Tina Fey and Amy Poehler and feeding them banana bread.
Things I learned on Instagram this weekend:
Y'all have as many feelings about The Book Thief as I do. I finished reading it this weekend and it tore my soul apart. Expect a more thorough review when I can finally form real sentences about it.
Speaking of feelings, everyone else seems as incensed by this nonsense as I am. All I want is to be able to measure my butter quickly and with as little brain power as possible; is that too much to ask?
Clearly, this was an educational weekend for me.
Confession: I made this bread quite some time ago, was ecstatic about it, and then promptly forgot to share it with you.
Oops.
Benefit to this: Discovering an extra recipe during a week when I am lacking in daylight and/or time to cook.
This variation on Sourdough Peasant Bread is, I promise, just as easy as the original recipe, but with the added bonus of dried herbs and those yeasty dimples that make focaccia so appealing to me. No-knead, no fuss, but completely delicious. Isn't that what your bread should be about on a busy weekday?
Adapted from Alexandra's Kitchen.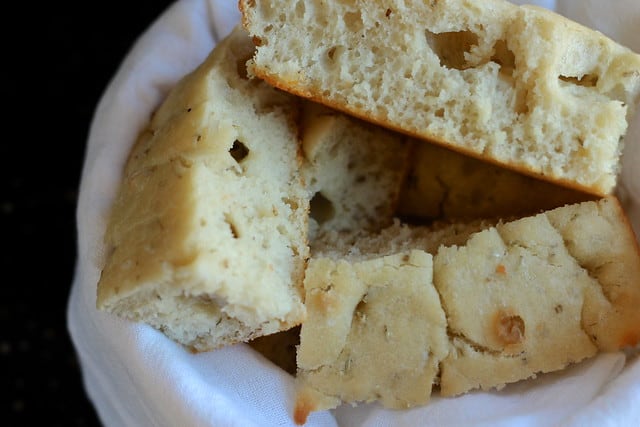 Ingredients
3

cups

flour

2

teaspoons

kosher salt

1 1/2

teaspoons

dried rosemary

1/2

teaspoon

dried basil

1/2

teaspoon

dried oregano

1 1/2

cups

warm water

about 110 degrees

1

packet active dry yeast

2 1/4 teaspoons

1

tablespoon

sugar

1

cup

sourdough starter

2

tablespoons

butter

room temperature

2

tablespoons

olive oil

Sea salt
Instructions
In a small bowl or measuring cup, add the yeast and sugar to the lukewarm water. Allow to rest for 5-10 minutes, or until yeast is foamy/bubbly.

In a large mixing bowl, whisk together the flour, salt, and dried herbs. Add the sourdough starter and the yeast mixture, then add the wet ingredients to the dry and stir until combined. Dough will be very sticky!

Cover the bowl with a tea towel and set in a warm place to rise for an hour.

Preheat the oven to 425 degrees. Grease a 13x9-inch baking dish with the butter.

Gently stir down the risen dough. Pour the dough into the prepared baking dish. Drizzle the top of the dough with the olive oil, then use your hands to gently spread the dough to cover the bottom of the pan. Press your fingertips into the dough to the bottom of the pan, creating dimples all over the surface of the dough. Sprinkle the surface of the dough with sea salt.

Cover with a tea towel and allow to rise for 20-30 minutes, or until puffy.

Bake for 15 minutes. Reduce heat to 375 degrees and continue baking for an additional 15-17 minutes or until golden brown.

Remove bread from oven and turn out onto a cooling rack. Let cool for 10 minutes before slicing.