Knowing how to make Sugared Cranberries is a fun, festive trick that can add a special touch to holiday treats.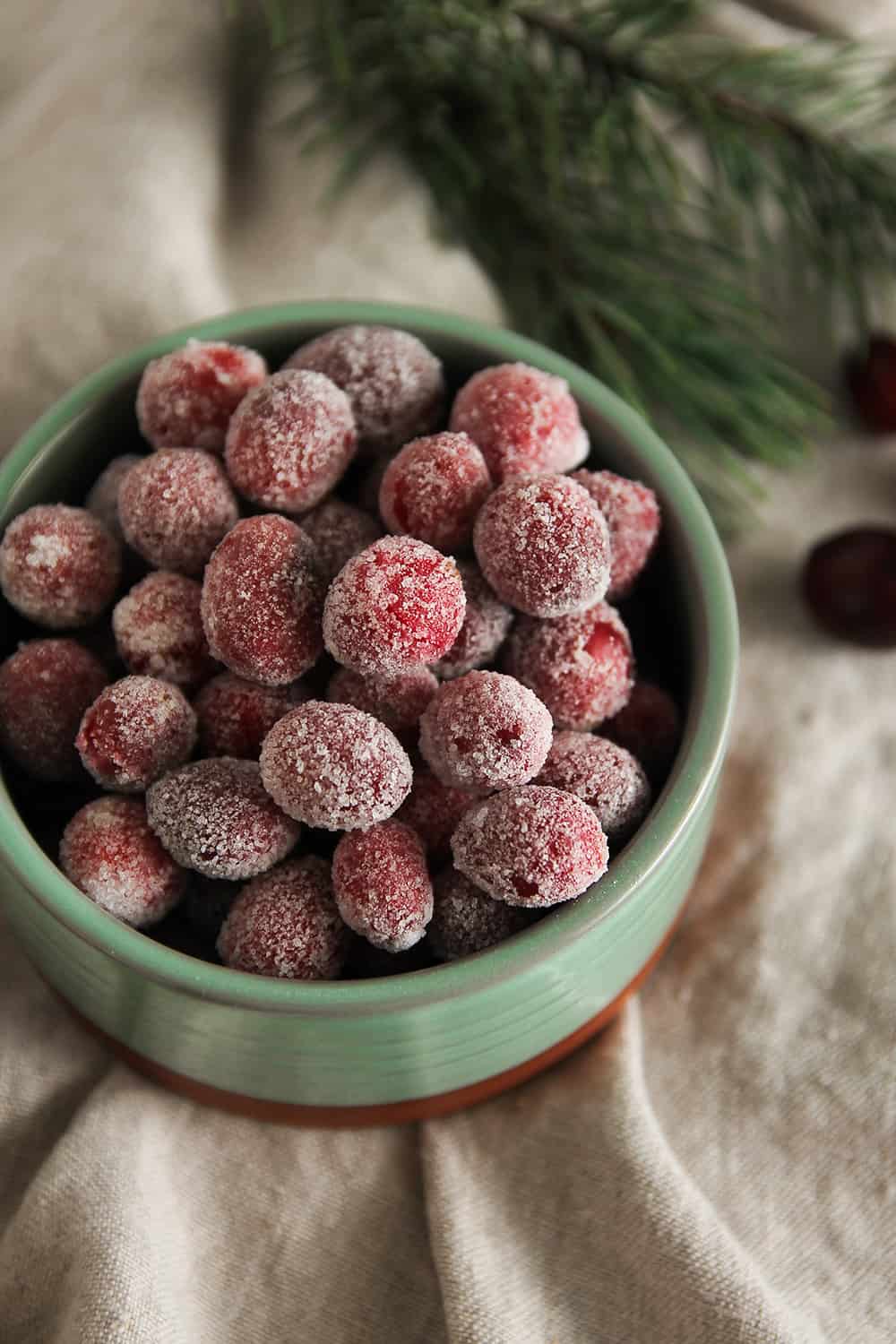 I'm not really one to spend hours and hours making fancy garnishes for my baked goods. In fact, I'm not really one to spend hours and hours decorating at all.
It's why making treats such as Stained Glass Cookies works so well for me – they look really beautiful without a lot of time and effort. I like Chai Sugar Cookies for the same reason. The white icing looks so lovely against the speckled dough, and I don't have to spend hours intricately decorating them.
But watching hours and hours of Great British Bake Off (or Great British Baking Show as it's called here in the States) can really get the creative juices flowing when it comes to decorating. And seeing them make Sugared Cranberries on a recent episode stuck in my brain.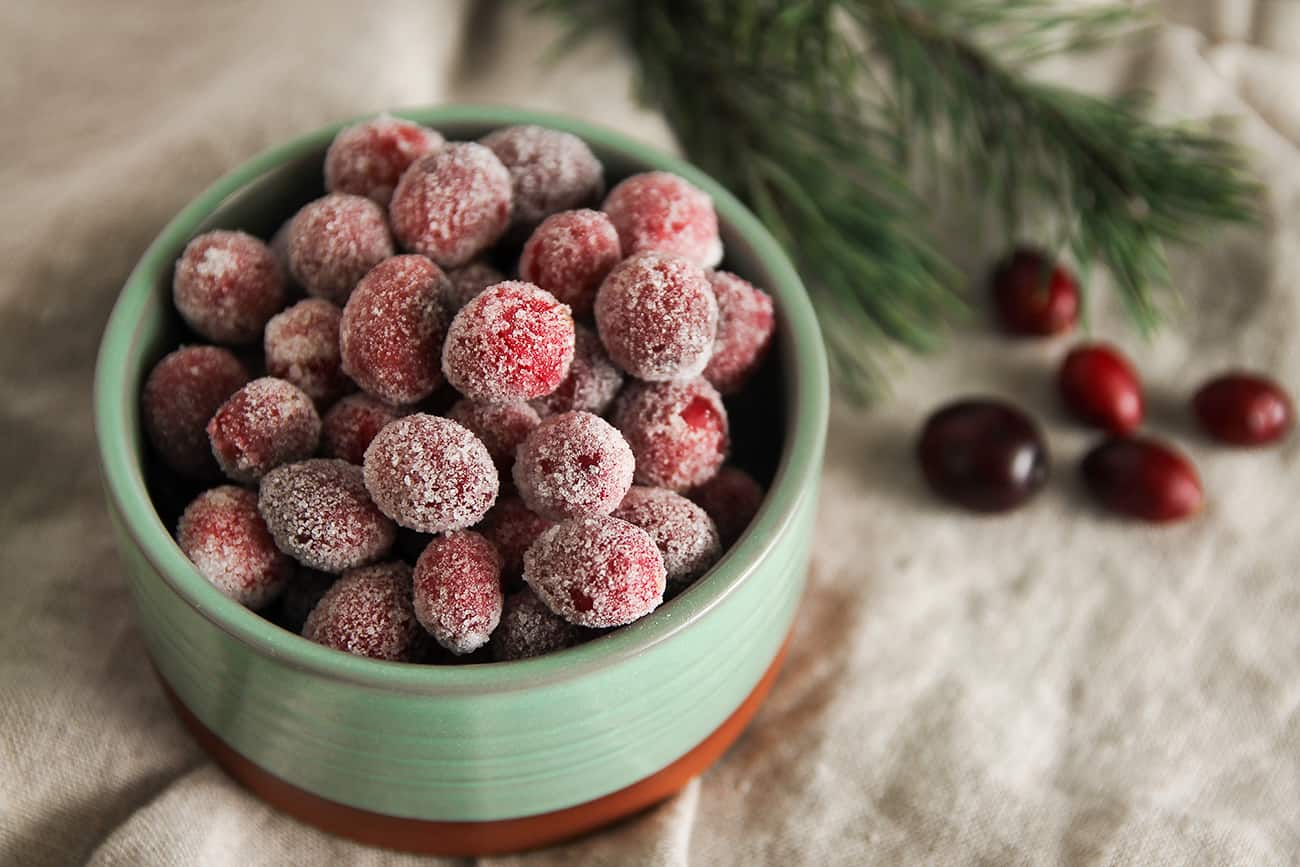 That show really is responsible for so many recipes that end up on this site.
I knew that making Sugared Cranberries wouldn't be hard or time consuming, and they're such a beautiful addition to any number of holiday treats.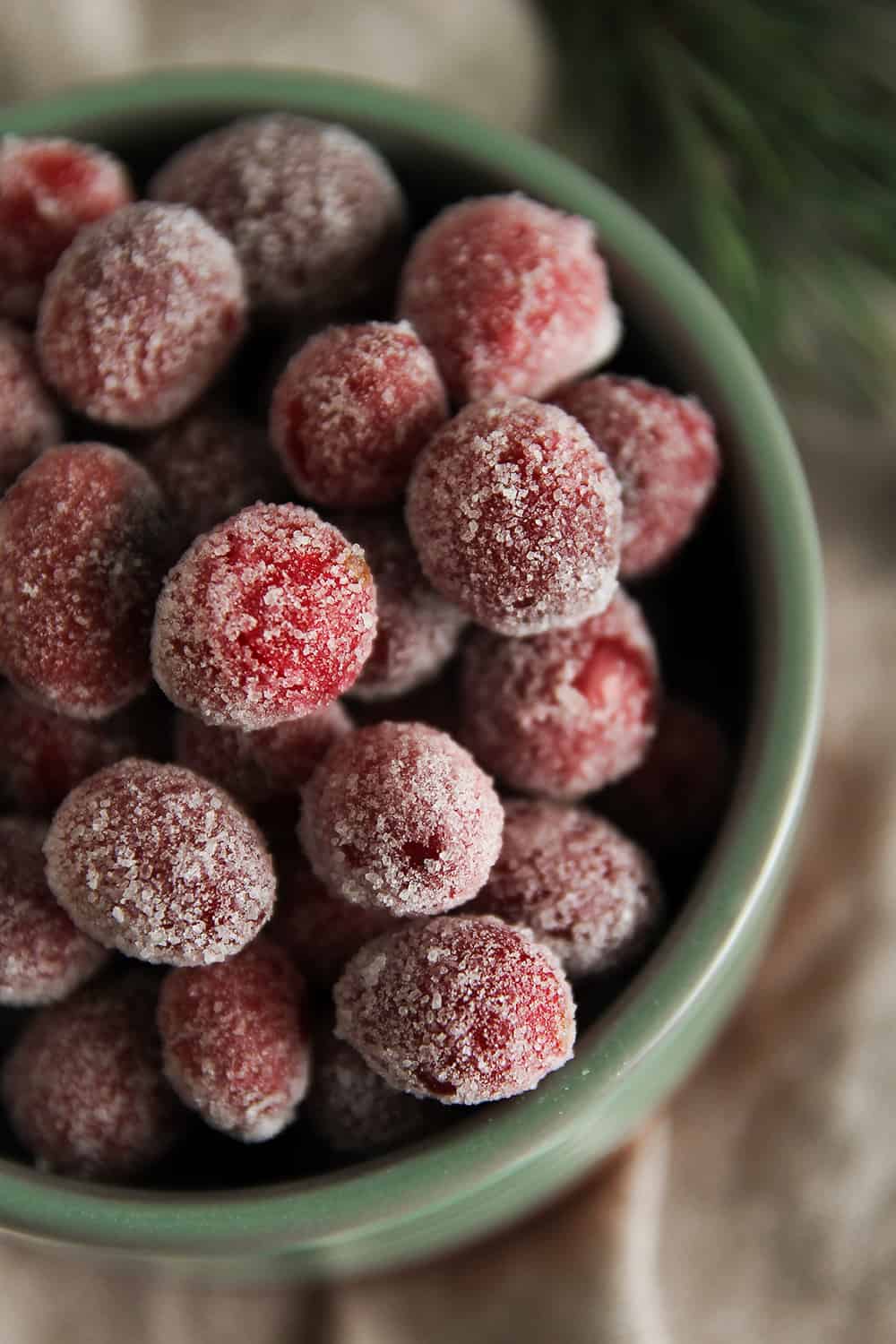 SUGAR COATED CRANBERRIES
If you've never had Sugared Cranberries before, they are exactly what they sound like. Cranberries coated in sugar!
The cranberries first get a bath in a simple sugar syrup and then take a spin in some granulated sugar. The resulting cranberries have a "sparkly" affect and are one of the most festive garnishes you can imagine.
Add them to a Buche de Noel, use them for garnish on a holiday cocktail, scatter them around the charcuterie board at your holiday party, or top a cake with them.
I went for the latter and used them to decorate a Gingerbread Layer Cake.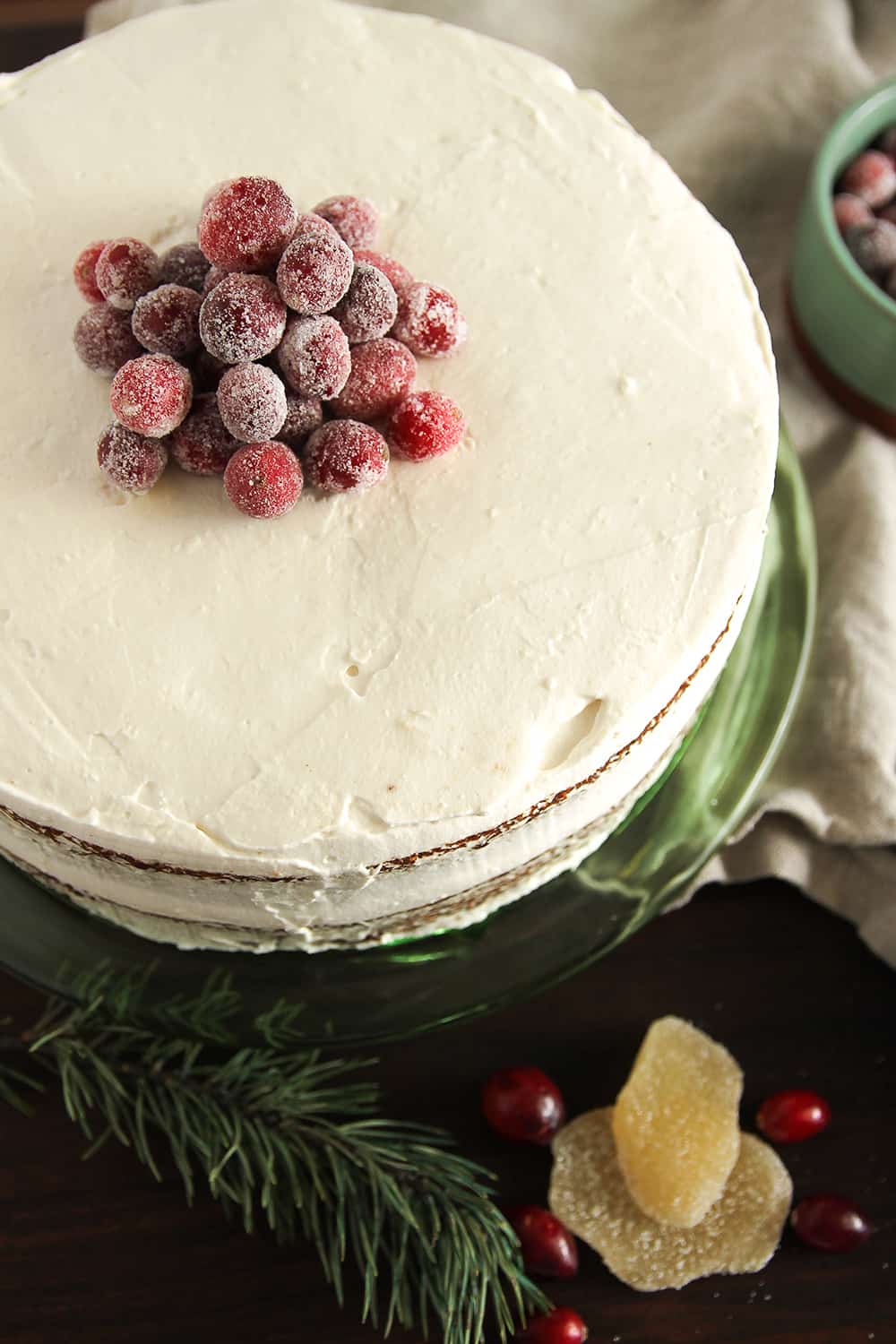 HOW TO MAKE SUGARED CRANBERRIES
Obviously making Sugared Cranberries is deceptively easy, or else I wouldn't be bothering. Granted, I have certainly made my share of complicated treats, but I really prefer to stick to easy garnishes where I can.
To make Sugared Cranberries, start by making a simple syrup with equal parts water and sugar. As soon as the sugar has dissolved, remove the pan from the heat and add the cranberries.
Don't let the sugar simmer. If you get distracted and it does start to simmer, give it some time to cool down before you add the cranberries. If the syrup is too hot when the cranberries are added, their skins will pop.
While popped cranberries are ideal for making Texas Cranberry Chutney, it's not so great for making beautiful sugar-coated cranberries.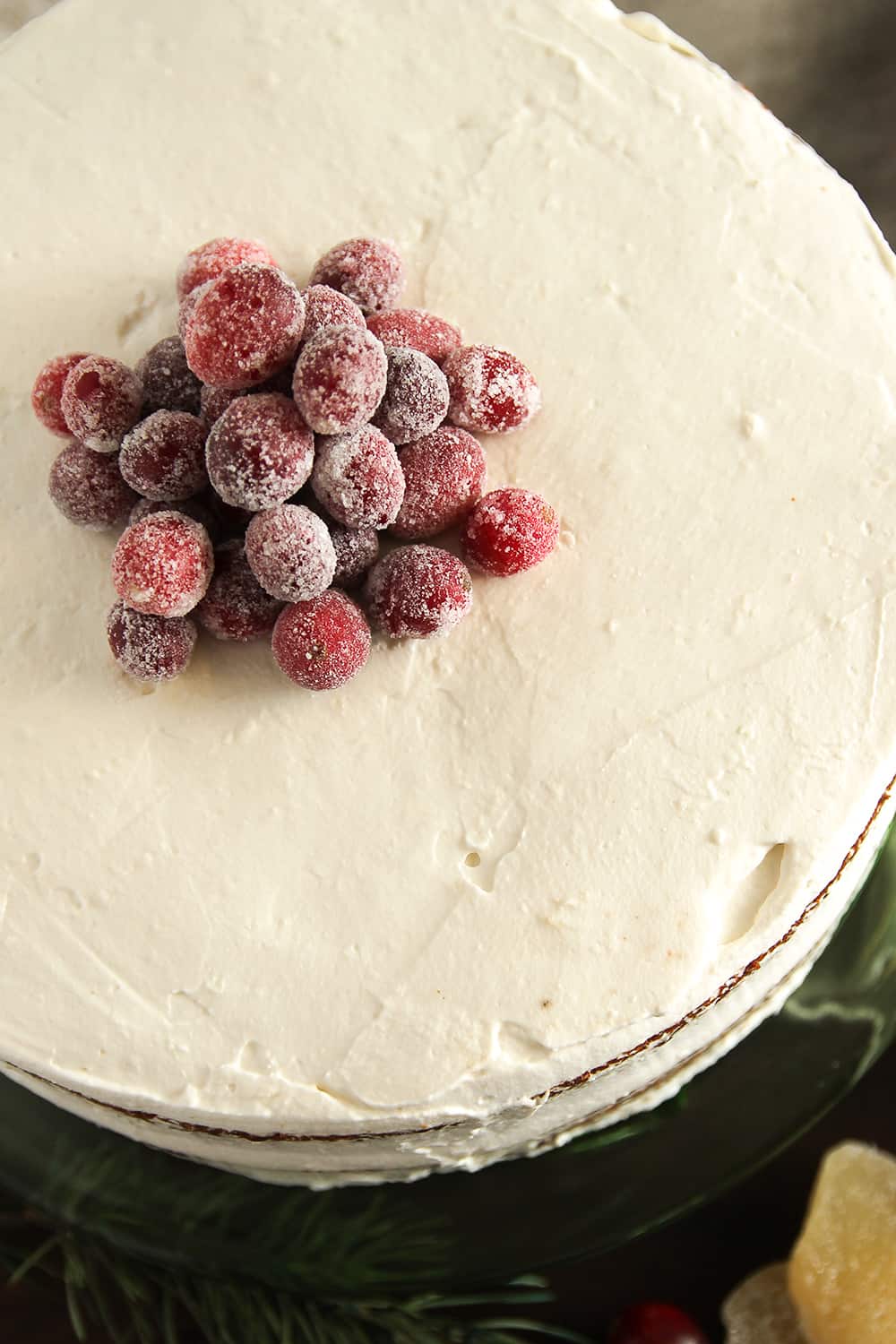 Use a slotted spoon to remove the cranberries and place them on a cooling rack to dry for a few minutes. But don't toss that sugar syrup! You can keep it and add it to cocktails if you like.
Let the cranberries dry for about 15 minutes. I like to make sure they are not touching too much when they're on the cooling rack, but they will come apart when you coat them in the sugar.
After they've dried a bit and are tacky but not wet, you can give them a shake in some more granulated sugar! Then place them on another (clean!) cooling rack to dry for at least an hour before using them.
Enjoy making Sugared Cranberries and using them to decorate all the things this holiday season!