Gingerbread Layer Cake: Two layers of double gingerbread cake covered with whipped cream frosting and garnished with sugared cranberries. It's both delicious and beautifully festive, perfect for adorning your holiday table.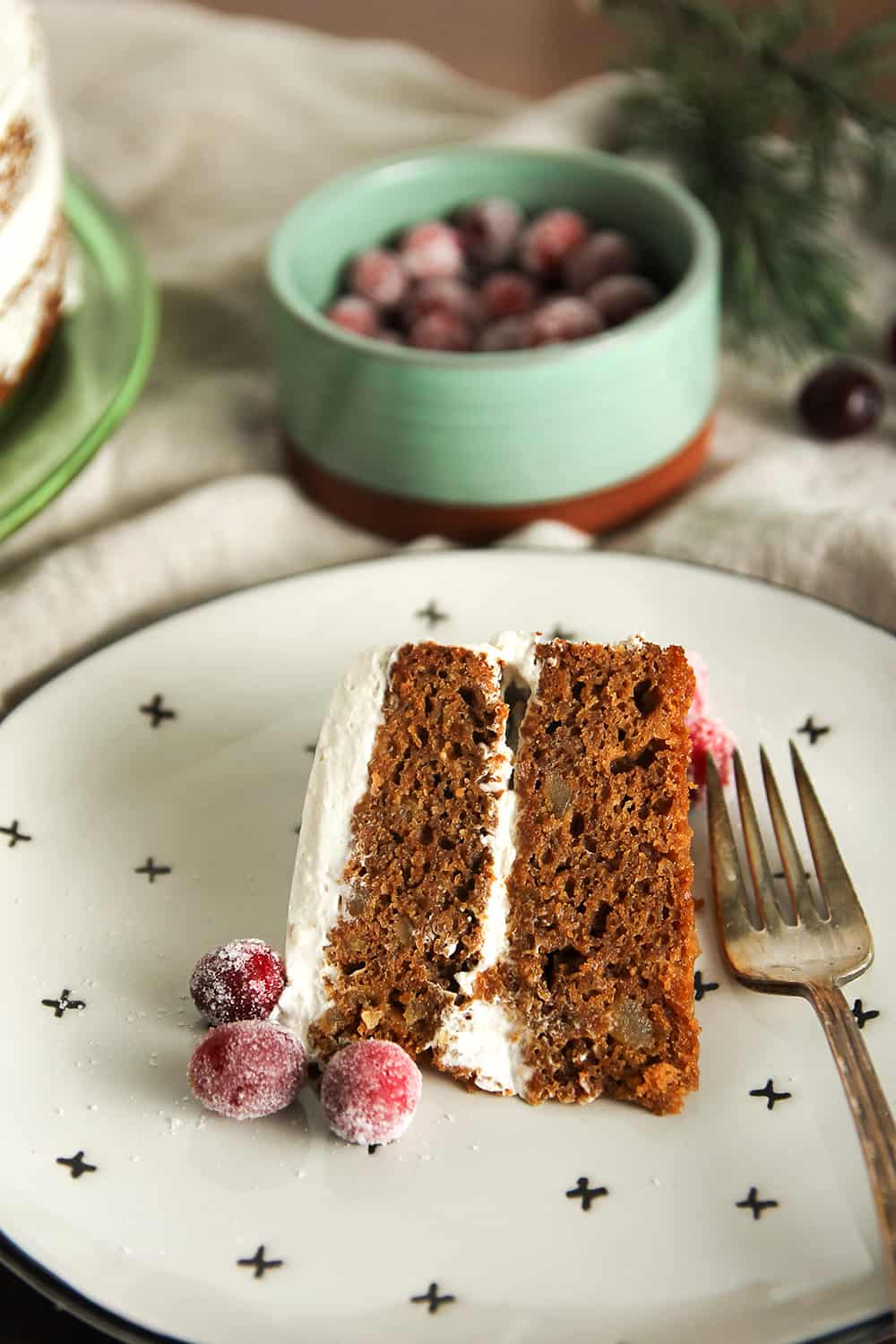 I feel like if there's ever a time to pull out all the stops and make a really impressive dessert, it's at Christmas, right?
Thanksgiving is a time when pies shine. I know it isn't really Thanksgiving around here without Pecan Raisin Pie or Streusel-Topped Sweet Potato Pie.
And while I do really love a good slice of pie at Christmas as well, it also seems like a good opportunity to make something a bit more impressive.
I mean, you've already got a table laden with Stained Glass Cookies and Peanut Brittle and Fruitcake Cookies. Why not go the extra mile and make a beautiful layer cake as well?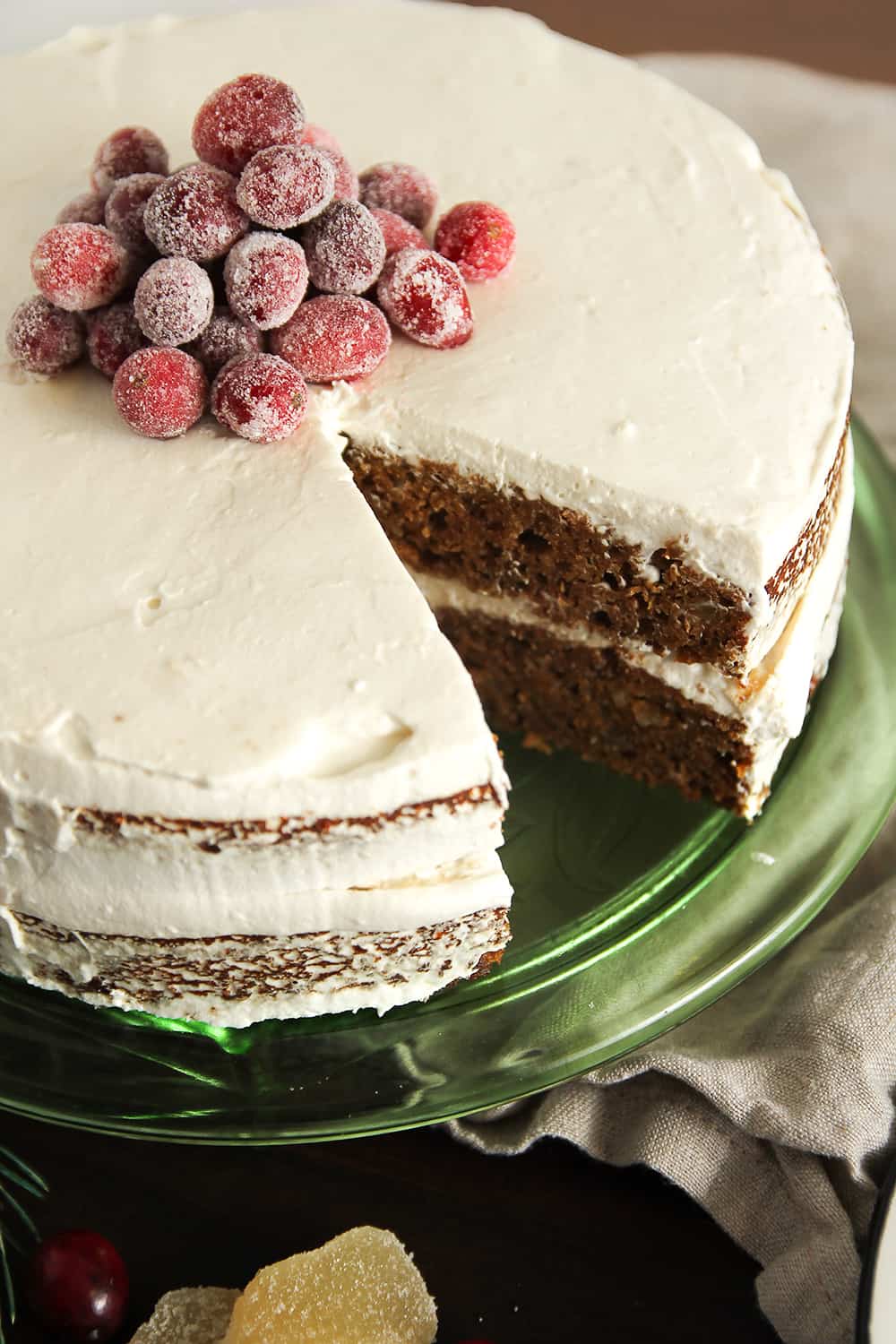 GINGERBREAD LAYER CAKE
Of course, if you're making all of those other treats, you probably don't want to spend hours and hours making a cake right?
Luckily, Gingerbread Layer Cake is deceptively easy to make. Let's talk through this one.
To make Gingerbread Layer Cake, I started by doubling my Double Gingerbread Cake. It uses melted butter and can be made all in one bowl, so you don't even have to pull out a mixer to make it. Really!
It's also full of ground ginger and chopped crystallized ginger, so it's nice and spicy and packs a wonderful ginger punch. It's the best possible base for a festive layer cake.
So let's talk about the frosting for this Gingerbread Layer Cake. I'm not super into cream cheese frosting and didn't feel like softening butter to make buttercream (#lazy), so whipped cream frosting to the rescue. It takes at most 10 minutes to make, and that's if you're moving slowly.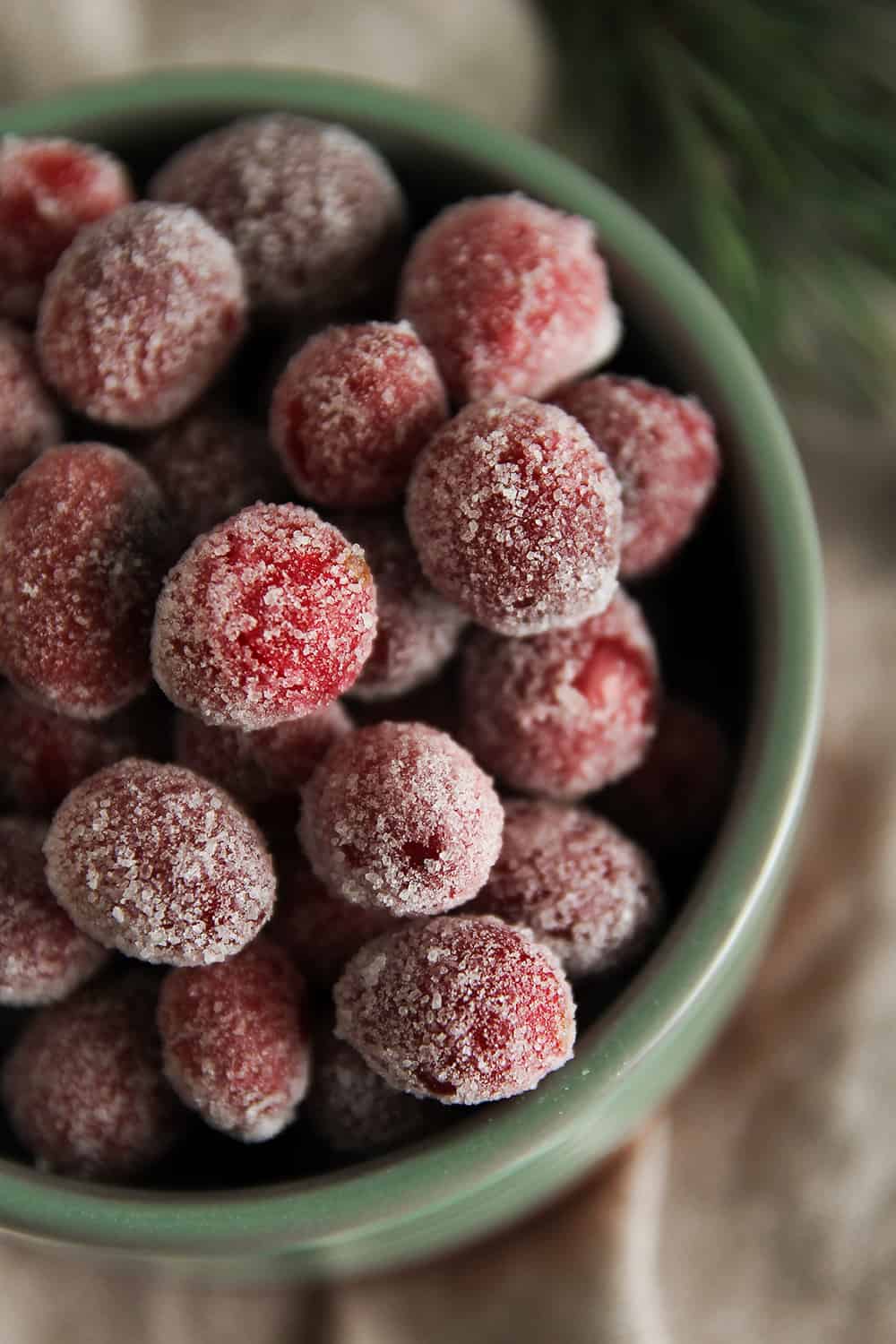 You could certainly stop there, but I think Gingerbread Layer Cake is extra festive when topped with Sugared Cranberries.
Sugared Cranberries require less than 5 minutes of hands-on time for their sparkly, sweet-tart result. So they're a beautiful, edible garnish I can fully get behind.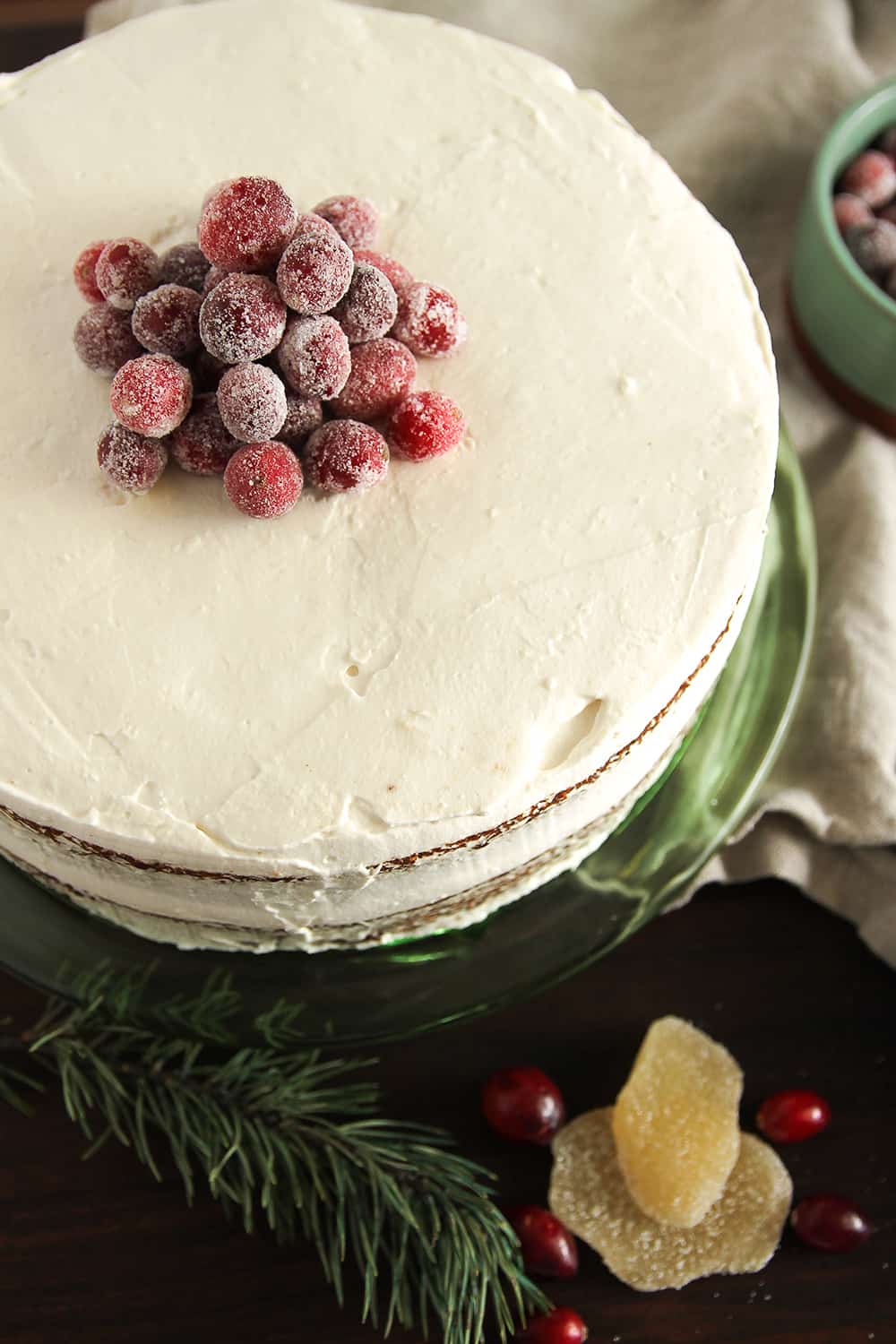 HOW TO MAKE WHIPPED CREAM FROSTING
Whipped cream frosting is hardly any more difficult to make than whipped cream itself. I like to take one extra step to stabilize it a bit for a longer shelf-life.
Whipped cream can be stabilized with a bit of unflavored gelatin. Why bother? It helps the whipped cream hold up better when piping it or spreading it on a cake, and keeps it from breaking down if you need to apply the frosting ahead of time.
I've actually frosted cupcakes with whipped cream frosting the night before and had the beautiful swirls of frosting hold up perfectly by the time I served them the next day.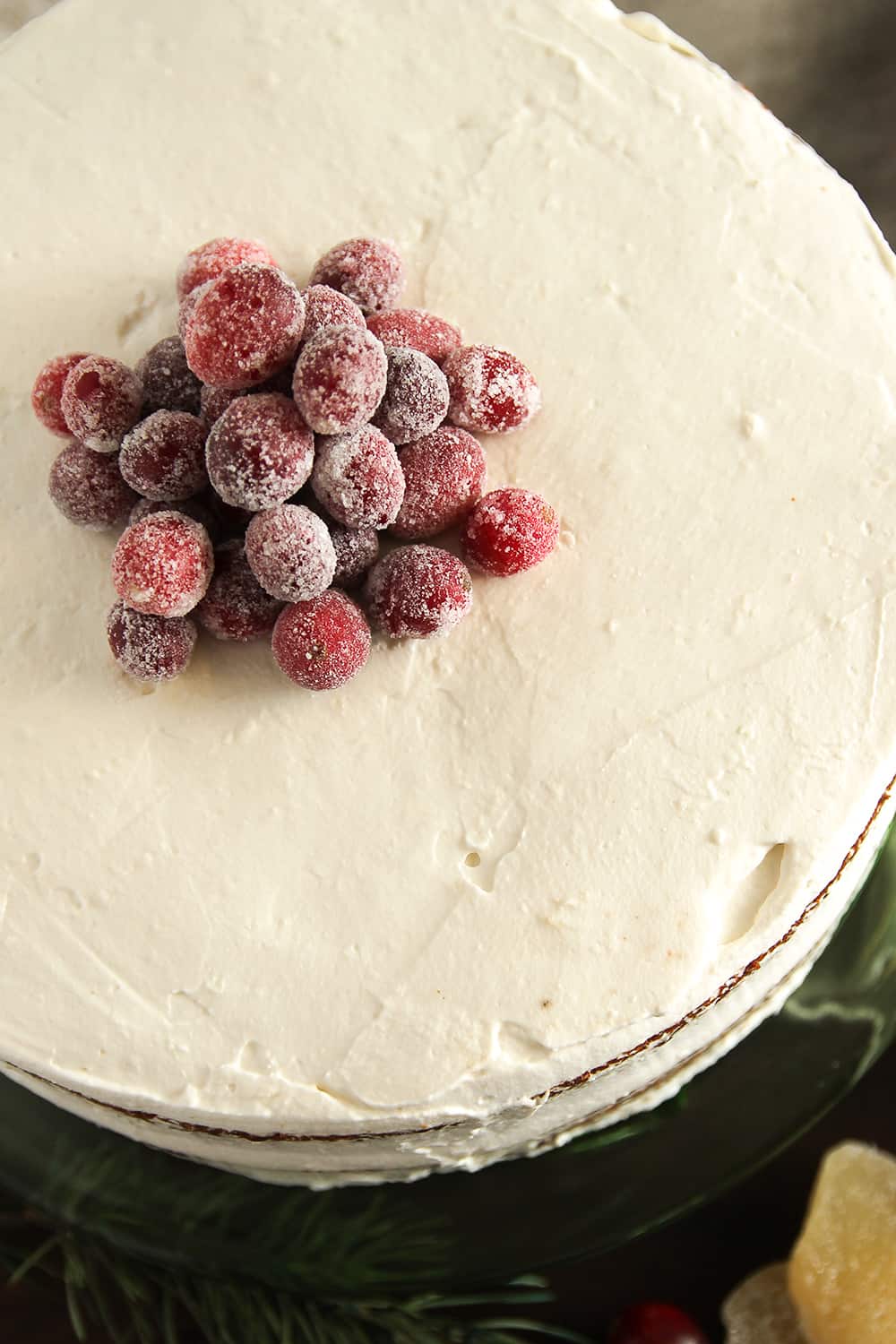 Just make sure you are ready to use the whipped cream frosting as soon as you make it – it won't pipe or spread quite as well after it has set for a while.
I can promise your family will be ultra-impressed if you add this Gingerbread Layer Cake to your holiday table. There's no need to tell them that it was infinitely easier to make than any other layer cake. Your secret's safe with me.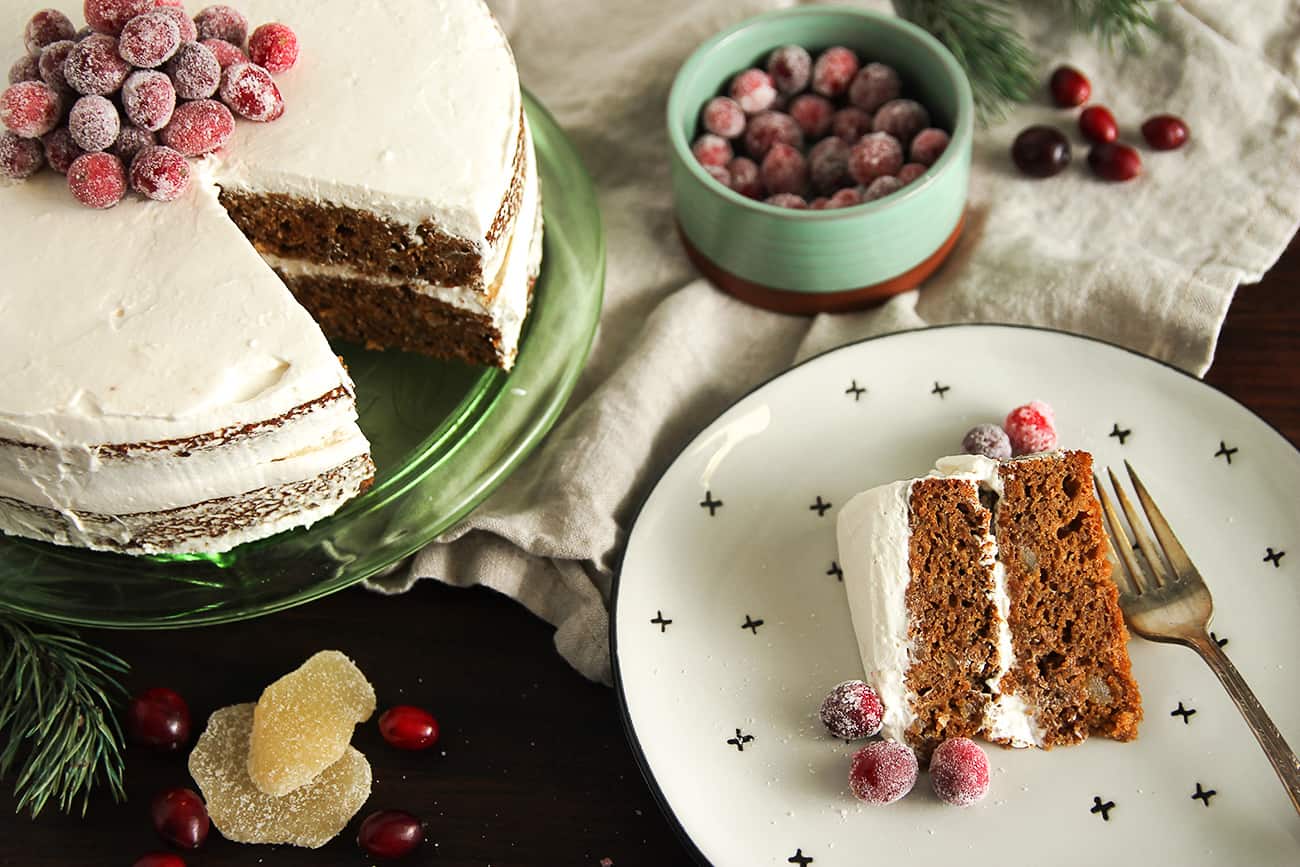 MORE GINGERBREAD RECIPES
Looking for more gingerbread recipes to make this season?
Be sure to check out Gingerbread Waffles, Gingerbread with Salted Caramel Sauce, Gingerbread Biscotti, Cardamom Ginger Cat Gingerbread Cookies, or Gingerbread Crinkle Cookies.