Creamy dreamy hummus flavored with sun-dried tomatoes plus a secret ingredient: Greek yogurt!
Apparently we are getting ready to head into back-to-school season. Or, at least that's what Target and Staples commercials are telling me.
I'm at that stage of life where back-to-school is something happening to "other people". I have been out of school for a few years now, my friends have all graduated and even those who are pursuing other degrees choose to do summer terms, making education a year-round festivity for them (yippee!), and – since no kindergarten seems to want my weirdo cats around – I don't have any little ones to send off to school in a couple of weeks.
But, if I did have any little nuggets that I was sending off to school this month, Sun-Dried Tomato Hummus is absolutely the snack that I would have ready for them when they got home.
Yes, indeed, we would sit around the table, munching on carrots, peppers and pita chips (no celery thankyouverymuch) dipped in creamy, flavorful Sun-Dried Tomato Hummus while I posed the requisite questions and received the one-syllable answers:
"How was school today?" "Fine."
"What did you learn?" "Stuff."
And even if I wasn't sure if their minds were getting properly fed, at least I could rest in knowing that their bodies were being packed full of nutrition from chickpeas (manganese, folate and fiber, just to name a few), sun-dried tomatoes (vitamins A, C, and lycopene), and Greek yogurt (protein and calcium).
That's right – the secret ingredient to this creamy, dreamy hummus is a healthy dollop of Greek yogurt. By replacing most of the olive oil found in traditional hummus with Greek yogurt, we can up the protein as well as the creamy texture in our favorite snack.
Why the sudden focus on back-to-school? This month's 12 Bloggers theme was Back-to-School Snacks! But I'll let you in on a little secret – I definitely took this Sun-Dried Tomato Hummus as a Monday-Afternoon-at-Work Snack and no one was the wiser.
Check out the 11 other kid-friendly (or adult-friendly!) snack recipes created by my fellow bloggers: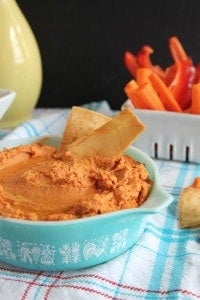 Sun-Dried Tomato Hummus
Creamy dreamy hummus flavored with sun-dried tomatoes plus a secret ingredient: Greek yogurt!
Print
Pin
Rate
Ingredients
1 15-

ounce

can chickpeas

drained and rinsed

3/4

cup

oil-packed sun-dried tomatoes

drained

2-3

cloves

garlic

1/2

teaspoon

salt

1/2

cup

Greek yogurt

1/4

cup

tahini paste

Juice of 1 large lemon

Olive oil
Instructions
Place all ingredients except for olive oil in a food processor or high-speed blender. Blend until smooth. If necessary, stream in olive oil a tablespoon at a time to reach desired dipping or spreading consistency.

Store in an airtight container in the refrigerator for up to a week.