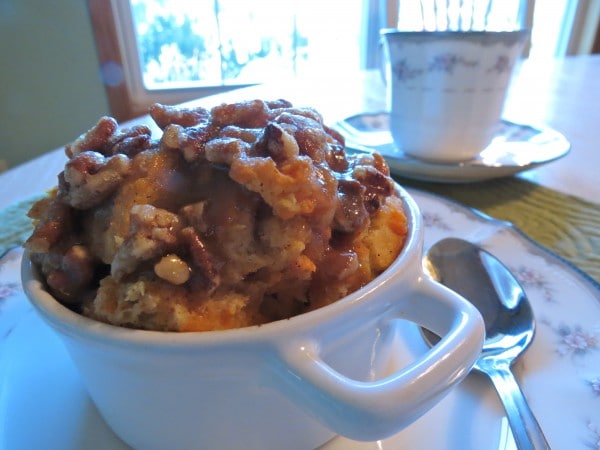 I know, I know. While everyone else is going pumpkin crazy, I am clearly obsessing over the sweet potatoes. But how could I not? They're just wonderful.
Any sweet potato farmers out there lookin' for a lady to romance?
I told you last week that I would be bringing you another amazing bread pudding recipe, and you know that I like to keep my promises. And while last week's recipe was good, the truly awesome thing about this recipe is that it utilizes just about every wonderful fall flavor I can name.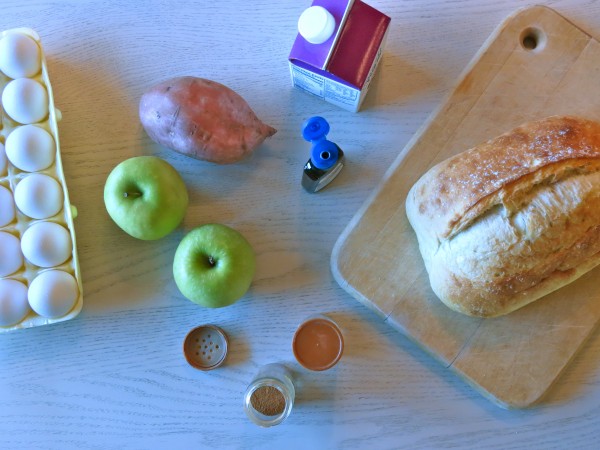 We start at the top with a caramel pecan sauce. Yep, things are starting off right.
Then we work our way down to a lightly sweet potato-flavored bread pudding. Ok, I can totally handle this.
And then, just when we thought things were perfect enough, we hit a layer of sweet, brown-sugar-and-butter-kissed apples at the bottom. Oh sweet child in Heaven, take me now; my life might be complete.
There is a chance that this might just be the perfect fall dessert. And if there were to be, I don't know…say, a poultry-filled holiday looming in the near future, these bread puddings might be just the thing to replace that boring pumpkin pie.
But that's just some crazy-talk for ya.
On a slightly different note, those of you who frequent EYHO may have noticed that my posting schedule has somewhat deviated recently from my normal Tuesday/Thursday schedule. That is because I have had the immense honor of guest posting on some amazing blogs – have you checked out my Raisin Bread Pudding and entered the Coffee-mate giveaway on The Realistic Nutritionist yet? And on Wednesday I will be featured on yet another great blog…so be sure to check back to see what is up!
Recipe adapted quite a bit from Southern Living.
Sweet Potato Caramel Apple Bread Pudding
Yield:
6 six-ounce ramekins
Ingredients
For the bread pudding:
5 cups cubed bread (preferably a crusty Italian bread or something similar)
½ cup half-and-half
½ cup milk
1 cup cooked, mashed sweet potato
2 eggs
½ cup sugar
½ teaspoon cinnamon
¼ teaspoon salt
¼ teaspoon nutmeg
½ teaspoon vanilla
For the apples:
2 large Granny Smith apples, peeled, cored and sliced
1 teaspoon lemon juice
½ teaspoon cinnamon
2 tablespoons butter
2 tablespoons brown sugar
For the caramel pecan sauce:
½ cup light brown sugar
¼ cup butter
½ cup light corn syrup
½ teaspoon vanilla
½ cup chopped pecans
Instructions
Place cubed bread into a large bowl.
In a medium bowl, whisk together all other bread pudding ingredients. Pour over the bread and stir to thoroughly combine. Cover and chill for at least 2 hours or up to 8.
Preheat oven to 350 degrees. Lightly grease six 6-ounce ramekins; set aside.
In a small bowl, toss together the apple slices with the lemon juice and cinnamon.
In a skillet, melt together the butter and the brown sugar over medium-high heat. Add the apple slices and cook for 2-3 minutes, until the apples are just starting to soften around the edges and are coated in the butter and brown sugar. Remove from heat.
Divide the apple slices evenly into the bottoms of each prepared ramekin, topping with any remaining brown sugar sauce.
Spoon the chilled bread mixture on top of the apples.
Place ramekins on a baking sheet and bake for 50 minutes, covering with foil after 30 minutes.
During the last 15 minutes of baking, prepare the sauce: In a medium skillet over medium heat, toast the pecans 3-5 minutes (stirring frequently), or until toasted and fragrant. Remove from heat.
In a small saucepan, cook the brown sugar, butter and corn syrup over medium heat, stirring frequently, about 3-4 minutes or until the sugar is dissolved. Remove from heat and stir in vanilla and pecans.
When the bread puddings have finished baking, remove from the oven and drizzle with the caramel sauce. Bake for an additional 5 minutes (uncovered), until sauce is heated through and begins to bubble. Serve warm.