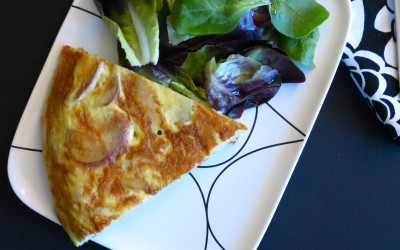 ¡Hola amigos! I hope everyone had a lovely, relaxing holiday weekend. Did anyone cook anything special or fun for Memorial Day? I wish I could say that I whipped up a feast entirely on the grill, but considering I don't have a grill (or a balcony…or even a grill pan, for that matter), that didn't happen. I did, however, have some friends over for individual pizzas and strawberry shortcake! Oh, and wine. Obviously.
Some of you may have noticed the new blog design. You can now easily follow me via various forms of social media by using the buttons at the top of the sidebar. I have also added a "links" page – there you can find links to some blogs that I regularly follow – ones that are not just full of great recipes, but that I truly enjoy reading. If you are ever looking for some new sites to peruse, check out the list.
And now, back to our regularly scheduled programming…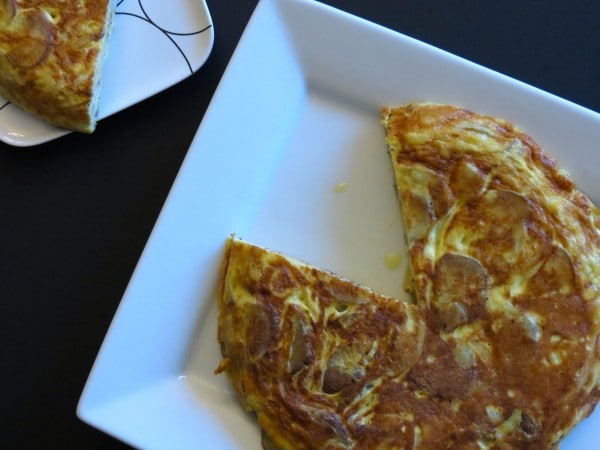 Guys.
Remember my previous battles with tortilla española? Well, I'm here to tell you: the third time really is a charm.
Let's back up a bit here. To preface: tortilla española, or Spanish omelette, is essentially like a fritatta filled with thinly sliced potatoes and onions. Perfect in its simplicity, it is an extremely popular dish in Spain and is most often served cold, either as a tapa or sandwiched between two pieces of crusty bread. Basically, it is Heaven enveloped in eggs.
Now, I can't tell you how many times I made tortilla with my Spanish host mom while living in Madrid. Since it is so quick and easy, and perfect as leftovers for lunch or snacking the next day, we regularly made it for dinner. And yet, in my American kitchen, I kept messing it up. This was frustrating.
Traditionally, tortilla is made entirely on the stove by cooking the eggs mostly through from one side, then using a plate to flip the tortilla over and finish cooking it on the other.
Not exactly an easy, or mess-free, task for me.
So, to simplify things for all involved, I've chosen to go with the slightly less traditional route of starting the tortilla on the stove and then finishing it off in the oven. I promise you, this is exponentially easier and much less likely to result in bits of egg and potato all over your kitchen floor. It will taste the same as doing it the traditional way. Really, it will.
Last thing: Make sure you have yourself a good, oven-safe non-stick skillet for this. You can certainly use any oven-safe skillet, but using anything other than non-stick is going to result in a tortilla that tastes great but refuses to leave the pan. It's really up to you, but, for the record, I was able to find a good oven-safe non-stick for relatively cheap. It's just an overall good investment.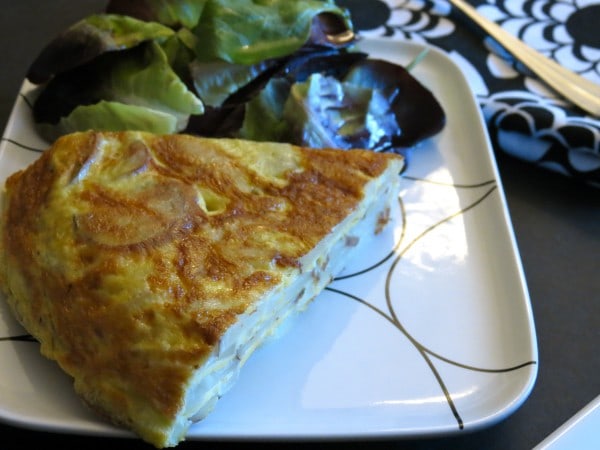 Ingredients
1

large onion

4

medium red potatoes

or 2 large russet potatoes

5

eggs

Olive oil

salt and pepper
Instructions
Preheat oven to 350 degrees.

Peel and thinly slice the onion and the potatoes (if using red or another soft-skinned potato, you may choose to leave the skin on). Place in a large microwave-safe bowl and toss with a nice drizzle of olive oil, a big pinch of salt and a few grinds of fresh black pepper. Microwave on high for 7-10 minutes, stirring once, or until the potatoes are just cooked through. Once cooked, remove from microwave and allow to cool slightly.

Once the potatoes and onions have cooled slightly (you can speed up this process by sticking them in the freezer for a few minutes), in a separate bowl whisk the eggs with another pinch of salt and a few more grinds of pepper. Add the eggs to the potatoes and onions, stirring to coat.

Heat a tablespoon of olive oil in a 10-inch, oven-safe non-stick skillet over medium-high heat. Add the potato and egg mixture to the hot pan, spreading out the potatoes to evenly cover the pan. Allow to cook for 3-5 minutes, or until the edges of the tortilla are set.

Transfer the pan to the preheated oven and bake for 10-15 minutes, or until the center of the eggs are set. Remove from the oven and invert onto a plate, so that the bottom of the tortilla is now on top.

Serve warm or, more traditionally, at room temperature or cold. Will keep, well wrapped in the fridge, for 3 days.