Yukon gold potatoes lovingly combined with tzatziki sauce. Delicious, perfect for your next cookout, and not a speck of mayo in sight.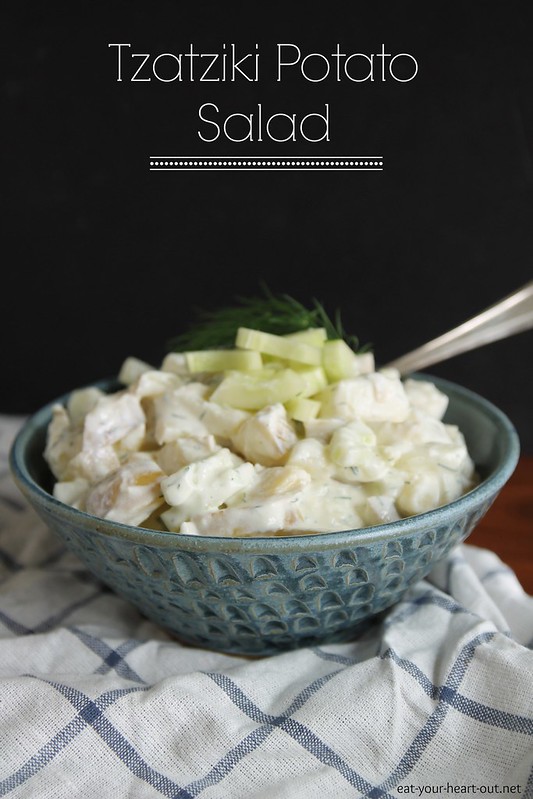 I need to digress from potato salad for just a hot minute. If all you're here for is potato salad, keep scrollin' because I'm gonna babble for a second.
I've been rereading the Harry Potter series recently. I got a little bogged down with life around book three, but got moving on it again a couple of weeks ago and have hardly put the books down since. (In case you're wondering, I'm in book five and no, I don't think my heart can handle the loss of Sirius again.)
This is hardly my first time reading, or even rereading the series. And yet I can't put the dang things down. I know exactly what is going to happen, but it tears me apart into little pieces every time something tragic occurs. My heart still beats like rapid fire every time Harry comes face-to-face with Voldemort. I still shout "FINALLY!" when Ron and Hermione finally get their crap together at the end of the 7th book.
I know logically these aren't real people. I know that I'm not going to run into Harry or Sirius or – heavenhelpmeIwishhewasreal – Dumbledore on the street, and yet…these characters are so real to me. And it is not even so much that I literally grew up with them (the first book came out when I was 10 and the last one came out the summer I graduated from high school) – I feel this way about all of my favorite novels. I can't talk to you about the antagonist in East of Eden – I'll get too mad and you'll think I'm a lunatic. The Fault in Our Stars? Excuse me while I have a complete emotional meltdown and carry around an emotional hangover for three days (I think the cure for that is ice cream, by the way).
Sometimes I wonder what I would cook for my favorite characters. (Yes, I do realize I just inadvertently labeled myself as a
complete
freak.) Molly Weasley is one of my favorite characters in the Harry Potter books. I think it is because she is always cooking for people and wants to make sure all of her children – Harry included – are well fed. This is the type of woman I can hang with. I like to think that if Mrs. Weasley and I were cooking together, we would whip up quite the meal – she would be totally impressed with my ability to make a pie crust without using magic, and I would totally envy her ability to peel potatoes with just a flick of her wand. I trust that we would pull together quite a spread. In fact, this potato salad would probably make the cut. The recipe makes enough to feed a Weasley-sized family (that is to say, enough to feed a small army, so halve the recipe if you are cooking for a normal amount of people), and there isn't a person around who doesn't seem to love potato salad.
My own bit of magic? Because this is a Tzatziki Potato Salad, we use Greek yogurt to make the salad creamy. There's not a spoonful of mayo to be found!
PS – For my fellow book worms out there, this article proves why we are awesome.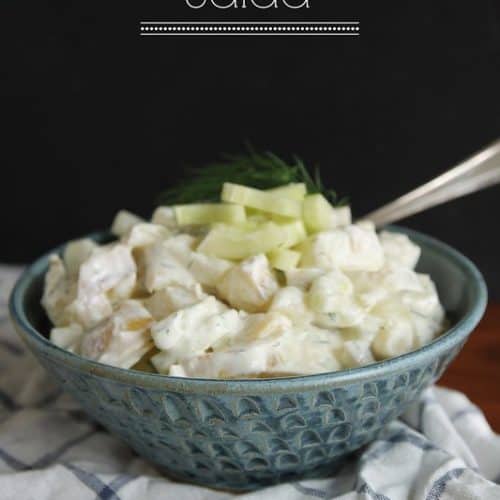 Tzatziki Potato Salad
Yukon gold potatoes lovingly combined with tzatziki sauce. Delicious, perfect for your next cookout, and not a speck of mayo in sight.
Print
Pin
Rate
Ingredients
5

pounds

Yukon gold potatoes

diced

2

cucumbers

1 1/2

cups

Greek yogurt

3/4

cup

sour cream

Juice of 1 lemon

1 1/2

tablespoons

chopped fresh dill

2-3

cloves

garlic

minced

Heavy splash red wine vinegar

Salt to taste
Instructions
Place diced potatoes into a large pot. Cover with cold water and season liberally with salt. Bring a a boil; boil until potatoes can be easily pierced with a fork, about 10 minutes (depending on the size of your potato pieces). Drain potatoes; set aside to cool.

Peel cucumbers and slice in half lengthwise. Use a spoon to scoop out the seeds, then dice and place in the biggest bowl you have. Add the rest of the ingredients; stir to combine. Fold in the cooled potatoes. Cover and chill for several hours or overnight to allow the flavors to meld.