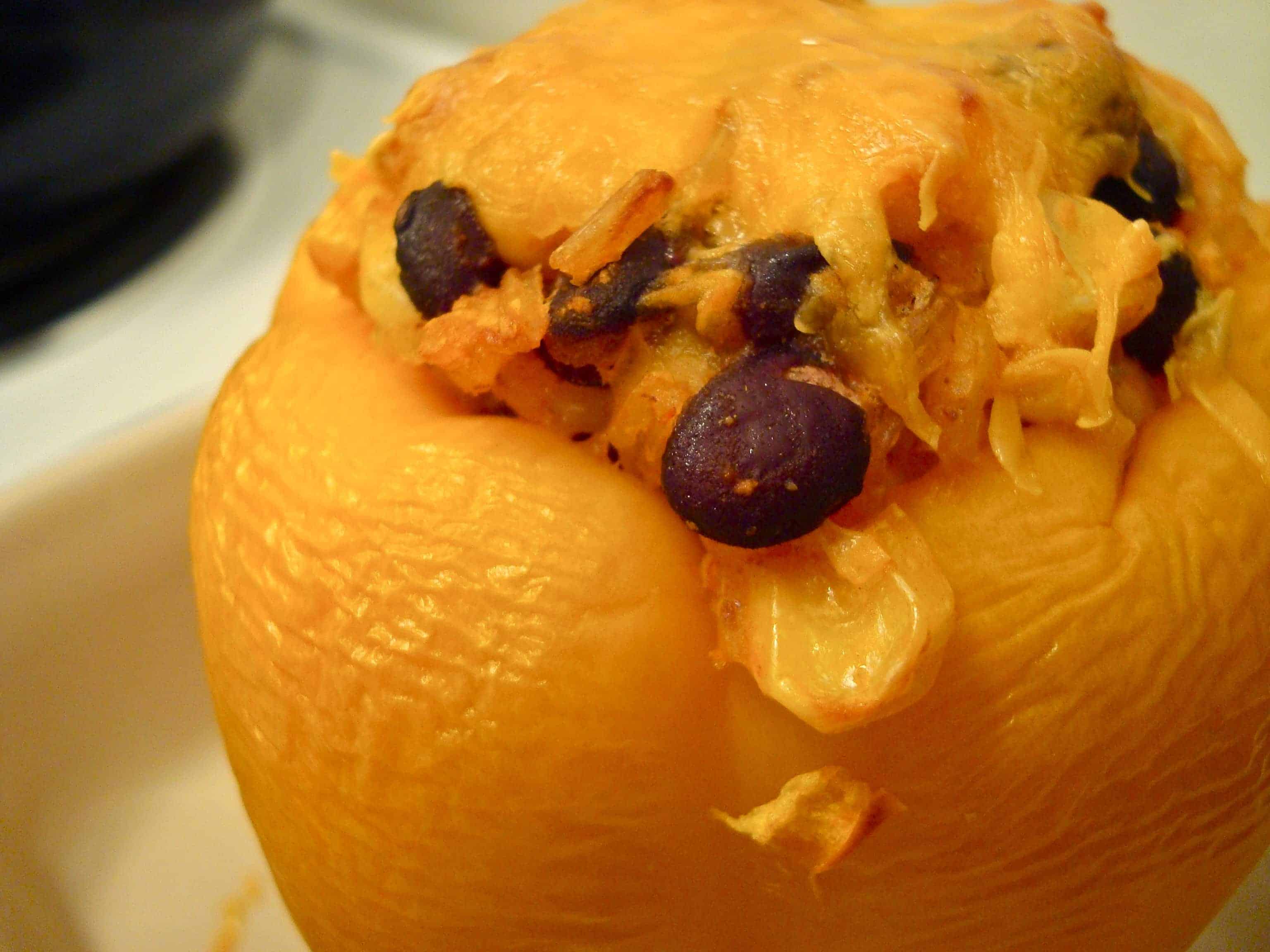 There are a lot of advantages to living by yourself.
Most of them have to do with the fact that I'm lazy and I don't like to clean.
Come home and kick your shoes off in the middle of the living room? No one cares.
Pile your mail a mile high on your dining room table? No one cares.
Neglect to put away your clean laundry for three days? Guess what…
No.
One.
Cares.
Of course, at some point the "no one cares" thing does just become an excuse not to bother tidying up. It's a good thing I have to go to work every day or I would probably start extending that theory to my appearance, too…
All of that to say that I have a pile of dishes (clean and dirty) in my kitchen that I need to do something with. But guess what? Do I even need to say it? So instead, I will tell you about these peppers.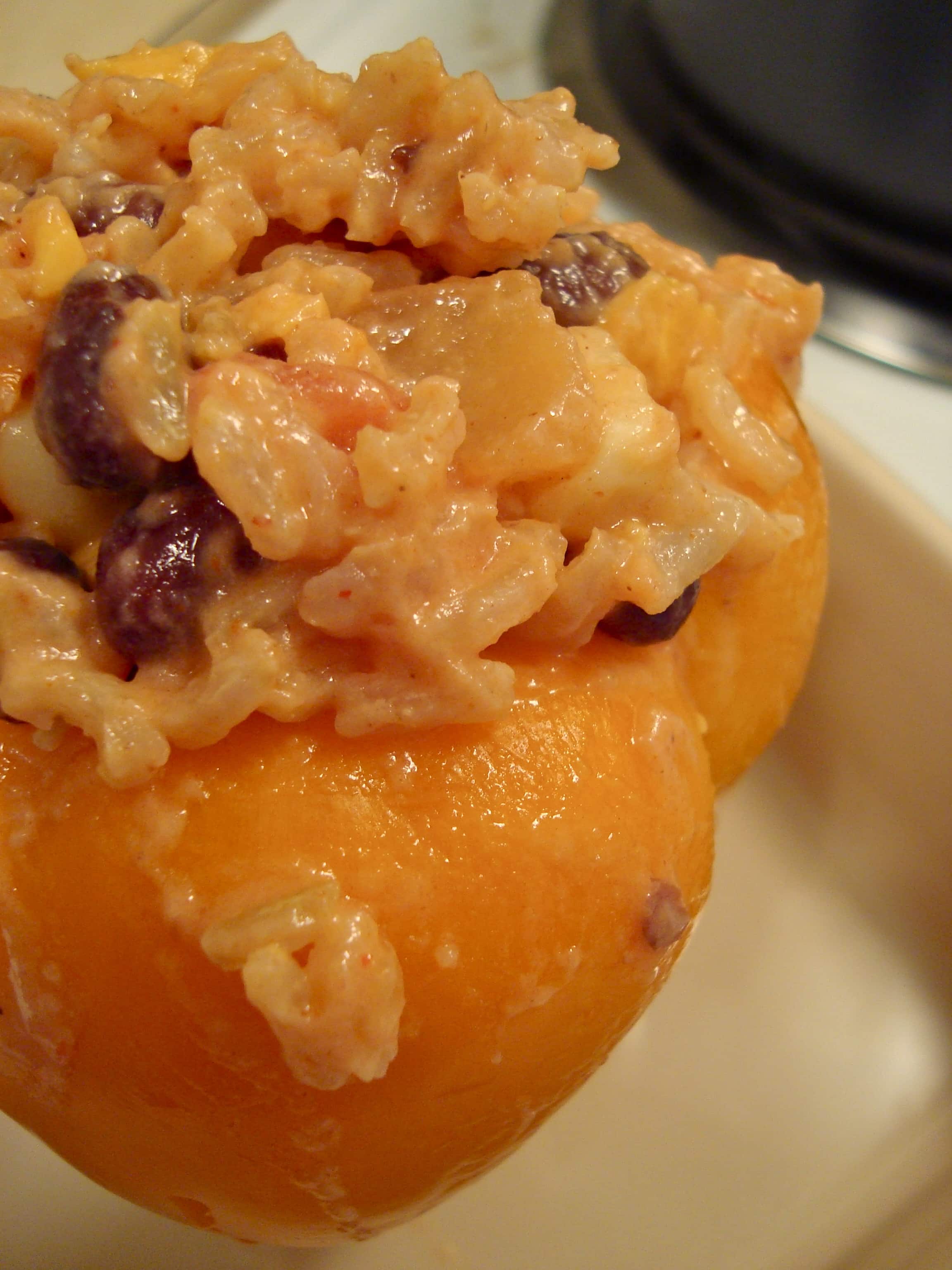 This recipe makes two stuffed peppers.
Well, in theory it makes two stuffed peppers. Only, I realized too late that one of my peppers had started to go the way of a bad science experiment (it happens to all of us, sooner or later), so for me it was actually one stuffed pepper and one stuffed ramekin.
Which totally works for crazies like my mother who don't actually like peppers and just eat the filling anyway.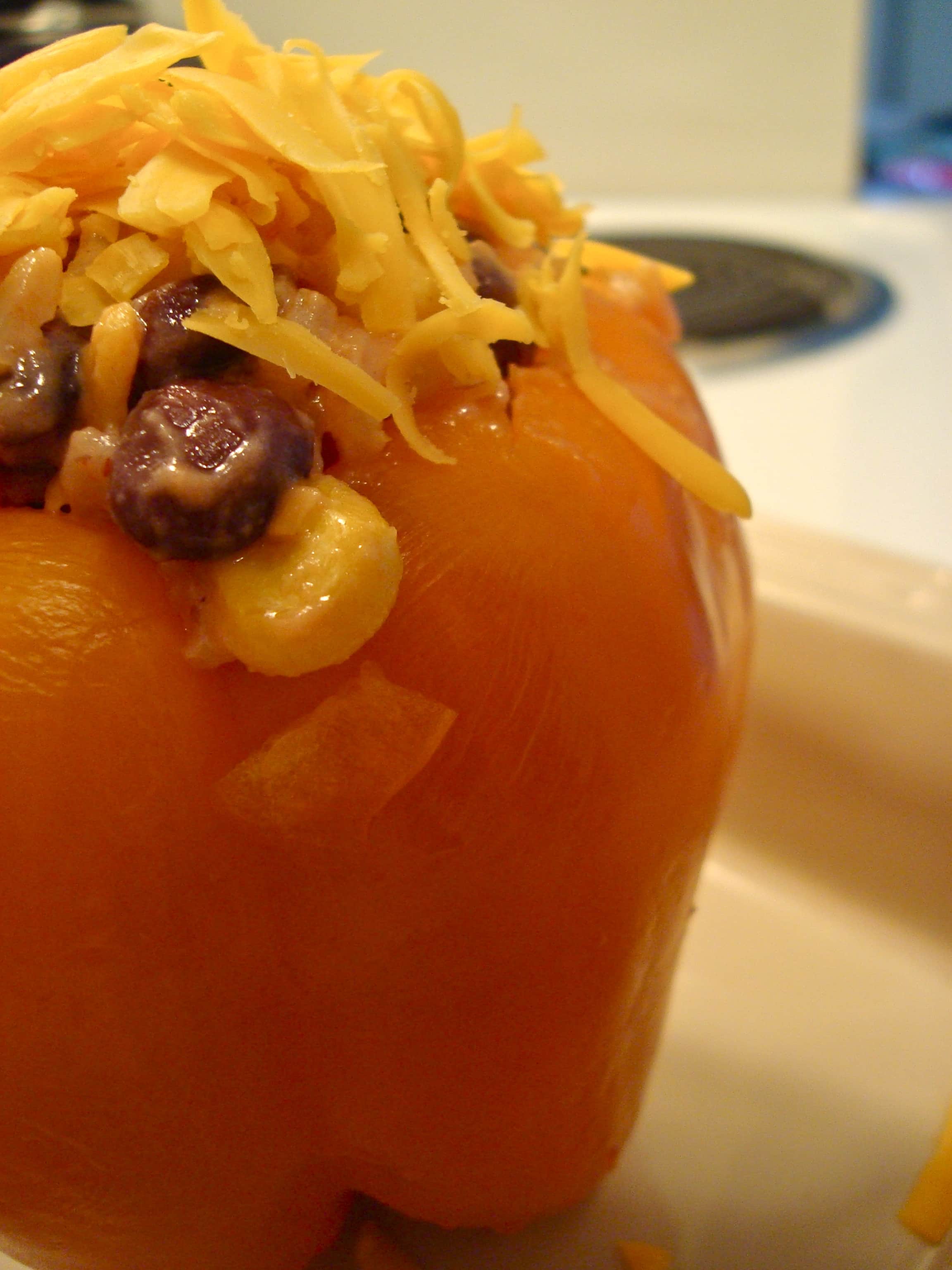 While making these, my kitchen totally exploded.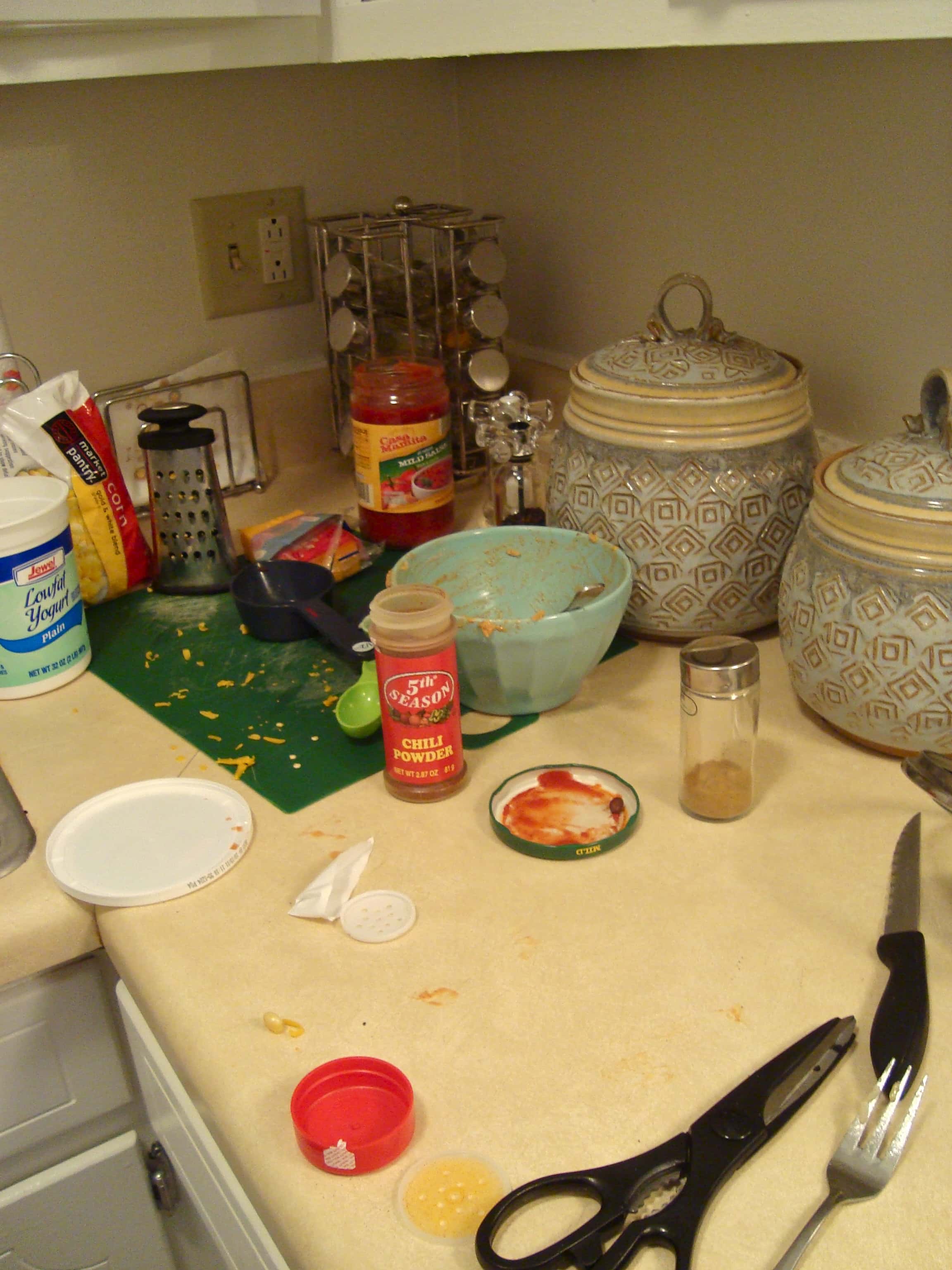 Really, I have no idea how it gets that way. One minute it's clean as a whistle and the next…BOOM!
I have a suspicion that these suckers would freeze pretty decently. This is just a theory, though (since I clearly didn't have any extra peppers hanging out with which to test this), so if anyone tries it, let me know how it turns out.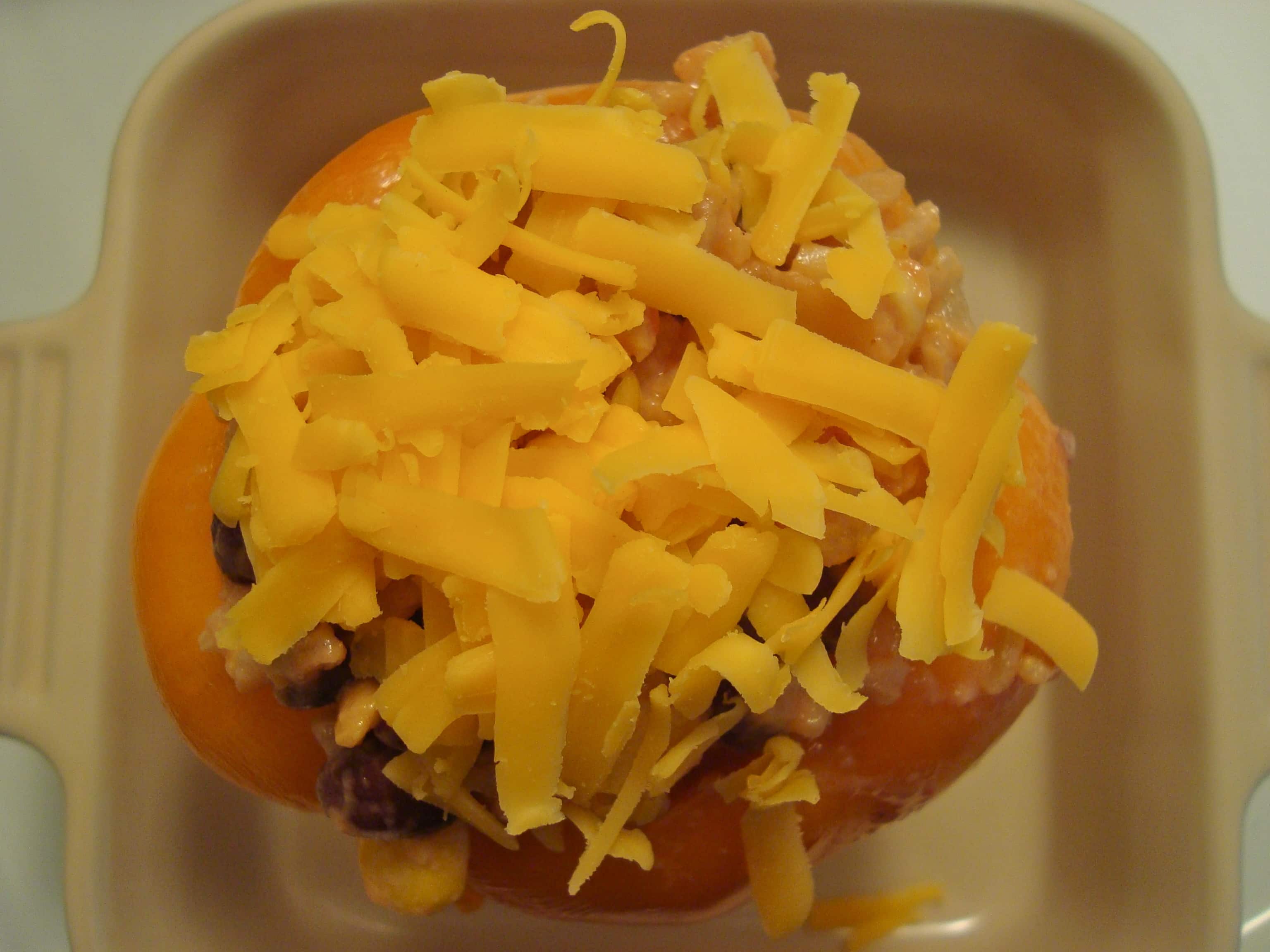 Also, if you're not into the vegetarian thing – although I totally am because, guess what, beans are cheaper than meat – you could totally add some cooked chicken to these. It would be a delicious addition.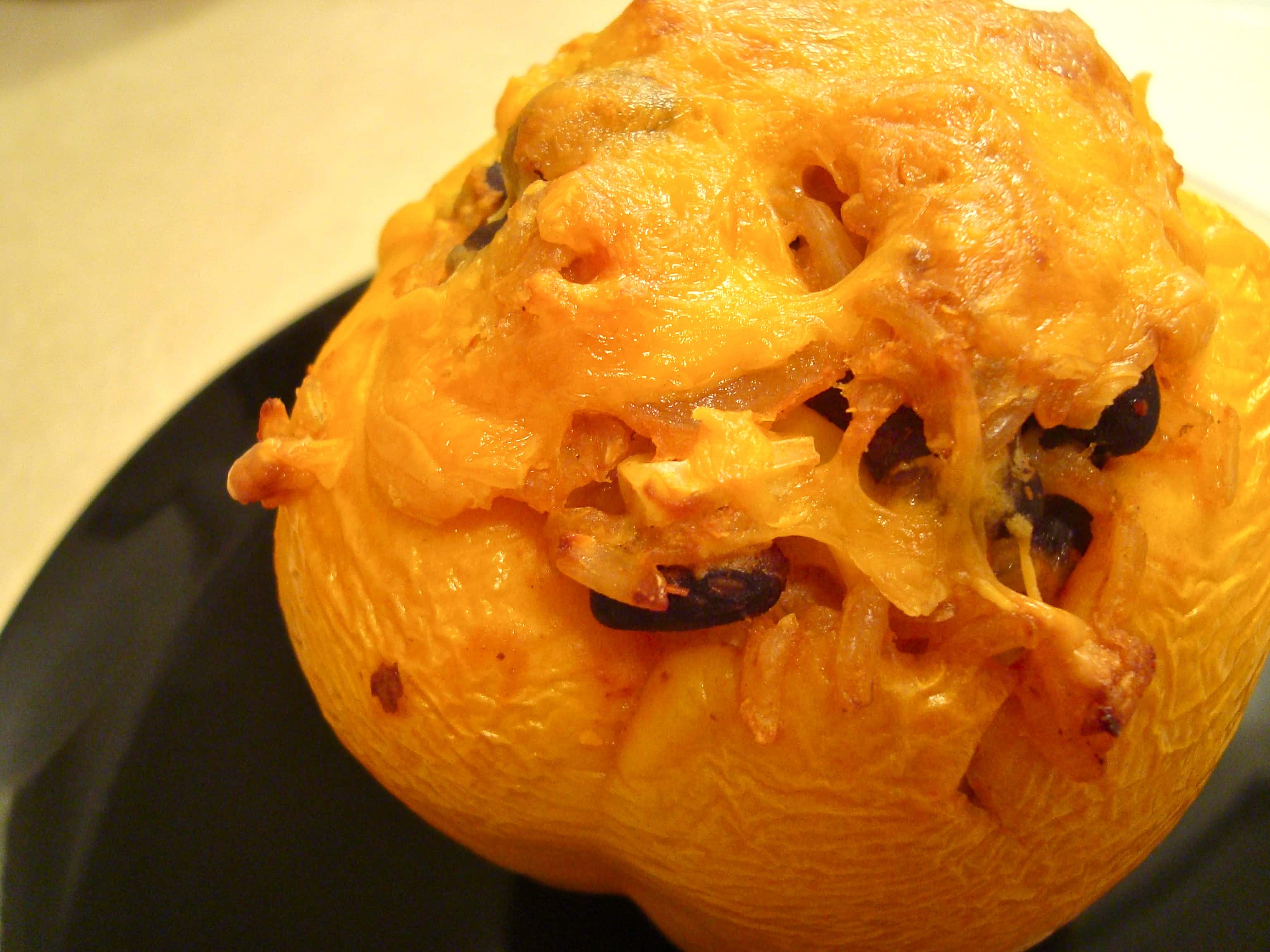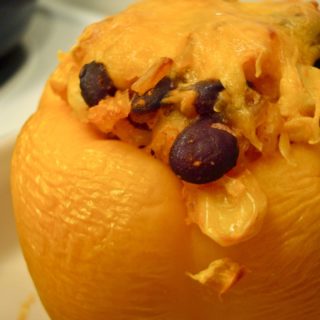 Ingredients
2

bell peppers

any color

1

cup

cooked brown rice

3/4

cup

black beans

1/2

cup

frozen corn

1/4

cup

salsa

2

tablespoons

Greek yogurt

1/4

teaspoon

ground cumin

1/4

teaspoon

chili powder

use more if you like more heat

1/4

cup

grated cheddar cheese + additional for sprinkling on top
Instructions
Preheat the oven to 350 degrees.

Wash and cut the tops off the peppers. Remove the seeds. If your peppers do not sit steadily, you may need to slice a very thin layer off the bottom. Alternatively, you can slice peppers in half lengthwise and fill them that way (like little boats!). Place in a casserole dish.

In a bowl, combine the rice, beans, corn, salsa, yogurt and spices. Stir in the cheese. Fill peppers with stuffing, mounding stuffing on top as needed. Sprinkle with extra cheese if desired. Bake for 40-45 minutes or until they start to brown and are heated through.