Muddled blackberries, lime, vodka, and ginger beer. Be still my Monday-weary heart.
Happy Monday! May I interest you in some vodka?
Wait…what? Don't try to tell me you weren't thinking the same thing.
But really…wouldn't Mondays be just a little less difficult to get through if we all took some time for happy hour? It doesn't have to be for a cocktail, if that isn't your thing; I would happily (read: exuberantly) drop everything on a Monday afternoon for pie happy hour. Or ice cream happy hour. Or burrito happy hour…
You get the idea.
But this week, when we were teased with a taste of warm weather over the weekend only to be thrown back to jackets, close-toed shoes, and a snowflake icon on my Weather Channel app (curse you, Weather Channel!), this is what I want for my imaginary mandatory Monday happy hour: a Moscow Mule kissed with blackberries.
Sidebar: I realize that I'm probably going to get comments telling me that I cannot-how-dare-you-even-think-of-it-oh-the-horror call this drink a "Moscow Mule" when it is not served in a copper mug and I adulterate it with blackberries. To those people I would like to say: Buy me a set of copper mugs and I will gladly reshoot this recipe. Also, I like blackberries. That is all.
I'm glad we had this talk.
As with any cocktail, feel free to play with the recipe ratio based on your personal preferences. Add a little more vodka for a stronger drink, throw in a few more blackberries or more lime for a fruitier one. I personally like making my drinks with Tito's Vodka, but use whatever you like best. And no, they did not pay me to say that – I just happen to genuinely like their vodka. It's incredibly smooth; even vodka-hating Boyfriend doesn't mind it. But, should you be absolutely anti-vodka, try swapping in some gin instead. This time of year, when blackberries are just starting to come into their own, you'd be hard-pressed to do wrong here.
Happy Monday, y'all. Cheers!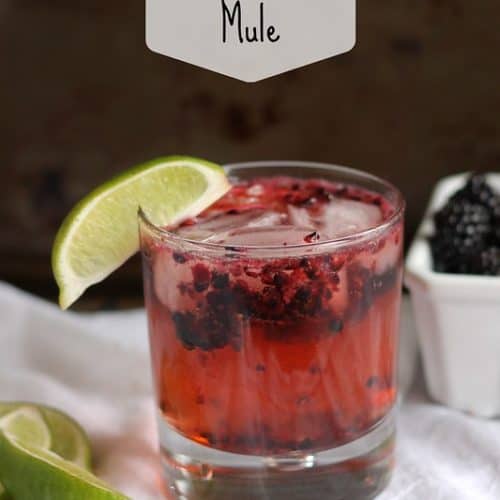 Ingredients
4-5

fresh blackberries

2

lime wedges

1-2

ounces

vodka

Ginger beer

Ice
Instructions
In your favorite cocktail glass, muddle the blackberries and one lime wedge. Add 2-3 ice cubes, then pour in the vodka and top with ginger beer. Garnish with the remaining lime wedge. Enjoy!