Homemade Heath Bars: Butter toffee topped with sliced almonds and milk chocolate makes for a surprisingly simple version of your favorite Heath Bars, just in time for the Easter baskets.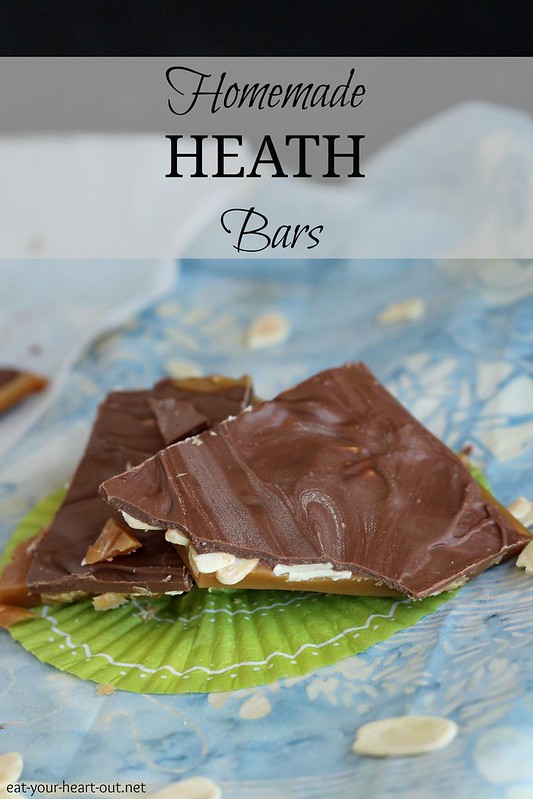 I've already told you guys how Boyfriend is the Ebenezer Scrooge of desserts. Even my Pecan Raisin Pie, which he raves about, only gets at most two bites before he is done.
So you can imagine my surprise when I asked for suggestions of what to make for the blog a couple of weeks ago and his immediate response was, "Heath bars."
I was so taken aback I replied, "Like…homemade Heath bars?" You know, just to make sure I was understanding him correctly.
"Yeah, sure."
Well, that was instructive.
Of course, since I am a lifelong chocolate hater (for which I feel the need to apologize every time I make mention of it) I wasn't even sure what a Heath Bar was. Thank goodness for the Google machine, which told me that it is really nothing more than toffee covered with almonds and milk chocolate.
Ok, easy enough.
That night I pulled out the trusty candy thermometer and an entire pound of butter – yes, you read that correctly, a pound of butter – and set to making candy.
If you've never made candy before, it truly isn't as scary as it seems. You'll need a good candy thermometer (I tend to be leery of recipes that only tell you to go on time or the color of your candy – too much room for error, if you ask me) and some patience. Pick a day that you're blessed with a decent attention span.
Your candy will take a while to get up to temperature, but it will only take a few minutes to go from perfect to overdone, so no walking away and doing something else, ya hear? Things also move fairly quickly once you get started, so have your ingredients measured and ready to go before you get started.
#Protip
Oh, and I should mention: If you aren't a fan of almonds or milk chocolate, feel free to use your favorite nut or a nice dark chocolate. Mix it up! That's the great thing about making things at home, remember?
Toffee adapted from The Pioneer Woman's "Lia's Butter Toffee" recipe
Ingredients
2

cups

1 pound unsalted butter

2

cups

sugar

1 1/2

tablespoons

water

1/2

teaspoon

salt

1

teaspoon

vanilla

1/2

cup

sliced almonds

2-3

cups

chopped milk chocolate
Instructions
Line a rimmed baking sheet with parchment paper. Measure out vanilla and almonds; set aside.

In a large Dutch oven, bring butter, sugar, water, and salt to a boil, stirring constantly. Once butter and sugar are melted, insert your candy thermometer, making sure it is covered by the mixture but not touching the bottom of the pot. Cook, continuing to stir, until mixture reaches 298 degrees (hard crack stage). Remove from heat and quickly stir in vanilla, then pour mixture onto the prepared baking sheet. Smooth out with a spatula, sprinkle on almonds, then set aside to cool for at least an hour.

Once toffee has cooled, place chocolate in a microwave-safe bowl. Microwave on high in 30-second increments, stirring after each. Heat until just melted, then pour over cooled toffee and spread even with a spatula. Allow to harden, then break into pieces and serve.