Gluten-free granola full of spring-green pistachios and flavored with honey. Package it up for a friend or add it on top of your favorite frozen yogurt for a springy treat.
Guys. It is finally starting to feel like spring here in Chicago! Yesterday I was driving around with my windows down, and rumor has it that it's supposed to get up to 75 degrees today.
I know, I almost fell over from shock, too.
And since spring has finally arrived (knock on wood), it seems like the perfect day for today's 12 Bloggers post. Remember, on the 12th of each month I join up with 11 other bloggers to bring you 12 recipes, each with 12 ingredients or less. And this month's theme?
Yep, you might have guessed it: spring treats! I love that we all went different routes with our recipes this month, each with a different interpretation of spring treat. Since the weather has still been…weird…here until recently, finding fresh fruit was a bit of a challenge for me, so I decided to make you a gluten-free Honey Pistachio Granola. Sweet honey, crunchy oats, and spring-green pistachios make for a granola that is perfect for packaging up as a springtime surprise for a friend, neighbor, or teacher. Maybe you aren't so willing to share? No problem – sprinkle some of your homemade granola over your favorite frozen yogurt for a figure-friendly treat. We are staring bikini season in the face, after all.
Yes, I want to punch myself for saying that.
Make sure to check out what my fellow bloggers made this month:
Rhubarb Pichu Berry Crumb Bars from Betsy Life
Strawberry Sorbet from Home Cooking Memories
Lemon Pistachio Ice Box Pie from A Little Claireification
Springtime Blondie Bars from The Rebel Chick
Edible Flower Bouquet from A Million Moments
Spring Candy Bark from A Night Owl Blog
Spring Snack Mix from Bless This Mess Please
Pink Chocolate Covered Easter Egg Rice Krispie Treats from Mom Endeavors
Fruit Salsa & Edible Butterfly Cinnamon Chips from See Vanessa Craft
Pineapple Coconut Gooey Cake from Around My Family Table
Strawberry Whip from Plugged In Family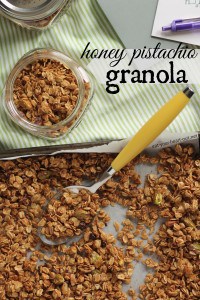 Ingredients
3 1/2

cups

gluten-free oats

1/2

cup

chopped hazelnuts

1/2

cup

shelled pistachios

1/2

cup

flax seed

1/2

teaspoon

kosher salt

1

tablespoon

cinnamon

1

cup

raw honey

3

tablespoons

vegetable oil
Instructions
Preheat oven to 300 degrees. Line a rimmed baking sheet with parchment paper. Set aside.

In a large bowl, toss together the first 6 ingredients.

In a small saucepan, heat honey and oil over medium heat until just starting to simmer. Remove from heat and stir into the oat mixture, stirring to coat.

Pour granola onto the prepared pan. Bake for 30-35 minutes, stirring every 7-10 minutes. Allow to cool, then package in airtight containers.