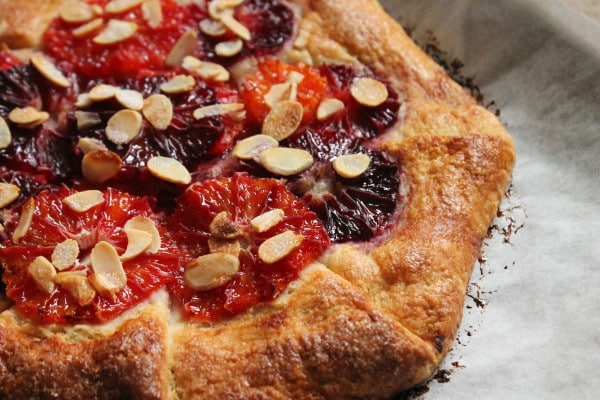 Hey. Y'all. Valentine's Day is in a week.
Were you aware?
I mean, anyone who shops at Target on a regular basis has been bombarded by heart-shaped everything since January 2nd…
Have you decided what you are making for your sweetheart yet?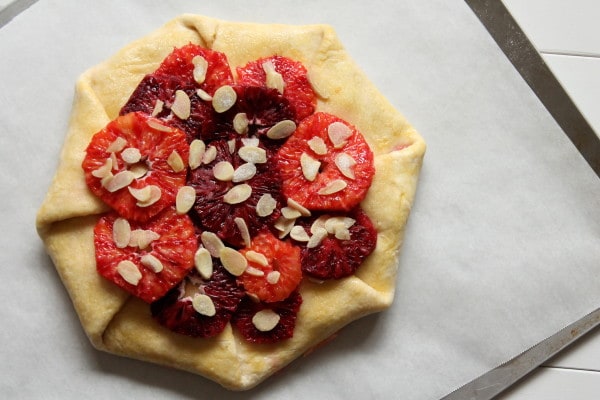 I know that chocolate and heart-shaped desserts are traditional for Valentine's Day, but we all know that chocolate isn't exactly my best friend and I posted my favorite cut-out cookies last year…so I decided to go a slightly different route this year.
This year, blood oranges were just screaming Valentine's day to me. It's that deep red color, ya know? And who doesn't love a pretty tart?
I think this is just about the prettiest tart I've ever seen. Certainly the prettiest tart I have ever made. How could your sweetie not love something this pretty, made just for them?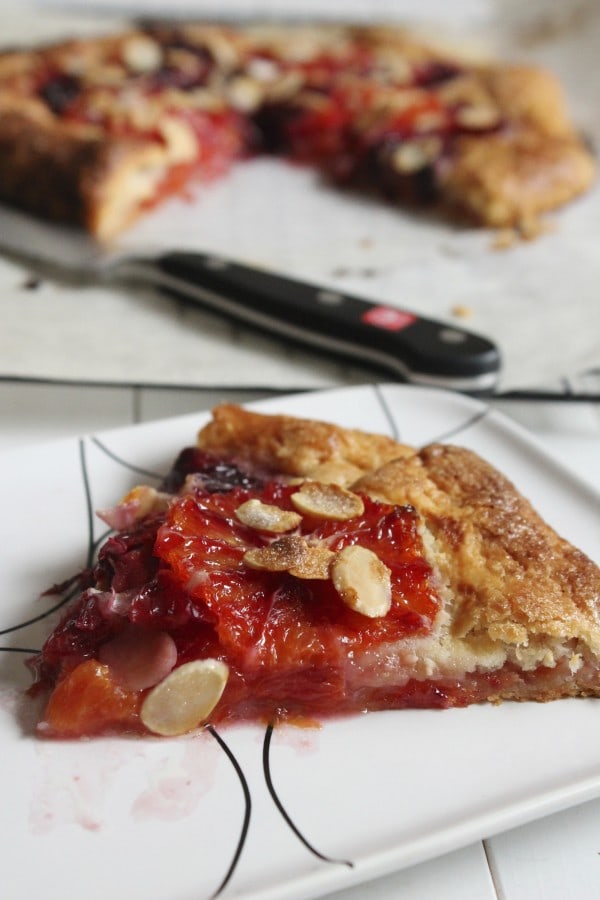 And it only gets better: I know that Valentine's Day falls on a weekday this year, so maybe you have to work and don't know how you're going to have time to pull together a beautiful dessert. Here's your answer: You bake this tart straight from the freezer! So put it together this weekend, store it in the freezer, and bake it up next Thursday night. Your romantic evening just go that much less stressful.
You don't have to tell me: I know you love me.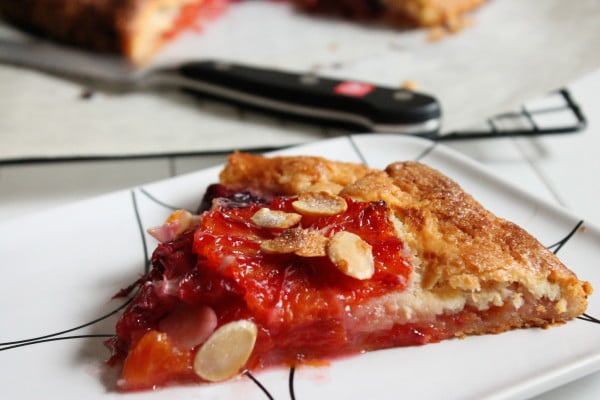 Adapted from Food & Wine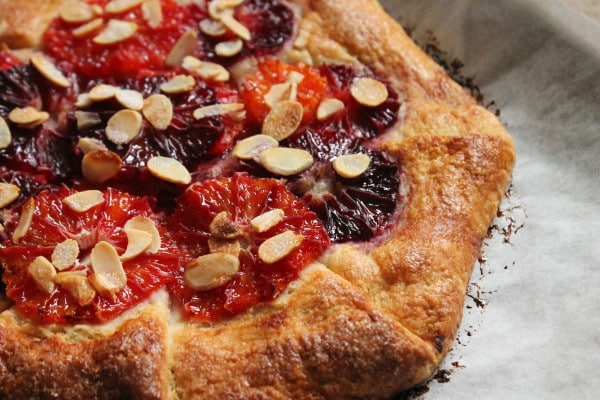 Ingredients
3/4

cup

flour

1/4

cup

almond flour

1/4

teaspoon

baking powder

1/4

teaspoon

salt

1

stick + 1 tablespoon unsalted butter

chilled and divided

3-4

tablespoons

ice water

6

medium blood oranges

5

tablespoons

sugar

divided

2

tablespoons

sliced almonds

divided

1

egg yolk whisked with 2 tablespoons water
Instructions
In a large bowl, combine the flours, 2 tablespoons of sugar, baking powder and salt. Add in 1 stick of the butter, cutting it into the flour mixture with a pastry cutter until the mixture resembles coarse meal. Sprinkle in 3 tablespoons of the ice water, stirring together with a fork, until the mixture is crumbly but just starts to come together. Add in another tablespoon of water if your mixture seems inordinately dry.

Knead the dough 2-3 times on a floured surface, then wrap in plastic and chill for 30 minutes.

Meanwhile, peel the oranges: Cut the rind off, making sure to remove all of the bitter white pith. Thinly slice 2 of the oranges and remove the pits; set aside. With the other 4 oranges, carefully cut between the membranes to remove the individual segments (you will need about 1 cup of segments); place the segments in a fine mesh strainer set over a bowl. Shake out the juice without smushing the segments. Set aside. Reserve the juice for another use.

Roll the chilled pastry dough into an 11-inch round. Place onto a parchment-lined baking sheet and chill for an additional 15 minutes.

Arrange the orange segments in the center of the pastry dough, leaving a 2-inch border. Sprinkle with 1 1/2 tablespoons of the sugar and 1 1/2 tablespoons of the almonds. Fold up the edges of the dough, brush with the egg wash, and sprinkle with 1/2 tablespoon of the sugar.

Arrange the slices on the top of the tart, leaving a 1-inch border. Sprinkle with with remaining 1 tablespoon of sugar and 1/2 tablespoon of almonds.

Place into the freezer for at least 4 hours. Once frozen, tart can be wrapped in plastic and stored in the freezer for up to 2 weeks.

When ready to bake, preheat oven to 375 degrees. Place the tart on a parchment-lined baking sheet (preferably one with a rim to keep juices from going all over your oven...learn from my mistakes) and bake for about 1 hours and 15 minutes, or until deeply golden. Cool on the sheet for 30 minutes, then transfer the parchment with the tart to a cooling rack to cool completely.