Brown Sugar Caramels are the perfect sweet treat to make and give this holiday season — just try not to eat them all yourself!
Anyone else have a really hard time keeping your hand out of the candy bowl when there are soft, chewy caramels in there?
…Yeah, me neither…
But seriously. There is just something about homemade caramels. (By the way…do you say "car-muhl" or "care-a-mell"?) It only takes a few humble ingredients and a little bit of heat to make magic happen when it comes to making caramel.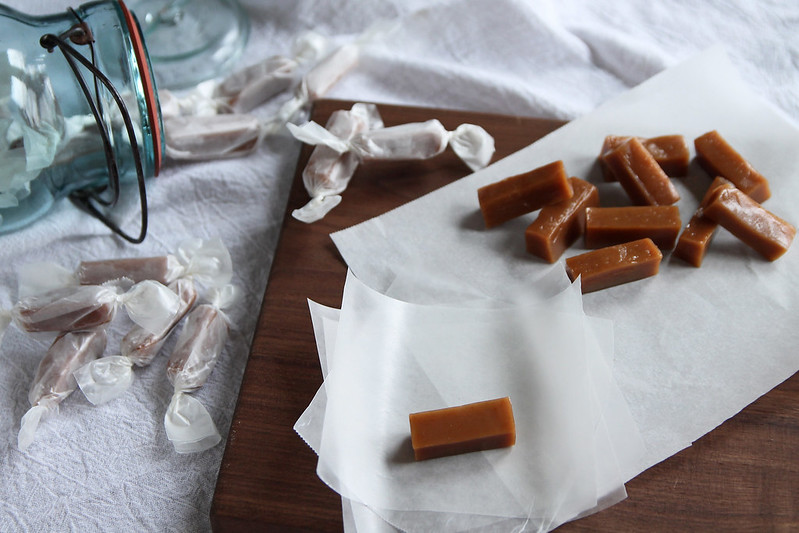 I made these Brown Sugar Caramels just before Thanksgiving and took them to my family. Let's just say that 75 caramels did not last long. They were super impressed – I did not admit to them how easy they were to make.
Much like sharing family recipes with you every Christmas, I seem to have need to encourage you to pull our your candy thermometers about once a year. (Exhibit A: My great-grandmother's Peanut Brittle recipe.)
I know that candy making can feel intimidating, but it really is not that scary. Get yourself a good candy thermometer – this one on Amazon is very similar to the one that I use – keep your eye on it, and you are set.
This recipe makes around 75 caramels – this can increase or decrease depending on how big you cut your candies – which is plenty to give as gifts or take to a holiday party this month. In fact, this recipe is a perfect addition to this month's #12Bloggers theme – Holiday Party Treats!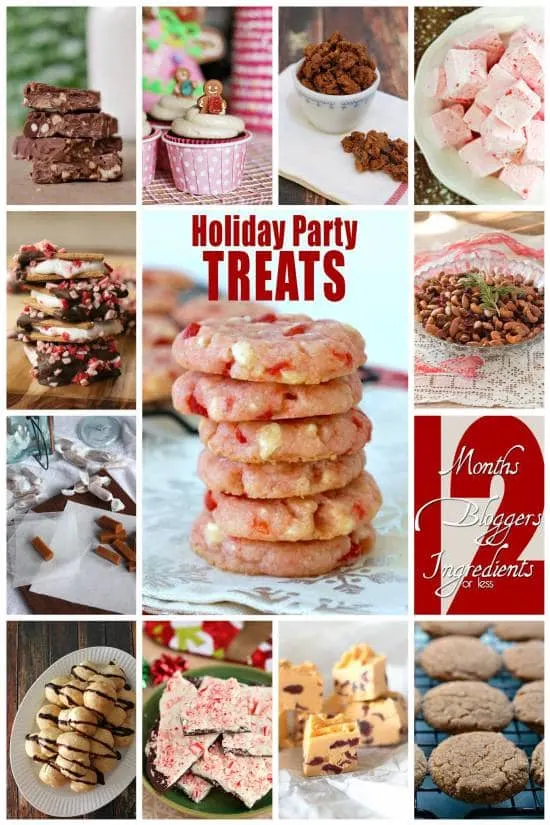 Regardless of the occasion – be it a work shindig, school party or a soiree with the in-laws – we have you covered this month. Make sure to check out my fellow 11 bloggers' recipes for fun and tasty holiday party treats: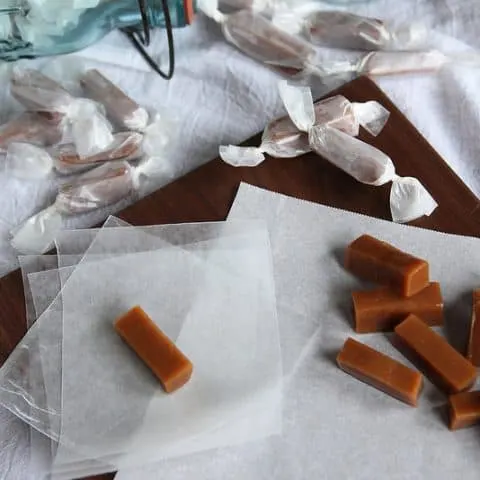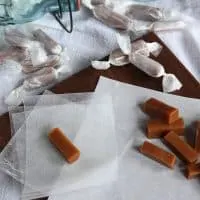 Ingredients
1 1/2

cups

heavy cream

1/4

cup

unsalted butter

Pinch

of salt

1

cup

brown sugar

1/2

cup

granulated sugar

1/4

cup

light corn syrup

1/4

cup

water

1 1/2

teaspoons

vanilla

Sea salt to top
Instructions
Lightly grease an 8x8-inch square pan and line with parchment paper (the baking spray helps keep the parchment in place). Set aside.

In a large glass measuring cup, add the cream, butter and salt. Microwave on high in 30-second intervals until cream is hot and steamy and the butter is melted, stirring or swirling gently between microwave intervals. Set aside.

In a large heavy-bottomed pot (I used my 3-quart dutch oven - you want a large pot for this as the mixture boils up quite a bit), add the sugars, corn syrup and water. Whisk until thick and grainy. Use a wet pastry brush to wipe down the inside of the pot. Clip your candy thermometer to the side of the pot, making sure the tip is submerged but not touching the bottom of the pot.

Turn the heat to medium. Without stirring, heat to 260 degrees. Remove from heat, then slowly whisk in the cream mixture. Mixture will boil up.

Return to heat and, again without stirring, heat to 250 degrees. Turn off heat, quickly but gently whisk in the vanilla, and carefully pour into the prepared pan. Do not scrape the bottom of the pot, as this will have burned sugar that you do not want in your caramels.

Top caramels lightly with coarse sea salt and allow to cool completely, at least 2-3 hours or, preferably, overnight. Cut into squares or rectangles and wrap each piece in waxed paper.
Nutrition
Serving:
1
caramel
|
Calories:
41
kcal
|
Carbohydrates:
5
g
|
Protein:
0.1
g
|
Fat:
2
g
|
Saturated Fat:
1
g
|
Polyunsaturated Fat:
0.1
g
|
Monounsaturated Fat:
1
g
|
Trans Fat:
0.02
g
|
Cholesterol:
7
mg
|
Sodium:
18
mg
|
Potassium:
9
mg
|
Sugar:
5
g
|
Vitamin A:
89
IU
|
Vitamin C:
0.03
mg
|
Calcium:
6
mg
|
Iron:
0.03
mg