Creamy white bean dip flavored with roasted garlic and nutty parmesan cheese.
Hey all! I am back with one more quick and easy (I promise!) recipe before Christmas arrives. But before I get to that, I have one fun thing to share with you.
This past summer I was invited to participate in a series of short videos called Flavor Bits, produced by Chicagonista for Nielsen-Massey Vanillas. Each video was hosted by a different Chicago-area blogger and covered a different easy recipe using Nielsen-Massey vanilla products and/or flavor extracts.
Since my love of baking and all things cookies is pretty well known, I was invited to do a video demonstrating my No-Chill Sugar Cookies recipe.
Want to see? Here you go, just in time for Christmas! (Be kind, please! xoxo)
So, there you go. And, in case you were wondering, those cookies ARE the perfect cookies to make this week with your favorite friends or family. Make, bake, frost,
eat
give! Done.
Now that I have reminded you of the perfect cookie recipe to make this week, let's talk about this Roasted Garlic Parmesan White Bean Dip.
I know that we have all been stuffing our faces with a few too many Brown Sugar Caramels and probably a bit too much Double Gingerbread Cake, so I thought we might need a light yet flavorful appetizer option to help ourselves out a little.
This dip is the perfect option. All it requires is a handful of ingredients – white beans, garlic, parmesan cheese, and a bit of parsley, olive oil and lemon juice – and a food processor. The roasted garlic is incredibly flavorful, the cheese is nutty, and the beans are super creamy, making this the perfect dip with pita chips or veggies.
Put this dip out while finishing up Christmas dinner and get everyone to even out their sugar intake for just a few moments – I promise, they won't even realize that it's good for them.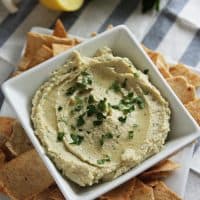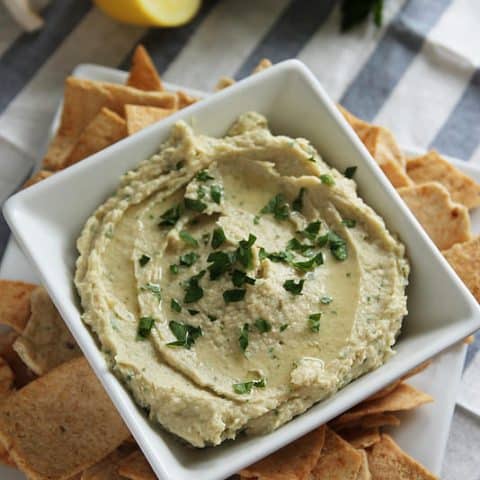 Ingredients
5-6

cloves

garlic

2

15.8-ounce cans cannellini beans, drained and rinsed

Juice of 1/2 lemon

1/4

cup

flat leaf parsley

1/2

cup

shredded parmesan cheese

1

teaspoon

kosher salt

6

tablespoons

olive oil
Instructions
Preheat oven to 450 degrees.

Peel the garlic cloves. Place the cloves in a piece of heavy-duty foil - drizzle with a small amount of olive oil, then wrap in the foil, leaving a small opening at the top of the pouch. Place in the oven for 25-30 minutes, or until garlic is soft and starting to turn golden. Allow to cool.

Place the beans, roasted garlic, and the rest of the ingredients except for the olive oil in the bowl of a food processor. Run processor, streaming in the olive oil until it reaches a creamy consistency, scraping down the sides of the bowl as needed.

Transfer to a bowl. Cover and refrigerate until ready to use. Garnish with additional chopped parsley and a drizzle of olive oil. Serve with pita chips, crackers or veggies.
Nutrition
Calories:
201
kcal
|
Carbohydrates:
18
g
|
Protein:
9
g
|
Fat:
12
g
|
Saturated Fat:
2
g
|
Polyunsaturated Fat:
1
g
|
Monounsaturated Fat:
8
g
|
Cholesterol:
4
mg
|
Sodium:
628
mg
|
Potassium:
28
mg
|
Fiber:
5
g
|
Sugar:
0.2
g
|
Vitamin A:
207
IU
|
Vitamin C:
5
mg
|
Calcium:
146
mg
|
Iron:
3
mg