Instant Pot Persimmon Butter is full of sweet, fresh persimmons. Make it in just a couple of hours using your Instant Pot!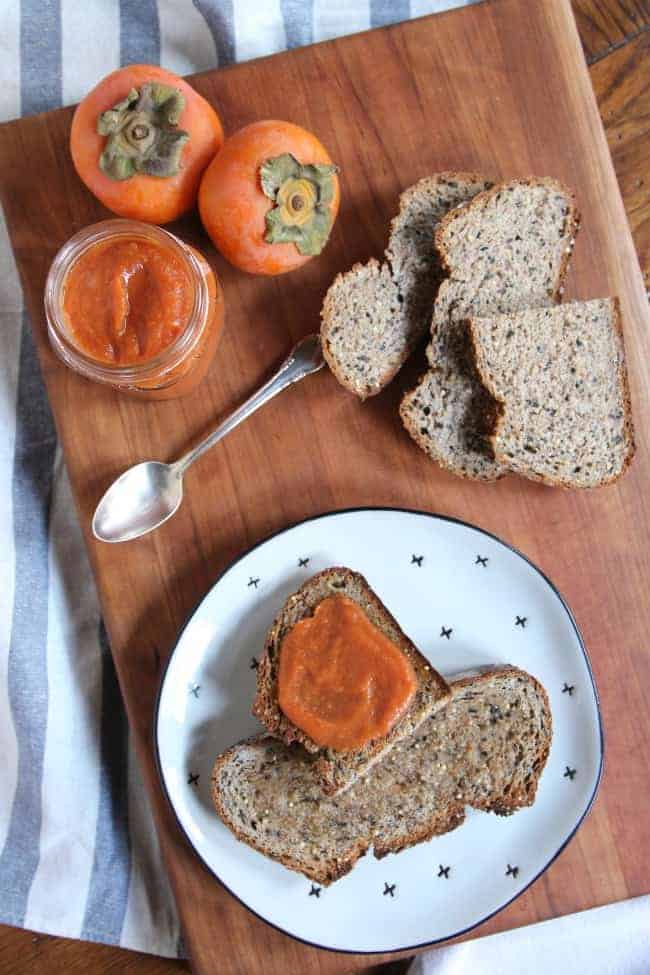 I have always deeply loved fruit butters.
When I was a little girl, we lived just down the road from a restaurant in Indiana called the Beef House. Now, the Beef House is an Indiana institution, particularly because of their rolls.
Beef House rolls are pillowy soft and the epitome of a classic yeast roll. In fact, they have made an entire business out of selling frozen rolls around the Midwest, allowing you to bake them up hot and fresh at home.
Of course, in my family we are now obsessed with making my Fluffy No-Knead Refrigerator Rolls, but in the past we have absolutely been known to enjoy Beef House rolls for a holiday meal or two.
I have not been to the Beef House in years, but when I was a little girl they served their rolls with strawberry jam and apple butter. This is my first concrete memory of fruit butters, and clearly it is one that has always stuck with me.
I mean – don't get me wrong. I love jam. But there's something about fruit butter that I just cannot pass up. Its smooth texture and rich, sweet flavor – oh man! Especially when served on a fluffy roll that's also been slathered in (dairy) butter, there's just nothing better.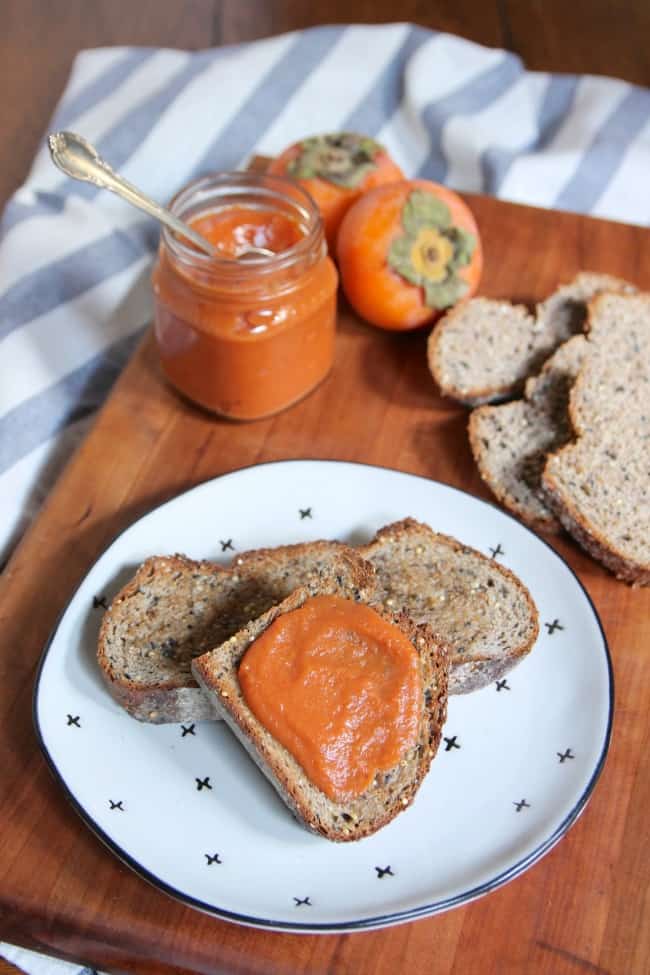 Just after Thanksgiving, my friend Kathleen paid Alex and I a visit. Kathleen lives in Sacramento, and is lucky enough to have a variety of fruit trees in her backyard.
(Tough life, huh??)
On this most recent visit, she was kind enough to gift us a giant bag full of oranges, Meyer lemons, and persimmons – all things that we normally have to pay an arm and a leg to enjoy here in Illinois.
If you've never had a persimmon, remedy this immediately. Fuyu persimmons (the kind used in this recipe) are like a cross between an apple and a tomato. It sounds weird, but I promise it is actually completely delicious. They are sweet and a bit crunchy (like an apple) but with a smooth flesh and thin skin (like a tomato).
I, personally, find it completely acceptable to simply enjoy them with some tangy cheese as part of a cheese and charcuterie board. But when Alex suggested I make Persimmon Butter out of them, it was like a lightbulb went off.
I immediately headed into the kitchen, grabbed my Instant Pot and went to town. Because I made this in an Instant Pot, I was able to make the two-step cooking process required for a truly luscious fruit butter (first cooking the fruit and then reducing the puree until it is thick and sweet and full of the concentrated persimmon flavor) a hands-off process.
If you do not have an Instant Pot, you can follow the same stove-top cooking method as for my Apple Cherry Butter – just note that you will have to babysit it a bit more than you would in the Instant Pot.
The resulting Instant Pot Persimmon Butter will keep in the refrigerator for a week or two. Freeze it for longer-term storage. Just pull out a jar when you're ready to eat it and enjoy the (literal) fruits of your labor long after persimmon season is over slathered on Refrigerator Rolls, Texas Roadhouse Rolls or Sweet Potato Biscuits.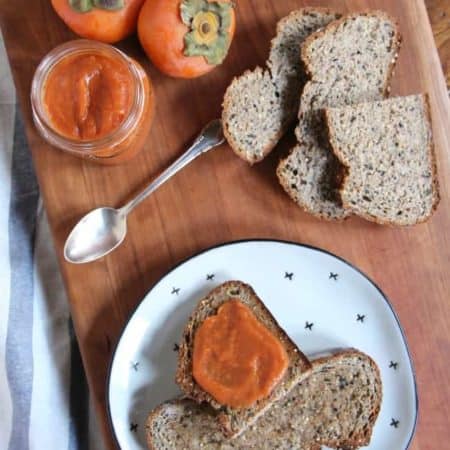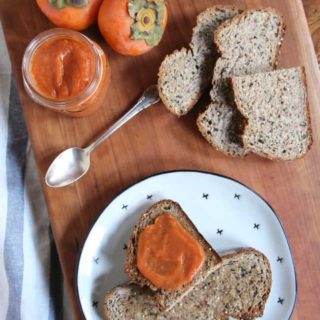 Instant Pot Persimmon Butter
Persimmon Butter is full of sweet, fresh persimmons and can be made in just a couple of hours using your Instant Pot!
Print
Pin
Rate
Ingredients
8-9

Fuyu persimmons

1/4

cup

water

Juice of 1/2 a lemon

2-3

tablespoons

sugar

1

cinnamon stick

1

splash

vanilla

Pinch

of salt
Instructions
Hull the persimmons and cut into chunks. Place into the bowl of an Instant Pot with the water, lemon juice and sugar. Lock the lid into place, making sure the steam valve is closed, and set to cook on "Manual" on high pressure for 45 minutes.

When the timer beeps, quick release the pressure and open the lid. Puree the cooked persimmons in the pot using an immersion blender.

Add the cinnamon stick to the pot and set the lid on the pot, leaving a small gap allow steam out. Do not lock the lid into place.

Set the slow cooker function to high for 1 hour.

When the timer beeps, add a splash of vanilla and a pinch of salt. Taste and add additional sugar or vanilla as needed. Remove the cinnamon stick before transferring to airtight containers for storing in the refrigerator or freezer.
Notes
For an ultra-smooth butter, peel the persimmons before cooking. If you do not have an immersion blender, allow the cooked persimmons to cool slightly before carefully transferring to a blender to puree. Add the pureed fruit back to the pot for the next stage of cooking.
Makes 1 quart
Nutrition
Serving:
0.5
cup
|
Calories:
113
kcal
|
Carbohydrates:
30
g
|
Protein:
1
g
|
Fat:
0.3
g
|
Saturated Fat:
0.001
g
|
Monounsaturated Fat:
0.001
g
|
Sodium:
1
mg
|
Potassium:
261
mg
|
Fiber:
0.1
g
|
Sugar:
2
g
|
Vitamin A:
1
IU
|
Vitamin C:
55
mg
|
Calcium:
25
mg
|
Iron:
2
mg