Classic Italian-style meatballs made with beef, pork, or veal and plenty of garlic are just what your spaghetti needed.
In the interest of full disclosure, I must tell you something: This is not my recipe.
Nope, not even a little bit. I stole am borrowing it from Boyfriend. He makes the meatballs in this house.
Please, try to suppress any "balls" jokes. I know I'm trying.
In all seriousness, this is a recipe that has been tweaked and retweaked and tweaked some more to basic perfection. This recipe has been made so many times that we have a system down: While Boyfriend makes the meatballs, I heat up the oil, set the sauce to simmering, and get the pasta water boiling. He assembles, I fry. Everybody eats. We both clean up. <– That last part is only true sometimes.
Teamwork, baby.
This recipe makes a pretty classic Italian-style meatball. You can use any meat you like, but Boyfriend prefers equal parts pork and veal, though we have made them with various combinations of beef, pork, and veal. Use only one meat if you must, but know that the flavors really do sing when you use at least two of the three. Add in plenty of finely chopped shallots and garlic, a generous handful of fresh parsley and freshly-grated Parmesan cheese, and you're well on your way to meatball heaven. You'll be in such Heaven, in fact, that no one will even notice if you serve these with your favorite jarred pasta sauce instead of homemade (because really, I can only go through the effort of making one or the other at any given time, not both).
We, of course, love this recipe with spaghetti, but they also make killer (killer!) meatball subs. Just keep a napkin within arm's reach – trust me, if you're anything like me, you'll need it.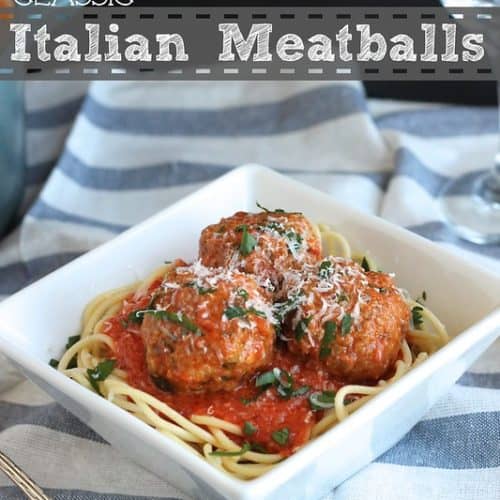 Ingredients
1

pound

ground pork

1

pound

ground veal

1

egg

1

shallot

finely diced

4

cloves

garlic

finely minced

1

handful fresh parsley

about 1 cup, loosely packed, finely chopped

1

cup

Italian bread crumbs

1/2

cup

freshly grated Parmesan cheese

Salt

Olive oil for frying

2

jars pasta sauce
Instructions
In a large bowl, combine the meat, egg, shallot, garlic, parsley, a pinch of salt, and 1/3 of the cheese and 1/4 of the breadcrumbs. Mix until just barely combined, then add another 1/3 of the cheese and 1/4 of the breadcrumbs. Repeat mixing and adding one more time. At this point, you may need to add the rest of the breadcrumbs or you may not - if the mixture still seems pretty wet, add them and finish mixing. Otherwise, reserve them for another recipe.

Roll meatballs into golf ball-sized balls. You should be able to get around 20 meatballs.

Add your favorite pasta sauce into a large saucepan and bring to a simmer. Cover.

Meanwhile, in a large nonstick skillet, add about 1/4-inch of olive oil. Heat over medium-high heat, then add 5-6 meatballs. Cook for 1-2 minutes, until the bottoms are golden brown, then flip and repeat. Depending on the size of your meatballs and how much oil you have in your pan, you may want to do a third side. Once cooked, add the meatballs to the simmering pasta sauce and cover again. Repeat with the remaining meatballs.

Once all meatballs are browned and simmering in the sauce, allow to simmer for 10-15 more minutes while you prep the rest of your meal. This will allow all of the meatballs enough time to finish cooking through.

Serve warm over pasta or as a meatball sub.
Notes
You may use any combination of beef, pork, or veal. Pork and veal is our favorite combination, but any combo of the three will work well.