Snickerdoodle cookie base rolled in shredded coconut. Behold, the Cocodoodle!
I totally just made up my own word. And it was hard.
To be fair, I could have just called these cookies "Coconut Snickerdoodles" and been on my way. But that seemed too easy. Also, slightly misleading – would people think that they involved both coconut and cinnamon-sugar? (Not a delicious-sounded combination, if you ask me, but to each his own.) No, that wouldn't do.
Of course, I had to ask for help from family and friends, then take it to
social media
(Because what problem
can't
be solved by asking the internets for help? Don't answer that.). After several separate votes for "Cocodoodles", it was clear we had a popular vote emerging.
And so, I introduce you to the Cocodoodle: Like a snickerdoodle, but better. (<–True story, I accidentally typed "butter" before realizing I had really meant to type "better". I don't know what to make of this.)
Basically, what we have here is a basic snickerdoodle cookie dough – which is a little bit like a sugar cookie dough, but with the added element of cream of tartar, which gives them that chewy texture and crackly top. Oh, my. Then, instead of rolling the cookies in cinnamon sugar, we will roll them in finely shredded coconut.
There's just no way this is NOT a good idea.
I made these cookies because no girls' night is complete without a sweet treat, amiright? Let's say you were getting together with your girlfriends to watch your favorite reality TV show – we'll say
The Bachelorette,
for the sake of argument. You would totally want to serve these cookies as a yummy dessert while you yell at Andi not to let your favorite guy go in favor of Creepy Nick (not that I do that…cough). And if you wanted to serve them alongside some
Boozy Peach-Coconut Milkshakes
…well, that would just seal your friends' undying loyalty to the end of time. I'm 100% sure.
Make sure to Tweet along with Stef and I this Monday night using #TheBacheloretteParty as we continue to dive into the weirdness that is our favorite reality show! Bring come cookies and a cocktail. You're gonna need 'em.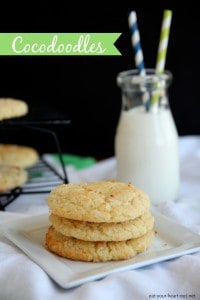 Ingredients
1 1/2

cups

sweetened shredded coconut

1

cup

shortening

1 1/2

cups

sugar

2

eggs

1

teaspoon

vanilla

2 3/4

cups

flour

1

teaspoon

baking soda

1/2

teaspoon

salt

2

teaspoons

cream of tartar
Instructions
Preheat oven to 400 degrees. Line baking sheets with parchment paper. Set aside.

In a high-speed blender or food processor, pulse coconut until finely shredded. Pour into a shallow bowl. Set aside.

In a large bowl, cream shortening and sugar until light and fluffy. Add eggs and vanilla; beat well.

Sift dry ingredients into a medium bowl. Add to creamed mixture; mix until just combined.

Roll dough into balls about the size of ping pong balls. Roll in the prepared coconut. Place 2 inches apart on the prepared baking sheets. Bake for 10-12 minutes or until lightly browned around the edges and just barely set in the center. Remove to wire racks to cool.
PS – Did you enter to win a brand-new KitchenAid 5-Quart Stand Mixer yet? Well, what are you waiting for? Hop to it!