Fluffy yeast bread swirled around salted butter, garlic, and herbs. Your favorite swirl loaf and your favorite garlic bread just became best friends.
We need to get something out of the way immediately: The butt of this bread is the best part.
But we'll come back to that.
Actually, scratch that. I'm too intrigued by my own statement to move on from that.
Yes, I just fascinated myself.
Normally, the butt of the bread is…well, the butt of the bread. Kind of so-so, probably the piece that the least picky person in the family will eat, but not something you fight over. In my family, my dad is the bread-butt-eater. (<–That's a weird phrase.) He will eat the end pieces gladly, as toast or sandwich, with no complaint. We also often liken his palate to those of our beagles.
But this bread…well, let's examine what is going on here. We've got ourselves a fairly traditional fluffy yeast bread (See those little air pockets? All courtesy of
Red Star Platinum Yeast
. I swear, that stuff is baking gold.). But instead of simply plopping it in a pan and baking it – which would actually make a pretty stellar sandwich loaf, to be honest – we roll it out, spread it with a mixture of salted butter (please, splurge on the good stuff for this), minced garlic and herbs, sprinkle on a little freshly-grated Parmesan cheese, then weep for joy as we roll it into a perfect swirl loaf.
Now, here's where it gets (extra) good. In the oven, all of that garlic-butter-goodness starts to melt and ooze out the ends of the bread, turning the ends and bottom of the loaf perfectly flaky and buttery.
Now you understand why I say that the butt of this bread is the best part. It was after tasting the bottom part of this loaf (after a quizzical look when I told him that the bottom was GOLD), that Boyfriend announced, "You could sell this bread."
I might have taken a bow in my mind.
Make this bread. Serve it alongside your favorite spaghetti and meatballs. Enjoy a meal with your family and try not to fight over the butt of the bread.

Looking for baking tips and tricks? Make sure to check out Red Star Yeast's tips page, and follow them on Facebook, Twitter, and Pinterest for more great recipes.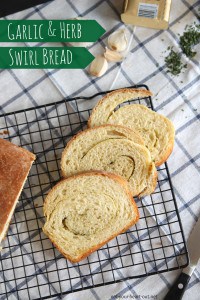 Garlic and Herb Swirl Bread
Fluffy yeast bread swirled around salted butter, garlic, and herbs. Your favorite swirl loaf and your favorite garlic bread just became best friends.
Print
Pin
Rate
Ingredients
1/2

cup

milk

1/3

cup

water

3

tablespoons

unsalted butter

3-4

cups

bread flour

1

tablespoon

sugar

3/4

teaspoon

salt

1

package Red Star Platinum Yeast

2 1/4 teaspoons

1

whole egg + 1 egg

divided
For the filling:
1/4

cup

salted butter

melted

3

cloves

garlic

finely minced

1/4

teaspoon

dried basil

1/4

teaspoon

dried dill

1/2

teaspoon

dried parsley

2-3

tablespoons

freshly-grated Parmesan cheese
Instructions
Combine milk, water, and butter in a small saucepan. Heat over medium heat until liquids are very warm. Remove from heat.

Place 3 cups of flour, sugar, salt, and yeast in the bowl of a stand mixer fitted with the hook attachment. Mix just until dry ingredients are combined. Gradually add whole egg, egg yolk (reserve the white), and liquids. Mix on medium-low speed just until ingredients are combined, then add in the remaining flour, 1/4 cup at a time, until dough clings to the hook and pulls away from the sides of the bowl, about 2 minutes. Continue kneading on medium speed for an additional 2 minutes.

Place dough in a greased bowl, turning to lightly grease the top. Cover with a clean towel and let rise until doubled in bulk, about 1 hour.

While dough rises, make the garlic butter: Mix melted butter, garlic, and dried herbs in a small bowl. Let sit in a cool spot while dough rises so that butter starts to solidify again, making it easier to spread later.

Once dough has risen, turn out onto a lightly-floured surface. Roll into a 9x14-inch rectangle. Spread with the garlic butter, then sprinkle with the cheese. Starting from the short end, roll the dough tightly into a loaf and place in a greased 9x5-inch loaf pan. Cover with the towel and allow to rise until doubled again, about 30-40 minutes.

Near the end of the second rise, preheat oven to 375 degrees. Bake loaf for 40 minutes. Brush with the reserved egg white, then bake for an additional 5 minutes, or until deeply browned. Remove from pan to a cooling rack immediately. Allow to cool slightly before cutting and serving.
Red Star Yeast compensated me for creation of this recipe and post. All opinions, however, are entirely my own.