This light, summery barley salad full of fresh tomatoes, cucumber and parsley is reminiscent of your favorite Middle-Eastern salads and makes for the perfect summer side dish.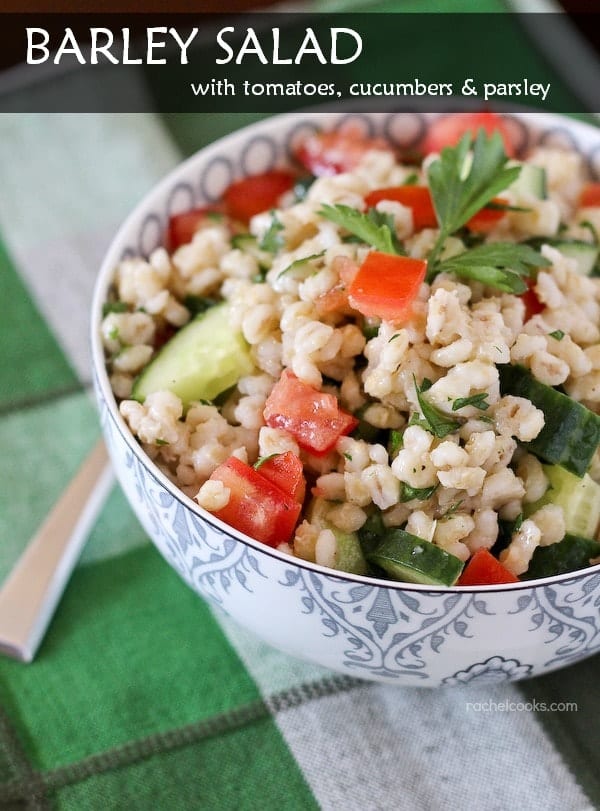 Happy July, darling readers! Are you melting and freckled/sunburned/tanned yet? You already read about my issues with my air conditioner, so you know the summer status over here. We are well into the constant state of humidity and frizz that is summer in Chicago.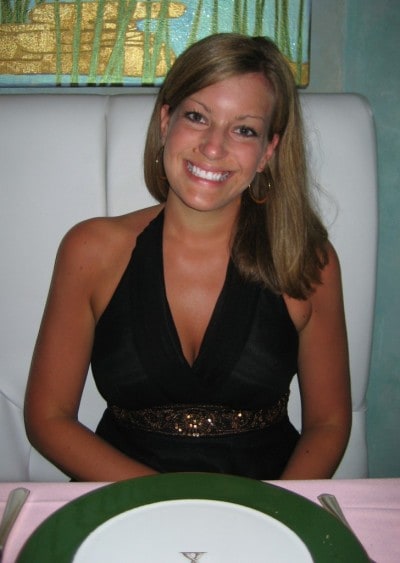 Luckily, this month's Friends First guest has an easy recipe that requires very little heat and will be perfect for easy summer lunches. I'd like introduce you to Rachel from Rachel Cooks – a coffee-fueled, popcorn-addicted wife and mother of two of the cutest little nuggets on my Instagram feed. She also has one of the kindest spirits I have encountered in this big ol' world called the Internet – seriously, Rachel is one of those people that you just know would do anything for you. Today she is sharing a summer salad that would be perfect for your 4th of July BBQ this weekend. Take it away, Rachel!
__________________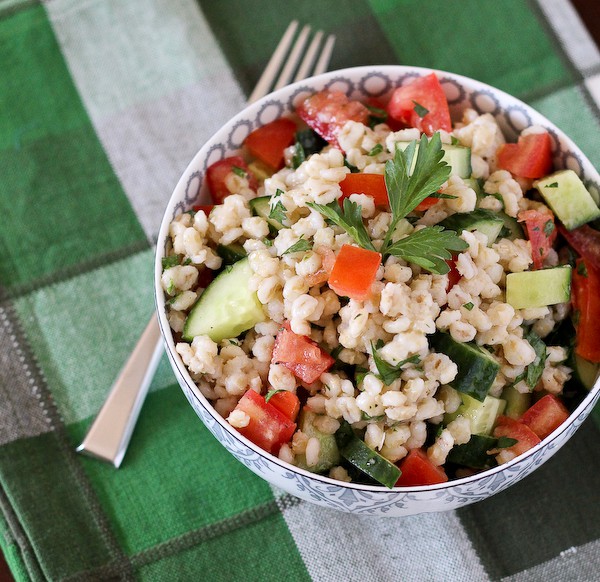 Hi friends of Stephie's! I'm excited to be posting here today and sharing this salad with you. I'm Rachel of Rachel Cooks (I'll pause while you applaud my creative blog-naming abilities). I share lots of family friendly recipes on my site. Easy stuff that you can make even if you have two toddlers crawling up your legs. Which I do.
This salad for example. I was making a Lebanese-style chicken kabob (not this tawook recipe but just as tasty — stick around long enough and I'll be posting the recipe on my site) and I wanted a salad to go along with it. I didn't have a lot along the lines of greens to work with (which is strange because I always have greens!) but I had cucumbers, tomatoes and fresh flat leaf parsley. I went for the flavors of two great middle eastern salads rolled into one: fattoush and tabbouli. Okay, maybe it takes a little imagination to get to this salad from those salads but just go with me on this one.
Anyways, getting back to how this is an incredibly easy salad to make. I cooked the barley during the kids' naps and let it cool prior to prepping the rest of the ingredients and throwing it all together. Popped it in the fridge to let all the flavors really meld together while I made the rest of our dinner. It was fantastic for lunches the next day as well.
I wanted to add in some za'atar seasoning but we recently found out that our son is very seriously allergic to sesame seeds so I left out the za'atar since it includes sesame seeds. If you want to make this salad a little more interesting, feel free to add in some za'atar (especially if you already have it stocked in your pantry). If it isn't something you keep on hand, I assure you you'll love this salad without the za'atar….we sure did!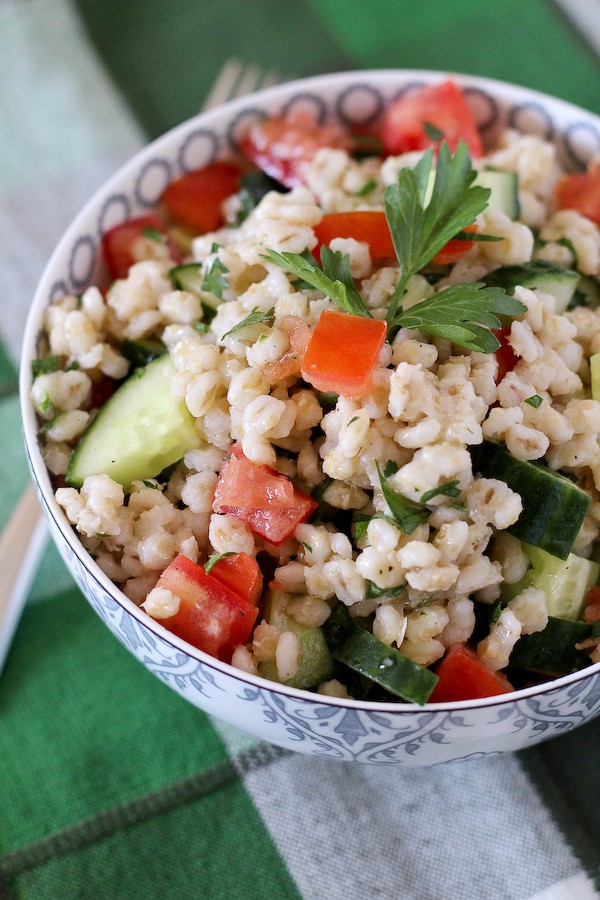 Every recipe I share on my site is followed by "Verdict, Husband's take, Changes I would make, and Difficulty" to give you a little more information about the recipe; I'll do the same here!
Verdict: I could literally eat this salad every day. It's unbelievably refreshing and filling too.
Husband's take: He loved this salad too. The kids…well, I swear, they are getting pickier every day.
Changes I would make: None are necessary! If I wasn't feeding my son who is allergic to sesame seeds, I might add the za'atar. If I wanted to add a little additional protein and make it a main dish, I might reach for feta or some garbanzo beans.
Difficulty: Easy.
Thanks for having me, Stephie!
Thanks, Rachel! Be sure to follow Rachel Cooks on Facebook, Twitter, Pinterest, and Instagram or subscribe via email so that you never miss a single delicious post.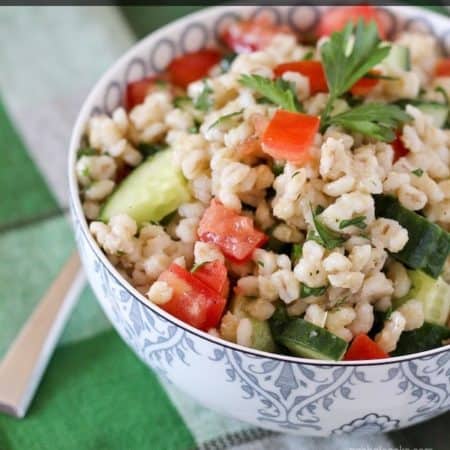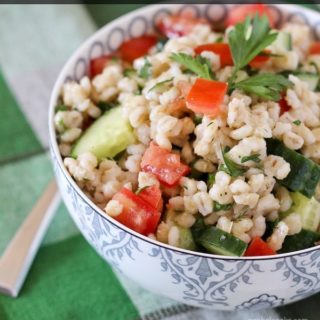 Ingredients
1

cup

uncooked pearl barley

cooked according to package directions and cooled.

2

vine-ripened tomatoes

seeds removed, diced

1

English cucumber

diced

1/3

cup

chopped flat leaf parsley

3

tablespoons

freshly squeezed lemon juice

4

tablespoons

extra virgin olive oil

salt and pepper to taste

1

teaspoon

za'atar seasoning

optional
Instructions
If necessary, use a fork to fluff up barley and separate pieces. Add tomatoes, cucumbers, and parsley to barley.

In a small bowl or measuring cup, whisk together lemon juice, olive oil, and salt and pepper.

Pour the dressing over the salad and stir to combine and coat everything in the dressing.

Serve immediately if desired, or keep in fridge overnight prior to serving. Feel free to add more lemon juice and olive oil if needed if the barley soaks up some of the dressing.