Kick your granola game up a notch with Coconut Ginger Almond Granola-goodness.
This post is sponsored by Diamond of California but, as always, all opinions are my own. Thank you for supporting brands that make this site possible.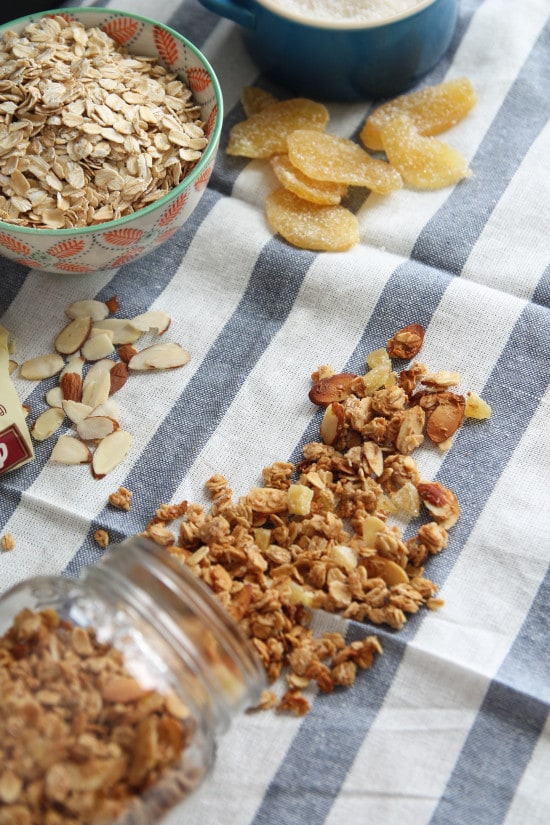 Two very bizarre things happened this weekend:
1.) I came perilously close to adopting another cat. Guys, we already have two. In case you were bad at math in grade school, another would have made three. I've officially lost my marbles just considering it – and yet, there I was, looking at the one poor little cat who hadn't been adopted at Petco on Saturday (as I was running in for cat food for the existing two) and wanting to adopt take home all the animals.
There surely must be some sort of rehab/recovery program for people like me.
2.) Alex and I watched Gone Girl. My brain still hurts from it. What the actual eff? I can't even form intelligent sentences about it yet. To be fair, I haven't read the book – I usually read the book first, but that just didn't happen this time. I really must do that. Please tell me my brain won't hurt so much from the book.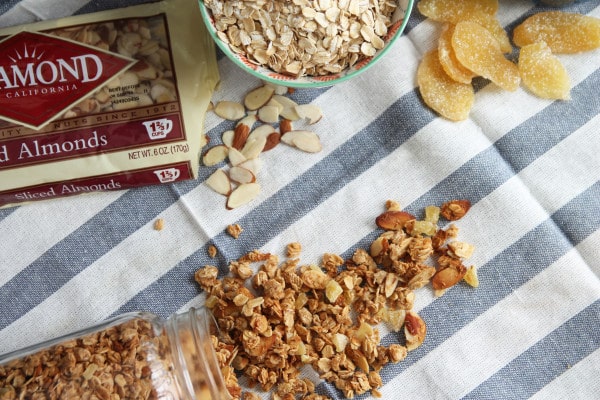 I feel like making granola is the perfect activity for someone whose brain hurts too much from intense movies and trying to avoid becoming a crazy cat lady. If you think that making granola is hard, think again. Throw some dry ingredients (oats and nuts are a good baseline – coconut, flax and spices are icing on the cake) in a bowl, stir 'em up with some wet ingredients (oil and sweetener), and bake. 30-40 minutes later, you'll be in granola heaven.
Coconut Ginger Almond Granola uses unsweetened coconut and coconut oil, ground ginger and candied ginger, and sliced almonds for a crunchy, slightly sweet, gingery-spiced granola that is perfect for breakfast or a snack.
Spoiler alert: Wait until you see what I did with this granola next week.
Spoiler alert 2.0: There were cookies involved.
You're welcome.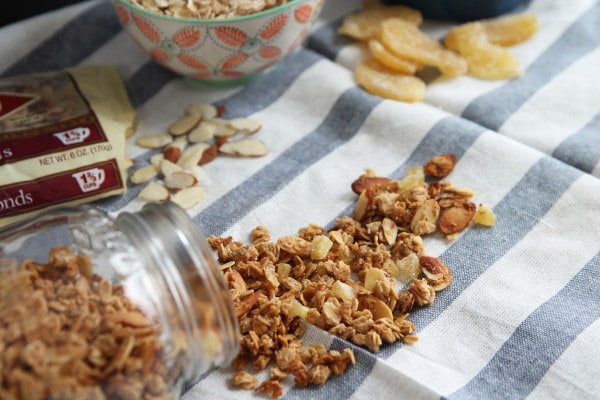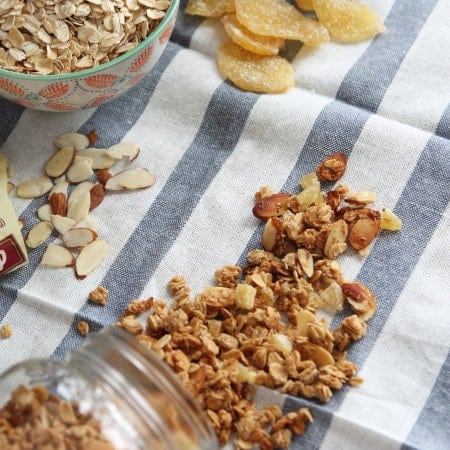 Ingredients
4

cups

oats

1/2

cup

unsweetened coconut

3/4

cup

Diamond of California Sliced Almonds

1

teaspoon

kosher salt

1

teaspoon

ground cinnamon

1

teaspoon

ground ginger

1/4

cup

ground flax seed

1/2

cup

unsweetened applesauce

1/2

cup

agave syrup

3

tablespoons

coconut oil

1/2

teaspoon

vanilla

1/4

cup

finely diced candied ginger
Instructions
Preheat oven to 375 degrees. Line a large rimmed baking sheet with parchment paper. Set aside

In a large bowl, stir together the first 7 ingredients.

In a small saucepan, whisk together the applesauce, agave and coconut oil over medium heat until coconut oil is melted. Whisk in the vanilla. Pour wet ingredients over the dry ingredients. Stir well to combine.

Spread granola onto the prepared baking sheet. Bake for 35-40 minutes, stirring every 10 minutes, until golden brown, fragrant, and slightly dry to the touch. Remove from the oven and stir in the candied ginger. Allow to cool on the baking sheet completely before storing in an airtight container for up to a week.
Notes
Makes approximately 6 cups granola.