Today is a very special day and I'm sharing this recipe with you for a very special reason. Can you guess why?
Ok, fine, I'll tell you. (I'm too excited to wait for you to guess.)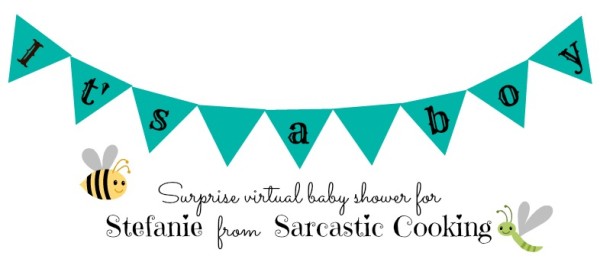 Today I'm throwing a surprise virtual baby shower for my beautiful friend Stef! Stefanie is expecting her first baby in December, and I wanted to celebrate with some of her blogging buddies. Since we all live around the country – and can't exactly get together easily – we are throwing her a little virtual shower and made recipes just for her today.
So, Stef, sit back and enjoy the best part of showers (the food and us telling you how wonderful you are) without the worst part (the horrid games)! You deserve it so much (and you know I can't wait to meet your little boy!).
To celebrate today, I made Coconut Vanilla Bean Canapés. These little dessert canapés would be perfect to serve at any kind of shower or party! They are easy, bite-size, and the components can be prepared ahead of time and the final assembly can be done just before guests arrive. Plus, they can be customized with any fruit available (I think blueberries would be lovely, or you could go the tropical route with some mango). Plus, they are pretty, which means that your guests will think you spent far more time on these than you did.
But wait…just how easy are they? Well, I used my homemade vanilla pudding mix and jazzed it up by using coconut milk and vanilla bean paste. Because I used the mix, the pudding was made and cooling in the fridge in less than 10 minutes. To continue with this theme, I used puff pastry as a base for these canapés – no "from scratch" baking required here! My only request is that you use an all-butter puff pastry – trust me, with so few ingredients in this recipe, the higher-quality puff pastry will really make a difference! Top with a few sliced strawberries (or fruit of your choice), and you have a quick and easy, but impressive, dessert to serve at your next shower or party.
Make sure to check out what the rest of Stef's friends made for the shower:
Congrats, Stef! I love you so much and seriously can't wait to meet that baby boy in just a few weeks! I'm saving up my snuggles just for him.
Recipe for Homemade Vanilla Pudding Mix.

Coconut Vanilla Bean Canapés
Ingredients
½ cup homemade vanilla pudding mix
1 can coconut milk
¼-1/2 cup milk
1 teaspoon vanilla bean paste
1 sheet all-butter puff pastry
Sliced fruit for garnish
Instructions
First, make the pudding:
In a measuring cup, measure out the coconut milk. Add enough regular milk to make 2 cups.
In a medium saucepan, whisk together the mix and the milk mixture. Heat over medium heat, whisking constantly, until thick and bubbly. Remove from heat and whisk in the vanilla bean paste.
Allow pudding to cool slightly, then cover and refrigerate until chilled, several hours or overnight.
Make the canapés:
Allow puff pastry to thaw at room temperature for 20-30 minutes, until workable but still cold. It is important that puff pastry remain cold when working - if it gets too warm/soft while working, stick it back in the fridge or freezer for a few minutes to firm back up, then continue working.
Preheat oven to 400 degrees. Line a sheet pan with parchment paper; set aside.
On a lightly floured surface, unfold the puff pastry and roll out slightly, just to reseal the creases. Using a 1½ to 2-inch cookie cutter, cut out rounds of puff pastry, cutting straight down then twisting to remove. Place the rounds on the prepared baking sheet. You will probably be able to get about 20 rounds, depending on the size of your cookie cutter and your puff pastry.
With a slightly smaller cookie cutter, score the puff pastry. Using a fork, poke holes (or dock) the centers of the circles. This will allow the edges to rise but the centers to not rise as fully, giving you a little tart-like shell.
Bake the rounds for about 15 minutes, or until golden brown and puffed (times may vary depending on your puff pastry, so check your package directions to be sure).
Allow shells to cool completely before filling.
Assemble the canapés:
Place the prepared pudding in a piping bag, or in a zip-top bag with the corner cut out. Pipe the pudding into the center well of each shell. Garnish with sliced fruit.