Easy Danish Apple Cake loaded with apples and pecans will be your new go-to cake recipe.
This post is sponsored by Diamond of California. All opinions are my own.
Sometimes you find yourself in need of a dessert without much advance notice.
Perhaps your spouse announces that their boss is coming over for dinner. Maybe your neighbor gets sick and you want to take them something nice. Or perchance your best friend is going through an emotional crisis and you know that you're both going to need dessert STAT.
It is in these moments that you need a quick and easy go-to dessert. Consider this to be that dessert.
This is yet another one of my great-grandmother's recipes. Much like the beloved refrigerator roll recipe, this recipe came from a friend who lived in town. I can see why my Ma-Ma asked for the recipe – it uses only a handful of ingredients, comes together in a snap, and is always a hit.
There are a few odd things to note about this recipe.
The first is that it does not call for any liquid aside from one egg and the moisture given off from the chopped apple. I promise that this is not an error on my part – this is the actual recipe! The apple gives off just enough moisture that the batter comes together. It is rather thick, so you'll need to pat it into your pan, but once you do that – that's it. Bake it and bam! Cake in less than 45 minutes.
Win, right?
The second odd thing is that, much like most of my great-grandmother's recipes, the ingredient list simply calls for "1/2 cup chopped nuts," with no specification as to what type of nuts. I tend to love pecans, personally, and happened to have some of my favorite Diamond of California Chopped Pecans on hand (because not having to chop the nuts myself is a big plus for me), so I threw in a heaping handful of those.
Apples and pecans…plus a little bit of sugar? I can't think of anything better.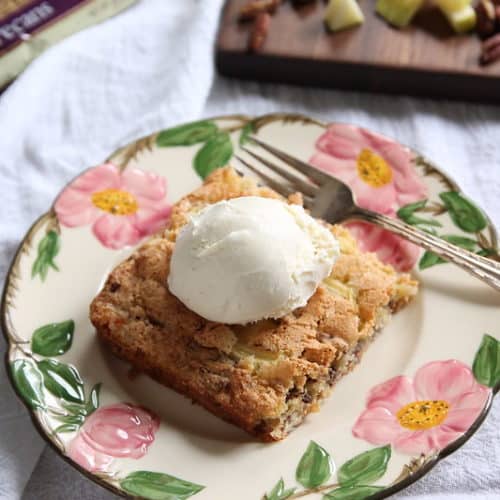 Ingredients
1/2

cup

flour

1

teaspoon

baking powder

1/8

teaspoon

salt

3/4

cup

sugar

1

egg

slightly beaten

1

cup

diced apple

not peeled

1/2

cup

Diamond of California Chopped Pecans
Instructions
Preheat oven to 400 degrees. Grease an 8-inch cake or pie pan. Set aside.

Sift together the flour, baking powder, salt and sugar. Add the beaten egg and stir until mostly combined. Add the apple and the chopped pecans and stir until a thick batter forms.

Press batter into the prepared pan. Bake for 25-30 minutes, or until golden brown and the edges of the cake slightly pull away from the edges of the pan.

Once cooled, store covered for up to 3 days. Cake will become more moist as it sits.