Classic cornbread with an autumn twist: tart cranberries and rich pumpkin.
There are a few things my family is particularly serious about.
Pie is one of them. Pecan Raisin Pie, to be exact.
People singing on key would be another.
Education and the proper use of there, their and they're (as well as to, too and two) makes the list.
Letting our pets sleep on the bed with us is definitely a must.
And then there's cornbread.
Yes, cornbread. In case you weren't aware, there are two kinds of cornbread in this world: southern-style cornbread, which has very little to no sugar in it, and Yankee cornbread, which is sweet. Or, as my great-grandmother would have proudly told you, the right kind of cornbread and the wrong kind of cornbread.
Can you guess which kind my Mississippi born-and-raised grandmother would call the "right kind"?
So…Ma-Ma is probably rolling in her grave with me messing with a solid Southern-style cornbread. I mean, there's a whopping 5 tablespoons of sugar in this recipe. Five! But, in my defense, I ate half the pan of this Cranberry Pumpkin Cornbread before feeding the rest to my coworker in order to stop myself, so it was clearly a successful experiment.
Actually, on second thought, perhaps eating half of the pan isn't the best defense to hide behind.
Moving on.
This a pretty straightforward cornbread recipe, but with a couple of seasonal twists: chopped fresh cranberries and a good dollop of pumpkin puree. The tart cranberries keep this from being an overly-sweet cornbread (the sugar is really just in the batter to help keep the cranberries from thinking too highly of themselves), and the pumpkin lends a boost of color and moisture to the batter.
You can serve this cornbread in any way you like (maybe even as part of a cornbread stuffing for Thanksgiving dinner), but I personally like it slathered with some butter and drizzled with a bit of honey.
That's some serious business, right there.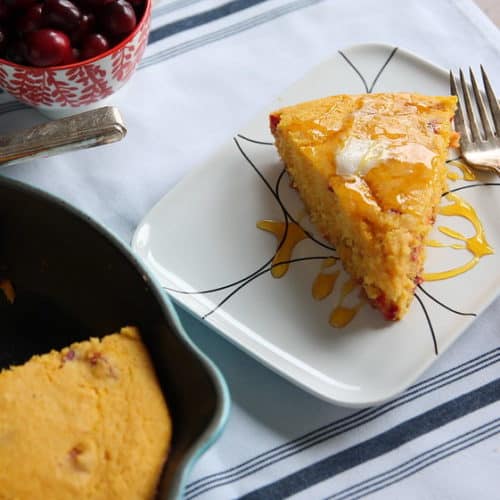 Ingredients
2/3

cup

chopped fresh cranberries

5

tablespoons

sugar

1 1/4

cups

cornmeal

3/4

cup

flour

1

tablespoon

baking powder

3/4

teaspoon

salt

1/4

cup

unsalted butter

melted

2

eggs

1

cup

buttermilk

1/2

cup

pumpkin puree
Instructions
Preheat oven to 425 degrees. Grease a 10-inch cast iron skillet with vegetable oil and place in the oven while it preheats.

While pan and oven heat, mix the chopped cranberries and the sugar in a small bowl. Set aside.

In a large bowl, whisk together the cornmeal, flour, baking powder and salt.

In a medium bowl or a large measuring cup, whisk together the melted butter, eggs, buttermilk and pumpkin puree.

Add the sugared cranberries and the wet ingredients to the dry ingredients. Stir until just combined.

Pour batter into the preheated pan. Bake for 15-18 minutes, or until golden and a toothpick inserted into the center comes out clean.