Double Gingerbread Cake is packed with two forms of ginger and is moist, flavorful and perfect for a cozy winter snack.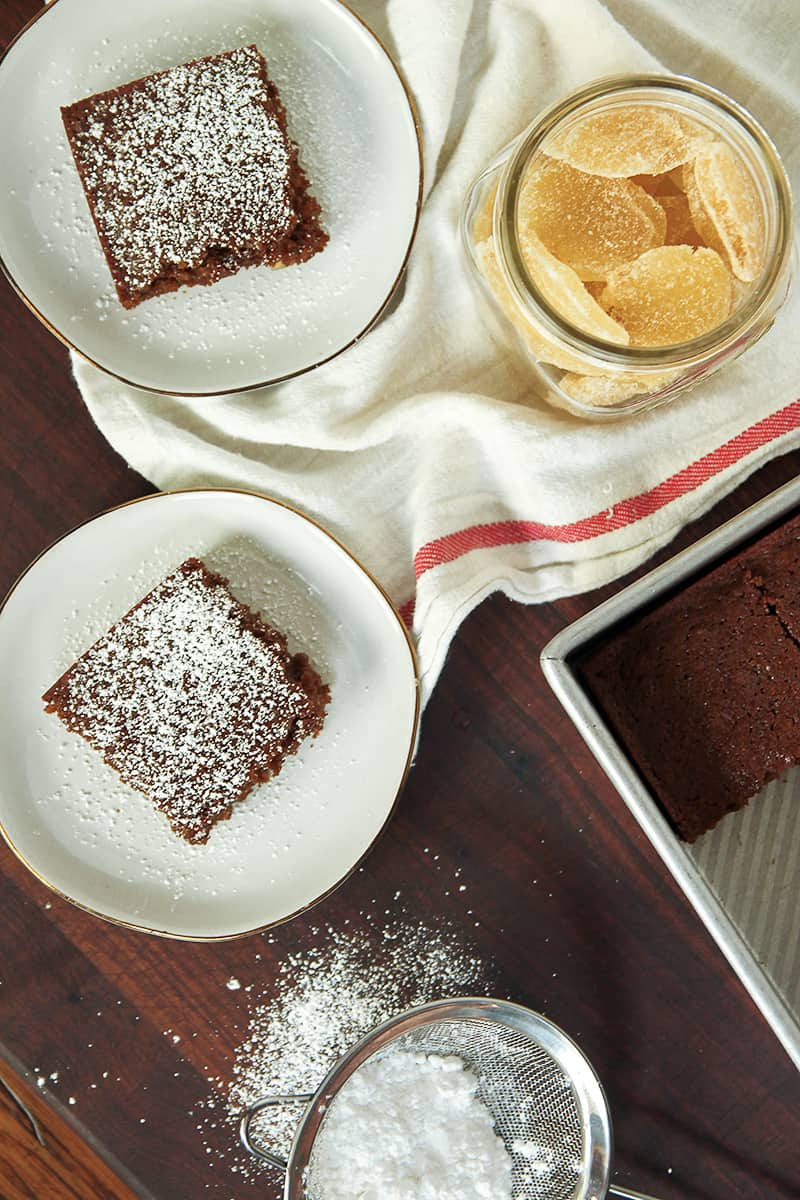 Are you on team Pro-Gingerbread or Meh-Gingerbread?
Personally, I have always been on team Pro-Gingerbread. I love it.
Gingerbread cookies, gingerbread cake, gingerbread houses (which are, admittedly, generally less edible after they've been sitting out for 3 weeks, but at least they still smell charming)…I will take it all.
This isn't too surprising given that I love ginger anything, really. Ginger candies, ginger beer, gingersnap cookies, the pickled ginger that comes alongside sushi. Would you be surprised to learn that one of my favorite cocktails is the Moscow Mule?
For someone who really does not like spicy foods (unlike Alex, who literally has had up to 25 different types of hot sauce in our pantry at one time), the more ginger heat something has, the happier I am.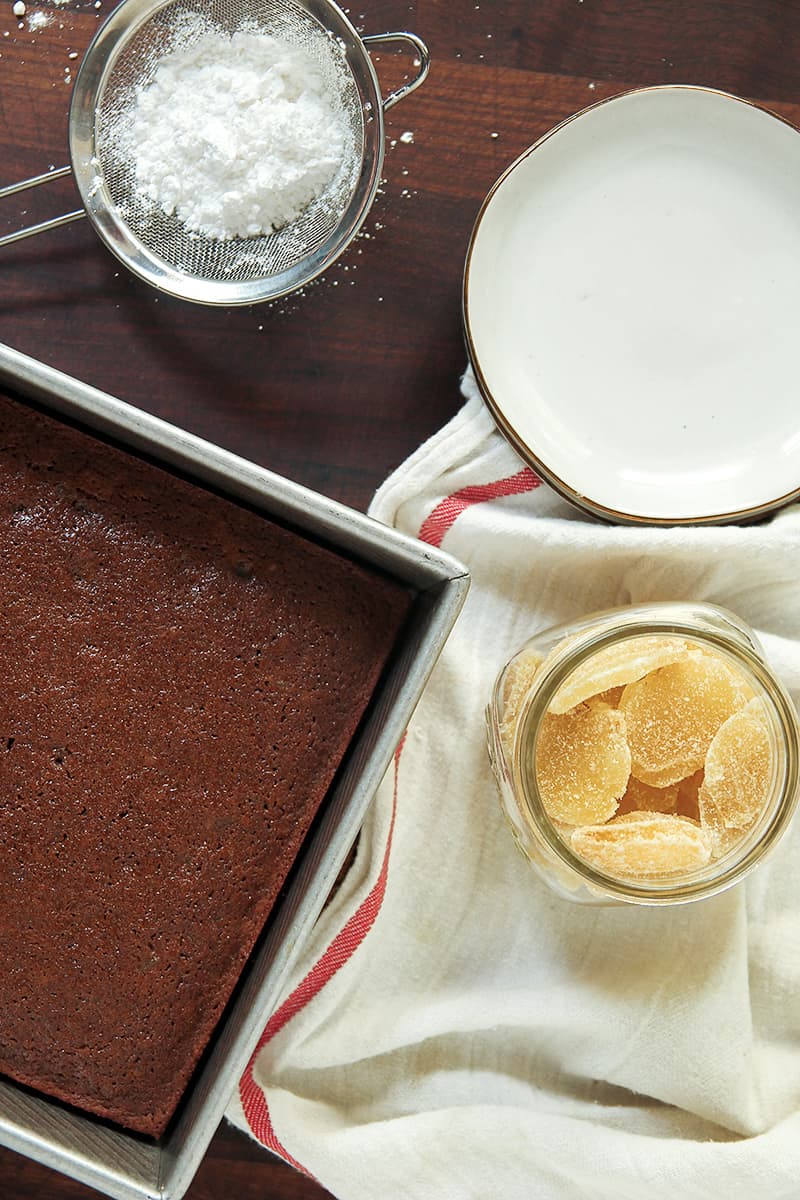 After conducting an unofficial poll, other people seem to either join me in my gingerbread love or they are quite blasé about it. I suspect that those on team Meh-Gingerbread have just never had very good gingerbread.
I'm going to go ahead and say that this Double Gingerbread Cake could convert those who are ambivalent about the subject. Let's go ahead and bring them over to our team.
(I'm assuming that, since we are friends, you are also now firmly on team Pro-Gingerbread. Friends stick together, amiright?)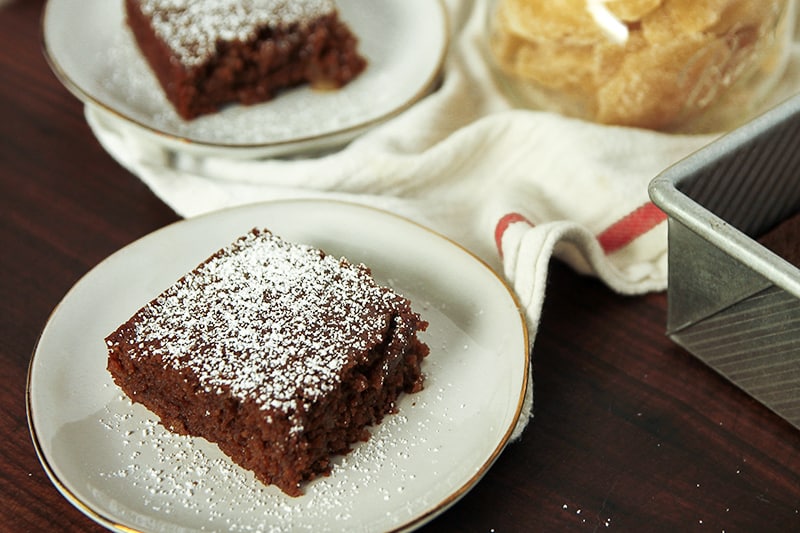 DOUBLE GINGERBREAD CAKE RECIPE
My Double Gingerbread Cake recipe is dense and moist without being overly sweet. It has deep, rich flavor from the molasses, highlighted by the spice of the ground ginger and the occasional zip from the pieces of crystallized ginger.
Gingerbread cake is classic, yet rich and complex. And, with half whole-wheat flour and half applesauce in place of butter, the holiday guilt factor is reduced just a tad.
But really, those swaps are as much for texture as anything else – it is still a cake, after all! (Not that it stops me from eating it for breakfast on occasion…)
WHAT IS CRYSTALLIZED GINGER?
Many gingerbread recipes rely on powdered ginger for the ginger flavor. This Double Gingerbread Cake brings double the ginger flavor thanks to pieces of crystallized ginger.
Crystallized ginger is fresh ginger that has been peeled, cut up or sliced, and candied.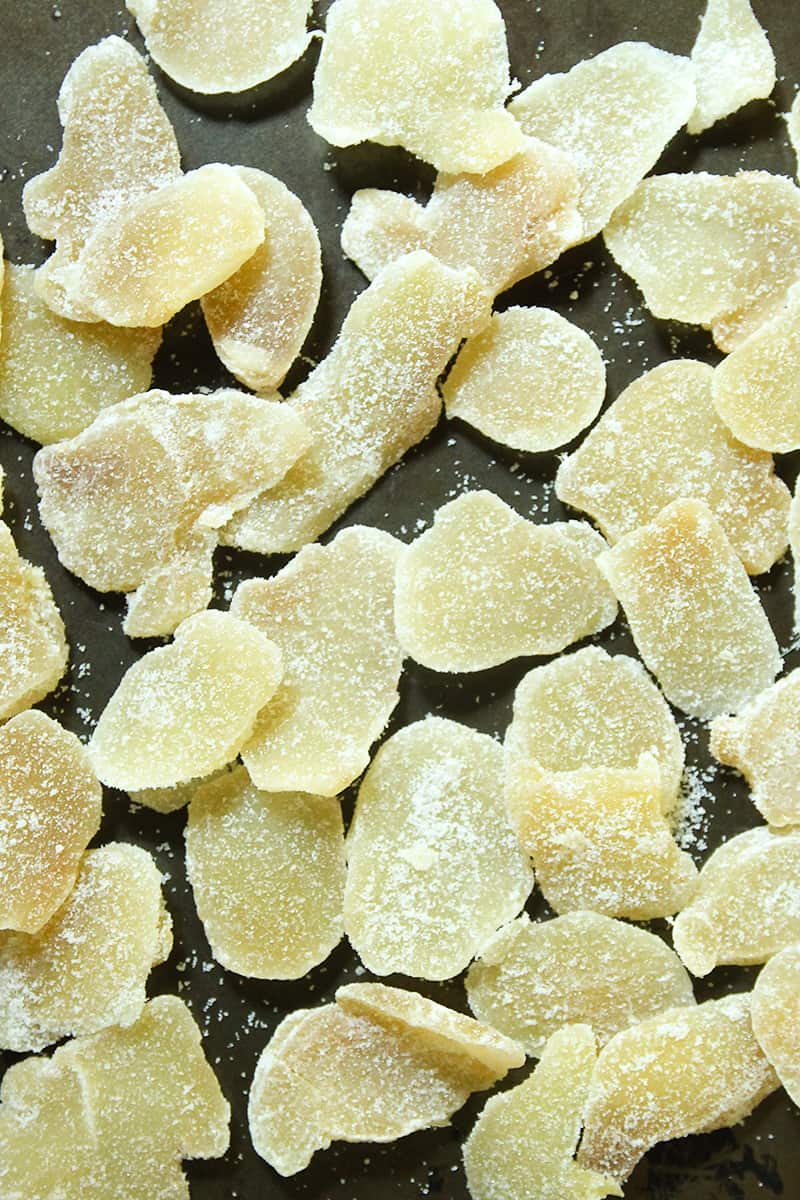 After the ginger has cooked in a sugar syrup, it is tossed in sugar and allowed to dry, giving it a chewy interior and a sweet, crackly exterior.
It's spicy and sweet and super addicting for anyone who loves ginger. In addition to adding it to baked goods (my friend Megan uses it in Double Ginger Molasses Cookies), you can toss it into Coconut Ginger Almond Granola.
Or just snack on it. I'm not here to judge.
I've read that crystallized ginger is also great for morning sickness. I can't speak to this personally, although I can definitely attest that ginger is phenomenal for abating nausea.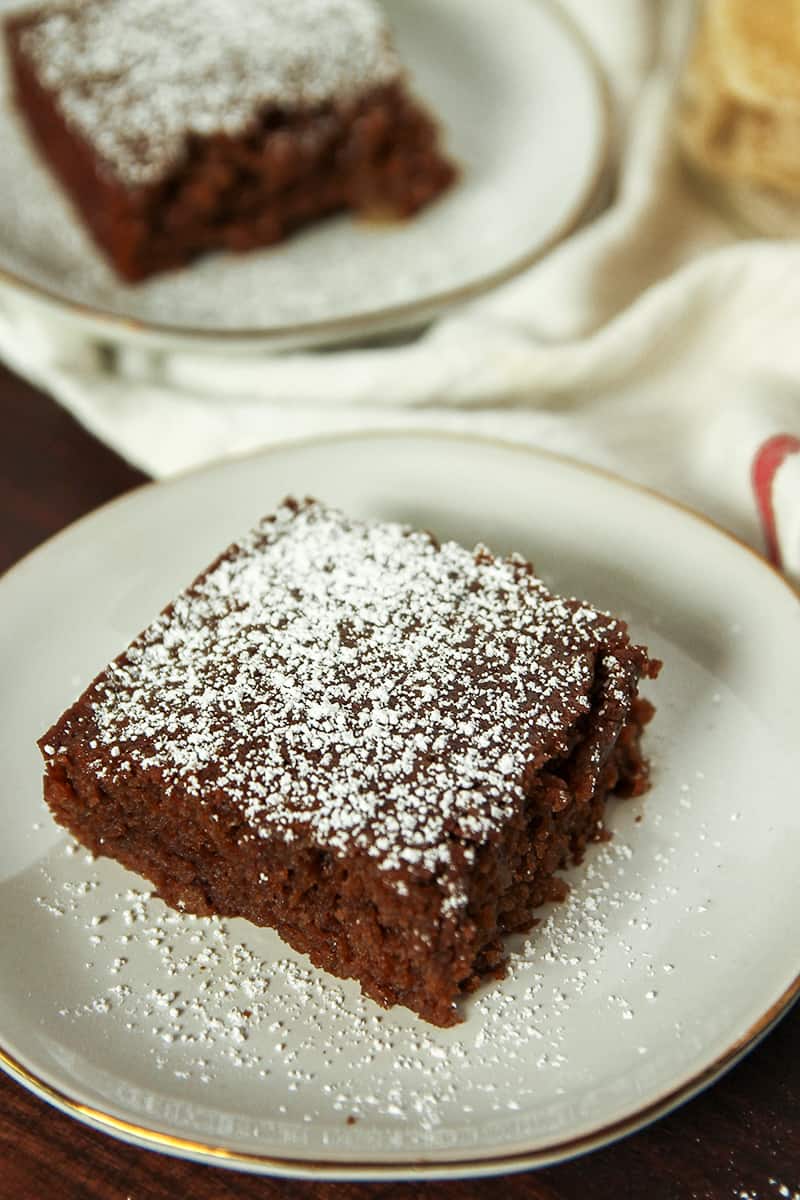 HOW TO CHOP CRYSTALLIZED GINGER
If you purchase sliced crystallized ginger, you'll need to finely chop it for your Double Gingerbread Cake.
Because it's a bit chewy and sticky under its sugar coating, it can be a test of one's patience to do this if your knife isn't super sharp.
I've had similar problems when chopping dried pears for my Old-Fashioned Fruitcake Recipe.
My favorite solution? Toss the knife.
No, don't literally toss the knife. Get rid of the knife and reach for your kitchen scissors or shears instead.
I'm often able to make faster work of sticky suckers like crystallized ginger with kitchen shears than I can with a knife. And let's be real, I don't really care about consistent knife cuts when I'm putting it in a cake.
(Shhh. Don't tell my chef husband I just said that.)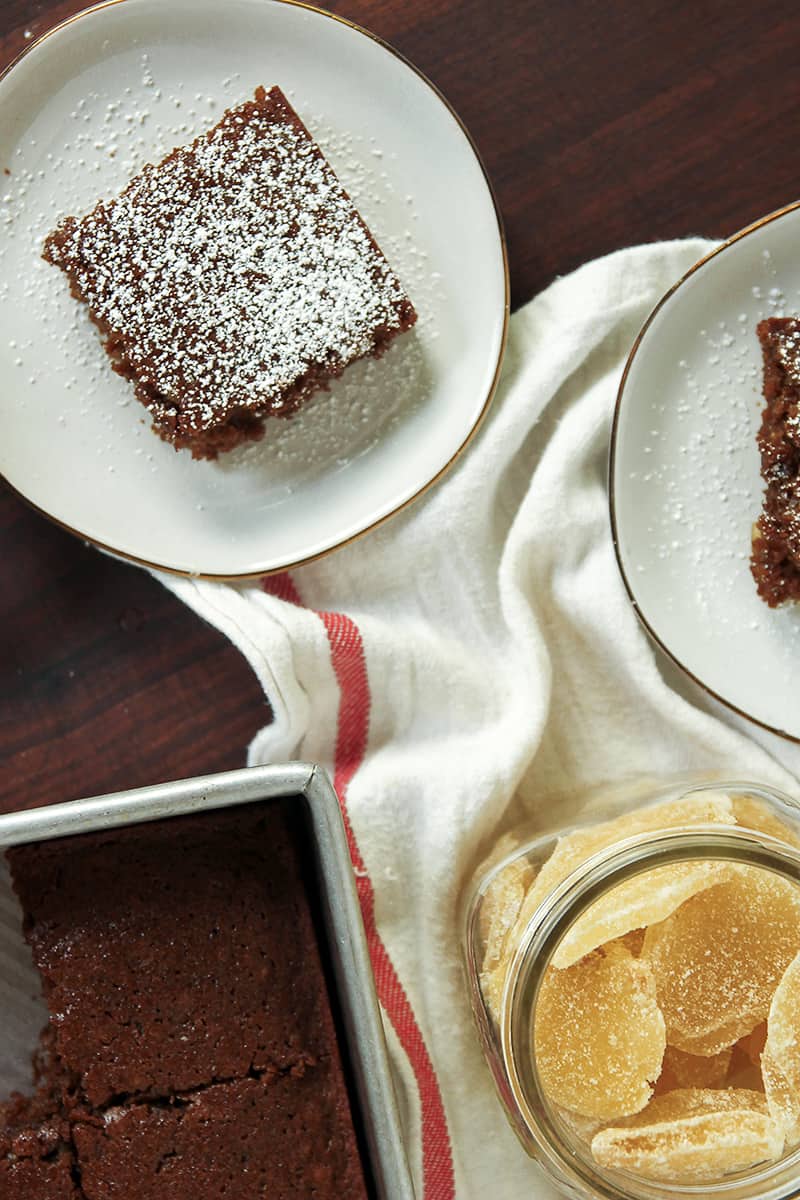 Double Gingerbread Cake is a cake for serving at a holiday party, packaging up as a hostess gift, or eating by yourself alongside a cup of tea and a good book (the book is for reading, not for eating, please).
It really is a cake for any occasion.
So, who will you try to convert?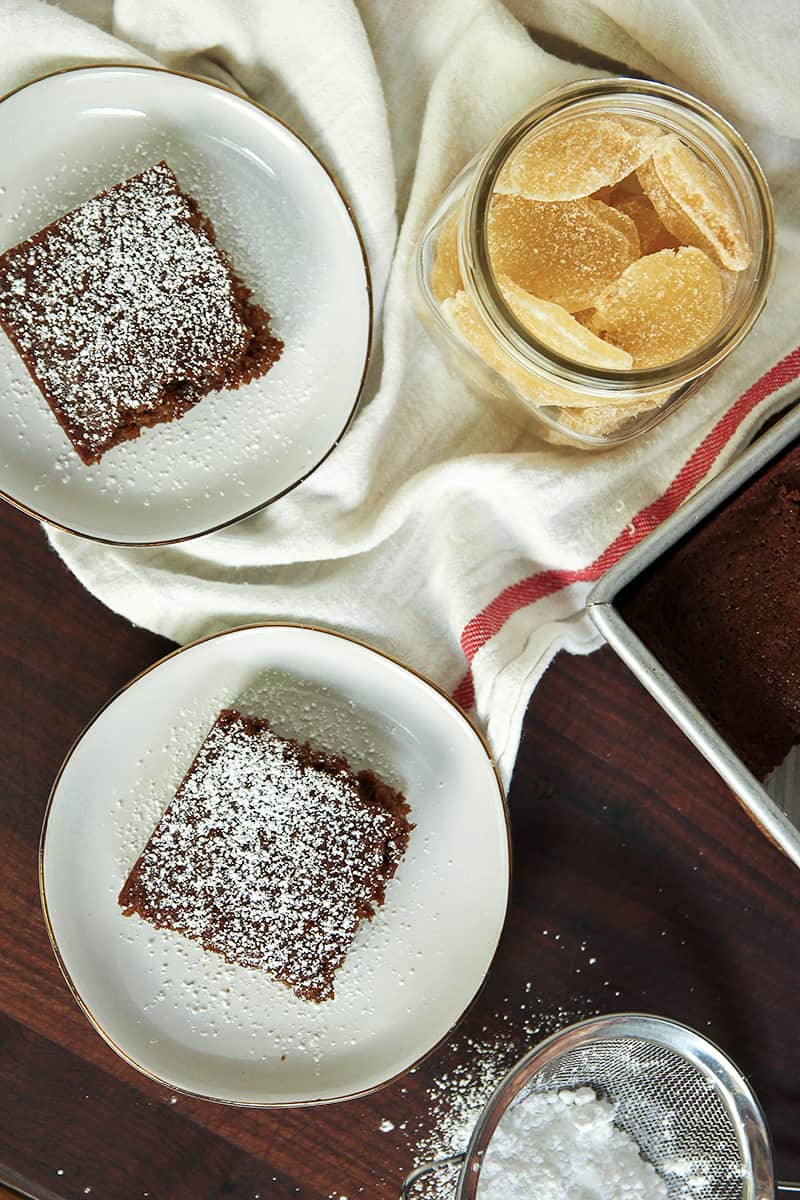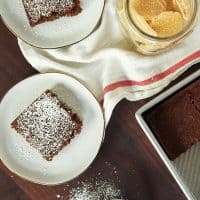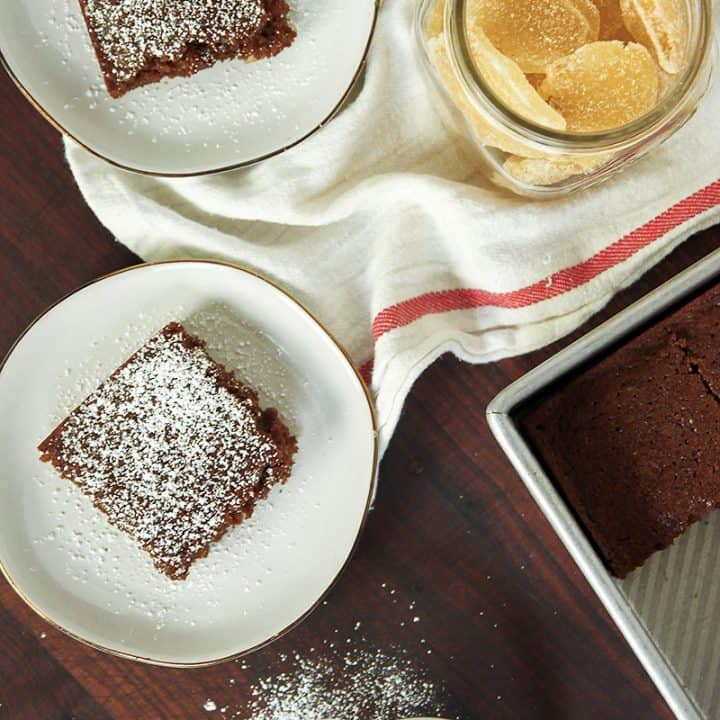 Double Gingerbread Cake
Double Gingerbread Cake is packed with two forms of ginger and is moist, flavorful and perfect for a cozy winter snack.
Print
Pin
Rate
Ingredients
¼

cup

unsalted butter

melted

¼

cup

unsweetened applesauce

½

cup

sugar

1/3

cup

molasses

½

cup

buttermilk

1

egg

¼

teaspoon

baking soda

1 1/2

teaspoon

ground ginger

1

teaspoon

ground cinnamon

1/2

cup

plus 1 tablespoon all-purpose flour

½

cup

white whole wheat flour

½

cup

finely chopped crystallized ginger
Instructions
Preheat oven to 350 degrees. Grease an 8x8-inch baking pan, and line with parchment paper. Set aside.

In a small bowl, stir together the candied or crystallized ginger with 1 tablespoon of the all-purpose flour. This will prevent the ginger pieces from sticking together and help keep them from all sinking to the bottom of the cake.

In a large bowl, stir together the melted butter, applesauce, sugar, and eggs until light and creamy. Add the molasses and buttermilk.

In a separate bowl, whisk together the flours, baking soda, ginger, and cinnamon. Add the dry ingredients to the wet, and stir until just combined. Fold in the ginger pieces.

Pour batter into the prepared pan. Baked for 25-35 minutes, until the center is set and a toothpick inserted into the middle comes out with only a few crumbs clinging to it.

Remove from oven and allow to cool in the pan. Using the parchment as a sling, remove the cake from the pan and cut into pieces. Serve dusted with powdered sugar or with lightly-sweetened whipped cream.
Nutrition
Calories:
243
kcal
|
Carbohydrates:
43
g
|
Protein:
3
g
|
Fat:
7
g
|
Saturated Fat:
4
g
|
Polyunsaturated Fat:
0.4
g
|
Monounsaturated Fat:
2
g
|
Trans Fat:
0.2
g
|
Cholesterol:
37
mg
|
Sodium:
66
mg
|
Potassium:
263
mg
|
Fiber:
1
g
|
Sugar:
31
g
|
Vitamin A:
235
IU
|
Vitamin C:
0.1
mg
|
Calcium:
60
mg
|
Iron:
1
mg
Recipe originally shared on The Roasted Root.