I feel like I say this every month, but…where the heck did this month go? I know that technically February is a short month, but you wouldn't think that two days would make such a drastic difference in how quickly a month seems to fly by.
And since it is the last day of the month, you know what that means: It's Foodie Pen Pals reveal day! When you sign up to participate in FPP, you are assigned one pen pal to send foodie-related treats to, and another from whom you will receive treats. Send a box of goodies to your pen pal, wait in eager anticipation for your surprises, and post about what you received on the last day of the month!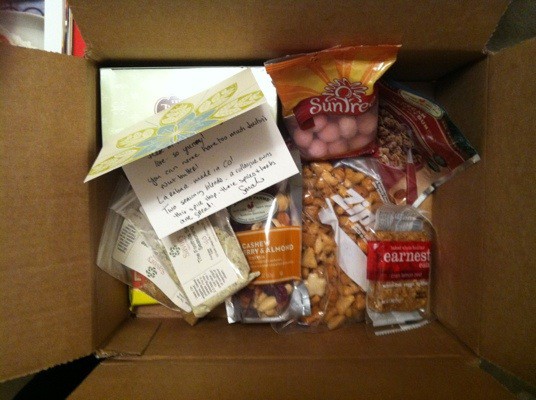 This month I received my treats from blog reader Sarah from Colorado. She did a great job of putting together a mixture of Colorado-made items and her own favorite treats. Some of the Colorado-made foods included a sampler box of Celestial Seasonings tea (perfect for this time of year), Larabar, and two seasoning blends from her colleague's spice shop, which I'm looking forward to using in some yummy dips. Some of Sarah's favorite goodies included rice cracker trail mix, pecan sticky bun granola (which was inhaled immediately), and an Earnest bar – this was new brand to me but holy cow, was it ever good!
Thank you, Sarah, for the fun box of treats! And if you are interested in learning more about or signing up for Foodie Pen Pals, you can get more information over at The Lean Green Bean.