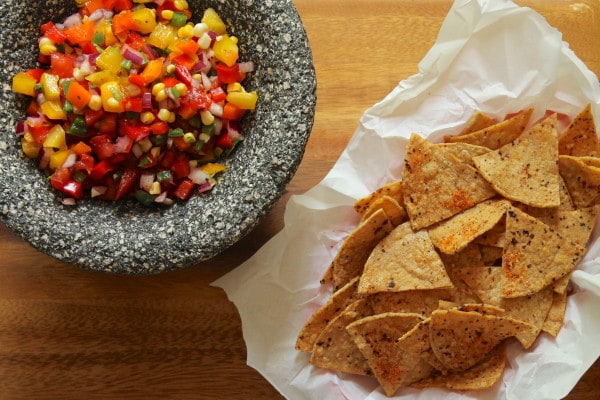 After a couple of months of trying (and failing – funny how life can really get in the way sometimes) to connect, Stef and I are back and collaborating in the kitchen again!
It's not really a secret that we both love to snack and could (and have) easily make entire meals out of what most people would consider appetizers. And since we are now hurtling our way through summer, what could be more appropriate (or easier) to throw together than chips and salsa?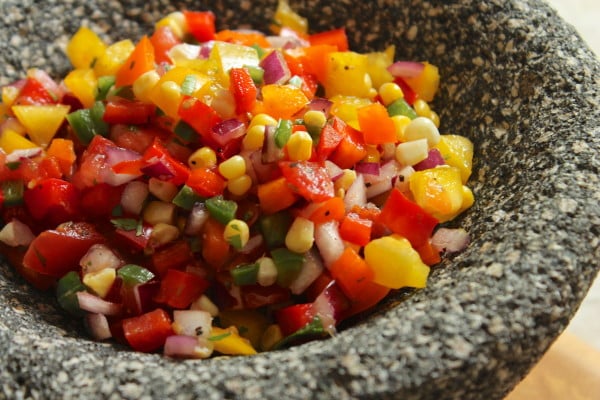 Stef is sharing this recipe for Four Pepper and Corn Salsa over on her site today, so make sure you pop on over to check it out! It's crunchy and zingy and just perfect for summer snacking. And to go along with it, we threw together some Baked Chili Lime Tortilla Chips!
Seriously guys, these are so easy you don't even need a recipe. No, really! Just grab some corn tortillas and cut them into sixths. Lay them out on a baking sheet and drizzle with a little bit of oil and some chili lime seasoning. We found our seasoning in the Mexican food section at the grocery store, but if you can't find any, you could certainly substitute some taco seasoning and/or chili powder and a squeeze of lime juice. Toss to coat, then bake at 400 degrees until crispy, about 20-25 minutes, turning once. Once they come out of the oven, hit them with one last squeeze of lime juice and a little extra seasoning for color, if desired, and serve alongside your salsa!
See, I told you that was easy.