This moist, mildly lemony cake topped with light and fluffy raspberry buttercream frosting is surprisingly easy to make and sure to become a family favorite.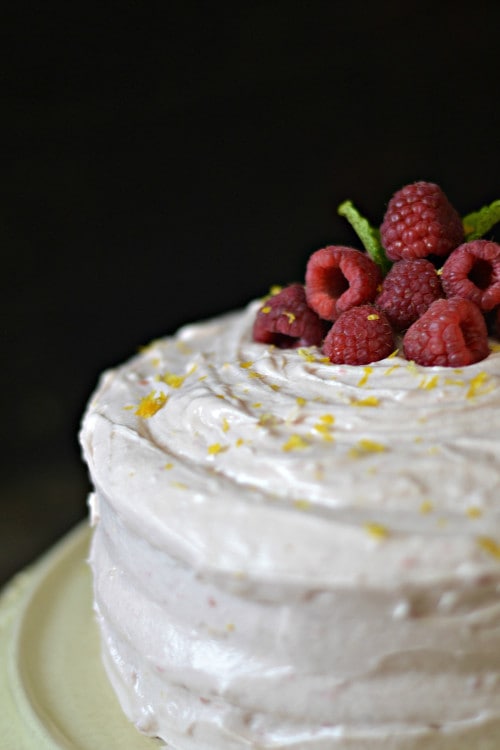 Happy June, friends! Can you even believe that it is June already? It really snuck up on me there…wasn't it just March last week? This weekend we are celebrating Boyfriend's birthday (which is tomorrow) – you already know that he's fairly anti-desserts, but if he was more dessert-friendly I would totally be making him today's recipe as his birthday cake.
Today's Friends First post comes to us from Carrie over at Bakeaholic Mama. Carrie is an incredibly talented, New England-dwelling, s'mores-eating, animal-loving, baking-addicted mom and wife – in fact, she is married to her 2nd grade sweetheart! (And the audience collectively said, "Aww!") Carrie has been scheduled to write this post for several months, but I was recently able to meet her for the first time in person at BlogHer Food in Miami! I love being able to meet my dear blogging friends in person, and I love even more when they are exactly the way you expect them to be. Carrie definitely fits into this category – she's a total sweetheart! I am glad to call her "friend" and I am thrilled to introduce you to her today.
_________________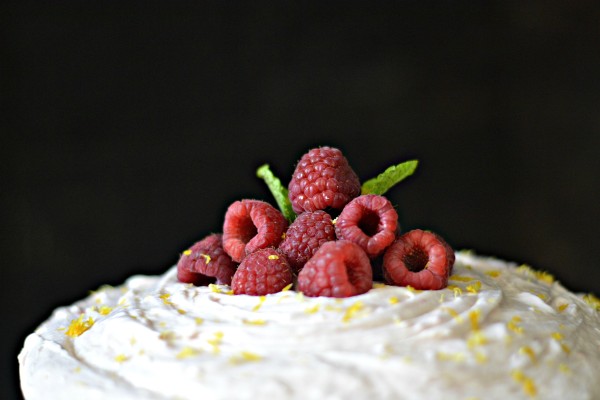 Hi guys!
For those of you who do not know me, my name is Carrie. I'm the master mommy and wannabe baker behind the blog Bakeaholic Mama.
My blog is a mish-mash of parenting craziness as well as a place where I share my family's favorite recipes. I am a former preschool teacher who became a stay-at-home mom 7 years ago. Being a mom is great, I would not trade it for anything in the world. Though 3 years ago, I found myself stuck at home with two young kids and pregnant with number three. I was slowly losing my mind… and that's when I started Bakeaholic Mama as a place to vent, socialize and, most importantly, share my passion for food.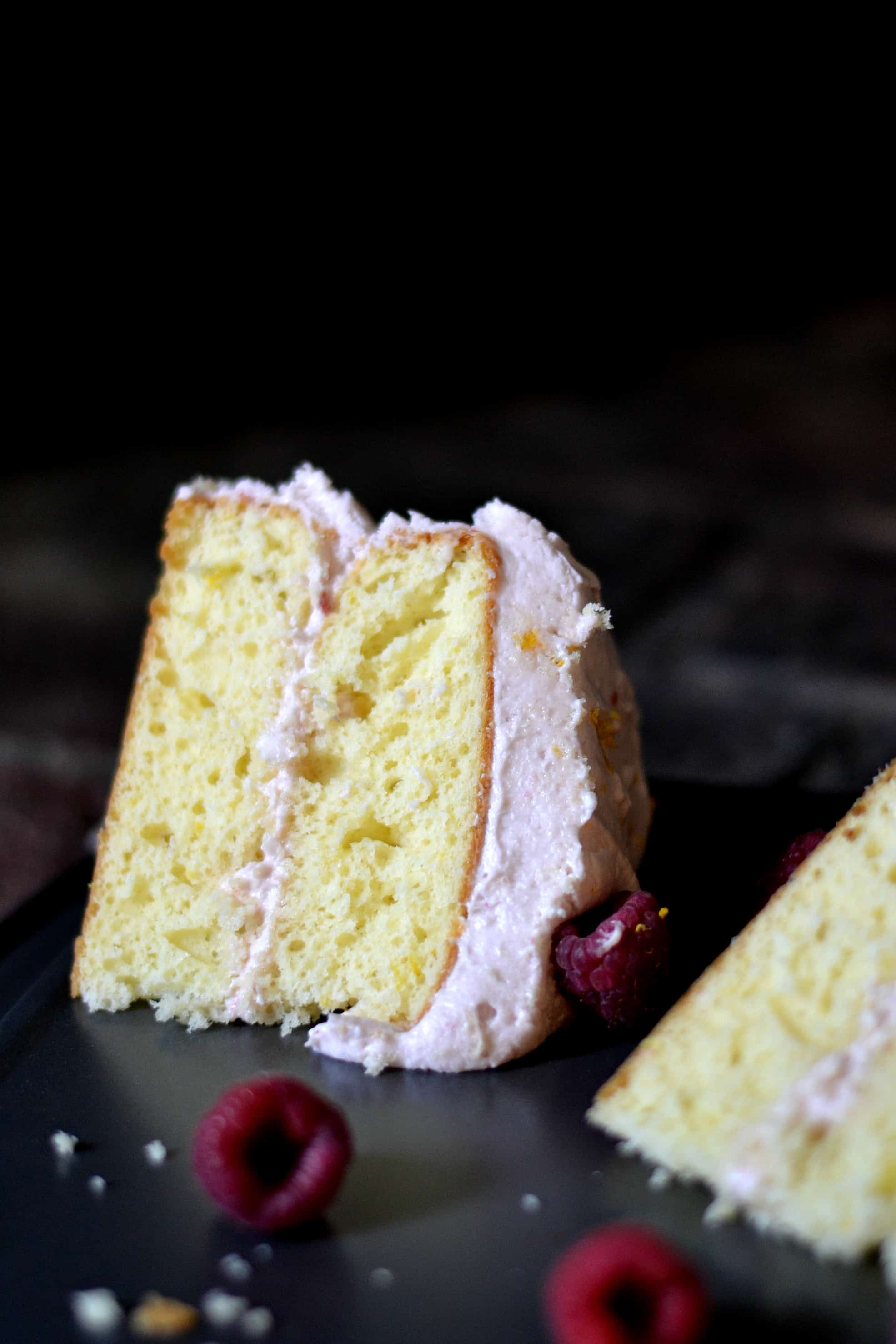 Today I'm sharing one of my favorite easy-to-whip-up cakes. It's nothing fancy and most likely you have everything you need right there in your pantry to prepare it: Buttermilk Cake topped with Raspberry Buttercream.
The cake is moist, mild in flavor with just a hint of lemon. The frosting is light, fluffy, and perfectly sweet. If you do not have raspberries on hand, you can easily adapt this recipe to use any berry of your choice.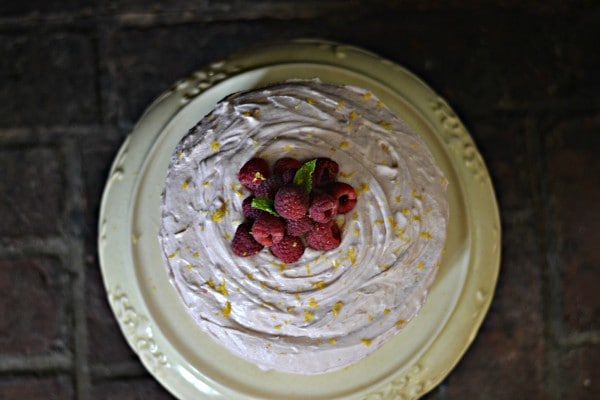 Thanks, Carrie! Be sure to follow Bakeaholic Mama on Facebook, Twitter, Pinterest, and Instagram so that you never miss a single delicious post.
Recipe adapted from Epicurious.
Buttermilk Cake with Raspberry Buttercream
Yield:
1 8-inch, 2-layer cake
Ingredients
For the cake:
1 cup of butter
1 ¾ cups sugar
2 ⅔ cups all purpose flour (plus more for dusting your pan)
½ tsp salt
½ tsp baking soda
1 ¼ cups buttermilk
1 tbs lemon zest
3 tbs lemon juice
1 tbs vanilla extract
4 large eggs
For the frosting:
1 cup of butter, room temperature
3 ½ cups confectioners sugar
¼ cup heavy whipping cream
½ cup fresh raspberries
⅛ tsp salt
1 tsp vanilla extract
1 tbs lemon zest
Instructions
To prepare your cake: Preheat oven to 350.
In the bowl of your electric mixer cream butter and sugar together until light and fluffy. Mix in your flour, salt, and baking soda until combined.
In a separate bowl whisk your eggs together with the buttermilk, lemon juice, lemon zest and vanilla extract.
Slowly mix the wet ingredients the dry until batter is combined (a few small lumps are ok!)
Flour and grease 2 8-inch cake pans, divide batter equally into each.
Bake for about 30 minutes or until a toothpick is inserted and comes out clean.
Allow cakes to cool completely before frosting.
To prepare your frosting, in the bowl of your electric mixer cream butter, lemon zest, vanilla, fresh berries (they mash as you mix) together with your confectioners sugar. Once smooth, turn mixer to medium speed, and slowly add in your whipping cream until the frosting is light and fluffy. Frost cooled cakes as desired.
Top cake with fresh berries, freshly grated lemon peel, and fresh mint.