A one-hour version of the traditional orange-scented Swedish rye bread – say it isn't so!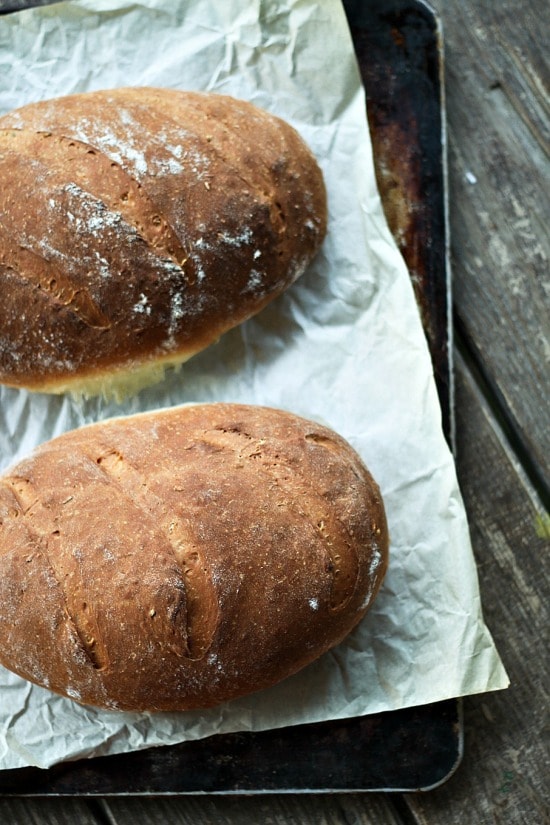 Hello, dear readers! We are back for another Friends First post on this lovely first day of October. As appropriate as a pumpkin recipe would be today, I'll let every other blogger in the world handle that one for you – I think today's recipe is even better. (Say it isn't so! …It is.)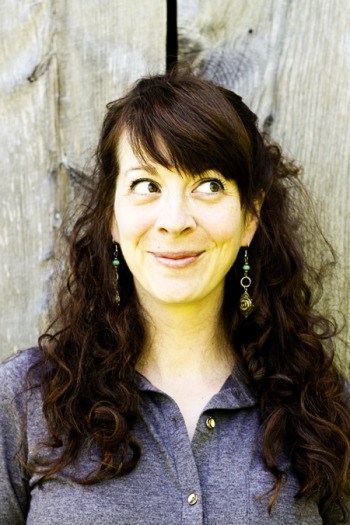 Today I am thrilled to introduce you to Rebecca. Rebecca is the blogger over at Foodie with Family, and – in addition to being one of the most articulate, intelligent women I have ever had the pleasure of meeting – is a mother of 5 boys, wife to her best friend, fellow theatre and literary nerd, and all-around amazing cook and baker. Oh, and she thinks nothing of roasting an entire goat over a spit or smoking her own Canadian bacon. I mean…come on. How could we not love this girl? Today she is showing us how to make a traditional Swedish Limpa in one hour – Swedish Chef totally optional.
_______________
My dear friend Stephie asked me if I'd like to guest post for her. Well, hello. Of course I'd like to meet all of Stephie's people! She left the door wide open for me to post about whatever I love best. The little voice in my head kept saying, "Bake bread!" As this is a pretty innocuous thing for a voice in one's head to say, I decided to mind it and make something extra special for you kind folks: One-Hour Swedish Limpa Bread.
WHAT?!? No really. It's a yeast bread that is done –start to finish- in a little under one hour. It's not just any bread, though, oh no; it's a lightning speed makeover of a classic Swedish rye bread that is lightly scented with orange zest and fennel seed. Please fire up your imagination and take a deep whiff of a piece of that bread lightly toasted in a frying pan with a little sweet butter. Maybe it's just me, but my head gets all swimmy just pretend-smelling that. When I take it a step further and slather the bread with preserves or jam, I get borderline weepy. Maybe Stephie is rethinking asking me to post right now… "What the heck? Who knew she was so loopy?" In my defense, I have just two words to share: FRESH BREAD.
Between Doctor Atkins and the explosion of Paleo diets, bread has taken a serious beating in the court of public opinion. We all know that bread is still the staff of life, though, right? As in "Give us this day our daily?" There is nothing- NOTHING- in the world that beats the aroma of bread baking in the oven. Okay, there's one thing that's better… It's that same aroma connected to bread that takes one hour from the time you start mixing things together until the time it comes out of the oven. That means you can have a last minute loaf of bread to accompany soups and stews, or take to a dinner party.
Let me throw a few cook's notes your way to help you along with the process, and then we'll slice up this bread, let some cold butter melt its way over the warm surface, and chat about why we love Stephie, okay? (Hint: She's got mad theatre skills, people. Mad skills.)
Cook's Notes
I prefer to make this bread using my stand mixer, but I know that isn't something everyone has, so the recipe includes instructions for making by hand, with a food processor, and with a stand mixer.
Line your pan with parchment or a silpat. There isn't much sadder than trying to pry a loaf of fresh, soft, lovely bread off of a pan to which it's become thoroughly cemented.
I like to form this loaf in a non-traditional oval shape. I find the oval shape works better for slicing and toasting uniform pieces. You like rounds (boules) better? No problemo! Make it round!
The reason we slash the top of the bread is to let steam escape from the inside without mangling the shape of the loaf. Steam has to find a place to get out, and if we don't provide that, it'll blow a hole somewhere. If you're shooting for uber-rustic, go for it. Call me a control freak, but I kind of like to make pretty bread, so I make the path for the steam.
_____________________
Thanks, Rebecca! Be sure to follow Foodie with Family on Facebook, Twitter, Pinterest, and Instagram so that you never miss a single delicious post.
One-Hour Swedish Limpa Bread
Ingredients
5 cups all-purpose flour (1 pound, 9.5 ounces by weight)
1 cup medium rye flour (3⅝ ounces by weight)
2 Tablespoons instant yeast (also known as Bread Machine Yeast)
1 Tablespoon Kosher salt (if using table salt, reduce to 1 ½ teaspoons)
The zest of one orange
1 tablespoon fennel seed, toasted
2 cups very warm water (about 120°F)
2 Tablespoons butter
2 Tablespoons molasses
Instructions
Mixing the dough by Stand Mixer (my preferred method):
Combine the flour, yeast, salt, orange zest, and fennel seed in the bowl of the stand mixer that has been fitted with a dough hook. Mix on low speed for 30 seconds.
With mixer running, slowly pour in the water, molasses, and add the butter at the same time. Continue mixing on low until the dough comes together and becomes smooth, about 4 minutes. Remove bowl from the stand mixer, scraping any dough that remains on the dough hook into the bowl. Pull dough from bowl with your hands and form a smooth dough ball. Replace in bowl, cover with a clean tea towel and let rise in a warm place for 15 minutes.
Mixing the dough by Food Processor:
Combine the flour, yeast, salt, orange zest, and fennel seed in the bowl of a food processor that has been fitted with a blade or dough blade. Pulse 10 times. With the food processer running, slowly pour in the water, molasses, and add the butter at the same time into the feed chute. Continue processing until the dough forms a cohesive ball. Spin the dough ball 20 times and shut off the food processor. Remove the dough, form a smooth dough ball and place in a lightly oiled mixing bowl. Cover with a clean tea towel and let rise in a warm place for 15 minutes.
Mixing the dough by Hand:
Combine the flour, yeast, salt, orange zest, and fennel seed with a whisk or fork in a large mixing bowl. Slowly pour in the water, molasses, and add the butter into the flour mixture and use a sturdy spoon to combine into a shaggy dough. Use your hands to knead for 8 minutes*. After kneading for 8 minutes, cover the bowl with a clean tea towel and let rise in a warm place for 15 minutes.
*If you find it difficult to knead in the bowl, you can turn the dough out onto a clean surface to knead it. After kneading, just return the dough to the bowl and allow it to rise as instructed above.
Turn dough out onto a clean surface and divide in half. Dust your hands with flour and form each half into an oval or a ball, pulling the edges down from the top and tucking under the loaf and place 5-6 inches apart on a baking sheet that has been lined with parchment paper or a silpat, or has been lightly greased. Use a sharp knife to slash the top of the loaf about ¼ of an inch deep. This allows the steam to escape the baking loaf.
To bake the loaves:
Arrange the racks in your cold oven so that one rack is on the very bottom and one is positioned in the center of the oven. Place the baking sheet with the loaves on the center rack and a bread or cake pan that is full of very hot tap water on the bottom rack. Close the oven and turn your oven on to 400°F. It is imperative that you start this in a cold oven! Set your timer for 40 minutes. That 40 minutes is all that stands between you and fresh bread.
The crust should be a deep brown and quite firm when you remove the loaves from the oven. Transfer the loaves to a rack to cool completely if you wish to slice them, or you can do like I normally do and cool one loaf while tearing the second one into pieces and slathering with cold sweet cream butter.