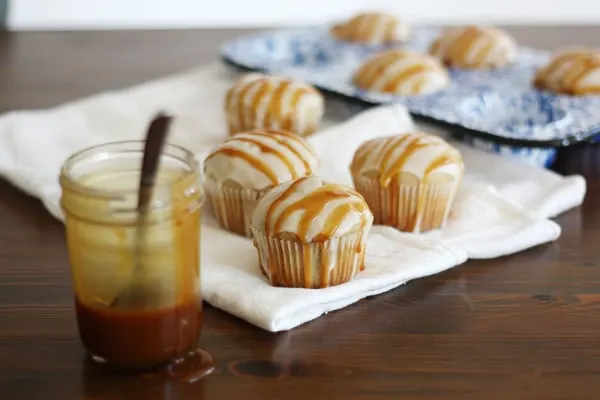 Welcome to fall, friends! School is back in session (much to the chagrin of my students), Labor Day weekend is upon us, and apple picking season is so close I can barely contain myself (oh, by the way, Boyfriend – we are going apple picking this year…).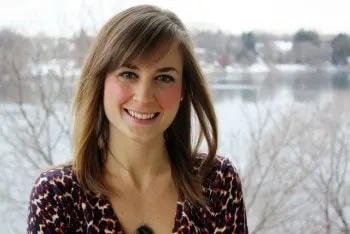 September's installment of our "Friends First" series is brought to you by the incomparable Steph from Girl Versus Dough – yes, yet another Ste(f)ph! I stumbled across Steph's blog a little while ago and immediately felt like we were meant-to-be BFFs with her funny, honest writing, her gawwwwgeous baked goods, and the fact that we are basically twins (um, hello, Adam Levine loving/Chipotle obsessed cat ladies). Steph is a Minnesota-living, awesome-recipe-developing, art-music-and-book-loving wife and cat mom, and a darn sweet friend to boot. She has made you the most bonkers insane muffins I've ever laid eyes on and I seriously think these would be so perfect for some of those crisp autumn mornings that are headed our way soon. Also, I'm breaking the 10th commandment and coveting that muffin tin in the above photo.
______________________
Oh hi, Eat Your Heart Out readers! My name is Stephanie and I blog over at Girl Versus Dough. I'm so excited that Stephie invited me to post on her site as part of the Friends First series, as she and I quickly have become just that – friends. In addition to sharing a first name (duh), we also share a love of carbs, cats and not wearing pants as often as possible. Not only do I think Stephie is hilarious (she's made me very unattractively snort while reading her blog, much to the chagrin of the husband), but I just love the heart and passion she puts into what goes onto her site. And the recipes? Giiiirrrlll (or, guuuuyyyy), they are delicious. I drool everywhere often when I pop over here (again, to the chagrin of the husband. He's such a lucky fella). So basically I'm a snorting/drooling mess when I read Stephie's blog, but in the best way possible. Ahem.
ANYWAY, let's talk about muffins! But not just any muffins, oh no ho ho – these are caramel macchiato doughnut muffins and they will blow. your. mind. I mean really, what combination could be more glorious than caramel, vanilla and coffee in a doughnut? That's a rhetorical question.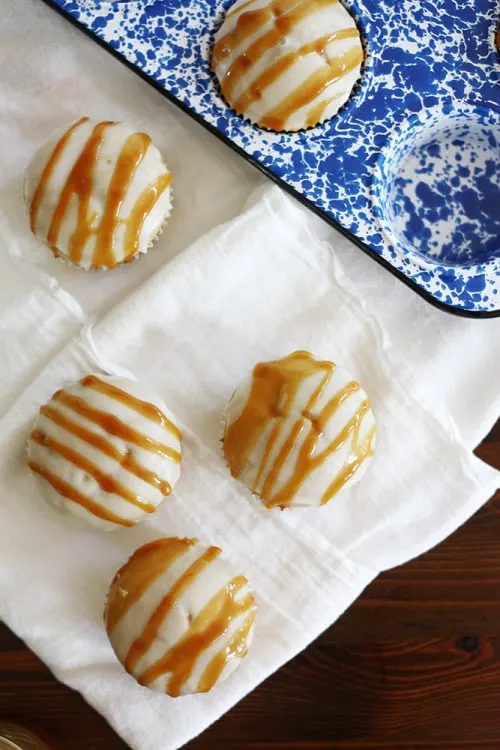 If I were to sum up my personality in carb form, these muffins would be it. Firstly, I LOVE coffee. Like, lovelovelove it. If I could choose my last meal it would most certainly be accompanied by a giant, gallon-size mug of coffee. Secondly, caramel macchiato – I don't normally order this drink from Starbucks, but I do end up in a Starbucks a lot. I don't know. I'm like a moth drawn to the flame; or more appropriately, a coffee junkie drawn to the espresso machine. And while I usually order a boring ol' latte, if I'm feeling fancy, I'll get a caramel macchiato and it will suddenly become The Best Day Ever. And thirdly, muffins – I love to bake and I love to share what I make with friends and family, and muffins are a great way of doing both. They're like individual-sized cakes of goodness that I can share with others.
So all that to say, I hope you like these muffins as much as I do, and I hope Stephie does, too. One of these days, that girl and I are going to meet up in real life and it is going to be EPIC. Until then? I'll just be over here snorting and drooling away (I'm so lovely).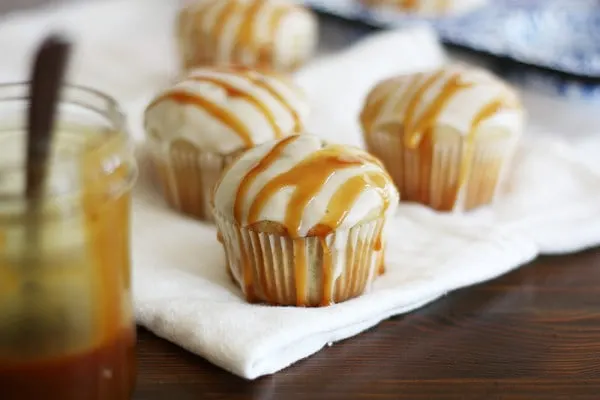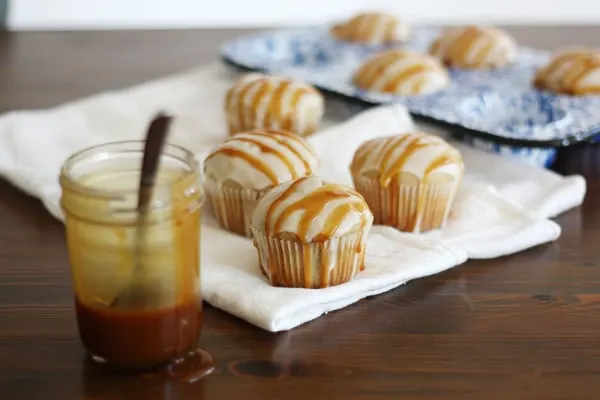 Ingredients
For the muffins:
1/2

cup

granulated sugar

1/3

cup

brown sugar

1/4

cup

vegetable oil

4

tablespoons

unsalted butter

softened

2

teaspoons

vanilla

2

eggs

1 1/2

teaspoons

baking powder

1/4

teaspoon

baking soda

3/4

teaspoon

salt

1/2

cup

strong coffee

1/2

cup

milk

2 2/3

cups

unbleached all-purpose flour
For the glaze:
2

cups

powdered sugar

1

teaspoon

vanilla

4

teaspoons

milk

Storebought or homemade caramel sauce

for drizzling
Instructions
Heat oven to 375 degrees F. Line a 12-cup muffin pan with paper baking cups.

In a large bowl or bowl of a stand mixer, beat sugars, oil, butter and vanilla until combined and smooth. Beat in eggs one at a time. Add baking powder and baking soda; stir to combine.

Combine coffee and milk in a measuring cup. Alternately add flour and milk-coffee mixture to bowl, beginning and ending with the flour, stirring after each addition until combined.

Divide batter among paper baking cups. Bake 20 to 25 minutes until a toothpick inserted in the center comes out clean. Transfer muffins to a cooling rack to cool completely.

Meanwhile, make the glaze: In a medium bowl, stir together powdered sugar, vanilla and enough milk to form a thick but drizzly glaze. Dip fully cooled muffins in the glaze. Let excess glaze drip off for a few seconds, then place muffins back on cooling rack so the glaze drips down the sides as it cools and sets.

Once the glaze is set, drizzle caramel sauce over the tops of the muffins.
Thanks, Steph! Be sure to follow Girl Versus Dough on Facebook, Twitter, and Pinterest so that you never miss a single delicious post.