Grapefruit Curd is a delightfully bright, tangy twist on the usual citrus curd. Serve it with pound cake or serve a spoonful with yogurt and granola for a decadent breakfast.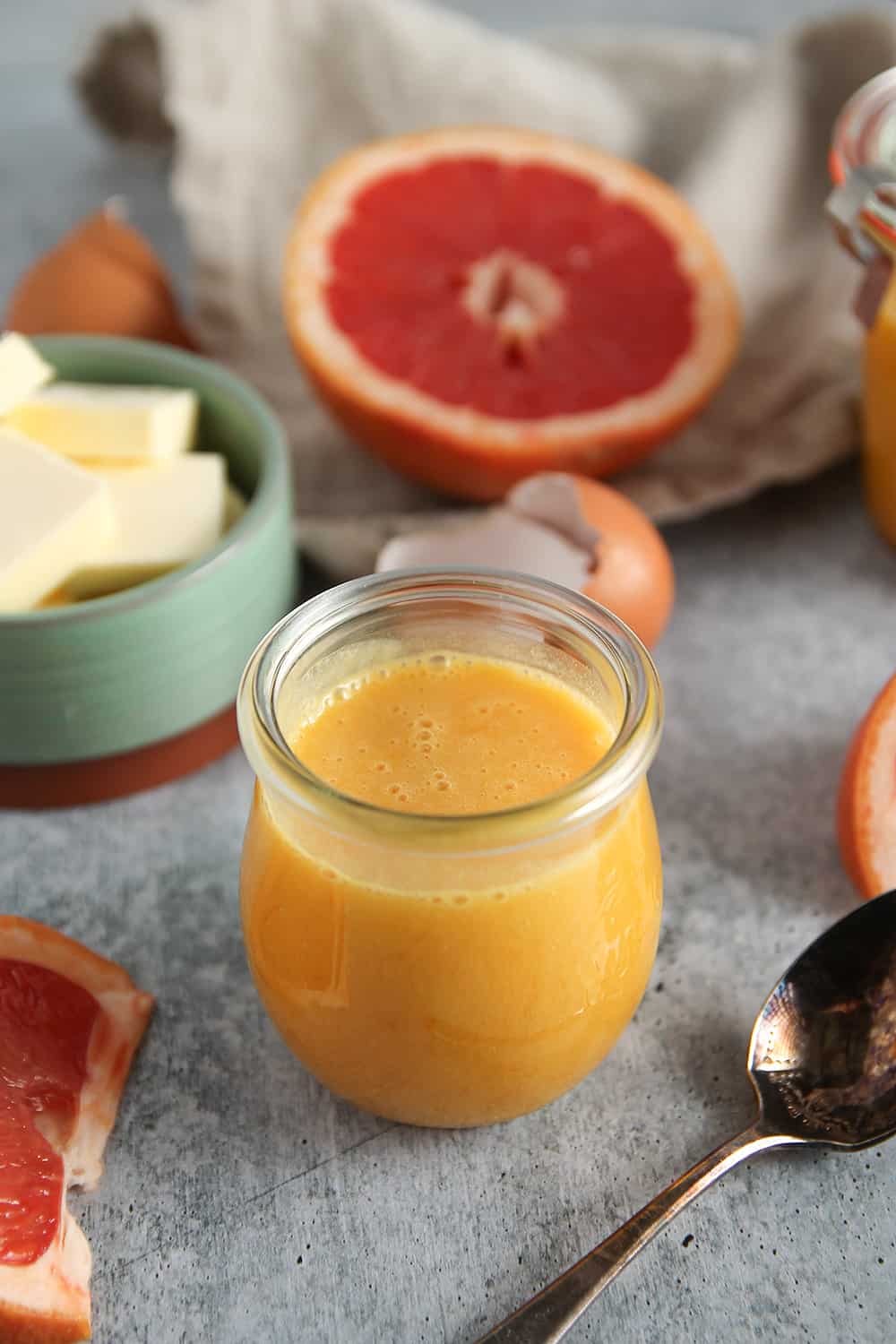 In my experience, you either love grapefruit or you hate it.
Me? I am in the love category.
I suspect I come by this naturally, as my momma was a big fan of grapefruit as well. Her favorite cocktail was simply vodka and grapefruit juice. (Not surprisingly, it's one of my favorites as well.)
Not only do I love the flavor of grapefruit, I love the scent of it as well. (Hello, grapefruit essential oil!)
I am also of the opinion that grapefruit is the perfect addition to winter desserts. This is the time of year where I really love a good pop of citrus in my baked goods.
I love lemon curd, so I knew I wanted to take some beautiful ruby grapefruit and turn it into luscious Grapefruit Curd.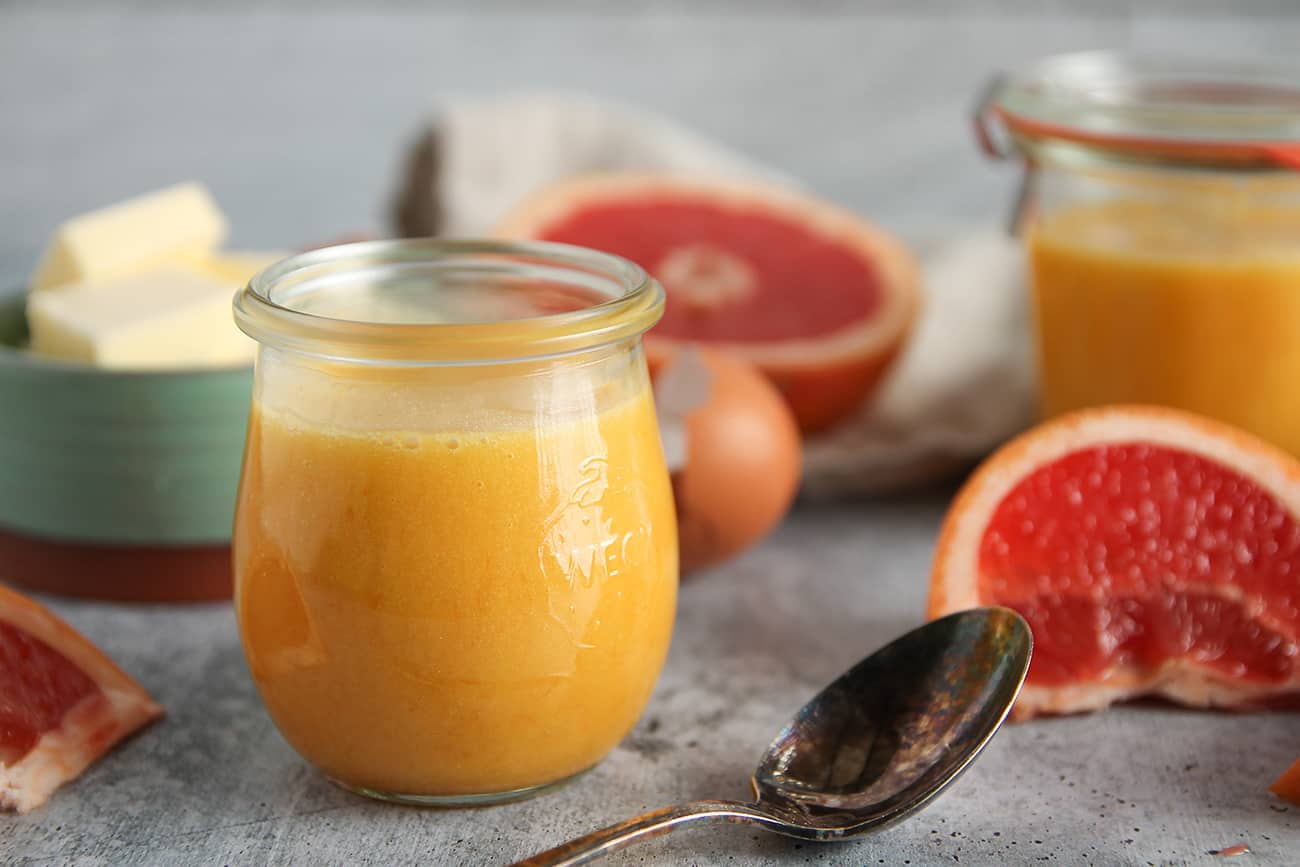 HOW TO MAKE GRAPEFRUIT CURD
I know there are some citrus curd recipes out there that call for cornstarch for some extra thickening power, but I am a bit of a citrus curd purist. I like to go a bit old school and rely on egg yolks and make my Grapefruit Curd all in a double boiler.
I know it sounds intimidating, but I promise it is totally doable.
Since most people don't have a double boiler laying around, you can craft a makeshift one by placing a metal or glass bowl over a pot of simmering water. Just make sure the bottom of the bowl doesn't touch the water.
Whisk the egg yolks and sugar together for about a minute, until the mixture is smooth and light yellow in color. In goes the grapefruit juice and zest.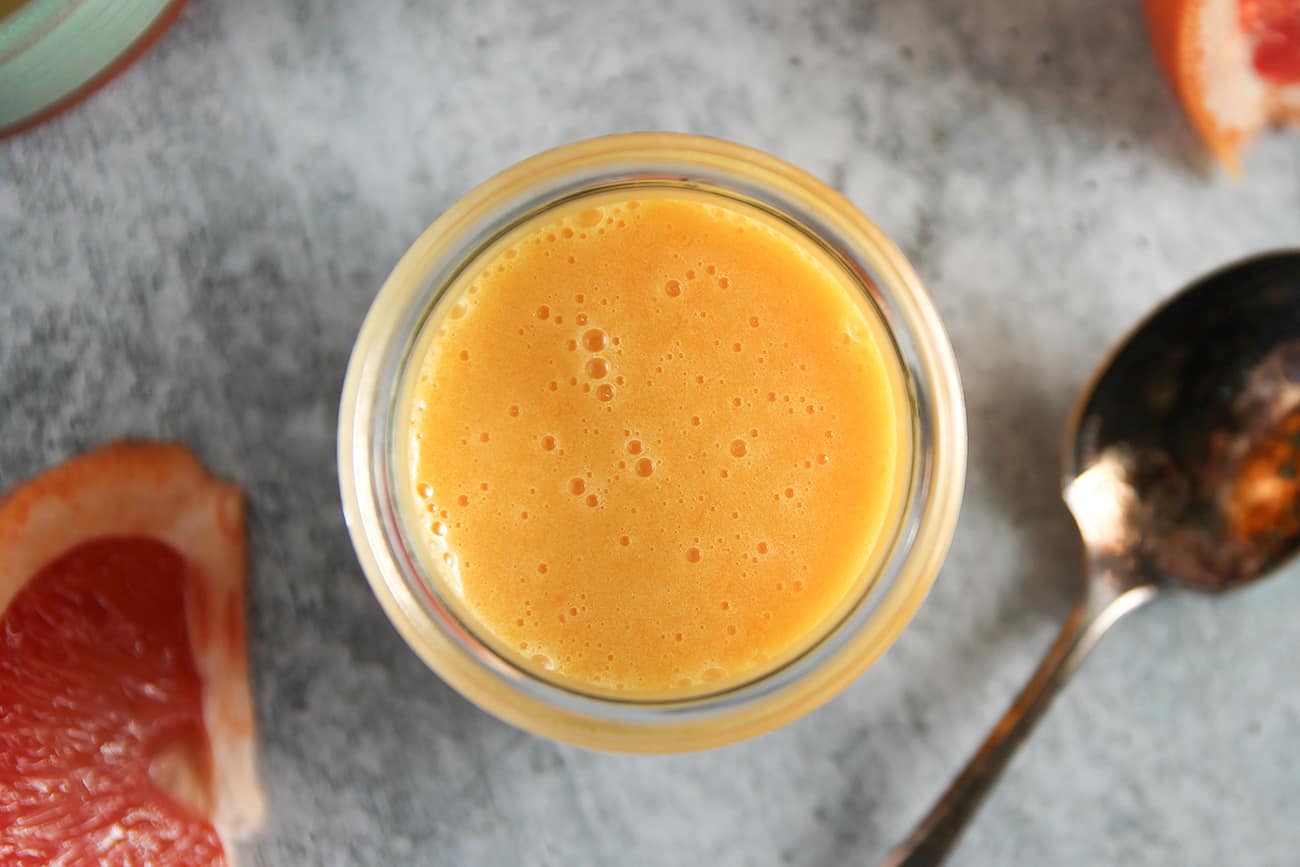 Then place the bowl over your pot of simmering water and whisk. You're going to feel like you're whisking forever, but hang in there. As the mixture gently heats, the eggs will cook and thicken the Grapefruit Curd.
Keep in mind that the curd won't seem particularly thick at this point since it is so warm. You'll know it's ready when it is light in color, coats the back of a spoon and has a silky texture.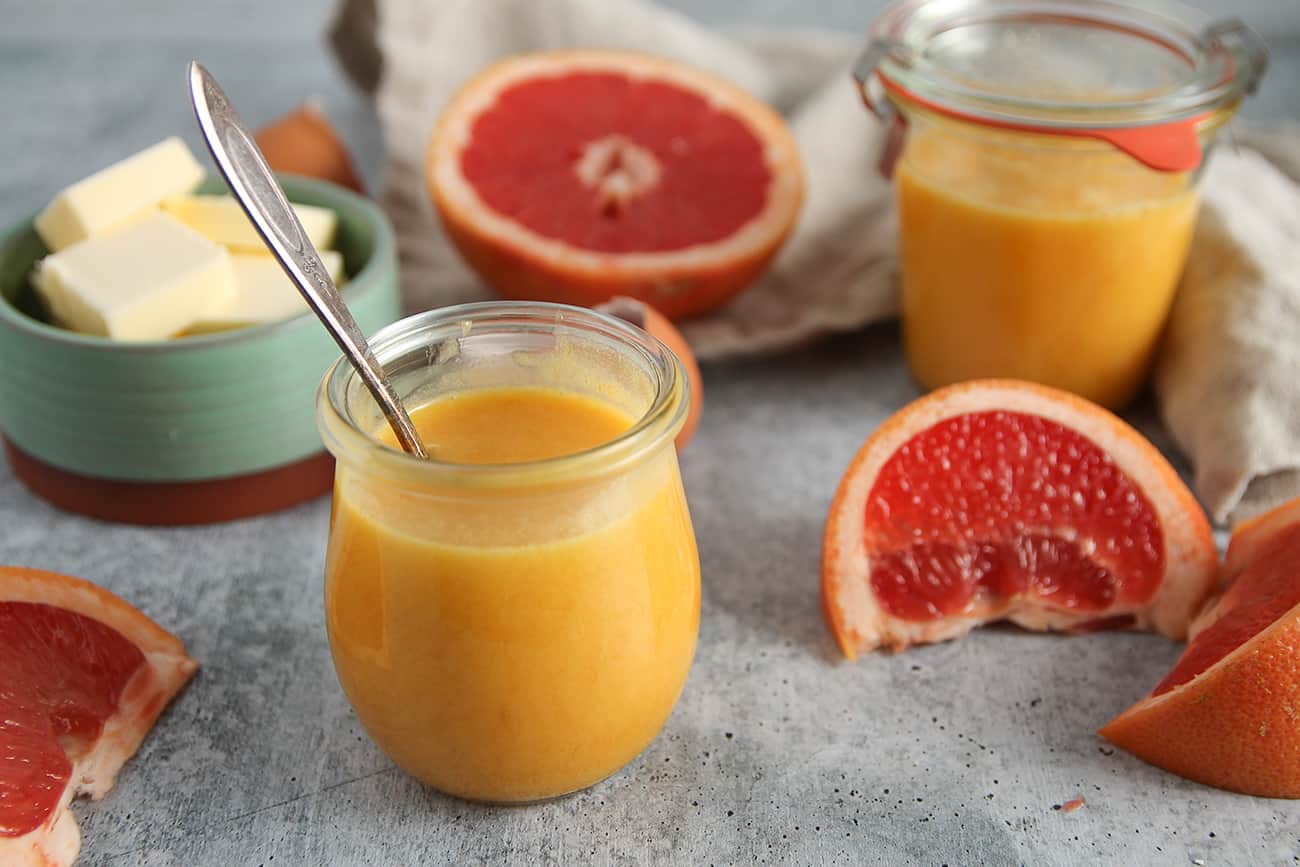 Then it's time to remove the pan from the heat and stir in the butter, one piece at a time, until it is all fully incorporated. Place in a jar, cover and refrigerate until ready to use.
Your Grapefruit Curd will continue to thicken as it cools. It will also store quite well in the refrigerator for up to two weeks.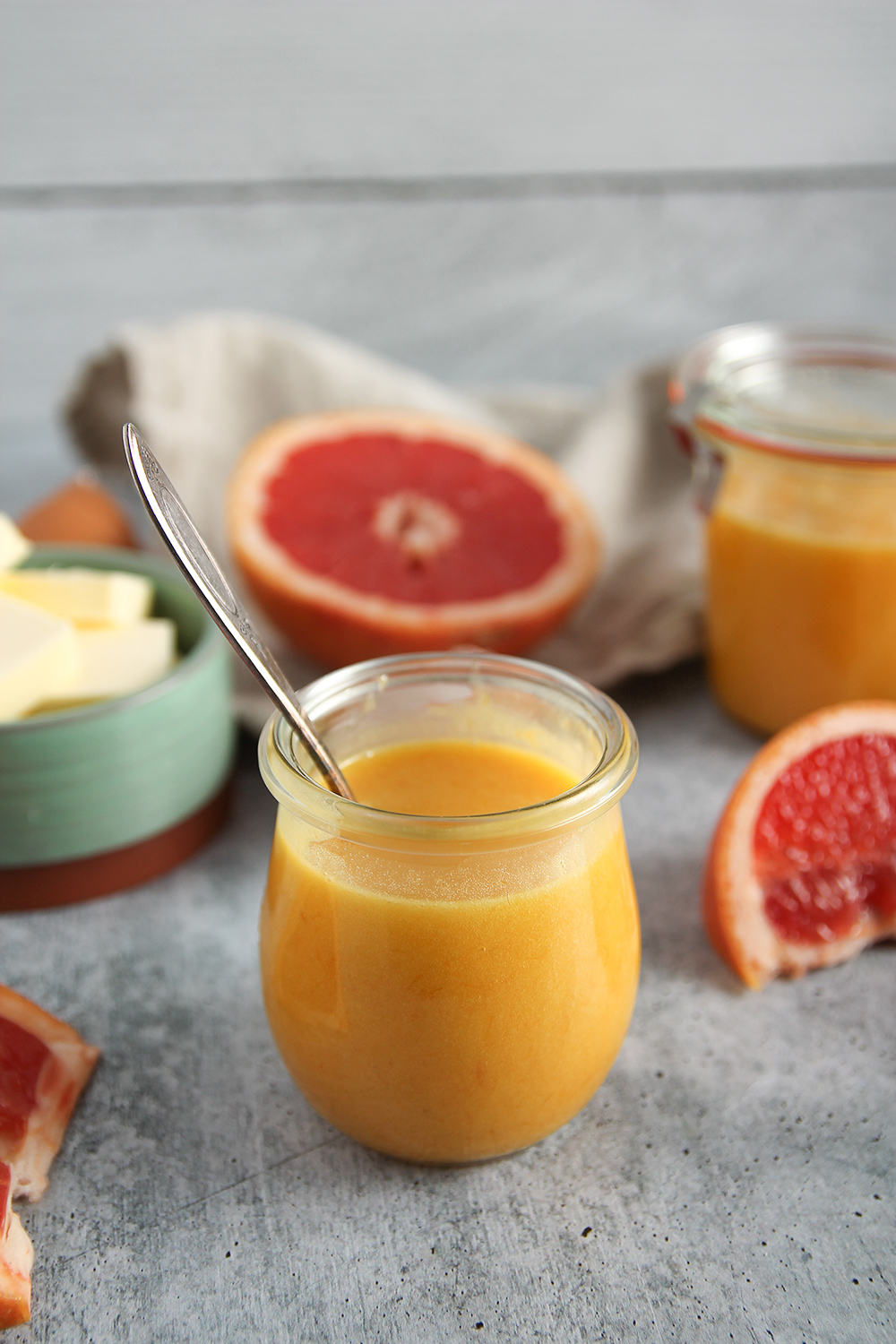 WHAT TO DO WITH GRAPEFRUIT CURD
So what exactly do you do with Grapefruit Curd?
Just about anything you would do with lemon curd!
Try serving Grapefruit Curd with Angel Food Cake (my favorite!) or pound cake. Use it in place of lemon curd in Lemon Mousse to make a grapefruit mousse. Spoon it into mini phyllo shells and top with a bit of whipped cream to make bite-size grapefruit tarts.
You can even have Grapefruit Curd for breakfast! How?
Spoon a bit of Grapefruit Curd over your morning yogurt and top with some Coconut Ginger Almond Granola. Or heat it up and drizzle it over some Mascarpone Pancakes for a truly decadent morning treat!
Whether you make this recipe to jar up and gift to friends or serve at your next brunch party, if you love grapefruit I can promise you will love Grapefruit Curd.