When my great-grandmother got married, she knew how to make exactly two things: fried chicken and angel food cake.
How these were the only two things she knew how to cook, we will never know, but the angel food cake was pretty convenient, given that it was my great-grandfather's favorite dessert. All these years later, it is now my mother's favorite dessert and her birthday cake every year.
Homemade angel food cake seems to have a reputation for being difficult or unapproachable, mostly likely due to its light, airy nature. Yet the recipe is really quite simple – you just need to understand what you are doing, and be gentle with your batter. Angel food cake batter is essentially a foam, so it relies on those little air bubbles you create when whipping your egg whites. Gentle folding will keep those in place. To fold in your flour, sprinkle it over the top of your whipped whites in installments; then, with a large spatula, cut down the middle of the batter to the bottom of the bowl and bring the spatula up the side, folding the batter over as you bring the spatula up. Turn the bowl 90 degrees and repeat. This will incorporate your dry ingredients without dismantling the foam you have already created.
Also helpful: setting your oven to the correct temperature. Not that I set my oven 50 degrees too high the first time or anything…just don't pay attention to that extra carton of eggs I went through making this…but DO pay attention to your recipe. *cough*
Remember Monday's lemon curd? I specifically wanted to share that recipe with you this week because my favorite way to eat my great-grandmother's angel food cake is with lemon curd and fresh blueberries. Guys, it just doesn't get any better than that.
Make this for your momma this Mother's Day. I promise you she'll love it just as much as my momma does.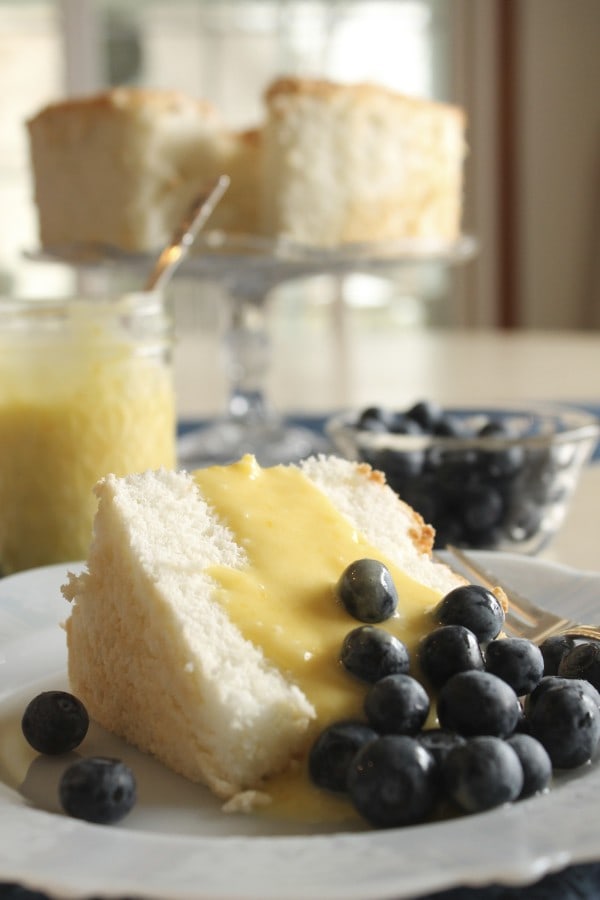 To those wondering: Yes, my great-grandmother's recipe did specifically call for Swans Down cake flour. Go ahead and use a different brand if you wish (so long as it is cake flour, that's important)…but I will stick with Swans Down. Don't want her coming back to haunt me or anything.

Angel Food Cake
Ingredients
11 egg whites, room temperature
Pinch of salt
1 heaping teaspoon cream of tartar
1½ cups sugar, divided
½ teaspoon vanilla extract
1 cup Swans Down cake flour
Instructions
Preheat oven to 275 degrees.
Sift together the flour and ½ cup of the sugar. Set aside.
In a very clean glass or metal bowl (do not use plastic!), add the egg whites and the salt. Using an electric or stand mixer, beat on low speed until foamy, then increase the speed to medium-high. Once the eggs just pass the foamy stage and start to become "fluffy", add the cream of tartar and vanilla. Return the mixer to high speed and beat to medium peaks. Sprinkle the remaining sugar over the top of the egg whites and mix on medium speed until just incorporated - no more than 10 or 20 seconds.
Sprinkle about ¼ of the sifted flour mixture over the top of the egg whites. Using a large, very clean spatula, fold in flour: cut the spatula down the middle to the bottom of the bowl, then sweep it around, up and over. Turn the bowl 90 degrees and repeat. Continue this process just until the flour is mostly incorporated, then repeat with the rest of the flour mixture, ¼ at a time, folding until just incorporated.
Gently spoon the batter into an ungreased angel food cake pan. Bake at 275 for 30 minutes, then increase the heat to 325 and bake for another 30 minutes, until golden on top and the cracks in the top are relatively dry.
Upon removing from the oven, invert the cake. Some pans have "legs" to let you rest it directly on the countertop, but I usually turn it upside down with the tube part of the pan over the top of a wine or vinegar bottle. Allow to cool completely while inverted, then run a knife around the edges of the cake to remove from the pan.
Notes
A word about angel food cake pans: Do not use a nonstick tube pan, and for heaven's sake, do not make anything fatty in your angel food cake pan. It's almost impossible to completely wash away every fat molecule from any given surface, and even the tiniest bit of fat left on the surface of your pan will prevent your cake from being able to grab hold of the sides of your pan and rise. Not pretty. Best to just have a cake pan just for angel food cakes. Trust me, it's worth the small investment.