Don't be intimidated by making homemade angel food cake! Give this angel food cake recipe a try and fall in love with this light, perfectly sweet cake.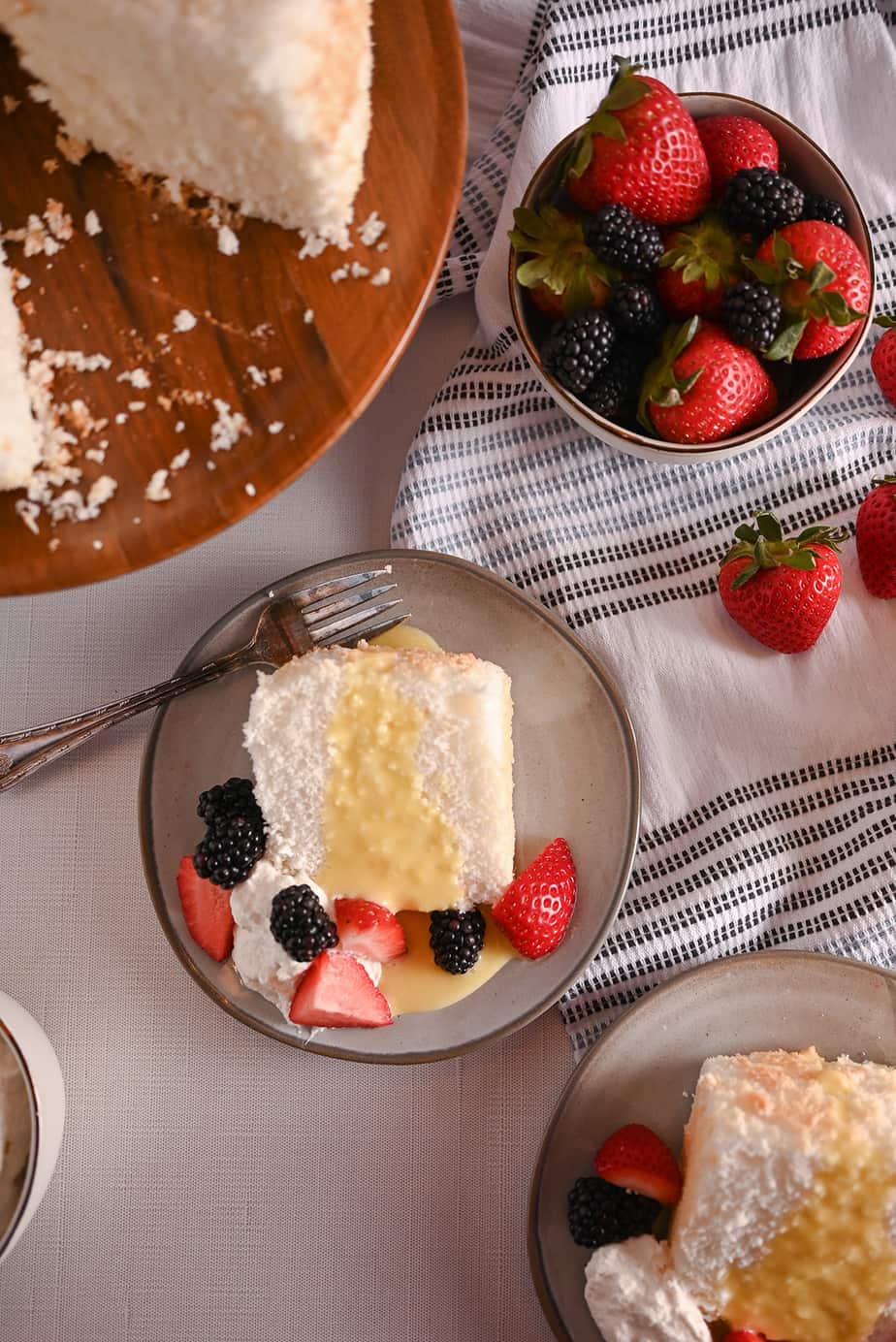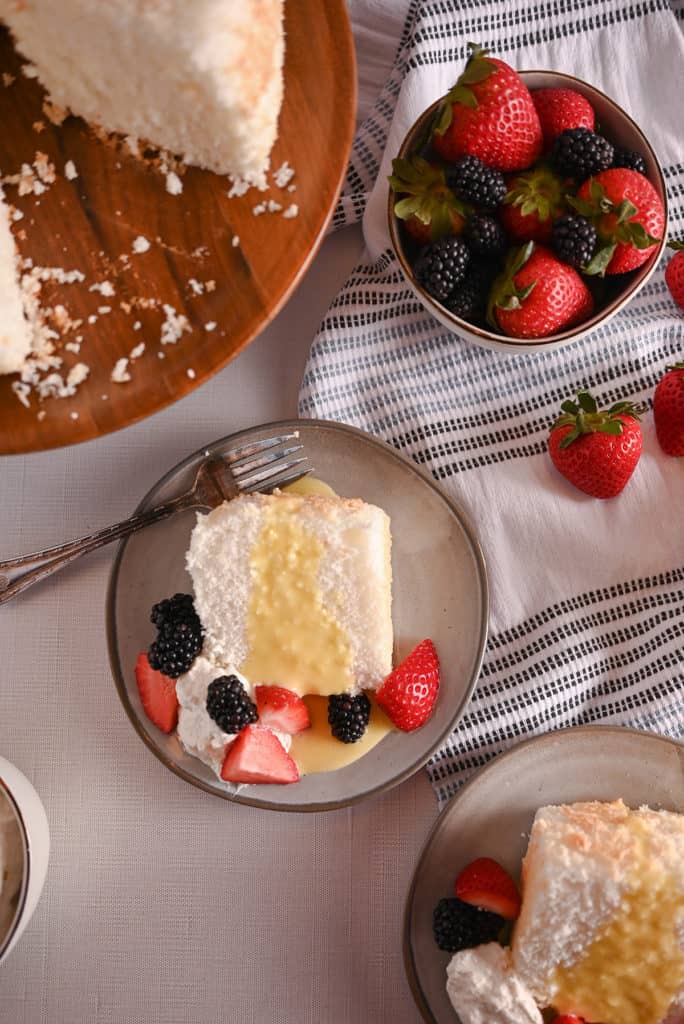 This post contains affiliate links.
When my great-grandmother got married, she knew how to make exactly two things: fried chicken and angel food cake.
How these were the only two things she knew how to cook, we will never know. But the angel food cake was pretty convenient, given that it was my great-grandfather's favorite dessert.
When my mother came along, it became her favorite dessert as well and was her birthday cake every year.
I was in college before I made a homemade angel food cake for her. Growing up, she usually just made it from a boxed mix, mostly because she wasn't the type to expend the energy for a homemade cake on herself.
Now that Momma is gone, her favorite dessert holds a whole new meaning for me. I still like to make one around her birthday, using my great-grandmother's recipe, and eat a slice (or two) in her memory. It always seems like one of the best ways to honor her.
Homemade angel food cake has a reputation for being difficult or unapproachable, but really you just have to know what you're doing. I'm going to walk you through some of the common questions and show you that it's not that hard at all.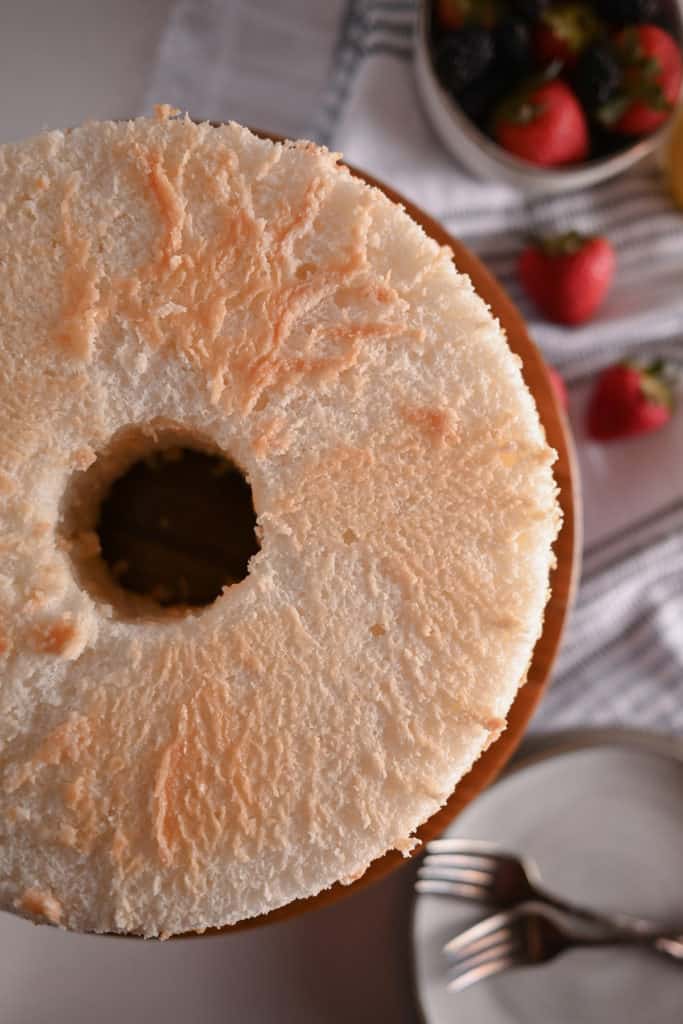 WHAT IS ANGEL FOOD CAKE?
Angel food cake is a type of sponge cake that has no fat in it and is leavened using only egg whites.
That's right! Unlike peanut butter cake or coconut cake, a true angel food cake recipe will contain zero butter, oil, egg yolks, or any other fat.
The result is a cake with a very light, airy texture that is bright white on the inside and perfectly sweet.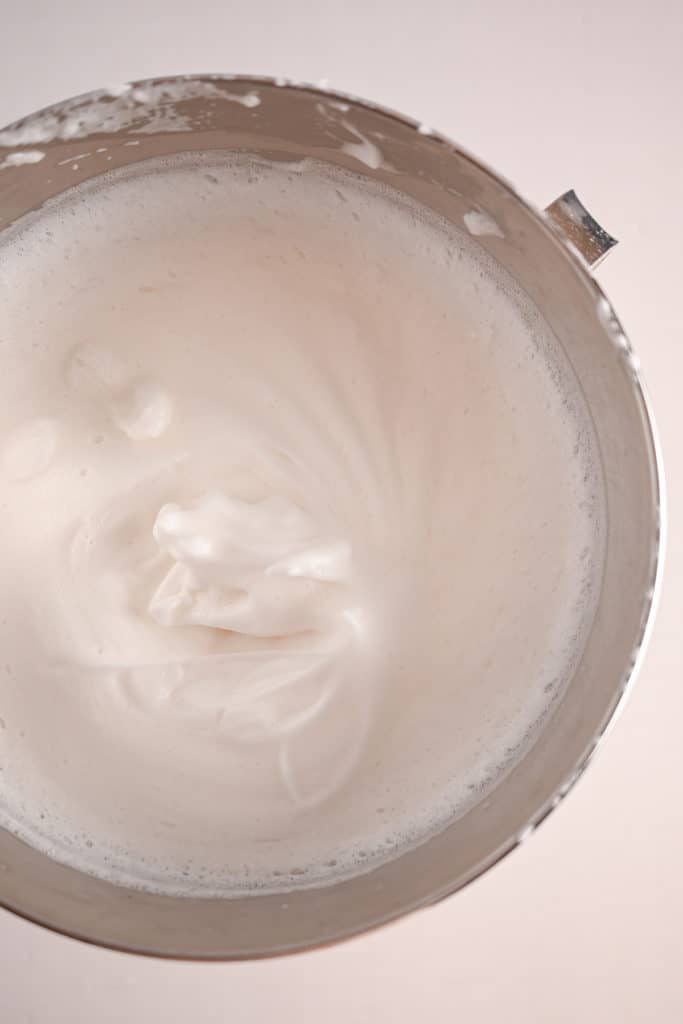 HOW TO MAKE THIS ANGEL FOOD CAKE RECIPE
Ok, let's get down to brass tacks and chat about what it takes to make my great-grandmother's recipe.
Angel food cake ingredients
With no fat, baking powder, or baking soda, the ingredients list for this recipe is relatively short:
Swans Down cake flour: Yes, my Ma-ma's recipe calls specifically for Swans Down cake flour. No, this post is not sponsored. Yes, you can probably use a different brand of cake flour, but I am superstitious enough to only use Swans Down.
Granulated sugar: The sugar sweetens the cake, helps stabilize the egg white foam, and serves as a tenderizer in this recipe.
Room-temperature egg whites: The majority of the cake is made up of beaten egg whites. Allow them to come to room temperature before making your cake.
Fine sea salt: Like all desserts, this cake benefits from just a pinch of salt to balance out the sweetness.
Cream of tartar: Cream of tartar helps stabilize the egg whites, lets the whites reach their maximum volume when baking, and helps keep the cake bright white. Cream of tartar can be found with the spices in the baking aisle of the grocery store.
Vanilla extract: I always use pure vanilla extract when baking for adding the best flavor.
When separating the egg whites, I recommend separating each white into a small bowl, then transferring it to your large mixing bowl. This way you can make sure no yolk or shell gets into each white before you add it to the rest of the batch.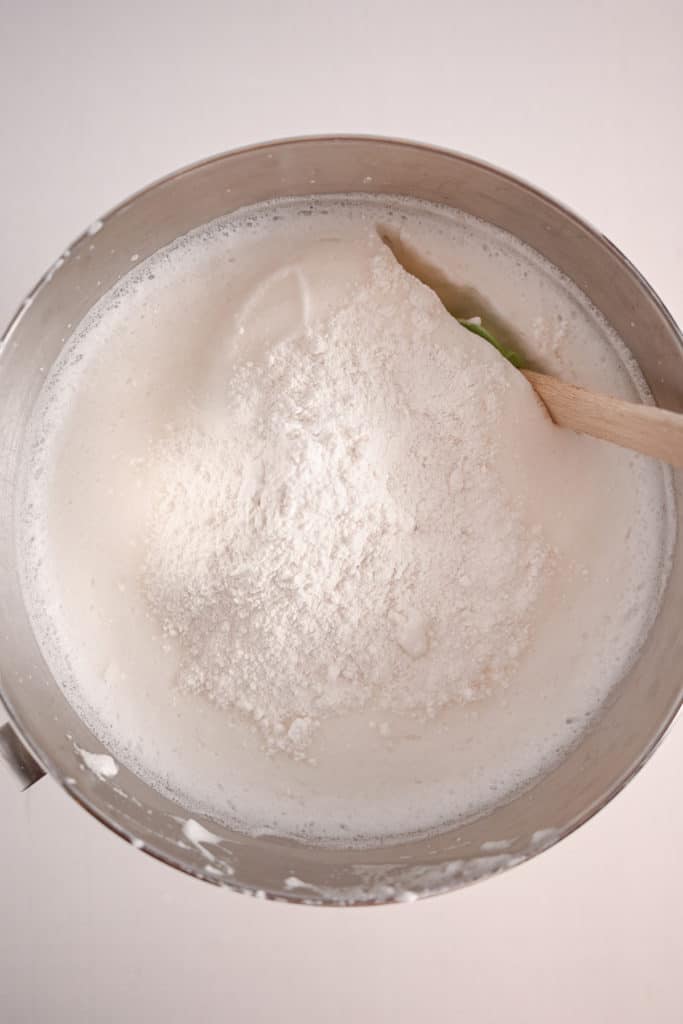 Do you have to use an angel food cake pan?
Angel food cake batter is essentially a foam formed by the bubbles you create when whipping the egg whites.
As the cake rises in the oven, it climbs and holds onto the side of the cake pan. After the cake comes out of the oven, the pan is immediately inverted (turned upside-down), allowing gravity to hold the cake in place until it cools and sets.
Because of this, you MUST use an aluminum angel food cake pan with a removable inner tube when making this or any other angel food cake recipe.
Do not be fooled by so-called "non-stick" angel food cake pans or other non-stick tube pans. The cake must be able to stick to the sides and center of the pan in order to get the proper rise and texture.
Most angel food cake pans are pretty inexpensive, so it's worth it to keep one dedicated to making this recipe if you are a big angel food cake fan.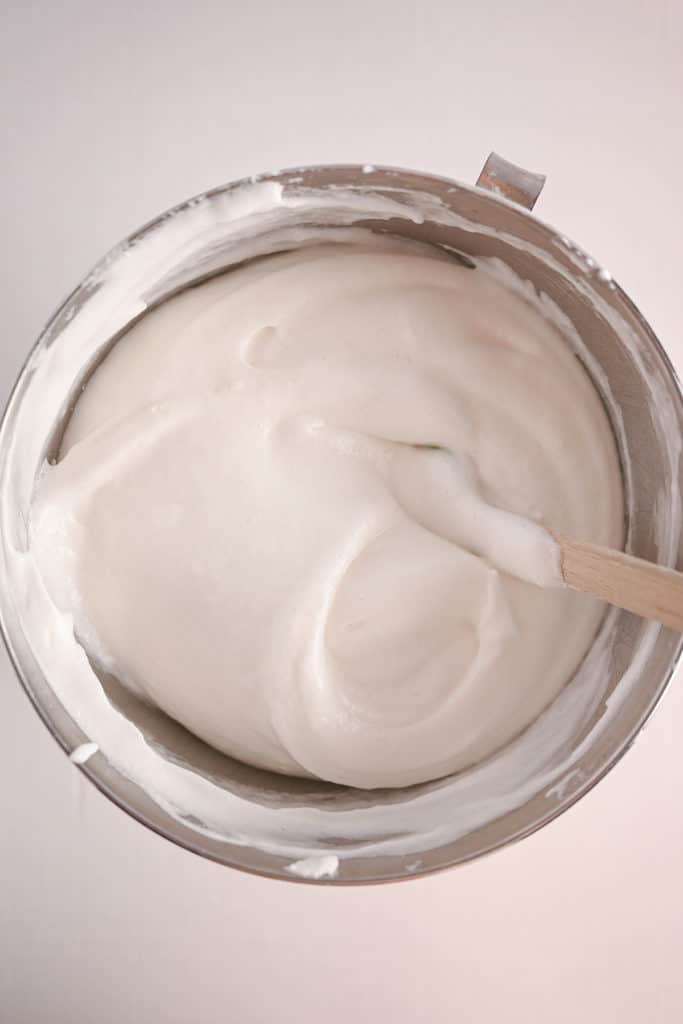 Other tools you'll need
In addition to an angel food cake pan and measuring cups, you will need:
Make sure you do NOT use a plastic mixing bowl. Plastic holds on tightly to fat molecules even after washing, which can transfer into your cake and make it fall.
I also recommend using a hand mixer instead of a stand mixer for this recipe. It is easier to make sure all of the egg whites at the bottom of the bowl are evenly whipped with a hand mixer than it is with a stand mixer.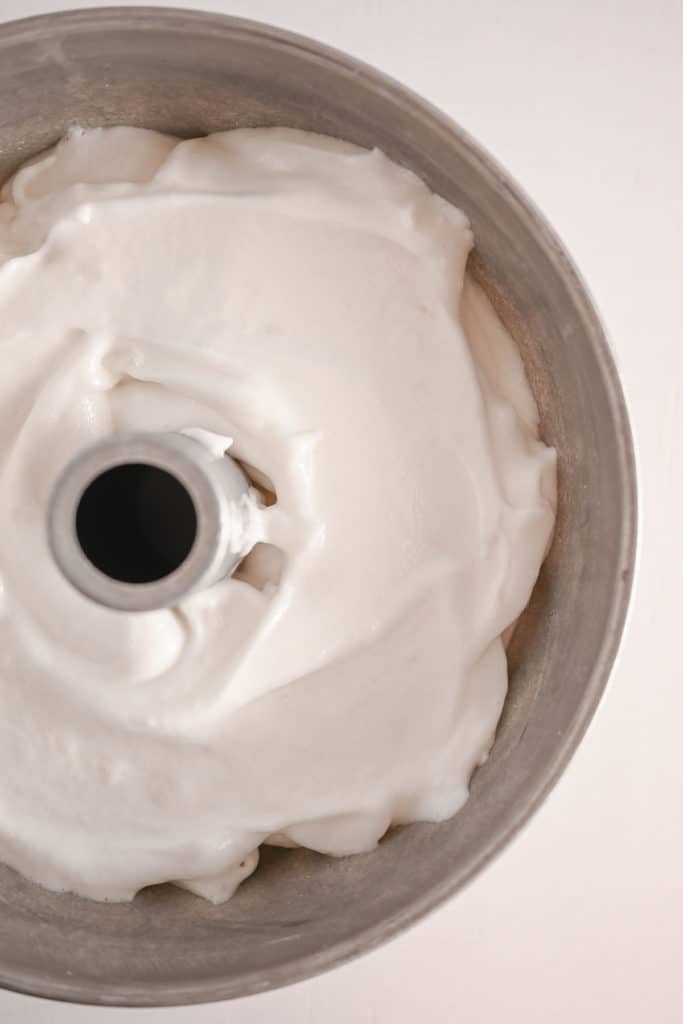 Making this recipe
Before you start, remember that gentleness is the key to this recipe. Be patient when folding the batter together and don't try to rush it.
Sift together the cake flour and ½ cup of the sugar. Set this aside.
In your very clean glass or metal bowl, add the egg whites and the salt. Mix on low speed with the mixer until foamy, then increase the speed to medium-high.
Once the whites just pass the foamy stage and start to become "fluffy," add the cream of tartar and the vanilla. Turn the speed to high and beat until medium peaks form.
Sprinkle the remaining 1 cup of sugar over the top of the whites and mix on medium speed for no more than 10-20 seconds – you just want the sugar to be incorporated.
Now for the fun part: folding!
To fold in your flour mixture, sprinkle it over the top of your whipped whites in 4 installments. With a large spatula, cut down the middle of the batter to the bottom of the bowl and bring the spatula up the side, folding the batter over as you bring the spatula up.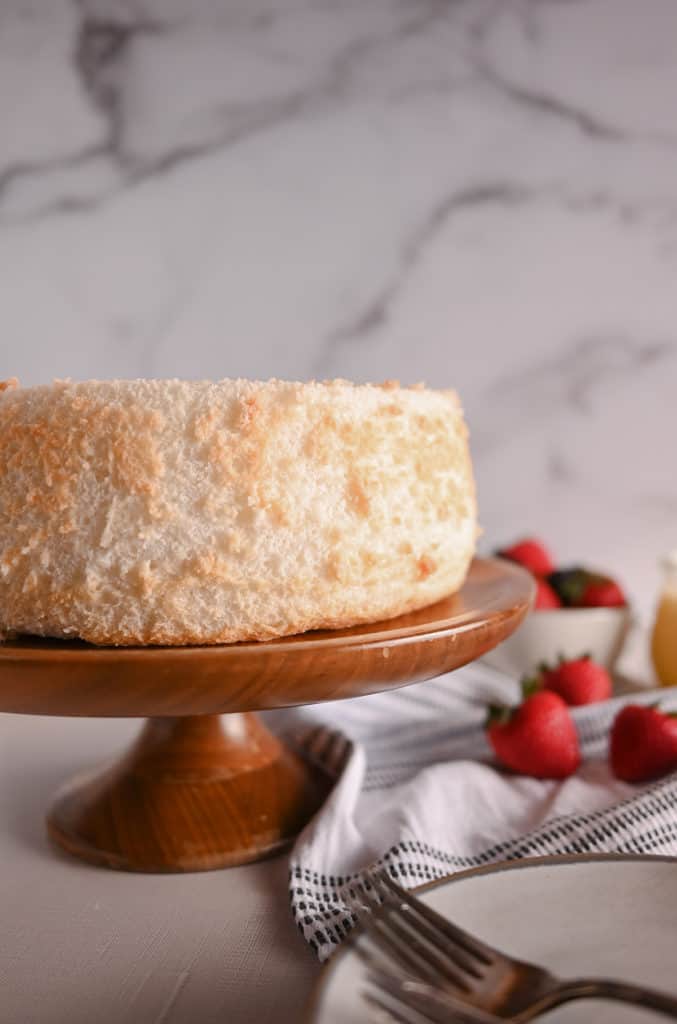 Turn the bowl 90 degrees and repeat. This will incorporate your dry ingredients without dismantling the foam you have already created.
As you fold, make sure you get all the way to the bottom of the bowl. Fully fold in each installment of the flour before adding the next one.
Very gently spoon the batter into the ungreased angel food cake pan. Bake the cake for 30 minutes at 275°F, then increase the heat to 325°F and bake for another 30 minutes.
You'll know the cake is done when it is golden on top and any cracks that have formed are relatively dry.
Cooling and removing the cake from the pan
When you remove the cake from the oven, immediately invert the pan. Some pans have little "legs" so you can rest it upside-down directly on the countertop. You can also place the tube part over a wine or vinegar bottle.
Let the cake cool completely (I mean it!) while inverted before removing the cake from the pan.
To remove the cake from the pan, then run a knife or thin offset spatula around the edges of the cake. Lift the tube section out of the pan, then run the knife or spatula around the inner tube and under the cake to remove the cake from the pan.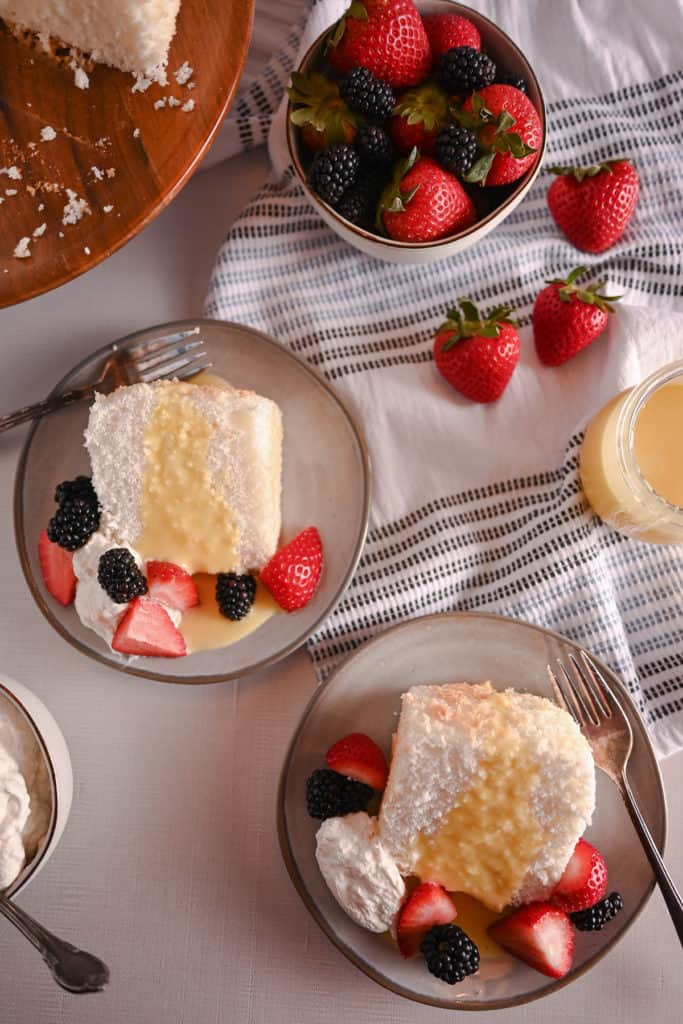 SERVING SUGGESTIONS
So what's the best way to enjoy this famously light, delicate cake?
My momma's favorite way to eat angel food cake was with a drizzle of homemade lemon curd and fresh berries. Add a dollop of whipped cream if you like!
For a twist on this, give grapefruit curd a try instead.
A spoonful of a fruit sauce, such as raspberry sauce, would be delicious as well.
Some folks like to add a frosting to their angel food cake recipe. This isn't my personal favorite, but I'd recommend using something light, such as a whipped cream frosting, if that's your thing.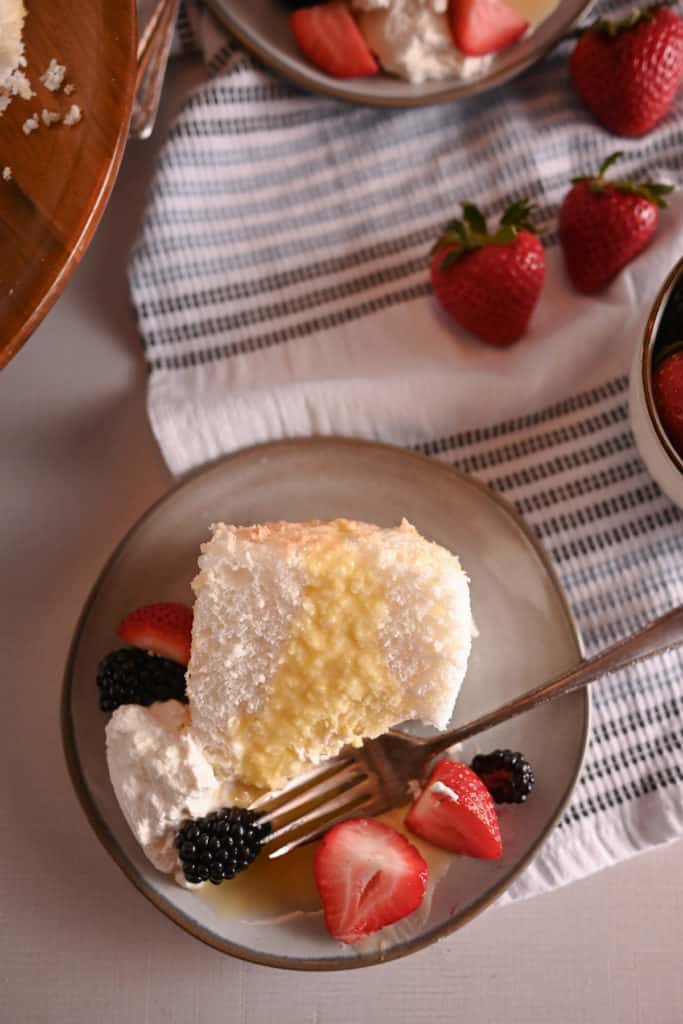 STORING THIS CAKE
Keep your homemade angel food cake out of the fridge – it will make it soggy.
Store the cake in a cake carrier at room temperature. It will keep for up to 3 days…assuming you don't eat it all first.