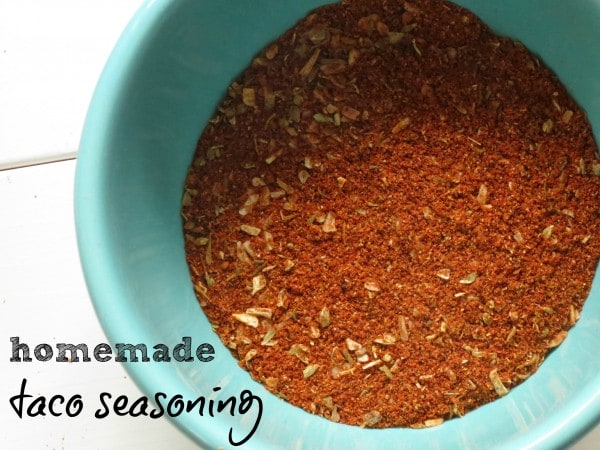 I've talked a little bit before about preservatives and why I try to avoid them as much as possible in my own diet.
Earlier this week I made you a quick and easy meal of chicken and noodles made in the crock pot. The original recipe used two cans of condensed cream soup. My version is just as quick, easy and delicious, and totally eliminates the need for condensed soup.
It also proves something big: processed "convenience" foods are not always that much more convenient.
Take this homemade taco (or chili) seasoning, for example. You probably already have the ingredients in your pantry. It will take you approximately 5 minutes to measure, mix and store away the equivalent of several packages of the store-bought stuff. And, it's already made and on hand whenever you need it.
Couldn't be easier.
Check back next week when I will give you an idea of how to use it!

Homemade Taco (and Chili) Seasoning
Yield:
Approximately ½ cup of seasoning
Ingredients
6 teaspoons chili powder
5 teaspoons paprika
4½ teaspoons cumin
2½ teaspoons garlic powder
3 teaspoons dried onion
2 teaspoons oregano
¼ teaspoon cayenne pepper
Instructions
Combine ingredients. Store in an airtight container with your other spices.
To use:
Use 3 tablespoons of seasoning for each pound of meat in tacos or chili. For taco meat, add 3 tablespoons of seasoning and ¾ cup of water to 1 pound of cooked meat and simmer until water has evaporated.
Notes
Adjust the heat level in your mix by adding more cayenne pepper. This recipe makes a relatively mild mix, so add a bit more cayenne if you like things spicier.