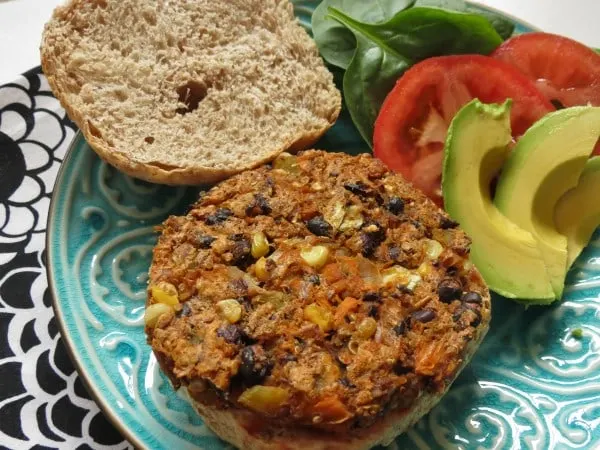 Umm…is it Friday yet?
No? Well, shoot.
I have to make a confession to you: Lately, my weekday meals have been a little on the sad side.
Now, weekends are a different story. Weekends have become my time to work on recipes for the blog, which means that I eat pretty well on Saturday and Sunday.
But during the week? Not so much.
I think a lot of it has to do with my new job. Don't get me wrong – I love this job more than I even thought possible. But I have been working my @$$ off, and with a variety of other things happening in the evenings, I'm exhausted by the time I get home. I'm lucky to bother doing anything aside from collasping in bed, much less making a balanced meal for just myself.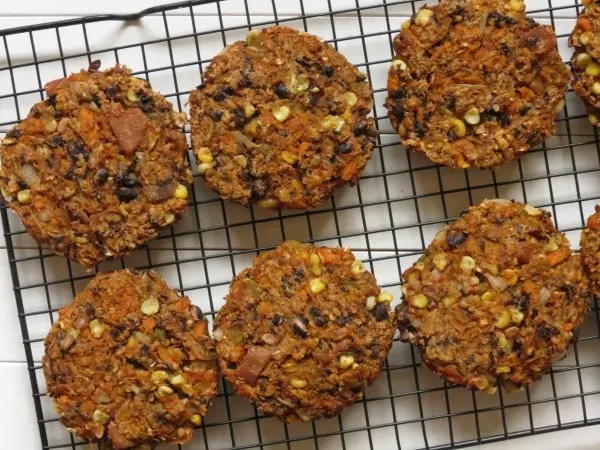 So I've been trying to come up with things that I can make over the weekends and then either freeze for later or eat throughout the week. Chicken and noodles were an option recently. And last week I decided to give these Southwestern Style Veggie Burgers a try.
This recipe makes 8 decent-sized burgers, which means that there is enough to eat and put into the freezer for later meals. Just cook 'em, let 'em cool, and wrap 'em up. Then just let 'em thaw before reheating in a skillet. Easy. And quick…just what I'm looking for these days!
And hey…remember that taco seasoning from last week?
Yep, that's totally going in these bad boys.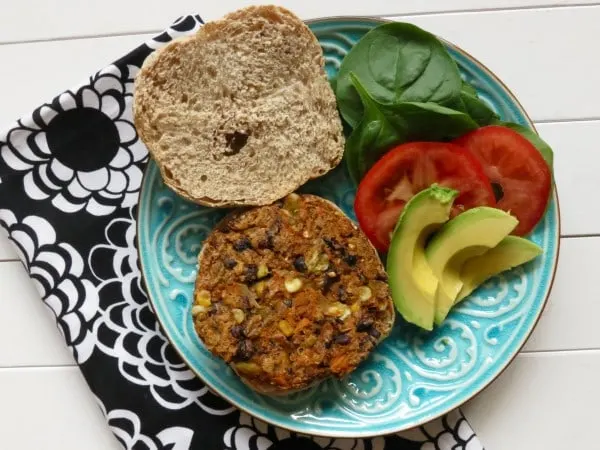 Adapted from Edible Perspective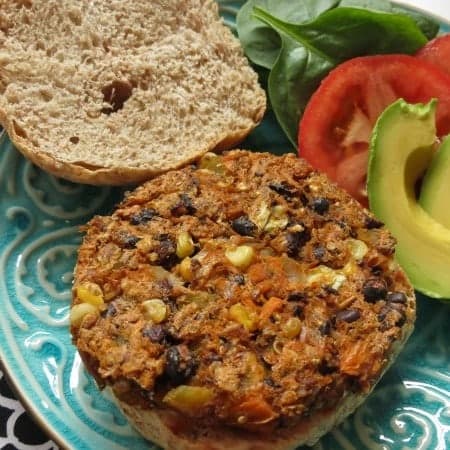 Ingredients
1 15-

ounce

can black beans

rinsed and drained

3

cups

cubed sweet potatoes

skin on, cooked

1/2

cup

fresh or frozen corn

1/2

cup

finely chopped onion

1 4-

ounce

can green chilis

1/2

cup

cooked quinoa

6

tablespoons

rolled oats

2

tablespoons

ground flaxseed

1/2

teaspoon

salt

1

heaping tablespoon taco seasoning

1

tablespoon

olive oil
Instructions
Preheat oven to 375 degrees. Grease or line a large sheet pan with parchment paper. Set aside.

In a medium bowl, mash half of the black beans completely. Add in the remainder of the beans, lightly mashing just to combined (less than half of the beans should be left whole).

In a large bowl, mash the cooked sweet potato until each piece is mashed, but the mixture is not creamy.

In a food processor, pulse the rolled oats several times until the oats are mostly ground - you are looking for some of the mixture to be a flour consistency, while the rest is small pieces of oats.

Add the onion, green chilis, corn, black beans, quinoa, flaxseed, ground oats, salt, taco seasoning and olive oil to the sweet potatoes, mixing until just combined. Taste for seasoning, adding more salt and/or taco seasoning as needed.

Using a 1/2-cup measuring cup, portion the mixture into 8 balls. Flatten the balls into 1/2-inch thick patties, placing them on the prepared sheet pan.

Bake for 30 minutes, flipping after 15 minutes.

Serve warm with your favorite fixings!
Notes
To refrigerate or freeze burgers: Place on a cooling rack to cool completely. Store burgers in an airtight container in the fridge for up to 5 days; alternatively, wrap individual burgers first in plastic wrap, then in foil, and place in a zip-top bag in the freezer for up to 3 months. To reheat, allow frozen burgers to thaw completely. Head in a lightly greased pan over medium-high heat for 3-5 minutes per side, or until heated through.