Gluten-free hazelnut meringue cookies layered with blackberry preserves, whipped cream, and a fresh blackberry make the cutest two-bite meringue cakes you ever did see.
Happy Wednesday, dear friends! I have a very special post for you today. I mean, mini meringue cakes? C'mon, clearly today must be a special occasion. But before we get started, I want to extend an invitation to you…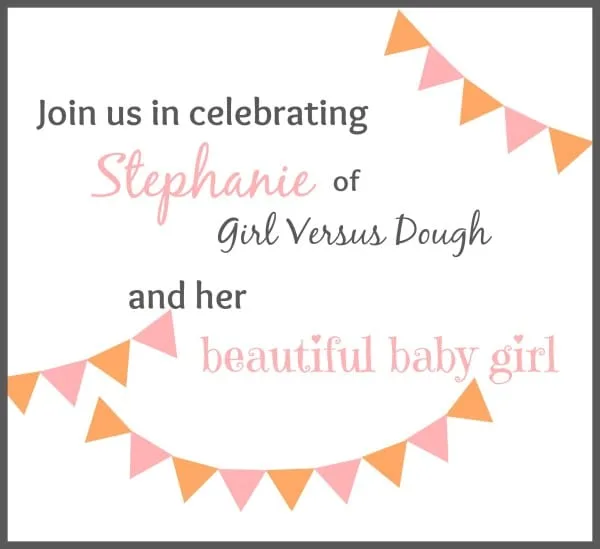 That's right! Today we are throwing a surprise baby shower for Stephanie from Girl Versus Dough! (Steph, are you surprised?)
Stephanie is pregnant with her first little one, and before her little girl makes her grand entrance, 22 of Steph's closest blogging buddies and I wanted to take a moment to wish her well as only food bloggers can do – with some beautiful food!
Steph, your friendship is a blessing and your little girl is so blessed already just by having you and Elliott as parents. We can't wait to welcome her into our food blogging family!
For the occasion, I am bringing Mini Blackberry Hazelnut Meringue Cakes. I took hazelnut meringue cookies – Did you know Bob's Red Mill now makes Hazelnut Flour? It made making these cookies such a snap – and layered them with blackberry preserves and whipped cream and topped the whole mini shebang with a fresh blackberry. Ta-da! Two-bite meringue cakes that are light, airy, delicious, and positively perfect for gluten-free and gluten-loving crowds alike.
Make sure to click around and see what everyone else made to share today! One thing is for sure – I wish we were all hanging out in real life because each and every one of these recipes sounds absolutely phenomenal!
Mini Strawberry Cheesecakes from Sarcastic Cooking
Lemon Blueberry Coffee Cake with Lemon Drizzle from Greens & Chocolate
Super Chewy M&M Blondies from The Realistic Nutritionist
Strawberry Cinnamon Twist Knots from A Kitchen Addiction
Lemon Shortbread with Salted Chocolate Drizzle from The Lemon Bowl
Chocolate Cherry Ice Cream from A Zesty Bite
Blackberry and Mango Curd Pie from Joanne Eats Well With Others
Pecan Sticky Buns from Warm Vanilla Sugar
Strawberry Rhubarb Muffins from Garnish with Lemon
Chocolate Chip Pancakes from Susie Freaking Homemaker
Super Simple Sugar Cookies from Espresso and Cream
Raspberry Acai Frozen Margarita from Nutmeg Nanny
Berry Coconut Frozen Yogurt from The Law Student's Wife
Pretty in Pink Buttercream Cups from Keep it Sweet Desserts
Broccoli Salad with Honey Toasted Walnuts from The Roasted Root
Neapolitan Baked Doughnuts from Climbing Grier Mountain
Giant Pink M&M and Raisinette Cookies from Steph's Bite by Bite
No-Bake Rhubarb Cheesecake Parfait Cups from Hungry Girl Por Vida
Strawberry Rhubarb Crisp from A Cedar Spoon
Freckled Strawberry Rhubarb Lemonade from Take a Megabite
Vanilla Anise Cupcakes from Blahnik Baker
Mini Vanilla Bean Layer Cakes from The Baker Chick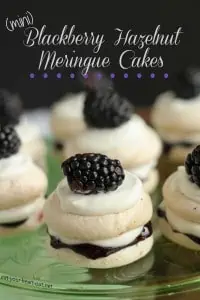 Ingredients
For the meringues:
1/3

cup

hazelnut meal

1

tablespoon

corn starch

3

egg whites

Pinch

of salt

1

cup

granulated sugar

½

teaspoon

vanilla

½

teaspoon

white vinegar
For the cakes:
1

cup

cold heavy whipping cream

2

tablespoons

powdered sugar

¼

teaspoon

vanilla

Blackberry preserves

Blackberries for garnish
Instructions
Preheat oven to 275 degrees. Line two baking sheets with parchment paper. Set aside.

In a small bowl, combine the hazelnut meal and the cornstarch. Set aside.

In the bowl of a stand mixer fitted with a whisk attachment, add the egg whites and salt. Beat on medium speed until foamy, then slowly add the sugar, vanilla, and vinegar. Increase speed to medium-high and beat until glossy and the meringue holds stiff peaks. This will take several minutes.

Remove the bowl from the mixer. Add the hazelnut-cornstarch mixture and fold in (gently) by hand with a large spatula.

Spoon or pipe meringue mixture onto the prepared baking sheets in even-sized circles, about 1½ inches in diameter, making sure to keep the meringues relatively flat. You may use a dampened fingertip to gently pat down any peaks.

Bake for 45 minutes, then turn off the oven. Crack the door slightly and allow the oven to cool with the meringues inside.

To assemble the cakes: Place a metal bowl and the electric mixer beaters in the freezer for 10-15 minutes or the fridge for 20-30 minutes. Add the powdered sugar, cream, and vanilla to the cold bowl and beat until stiff peaks form.

Spread half of the meringues with a small amount of the blackberry preserves. Spread a small amount of whipped cream on top of the preserves. Top with a second meringue; spread a bit more whipped cream on top of the "cake" and garnish with a fresh blackberry. Cakes can be assembled ahead of time and stored in the refrigerator, but meringues will soften a bit if assembled far in advance; assemble within an hour of serving if you want the meringues to stay crunchy.
Notes
About 25 mini meringue cakes