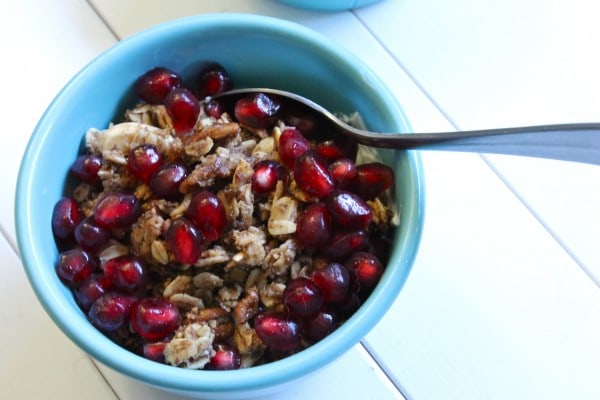 This is the time of year when I start to feel a little sorry for myself whenever I walk through the produce section at the grocery store.
Don't get me wrong, I enjoy citrus and apples as much as anyone else, but I always still miss the beautiful fruits of summer.
But the one piece of winter produce that I just can't get enough of? Pomegranates. They're just so beautiful, bright and fun.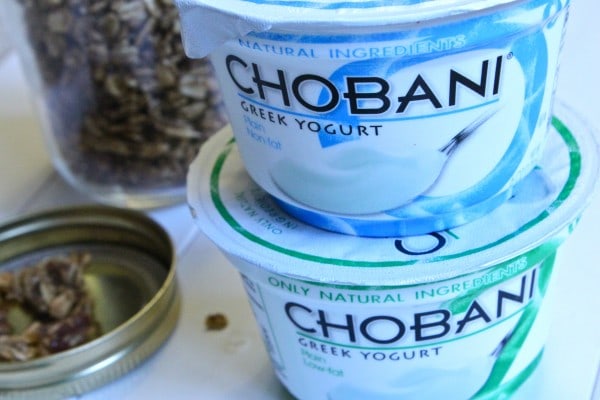 So when my friends over at Chobani sent me a case of their 2% and 0% plain Greek yogurt, I knew I wanted to use it with some of those beautiful pomegranates I've been obsessing over.
Tangy, honeyed Greek yogurt. Sweet and crunch maple granola. Bright, tart pomegranate. That's a breakfast that will make you feel good without feeling like you've over-indulged.
Ps – Did you know that there's a super-simple trick for seeding pomegranates without making an enormous mess? Quarter the pomegranate. Fill a bowl with cold water. Then seed the pomegranate quarters under the water. The seeds will fall to the bottom while the pith floats to the top. So easy!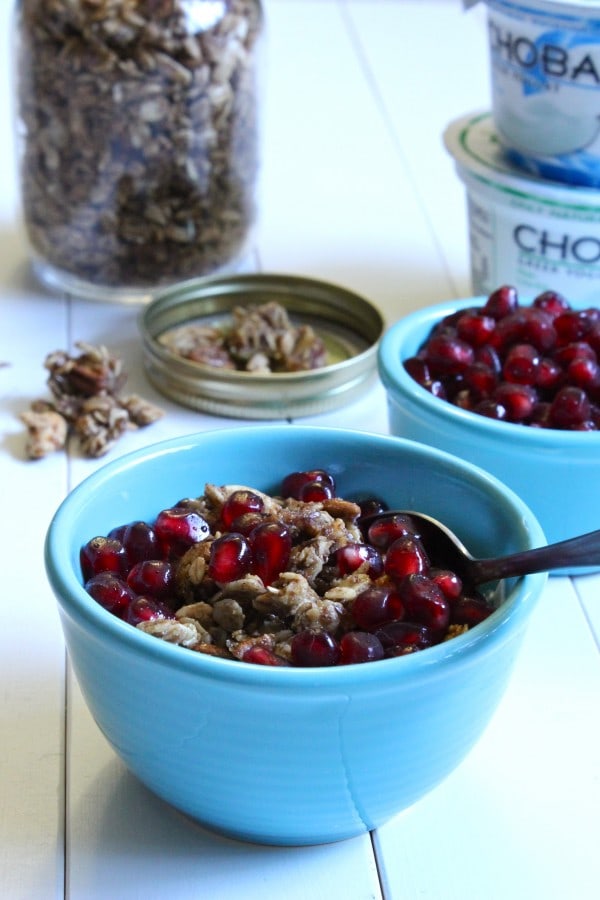 Granola adapted from White Jacket Required.

Maple Granola with Pomegranate and Honeyed Greek Yogurt
Yield:
About 6 cups of granola
Ingredients
For the granola:
1 cup maple syrup
3 tablespoons coconut oil
1 teaspoon vanilla
2½ cups rolled oats
½ cup chopped pecans
½ cup ground flax seed
½ cup slivered almonds
2 teaspoons cinnamon
Sprinkle of sea salt
For the rest:
1 6-ounce container plain Greek yogurt (low or non-fat)
2 tablespoons honey
Seeds of 1 large pomegranate
Instructions
Make the granola:
Preheat the oven to 325 degrees. Grease a large baking sheet or line with parchment paper. Set aside.
In a small saucepan, combine the maple syrup and coconut oil. Bring to a simmer over medium heat. Remove from the heat, stir in the vanilla and set aside.
In a large bowl, combine the rest of the granola ingredients. Drizzle with the hot syrup mixture and stir well to coat.
Spread granola on the prepared baking sheet and bake, stirring every 5-7 minutes, until the granola is golden, about 20 minutes. Let cool and store in an airtight container in the fridge for up to 3 weeks.
Assemble:
Combine the Greek yogurt with 1-2 tablespoons of honey, or to taste. Top with some of the granola and the pomegranate seeds.