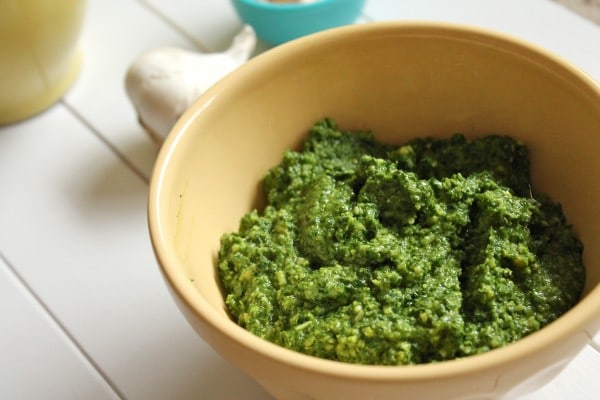 I'm trying to watch The Bachelor while I write this.
Scratch that. I'm trying to write this while I watch The Bachelor.
I'm sorry if images of Sean with his shirt off cause me to not be quite as articulate as normal.
In fact, you know what? Let's just get to the recipe.
What we've got here is a gorgeous, down-to-earth guy…oh wait. That's Sean again. Crap.
Ok, seriously. This pesto is delicious, but packed with healthy, nutrient-packed spinach and kale. Use it as you would any other pesto! In fact, my friend Stef has a great way for you to use it on some roasted potatoes. (And no, we did not confer about our kale pesto-making ahead of time.)
Have some pesto left over? Store it in an airtight container and store it in the freezer. When you're ready to use it again, just thaw it out and you'll be ready to go.

Spinach and Kale Pesto
Yield:
Over 1 cup of pesto
Ingredients
2 cups chopped kale, stems removed
2 cups spinach
1-2 cloves garlic
¼ cup Parmesan cheese
¼ cup toasted, slivered almonds
¼ cup extra virgin olive oil
Salt and pepper to taste
Instructions
Bring a pot of water to a boil. Add the kale and cook for 1 minute. Immediately drain and dunk into ice-cold water to halt the cooking. Drain and wring out any excess water.
In a food processor, combine the kale, spinach, garlic, cheese and almonds. Pulse to combine. While the machine is running, stream in the olive oil, adding a little more until you reach your desired consistency. Add salt and pepper to taste, and pulse to combine again.