Spoiler alert: I kept everything.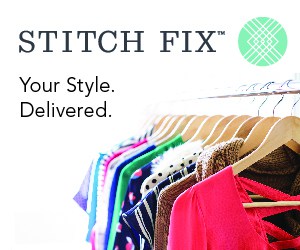 That's right, kiddie beans, I'm officially a Stitch Fix addict. Not even two months after my previous fix, I summoned my personal stylists again. (Which, admittedly, is doing better than scheduling a monthly fix…but only slightly.)
For those who missed my last Stitch Fix review, let's recap: Stitch Fix is an online personal styling service. You create a profile and answer a ton of questions about yourself and your personal style – everything from your age to your sizes to what colors you love or hate to whether you like gold or silver jewelry better. You can even provide a link to your favorite Pinterest fashion board to serve as an example of the clothing styles that you love. After filling out your profile, you schedule a "fix" – once scheduled, a stylist will review all of the information in your profile and pick out 5 pieces to send in your box. These will be shipped to you, where you can try them on in the privacy of your own home, on your own time, without having a sales associate bother you every 13 seconds to ask how you're doing. You decide what you love and want to keep and what you don't love and want to send back in the postage-paid mailing envelope.
Fixes cost $20 to schedule and ship, but that $20 goes towards anything that you keep from your box. If you decide to keep all 5 items, you get 25% off the total price! As I previously alluded, you can sign up for automatic monthly fixes, or you can choose to schedule fixes as infrequently as you wish. You've got the power.
So let's take a look at what I was sent this time, shall we? You'll notice I've upgraded from iPhone to DSLR, but I was home alone so we are still working with mirror pics here. And yes, I do need to get out the Windex, I know.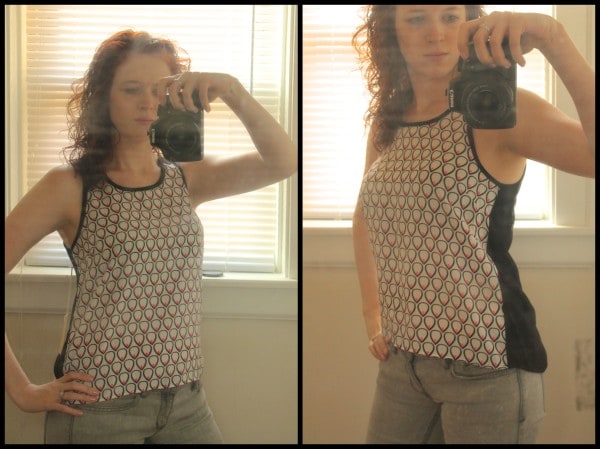 Up first was this Priya Graphic Print Knit-Back Tank by Pomelo. I was not entirely certain about this when I pulled it out of the box, but the longer I wore it (Ok…the longer I posed in front of the mirror), the more it grew on me. I'm not normally a fan of shorter length shirts, but I think the high-low hem helped here – I could still sit down without my butt showing. The colors in the print are bright and fun (more so than these photos show), but without being overwhelming. It'll be a fun top to wear this summer with jeans and flats or sandals. Kept it! Wait…I already told you that I kept them all.
Next was this Loveapella Penelope Cross-Front Knit Top in a pretty teal green. The interesting thing about this top is that the hem is elasticized, which I was concerned would end up causing it to bubble rather unattractively around my middle. In fact, the hem actually helps it stay in place and it still ends up looking sleek and flattering. Plus, it's my favorite color. I already wore this one to work this week and it was super comfortable.
Paired with the cross-front top is a Chris & Carol Tobey Mixed Stripe Maxi Skirt. It's a little hard to tell in this photo, but there is a knee-length slit in the front just over the left leg – which I definitely like since maxi skirts can sometimes feel like a little…much. The slit gives a little peek-a-boo leg without defeating the pajama-like purpose of a maxi skirt (let's be real – it's really why we wear them). I also liked the angling of the stripes by the hip – much more flattering than completely horizontal stripes across one's butt. Combined with the top, I felt like I could curl up and snooze in this outfit, yet looked totally work-appropriate. (Win.)
I was also sent this Riley Turquoise Stone Necklace from Bella Boutique. Most of the jewelry – especially necklaces – I have seen from Stitch Fix are big, statement pieces, so I was pleasantly surprised to find this sweet little necklace in my fix. It's a pretty color and is delicate enough to wear every day. It was $34, which I might have hemmed and hawed over in any other situation, but I saved far more by getting all 5 pieces than the necklace cost, so…it was basically free. YES. That. Ahem.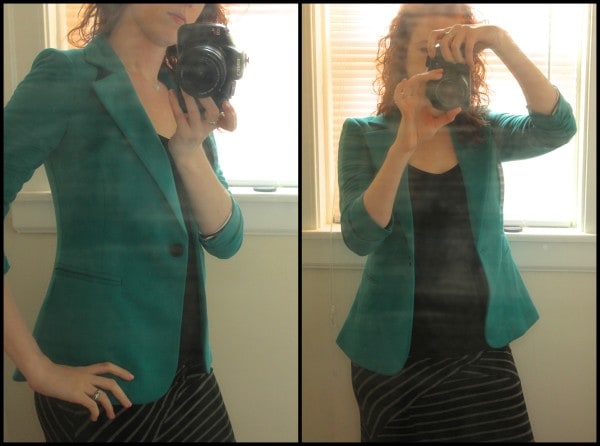 This last piece – a 41Hawthorn Benson 3/4 Ruched Sleeve Blazer – was unexpected (because who really expects a teal blazer?) but SO FUN. I love pairing blazers with jeans or dresses (or my new maxi skirt!) for work, and I really love the pop of color you get with this one. Plus, the material is kind of soft and almost stretchy, so it definitely has more give than a typical blazer. I also realize that three of the 5 pieces I received this month are teal/turquoise but…too bad. GIMME. Call me Teal Girl. See if I care.
Excuse me while I go do another little fashion show for myself.
Visit Stitch Fix to complete your profile and schedule your first fix! I promise, you're gonna love it.
While I was not compensated for my review and paid for these clothes on my own, this post does contain referral links for new sign-ups which gives me some credit to go towards my next fix – and leaves more money for me to buy fun recipe ingredients.