Microwave Caramel Corn is fast and easy to make. You'll be curled up on the couch with a bowl of caramel corn before you know it with this recipe!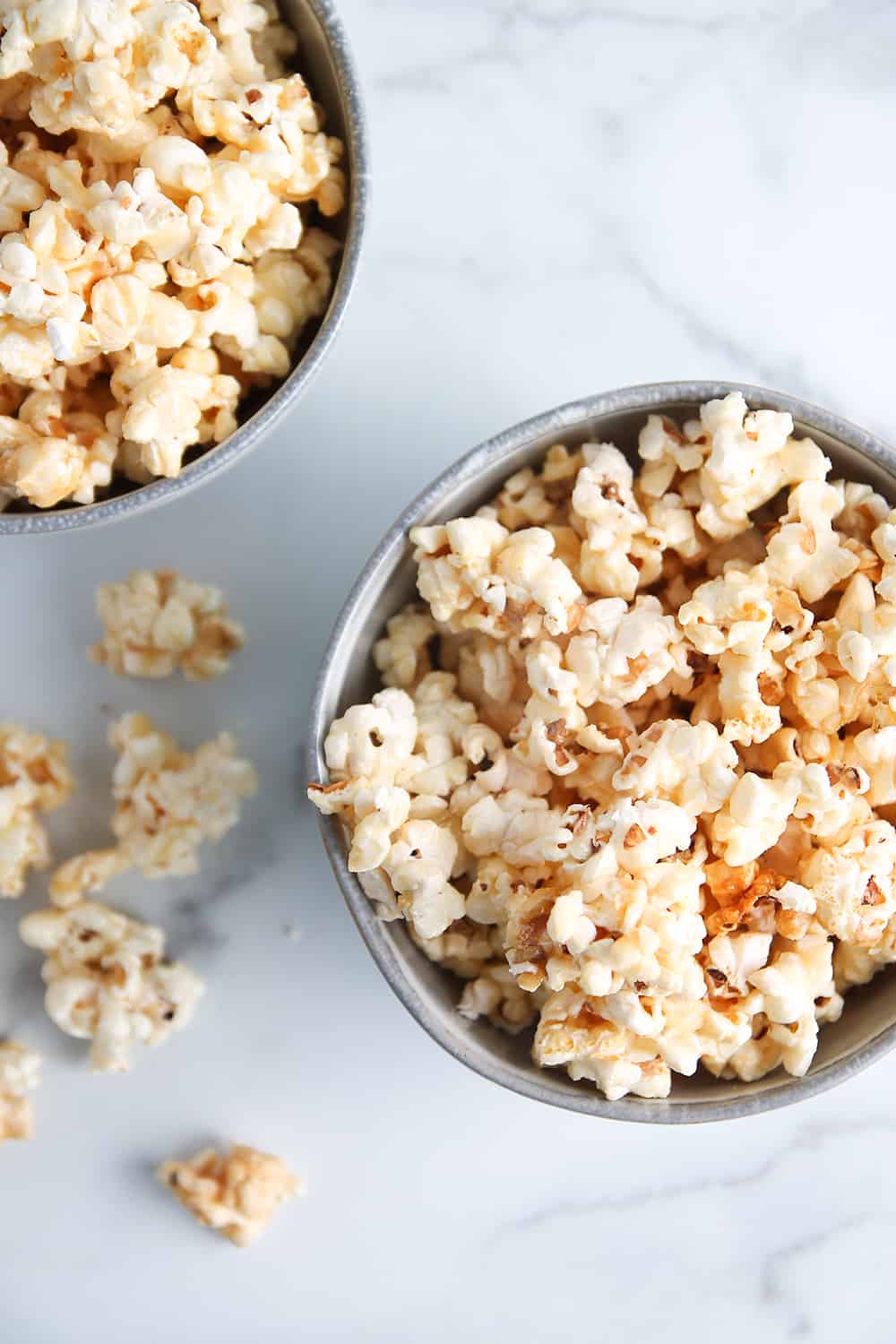 Growing up, we took popcorn very seriously.
On Sundays we would eat a big lunch after church and snack in the evenings. Sunday night snack was open to…well, just about anything, including family favorites such as cream cheese ranch rollups, Danish apple cake or Maureen's rice krispie cookies.
That being said, usually it was popcorn, but every once in a while, plain old popcorn would turn into something much better: Microwave Caramel Corn.
This recipe came from my mom's cousin Lisa (and so, in our house, is known as Lisa's Caramel Corn).
Now, my mom was always the cook in the family and my dad was usually shooed out of the kitchen. However, when it came to making Microwave Caramel Corn, Momma was always in charge of the microwave while Daddy was in charge of making the caramel.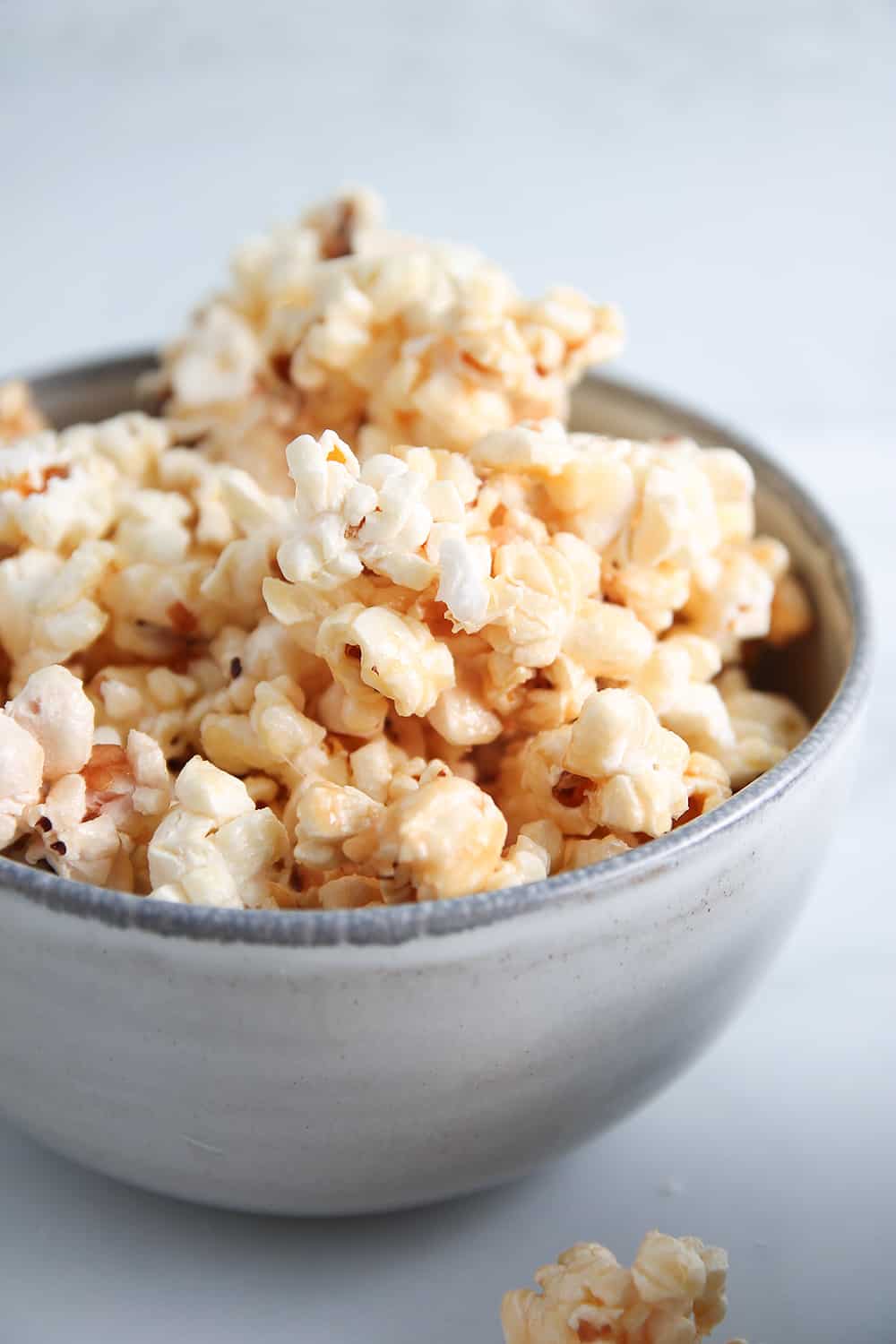 I have no idea how this balance of duties came about. Something in my brain says that my dad would invariably let the popcorn burn in the microwave, and so he got relegated to caramel duty.
Either way, making the caramel for caramel corn was one of his few kitchen tasks and one he took quite seriously.
It was some time before I was old enough to help make caramel corn (because, you know, hot sugar), but I fondly remember my parents working together to make batches of this recipe for New Years parties, sleepovers, and game nights.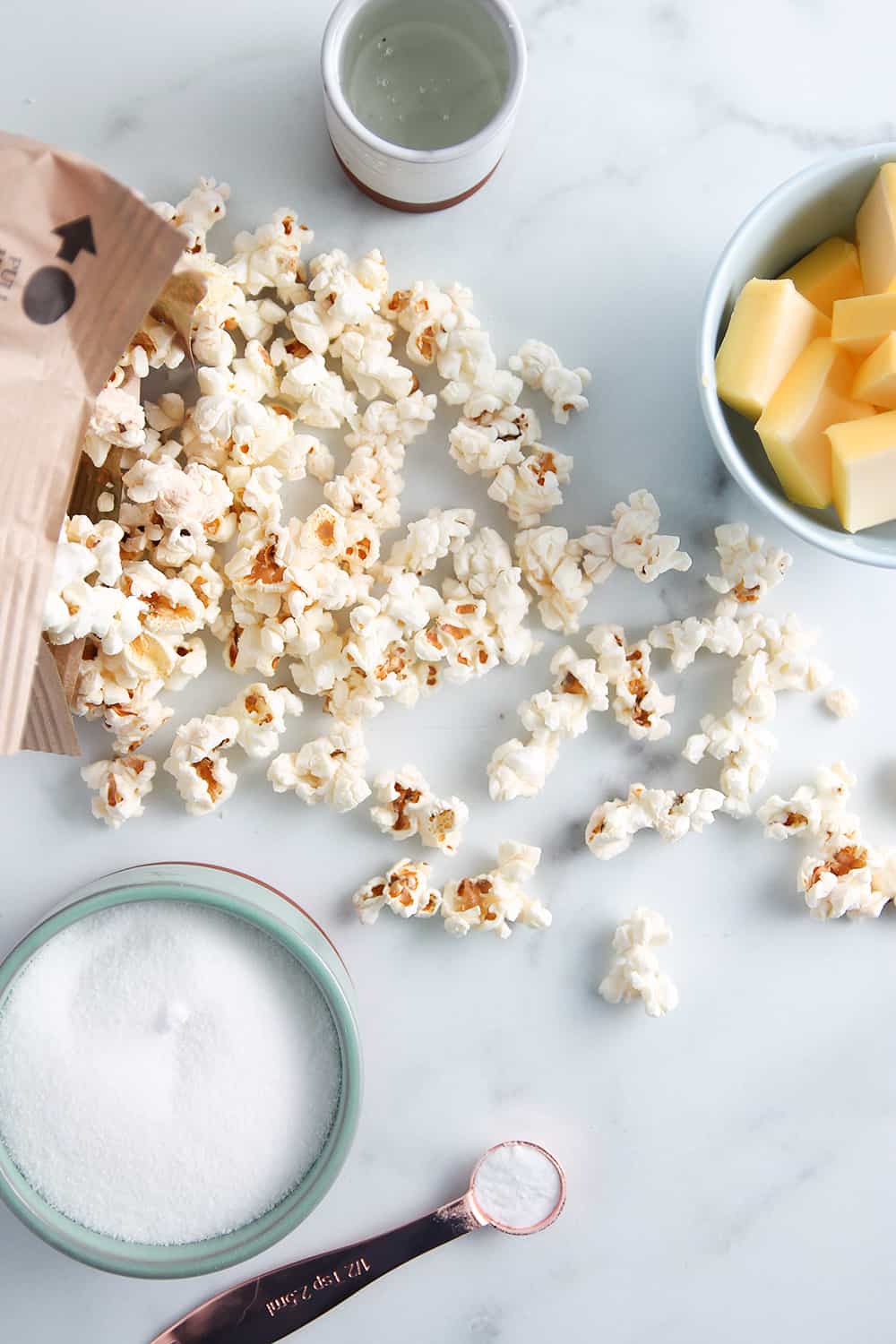 QUICK AND EASY CARAMEL POPCORN
Microwave Caramel Corn is crazy easy and the best part: it's super quick, too.
Because it utilizes the microwave – which, let's be honest, is right up there with the best inventions ever – it cuts out long baking times. Start to finish, this caramel corn takes about 15 minutes to throw together.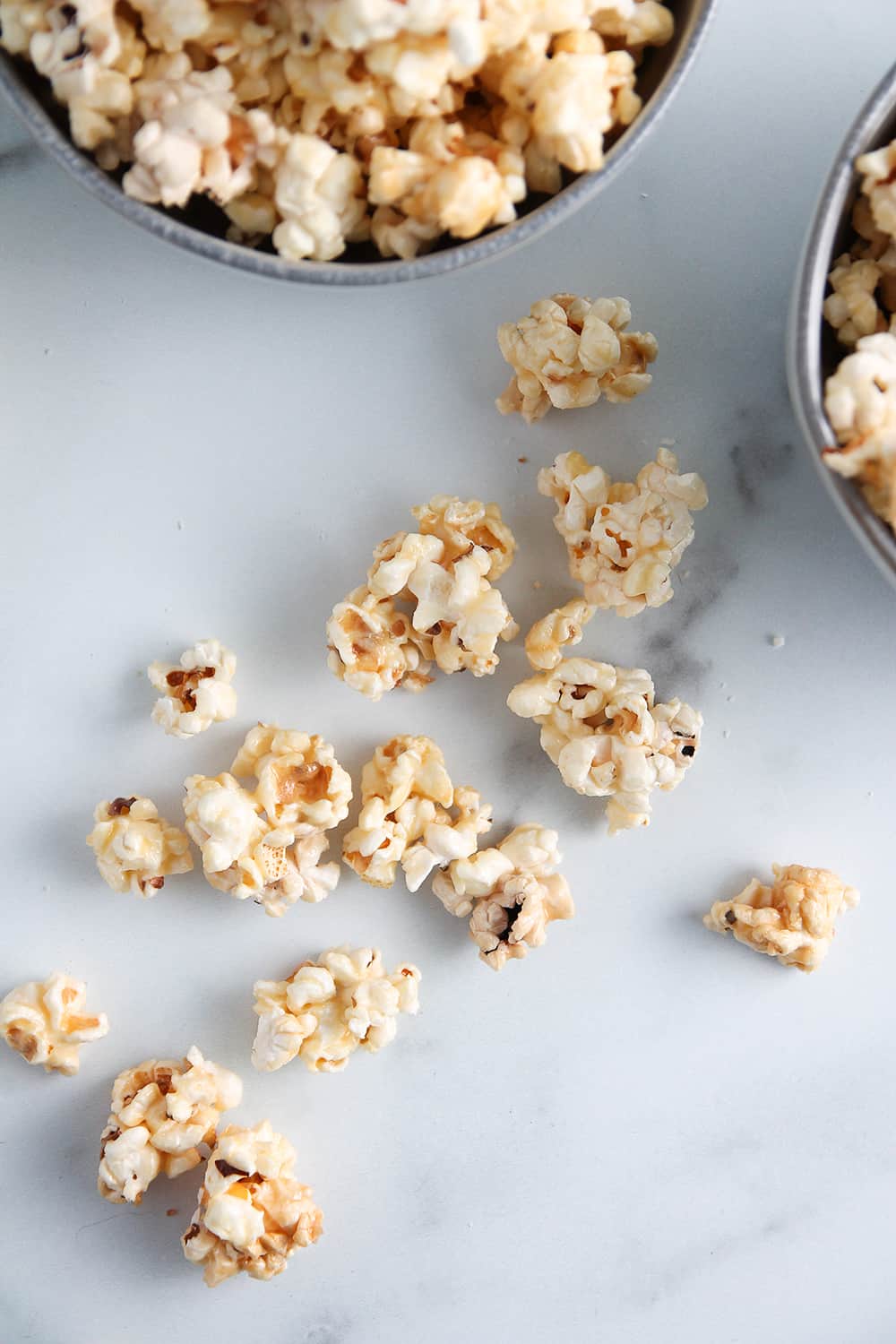 Now, is making caramel corn in the microwave exactly the same as if you made it in the oven? No.
Do I care when it is this quick to make? Also no.
Because you know what? It's still delicious AF and disappears real fast from any party you take it to.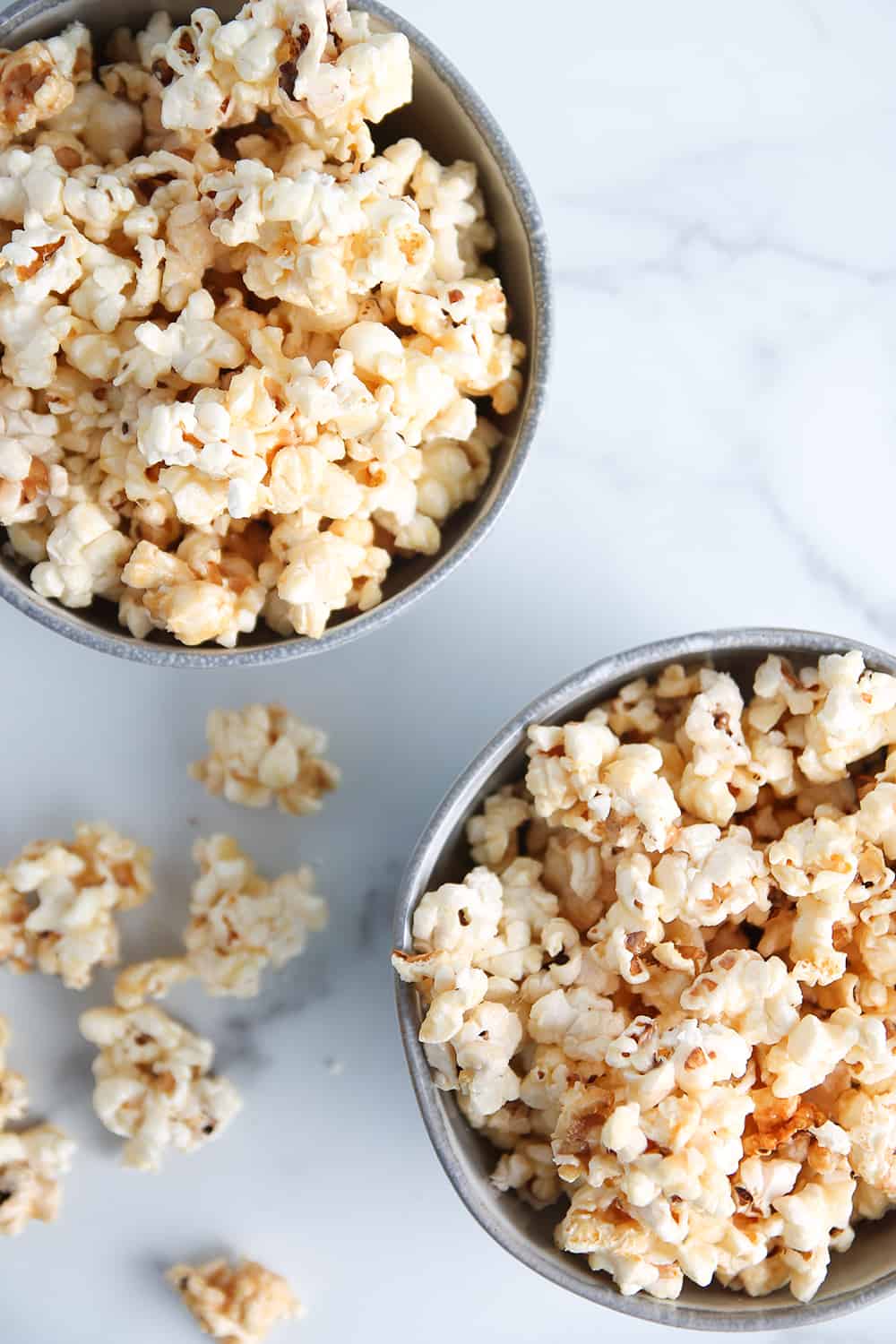 HOW TO MAKE CARAMEL CORN IN THE MICROWAVE
I bet you already have everything you need to make Microwave Caramel Corn in your pantry.
To make this recipe, you'll need:
Popcorn
Butter
Sugar
Light Corn Syrup
Salt
Baking Soda
That's it!
To make your caramel corn, you'll start by popping the popcorn. I always use microwave popcorn because, hello, it's easy. But you could absolutely pop it on the stovetop instead!
Pour the popped popcorn into a paper grocery bag. This will be set aside while you make the caramel.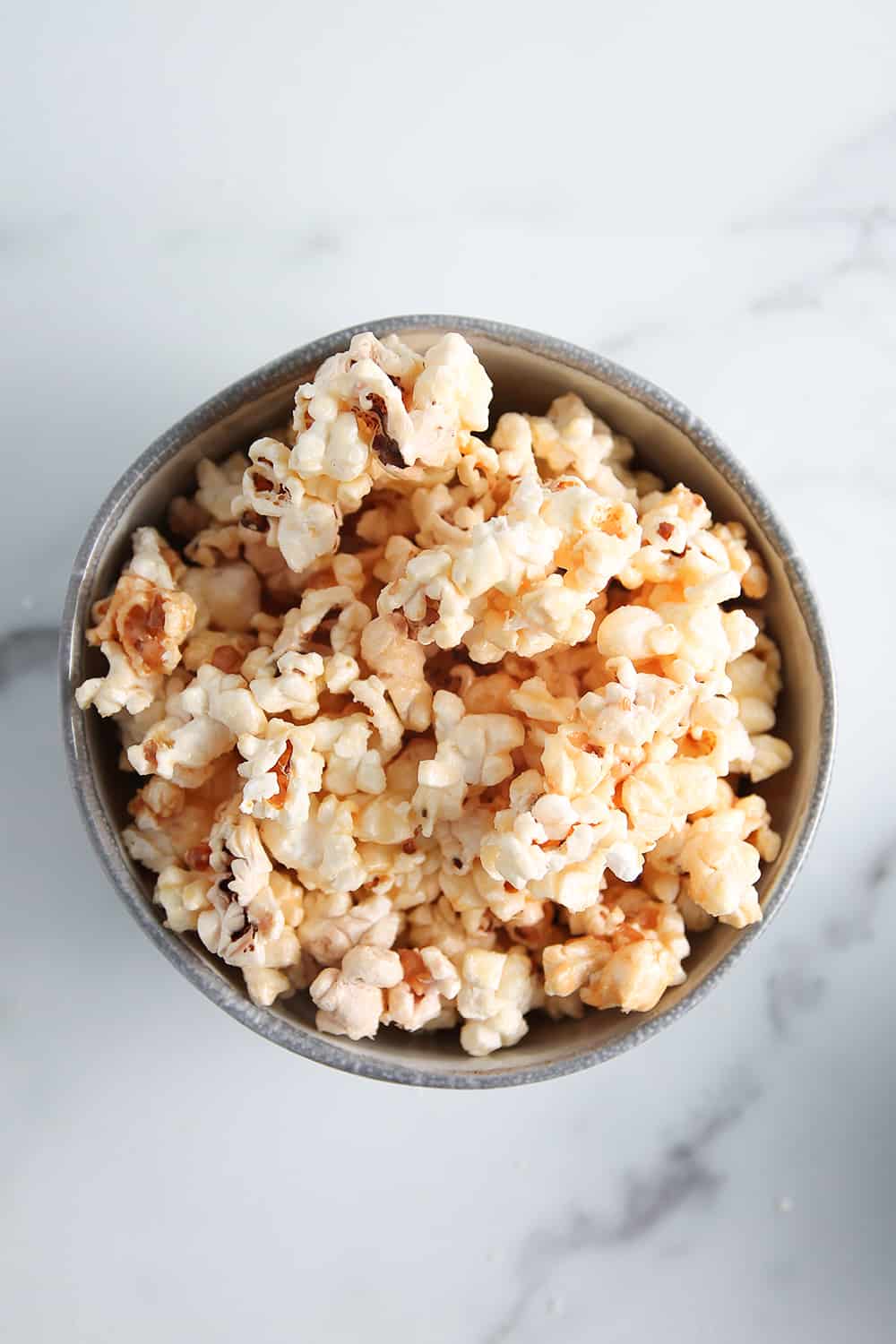 The butter, sugar, corn syrup, and salt get boiled in a saucepan for a couple of minutes. Once it's removed from the heat, quickly stir in the baking soda and then immediately – very carefully! – pour the mixture over the popcorn in the paper bag.
Give it a stir, then close the bag and shake like your life depends on it. Stick the bag in the microwave for 1 minute, shake, and repeat.
That's it! Break up the clumps of popcorn as the caramel cools, package it up and take it with you to any party.
Just don't make it too far in advance, or you will accidentally eat it all and won't have any left to feed your friends.