Not sure what to do with a bounty of fresh tomatoes? Make Roasted Tomato Sauce! This recipe is easy to make and results in a richly flavored sauce that stores well in the freezer.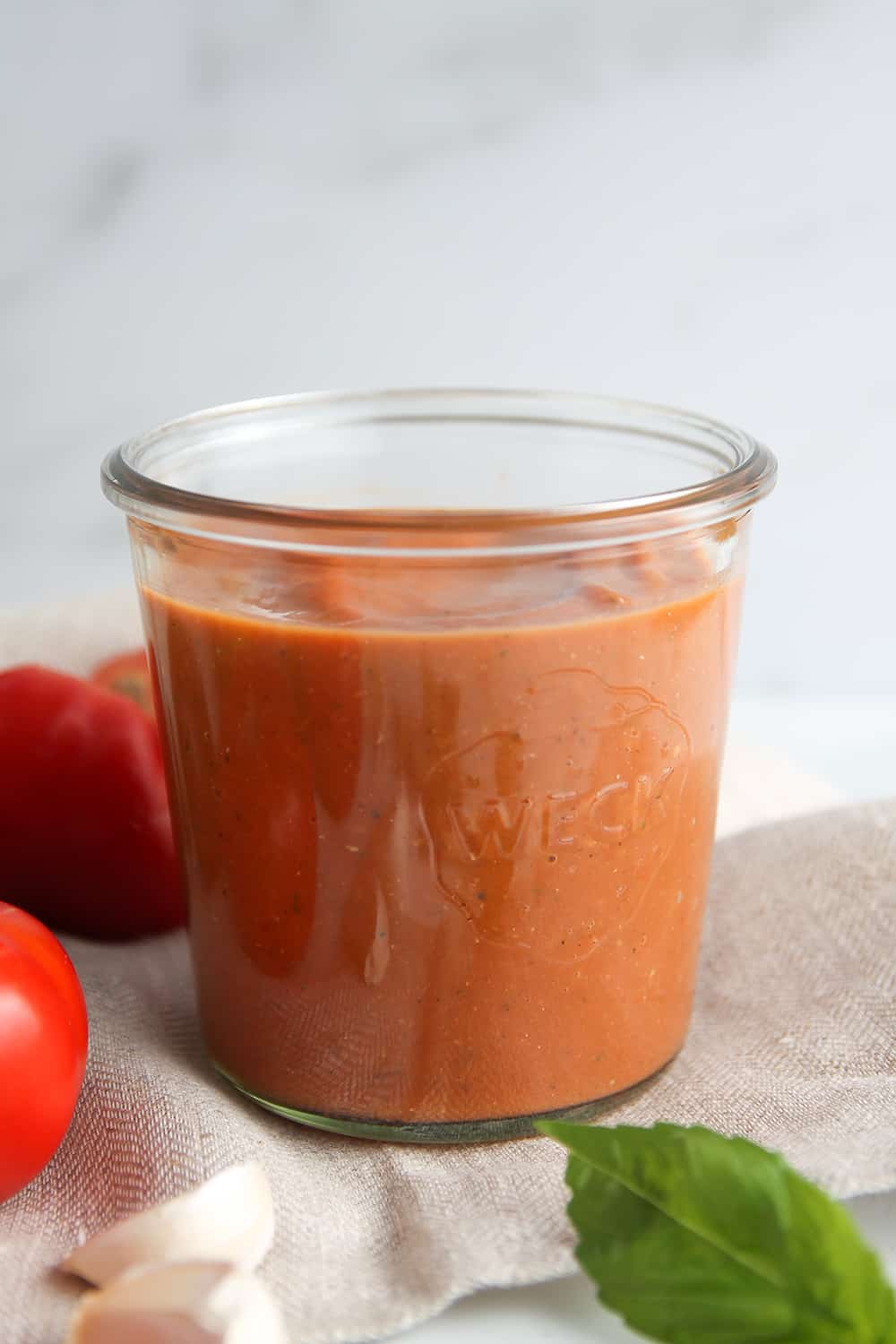 I am so, so dreadfully behind in sharing this recipe with you.
Let's review:
I have been making this Roasted Tomato Sauce every summer for years. YEARS!
I shared the method in my Instagram stories months ago, and even asked if anyone wanted the full, detailed recipe in a blog post. The answer was a resounding "YES!"
I took the photos for this post probably 2 months ago.
It is the end of September and I am just now getting around to actually finishing this post.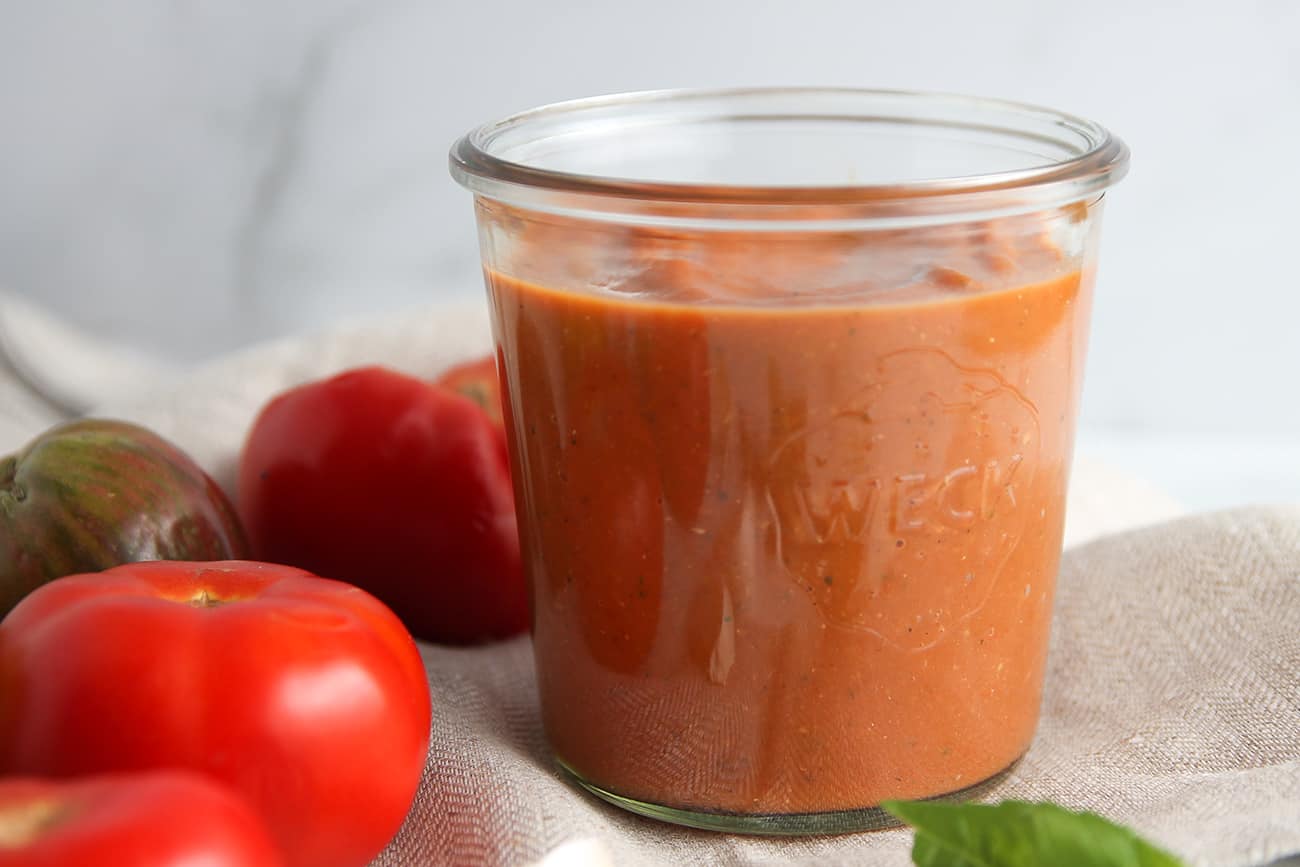 Punchline: I'm a terrible blogger.
Upside: You can always save this recipe to make next year when you are invariably drowning in fresh tomatoes and need to use them up before they go bad.
I also know that there are still a handful of tomatoes ripening on my own tomato plants, so I figure there must be a few of you out there who are still putting away some of your summer bounty to enjoy during the winter. This one's for you.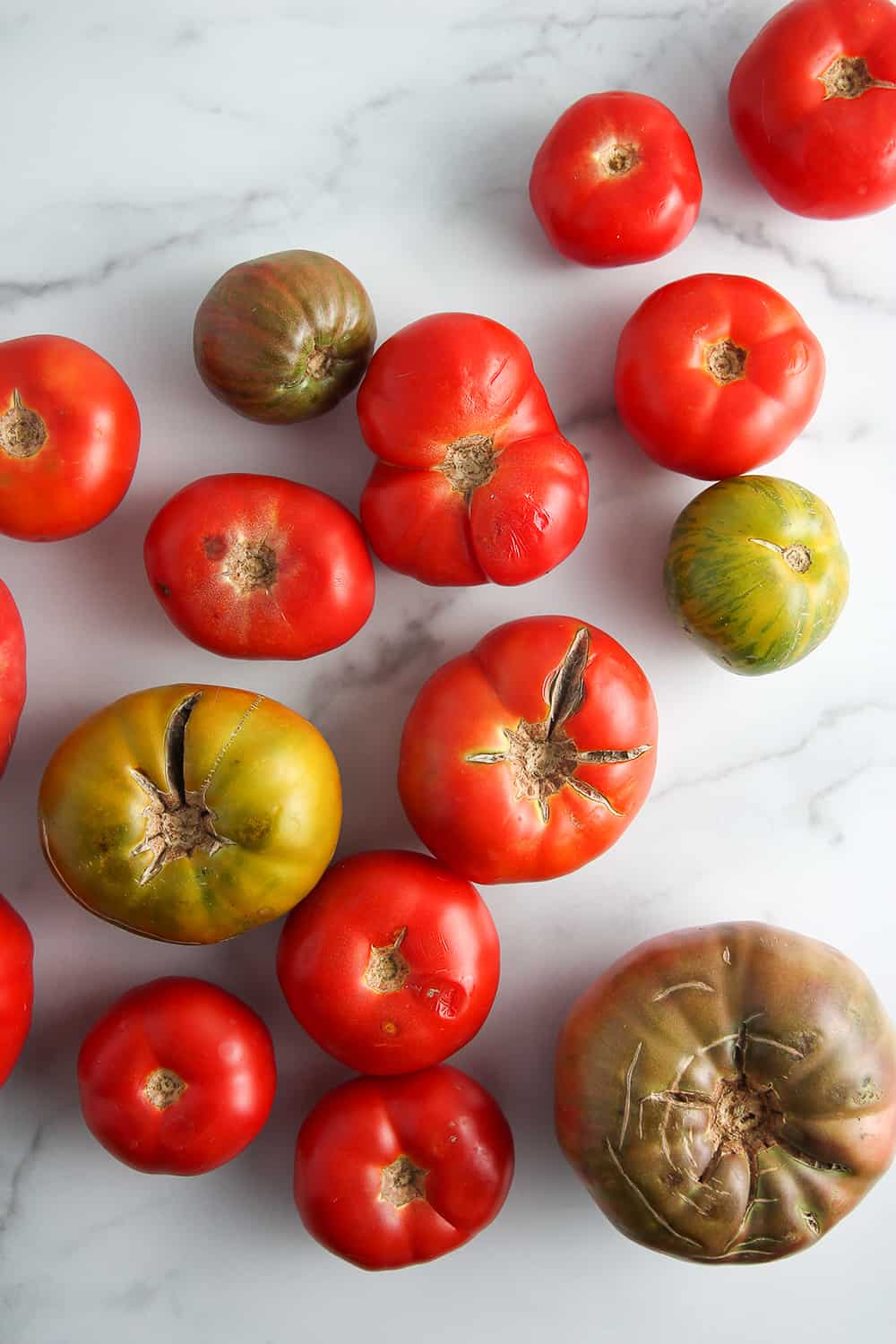 HOW TO ROAST TOMATOES FOR SAUCE
This is pretty much the only tomato sauce we make anymore. It is so easy and, while it does require turning on the oven, it doesn't require any simmering and is super hands-off.
Honestly, it doesn't require much chopping either. It's a lazy cook's dream.
One of the most important things about roasting tomatoes for this sauce is making sure you cut the tomatoes into fairly equal-sized chunks. Depending on the size of your tomatoes, this may mean cutting them into anywhere from 4 to 8 pieces.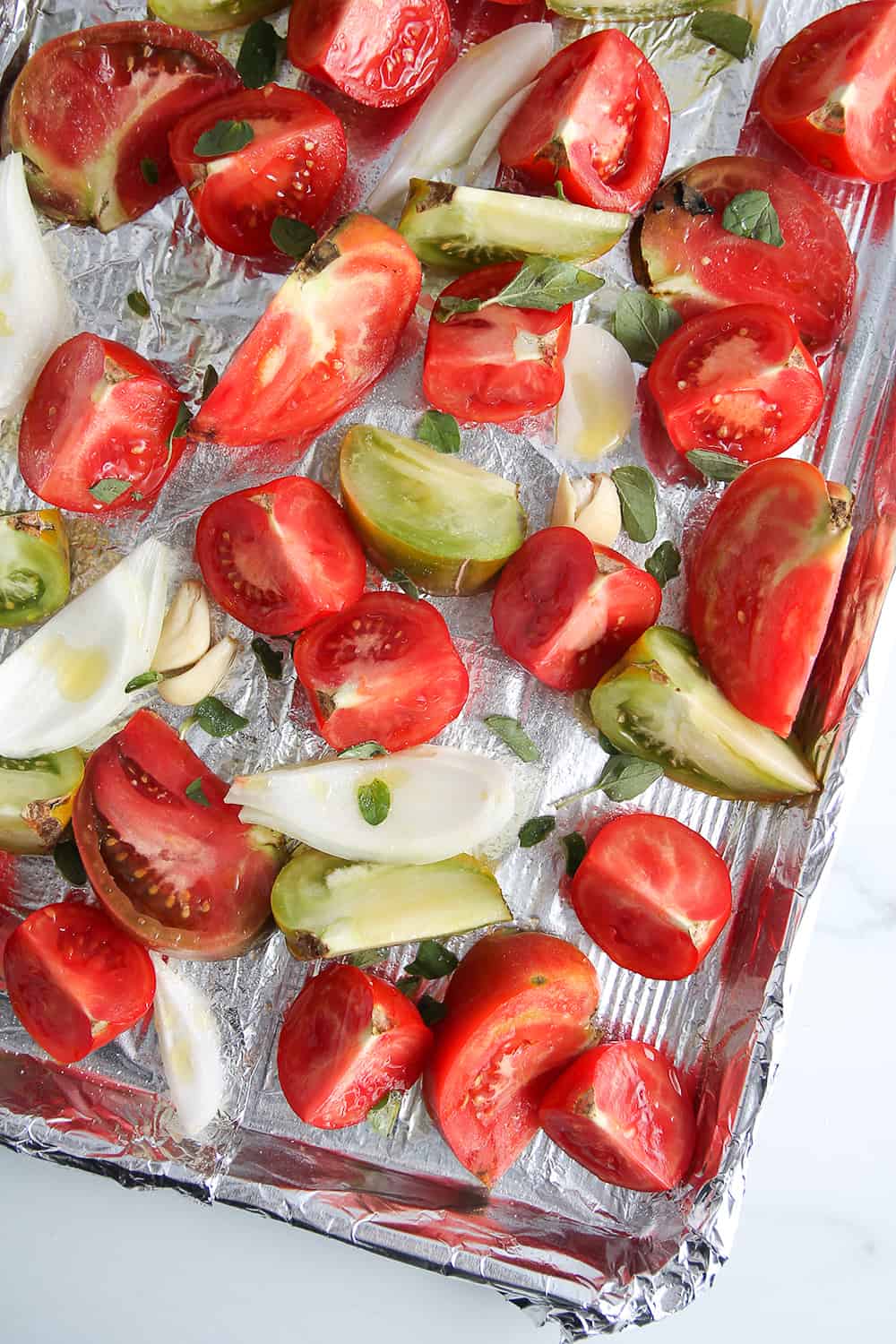 An onion gets the same treatment and garlic is simply smashed and peeled before adding it to the pans.
Now, when roasting the vegetables, don't be afraid of some charring. That's where the flavor is!
I think our instinct is to panic a bit when we start to see edges turn black. But this isn't baking cookies – it's roasting tomatoes!
The charged and caramelized edges and bottoms of the tomatoes and onions will add a great depth of flavor to the final sauce that you just don't get with stovetop tomato sauce.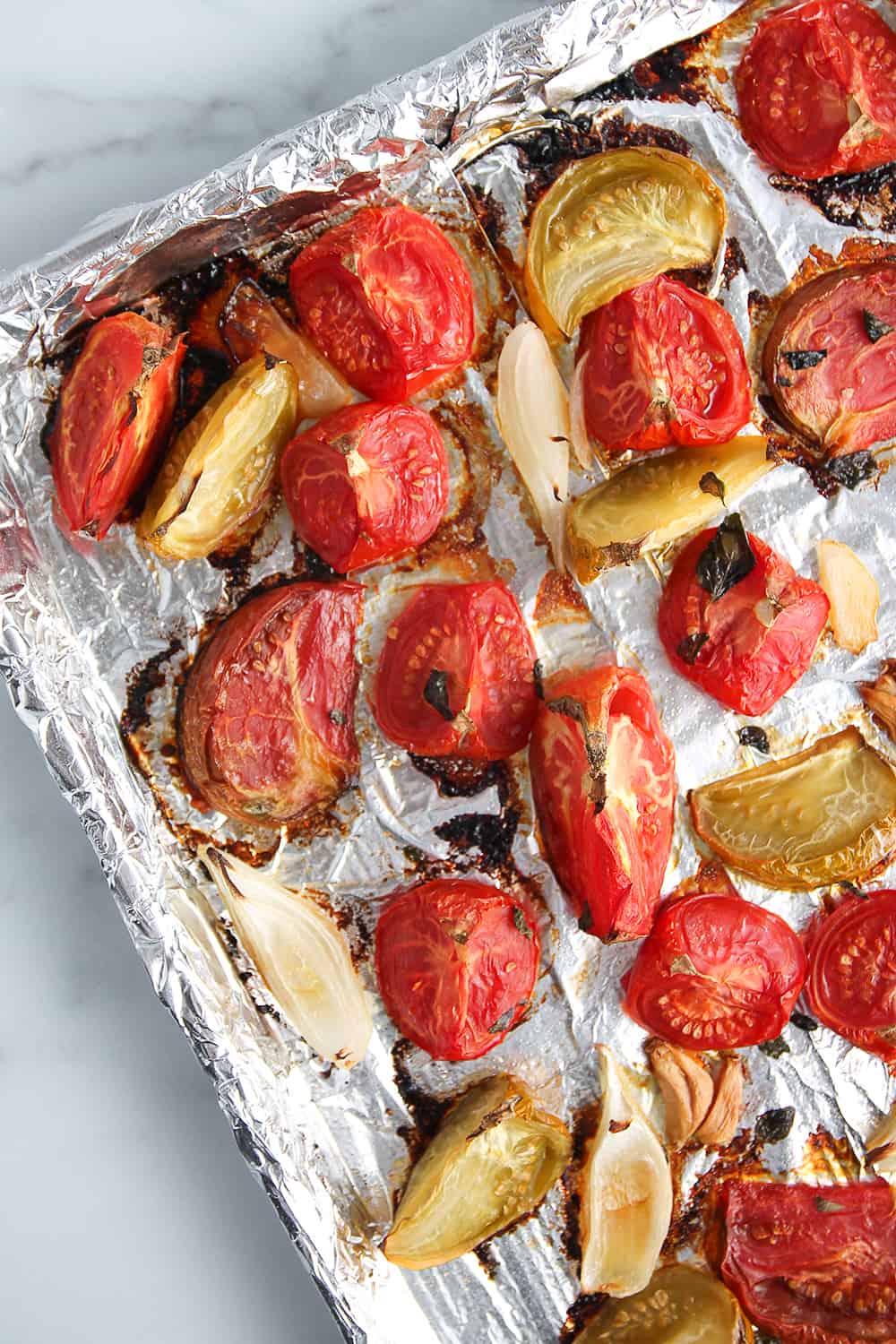 WHAT TOMATOES SHOULD YOU USE FOR ROASTED TOMATO SAUCE?
Here's something extra wonderful about making Roasted Tomato Sauce: You don't need to be precious about the type of tomatoes you use.
I use whatever I have on hand or whatever is particularly prolific in my garden that week. This could be heirloom tomatoes, beefsteak tomatoes, or sauce (San Marzano variety) tomatoes.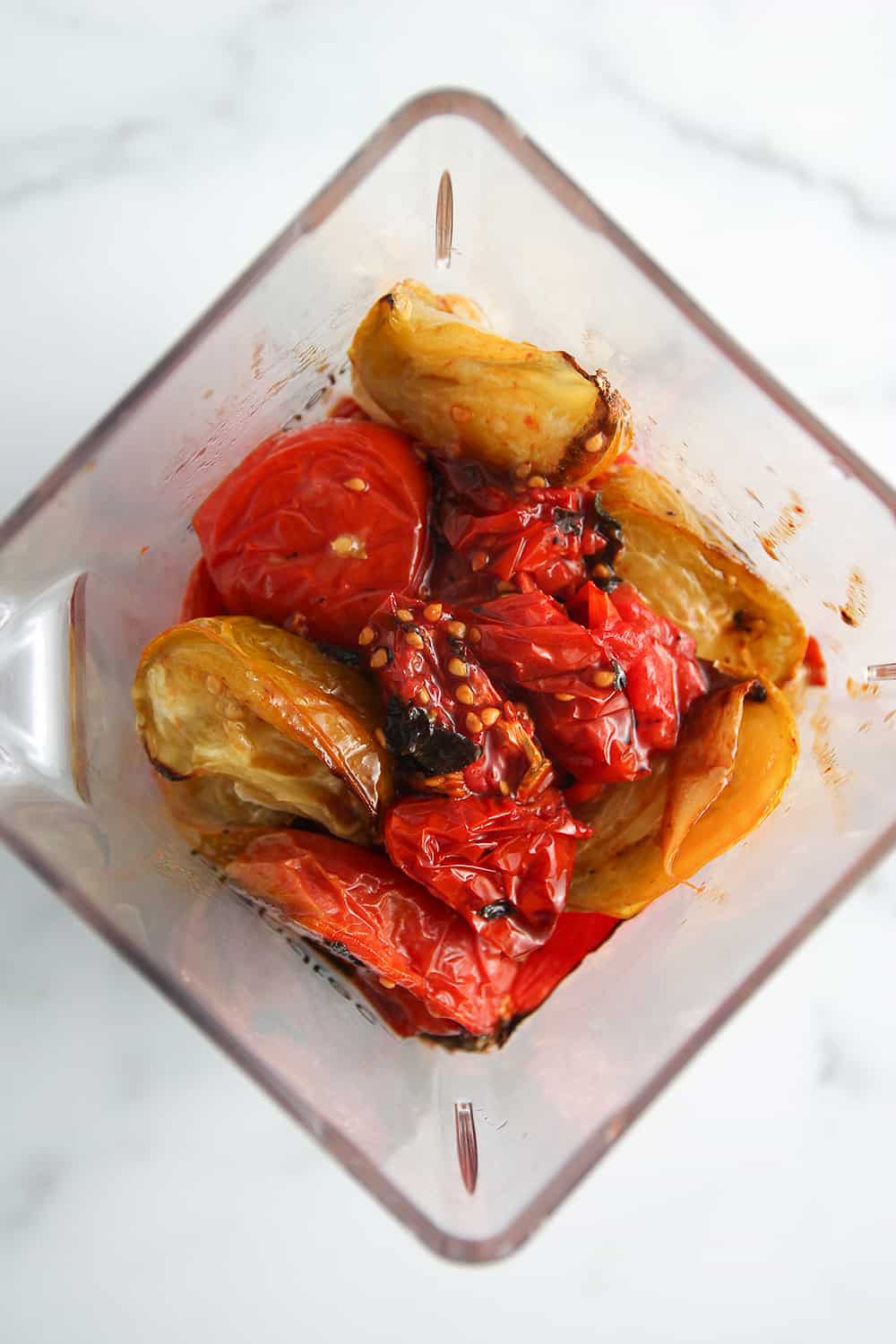 The only tomatoes that I don't often use for sauce are cherry tomatoes, but that is because I usually eat them all before they can become sauce. If you choose to add some to your sauce, just keep an eye on them when they are roasting, as they may roast faster due to the small size.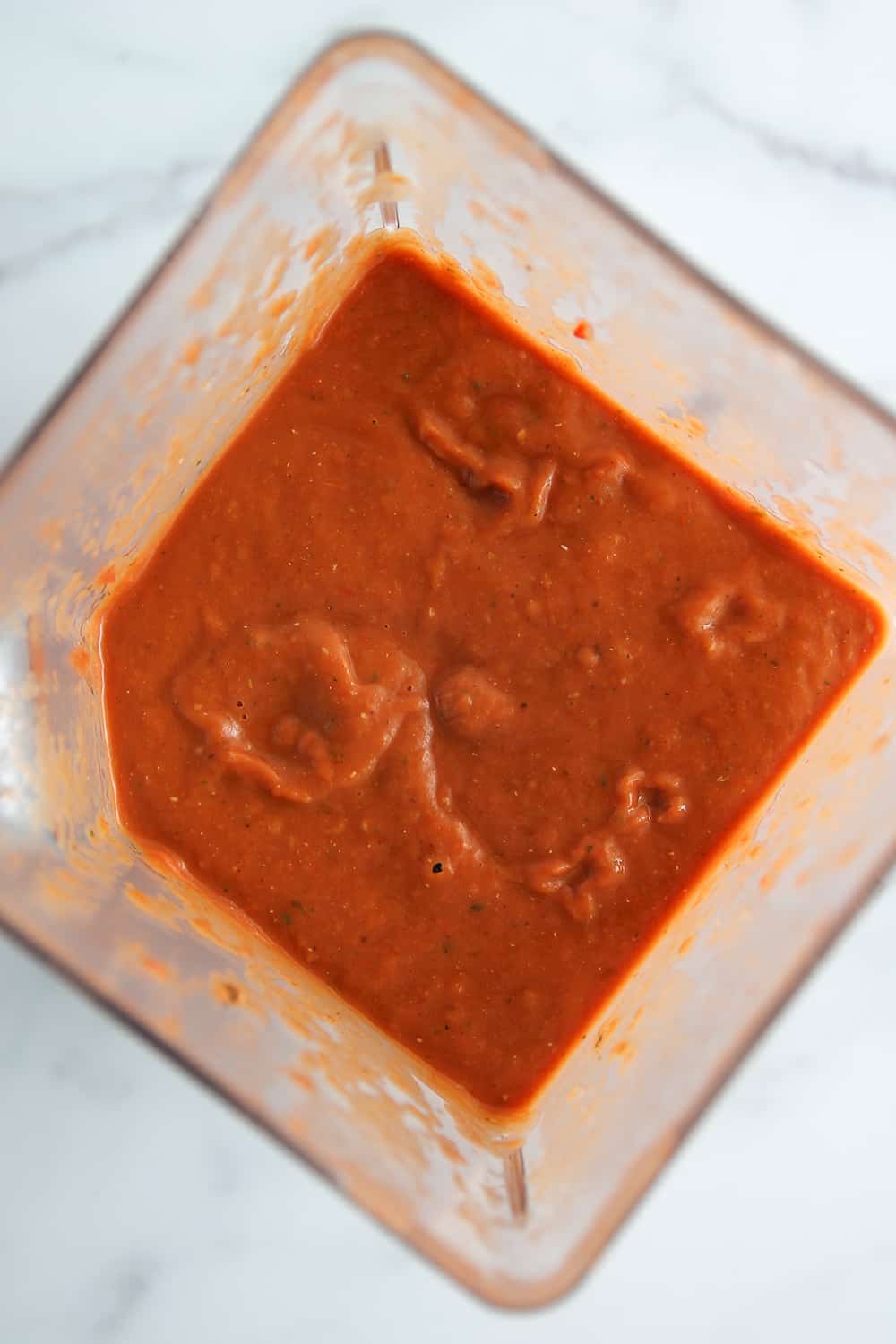 HOW TO STORE ROASTED TOMATO SAUCE
Every summer, I make batches and batches of this sauce to put away for the winter.
I usually end up buying 25-pound boxes of tomatoes from our CSA farmer (if you're asking, "What is a CSA?"…I have a post for that) and spend a week furiously turning them all into sauce.
Now, I don't can. I wasn't raised by a mother who canned, so I never learned how. Is it possible to can this sauce? Probably.
Do I know how? Nope.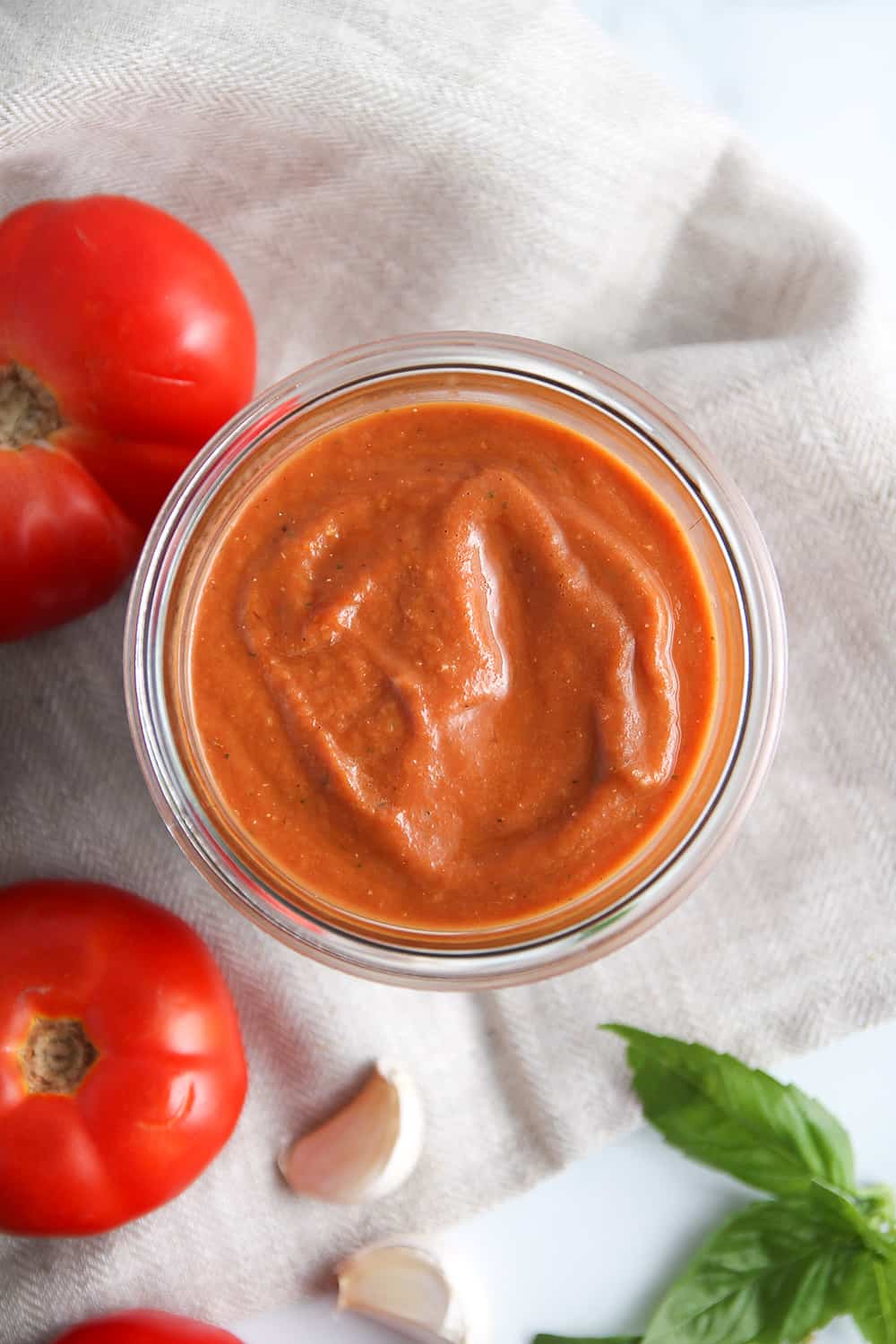 What I do know how to do is freeze things, and I take full advantage of the huge freezer in our shed. So I store Roasted Tomato Sauce in a variety of quart and pint-sized jars and keep them in the freezer.
They last throughout the winter and make even a wintertime meal of spaghetti and classic Italian meatballs taste a bit like summer. We've even used this sauce in Homemade Hamburger Helper and let me tell ya…it's divine.
Whether you make Roasted Tomato Sauce with homegrown tomatoes or farmers' market beauties, I hope you make this recipe year after year to enjoy each winter.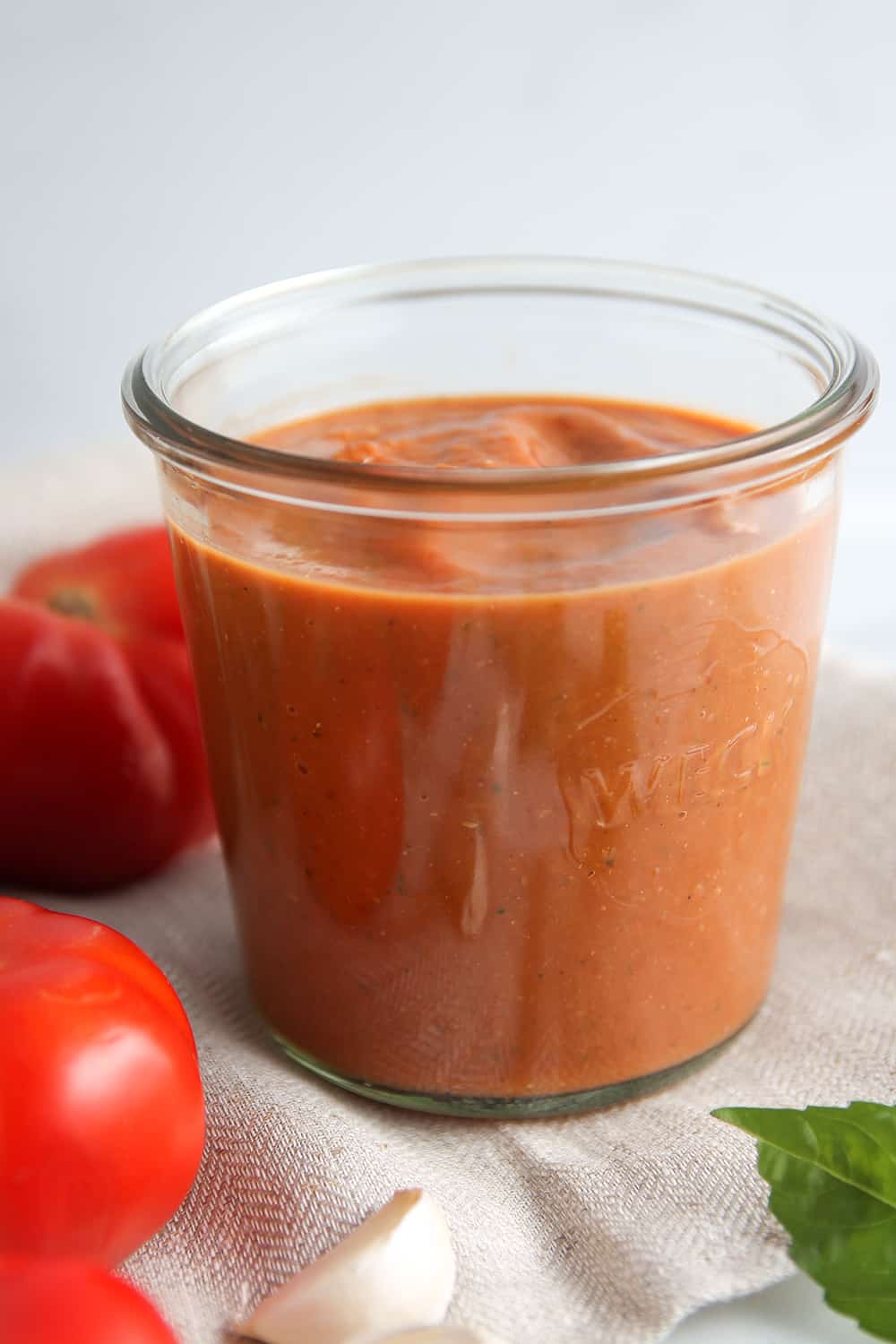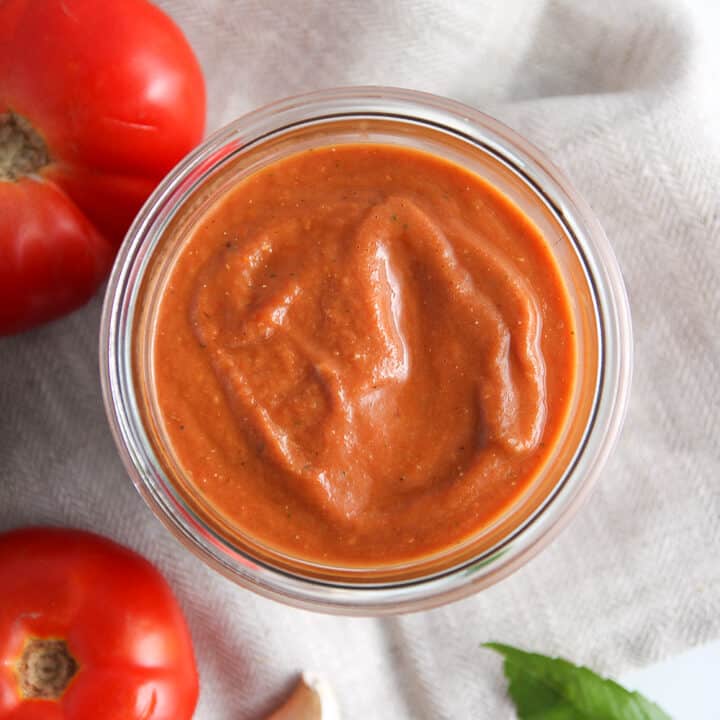 Roasted Tomato Sauce
Not sure what to do with a bounty of fresh tomatoes? Make Roasted Tomato Sauce! This recipe is easy to make and results in a richly flavored sauce that stores well in the freezer.
Print
Pin
Rate
Ingredients
5

pounds

fresh tomatoes

1

medium to large onion

4-5

cloves

garlic

2

tablespoons

fresh oregano leaves

Salt

3-4

tablespoons

olive oil

Black pepper

¼

cup

basil leaves
Instructions
Preheat oven to 375℉. Line two large rimmed sheet pans with foil and grease lightly with cooking spray. Set aside.

Cut tomatoes into large chunks, anywhere from quarters to eighths, depending on the size of the tomato. Make sure all of the tomato pieces are similar sizes. Divide tomatoes evenly between the prepared baking sheets, making sure they are not too crowded.

Peel onions and cut into large chunks. Scatter evenly amongst the tomatoes on the baking sheets. Smash and peel garlic cloves and add to the pans. Scatter oregano leaves evenly over the top of both pans.

Season both pans liberally with salt and drizzle evenly with olive oil. Roast for 45-60 minutes, or until the tomatoes and onions are charred in places and the juices from the tomatoes are caramelized.

Allow to cool slightly, then carefully transfer all of the roasted vegetables into a blender, along with the fresh basil. Carefully blend on high until smooth. Season liberally with fresh ground pepper and additional salt as needed.

Store in airtight containers in the refrigerator for up to a week or in the freezer for several months.
Nutrition
Serving:
0.5
cup
|
Calories:
109
kcal
|
Carbohydrates:
14
g
|
Protein:
3
g
|
Fat:
6
g
|
Saturated Fat:
1
g
|
Polyunsaturated Fat:
1
g
|
Monounsaturated Fat:
4
g
|
Sodium:
15
mg
|
Potassium:
716
mg
|
Fiber:
4
g
|
Sugar:
8
g
|
Vitamin A:
2423
IU
|
Vitamin C:
40
mg
|
Calcium:
56
mg
|
Iron:
1
mg