A healthy, delicious salad full of sweet strawberries, crunchy pistachios, tangy goat cheese, and hearty freekeh.
We're about to get our freekeh on.
I'm sorry. I don't know what came over me.
Let's try again: Have you tried freekeh yet? It's super freekeh-y.
There's no hope for me.
Ok, seriously now. Freekeh. Have you heard of it? Freekeh is basically a super fun name for roasted green wheat. It's an ancient grain that is popular in Middle Eastern and North African cooking. It is actually the preparation process of thrashing and rubbing the green wheat that gives it its name. It's low on the glycemic index and is a great source of protein and fiber. Once cooked, it has a sort of chewy texture and nuttiness to it that makes it perfect for any number of applications where you might use brown rice, barley, farro, or other whole grains.
I discovered freekeh when I was sent a 12-pound box of whole grain goodies (yes, 12 pounds! I totally freekeh-ed out) (sorry) in conjunction with this year's Whole Grain Sampling Day – which happens to be today! Whole Grain Sampling Day is an initiative designed to introduce consumers to the health benefits and great taste of whole grains. It's really no surprise that the folks at the Whole Grains Council found me – I make it pretty clear around here that I love whole grains because, truly, I believe they taste better and the health benefits are through the roof. Whole grains are also super versatile – everything from oats and buckwheat to popcorn and freekeh are considered whole grains. There's really something for everyone to enjoy on the whole grain spectrum, including our gluten-free friends.
I want y'all to have the chance to try some of these great whole grain finds, too, so I'm partnering with the Whole Grains Council to offer one lucky reader the chance to receive the same box of goodies that I got! That's right, 12 pounds of whole grain awesomeness awaits you. Here are some of the great things you'll get to try:
Jam Bar Baking Mix from Among Friends – Gluten Free Honey Oat Cereal from Bob's Red Mill – Whole Grain Freekeh from Freekehlicious – Brown Rice Triscuits from Nabisco – Cinnamon Popcorn from Popsalot Gourmet Popcorn – Rice Puffs from Real McCoy's Snax – Corn Flour from War Eagle Mill – and much more!
Truly, you don't want to know how quickly Boyfriend and I inhaled the cinnamon popcorn and how rapidly I managed to devour both the granola and the rice puffs. That would be downright embarrassing…so let's move on, shall we?
To enter to win, simply comment below telling me your favorite whole grain food or a whole grain food that you would like to try. That's it! A winner will be randomly chosen and emailed on Tuesday, April 8, 2014 at 10:00 pm CST and will have 48 hours to respond before a new winner is chosen.
And so now, a very important question: Are you a super freekeh? (Don't worry, you can totally take this salad home to mother.)
This salad's alright with me, yeah.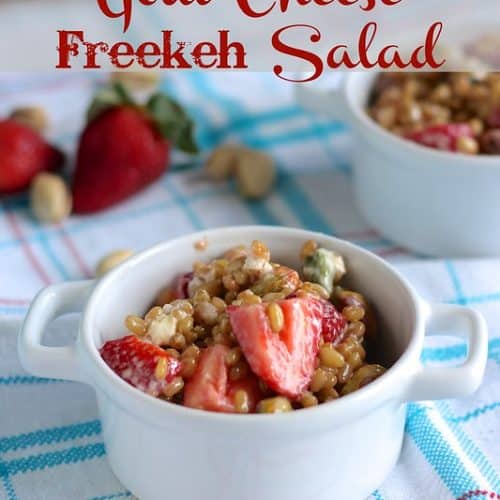 Ingredients
1

cup

uncooked freekeh

1

cup

quartered strawberries

1/3

cup

shelled pistachios

1 1/2 to 2

ounces

crumbled goat cheese

1

teaspoon

spicy brown mustard

1/4

cup

unfiltered apple juice

1/4

cup

extra virgin olive oil

Salt and pepper
Instructions
Cook freekeh according to package directions. Set aside to cool to room temperature, or place in the fridge to cool overnight.

In a large bowl, combine cooled freekeh, strawberries, pistachios, and goat cheese.

In a small bowl, whisk together the brown mustard and apple juice. Stream in the olive oil while whisking. Season with salt and pepper to taste, then add to the salad. Toss to combine. Serve immediately or cover and store in the refrigerator for 2-3 days.
Notes
For a gluten-free salad, replace the freekeh with 3 cups (cooked) your favorite gluten-free alternative, such as brown rice or quinoa.
Approximately 5 cups of salad
As a Whole Grain Ambassador, I received product to help promote Whole Grain Sampling Day and to facilitate this post and giveaway. All opinions are my own!