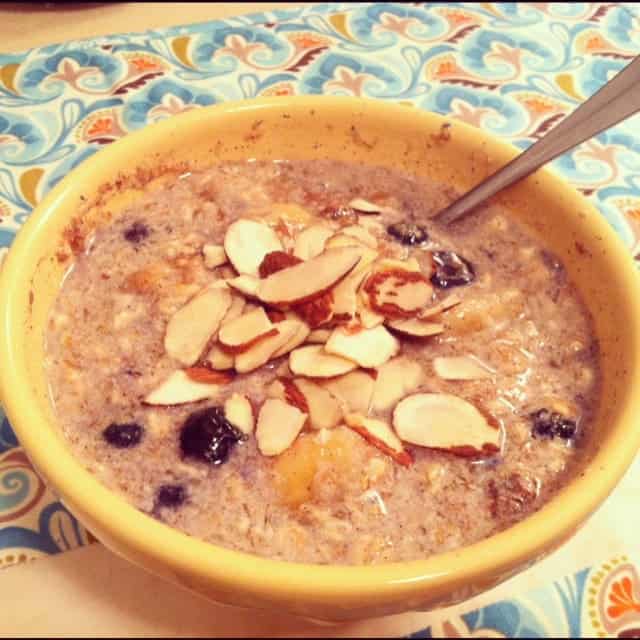 Good morning, friends!
I know, I know, I'm usually so good at getting these posts up first thing on Monday morning. But this is real life, and because real life is messy, sometimes things come up that throw off our schedules.
So today we're rolling with the punches. It'll be fun!
Actually, truth be told (because this is real life and real life is messy), there's a chance it could be stressful. Or weird. Or just plain awkward. But we'll probably learn something in the long run, and that will make us better people, so roll with the punches is what we're going to do.
Whoo!
So. Breakfast. I have to tell you upfront that I am not normally a fan of most overnight oats recipes, because most of them utilize yogurt. And as much as I am ok with cooking with yogurt or using it in savory applications, I have a really hard time being ok with it by itself or in sweet applications.
I know, I'm weird. Don't judge me.
Here's the point: This recipe does not use yogurt! Instead, it uses ground flax, which I totally love. Have I told you before how good flaxseed is for you? It's pretty much awesome. And to top it off, this stuff is crazy easy to make. Seriously. Don't believe me? Watch: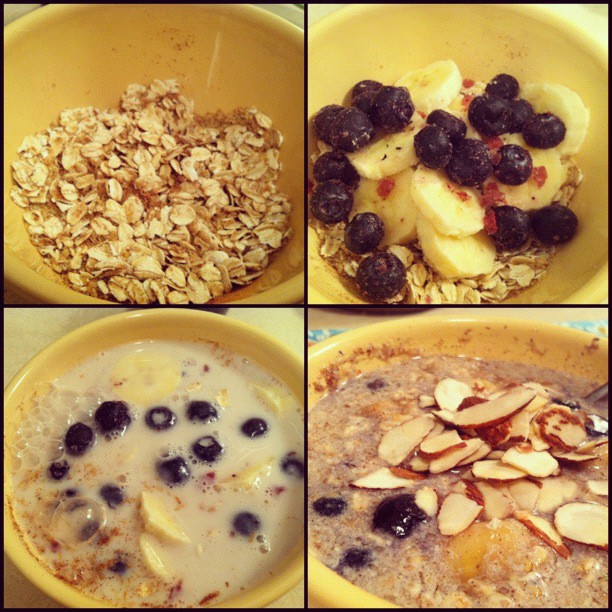 Toss together your oatmeal, ground flax and cinnamon. Add your fruit. Pour some milk and vanilla over it. Refrigerate overnight and when you get up in the morning…BAM! Instant breakfast. Drizzle with a little agave or honey, add some nuts for a little crunch, microwave if you desire and you're good to go.
I told you it couldn't be easier. I wouldn't lie to you.
PS: Pack this up in a bowl with a lid and you could totally take it to work with you. That's a breakfast on the go that you won't regret later.

Adapted from Inspired Edibles
Ingredients
⅓ cup rolled oats
3 tablespoons ground flaxseed
½ teaspoon cinnamon
½ of a banana, sliced
Small handful of blueberries (fresh or frozen)
1 cup lowfat milk or milk substitute of your choice (almond milk, soy milk)
1 teaspoon vanilla
Agave/honey
Toasted almonds or pecans
Instructions
In a bowl, combine oats, flaxseed and cinnamon. Add fruit. Stir together milk and vanilla; add to the oat mixture. Cover and refrigerate overnight.
In the morning, give your oats a stir and drizzle as desired with agave or honey, and top with your favorite nuts, such as pecans or almonds. I like mine heated in the microwave for two minutes, but you could also eat these cold.
Notes
Don't feel like you have to stick to the blueberry and banana combo. Feel free to substitute your favorite fresh/frozen or dried fruits, and swap out the almonds or pecans for your favorite nuts or seeds. Make it your own!