Perfect no-chill sugar cookies maintain their shape and don't require any chilling time. Plus, use any flavor extract to flavor your cookies however you like!
I'm an impatient person. I won't even pretend otherwise.
I grew up hearing my mother constantly tell me, "Patience is a virtue." I usually mentally responded with something along the lines of, "Well, being prompt is also a virtue."
It's really no surprise that my restaurant manager from my college server days loved me for my "great sense of urgency." My current boss finds this same sense of urgency to be quite an asset, as well.
I suppose you could say that I have found my people.
So, when I want cookies…I don't really want to have to wait for them. The Whirling Dervish over here wants to be able to make them, throw them in the oven, and have cookies in front of my face 12 minutes later.
Waiting for dough to chill? So not my thing.
As such, these No-Chill Sugar Cookies are my new go-to cut-out sugar cookies.
NO-CHILL SUGAR COOKIE CUTOUT RECIPE
No-Chill Sugar Cookies are a perfect cut-out cookie recipe. They are not a chewy cookie, but are ideal for icing.
The dough for No-Chill Sugar Cookies has been fiddled and tweaked until it holds it shape quite excellently without any chilling. This means that I can be frosting my sugar cookie cut-outs in no time.
I have even used my No-Chill Sugar Cookie cutout recipe as a base for Chai Sugar Cookies, Stained Glass Cookies and Raspberry Linzer Cookies.
Plus, you can use any flavor extract you like in your No-Chill Sugar Cookies, allowing you to customize them to the season.
Fall? Try almond extract. Spring? Give lemon a try! Winter? Peppermint should do the trick.
No-Chill Sugar Cookies are indeed a thing of beauty.
SUGAR COOKIE ICING
I am not a great sugar cookie artist, so royal icing is not exactly my thing.
A simple buttercream icing, though? I'm all about that.
The super simple buttercream icing for No-Chill Sugar Cookies uses the same flavor extract as the cookies for an extra hit of flavor.
While this icing does not harden like a royal icing, it will crust up, allowing you to gently stack the cookies. I do recommend separating layers with parchment or waxed paper, though, to keep things extra clean
BE A GOOD COOKIE
A few loyal readers may remember last year's Pumpkin Cinnamon Chip Cookies and how I proclaimed my eternal love for cinnamon chips and also introduced you to a special partnership between OXO and Cookies for Kids' Cancer.
I am supporting the partnership again this year with these No-Chill Sugar Cookies. This fall, while you are out and about, keep your eyes peeled for the following symbol on a number of specially-marked OXO products: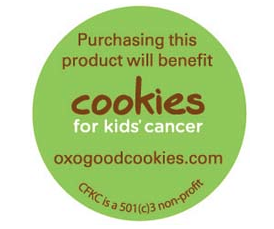 For every stickered item sold, OXO will donate 25 cents in support of pediatric cancer research as a part of its $100,000 pledge to C4CK*.
So now when you purchase helpful items such as this 3-Piece Cookie Cutter Set or this Bent Icing Knife, you can know that you are not just supporting your cookie habit, you are also supporting a great cause.
Support OXO and Cookies for Kids' Cancer on social media:
Twitter: @OXO / @Cookies4Kids
Instagram: @OXO / @Cookies4Kids
Facebook: facebook.com/OXO / facebook.com/CookiesForKidsCancer
Pinterest: pinterest.com/OXO / pinterest.com/Cookies4Kids
*In 2014, OXO will donate up to $100,000 to Cookies for Kids' Cancer through specially marked baking tools, bake sale matches and other fundraising efforts. Cookies for Kids' Cancer is a recognized 501c(3) public charity duly incorporated under the laws of the state of New Jersey. Your donations are tax deductible to the fullest extent allowable by law. 100% of proceeds raised by Cookies for Kids' Cancer fund pediatric cancer research.
During the month of September, OXO will donate $100 to C4KC for each blog post dedicated to this campaign. I received samples of specially-marked products as part of the campaign, but received no other compensation for this post. All opinions are my own and simply reflect my desire to support a worthy cause!
THIS POST MAY CONTAIN AFFILIATE LINKS. WE ARE A PARTICIPANT IN THE AMAZON SERVICES LLC ASSOCIATES PROGRAM, AN AFFILIATE ADVERTISING PROGRAM DESIGNED TO PROVIDE A MEANS FOR US TO EARN FEES BY LINKING TO AMAZON.COM AND AFFILIATED SITES.