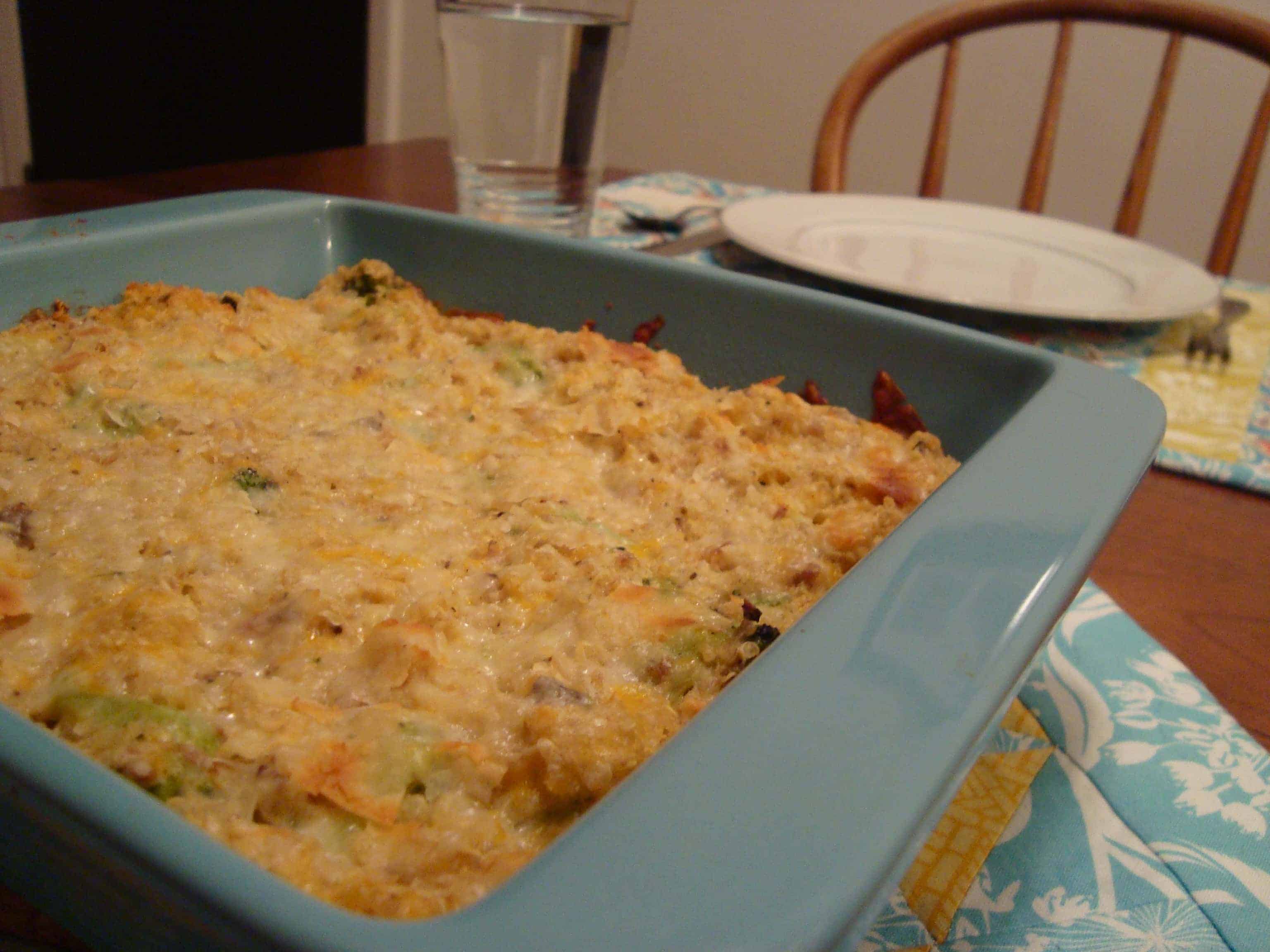 Well friends, I am very sorry to say it, but last week we started heading into cold-weather season here in Chicago. After several days of rainy nastiness (during which I inadvertently spilled an entire bottle of water on the passenger seat of my car; that is certainly not going to dry any time soon), cold windiness decided to make a visit, too.
I guess it just goes along with the Christmas music and holiday decorations that have started to sneak their way into bombard Targets and department stores everywhere. And if you're wondering, I'm still holding out on both of those things – I do believe in celebrating Thanksgiving before getting to Christmas, after all!
So what was my first move when I started to feel the cool nip in the air last week? Well, it wasn't turning the heat on in my apartment – thanks to living on the 6th floor, I seem to be getting everyone else's heat and am still sleeping with a fan running at night. Go figure.
Casserole. That was my first move.
After a full day of work, a quick run to Target and working out, I can't tell you how nice it was to know that I had a casserole waiting for me at home. I threw everything together in the morning, tucked it away in the refrigerator and just had to pop it in the oven when I got home.
And the best part? This casserole is a healthier twist on a classic favorite: Broccoli Rice Casserole, allow me to introduce you to the new kid in town, Broccoli QUINOA Casserole!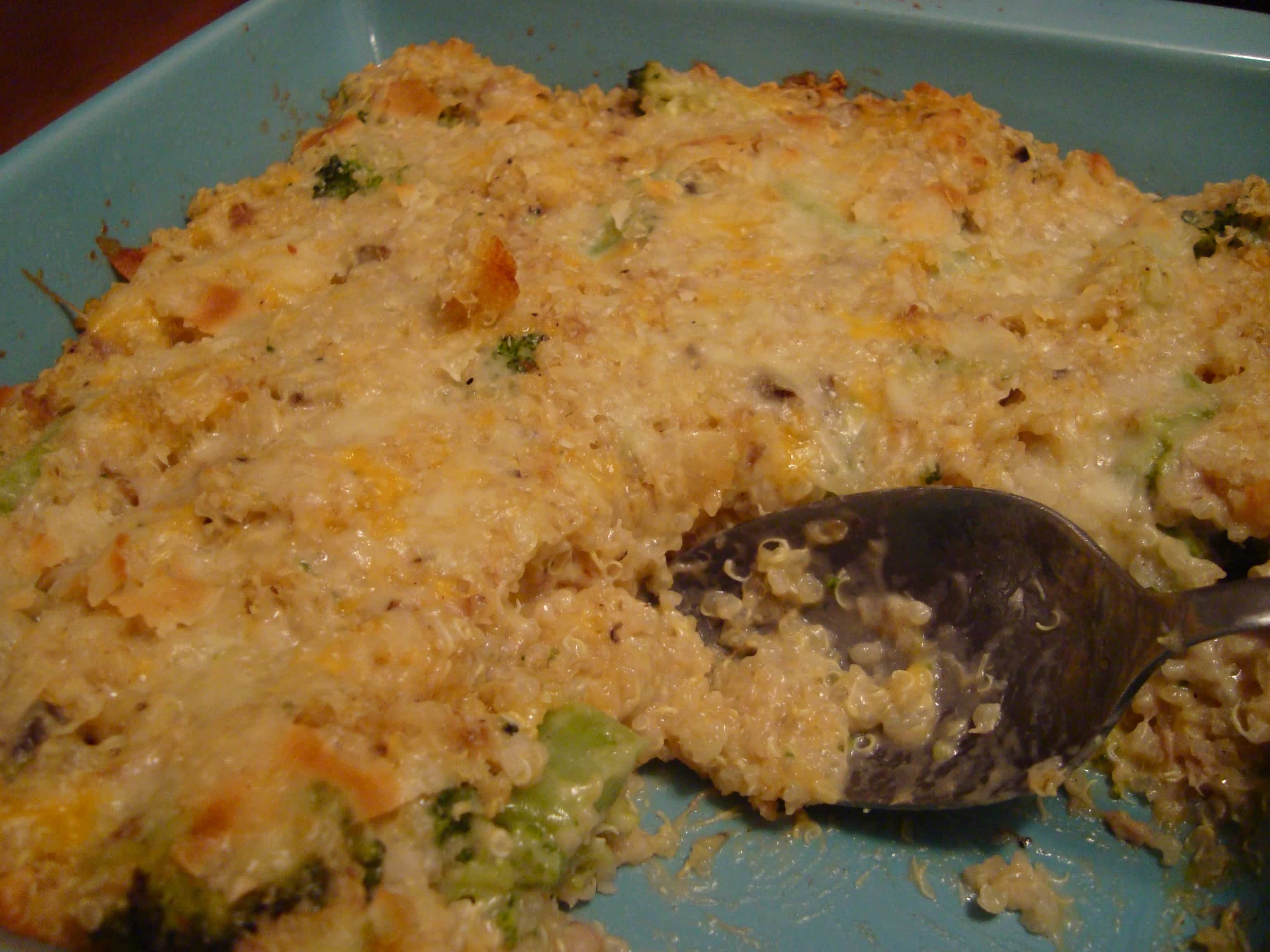 That's right, quinoa! Since quinoa has a lot of the same texture as rice, it is the perfect swap-out in this recipe. Plus, using quinoa lowers the starch-content significantly (thus cutting out the heaviness that can often occur in rice-based casseroles) and brings protein to the party.
I was looking for a one-pan dinner (I knew I would be way too lazy to fix anything else by dinner time), so I added some tuna to my casserole. Feel free to leave this out if you are anti-tuna or are looking to make this a vegetarian dish. I just happen to like tuna, so I went with it.
This casserole was comforting, just filling enough without weighing me down and fed me for a couple of days. Another win for me.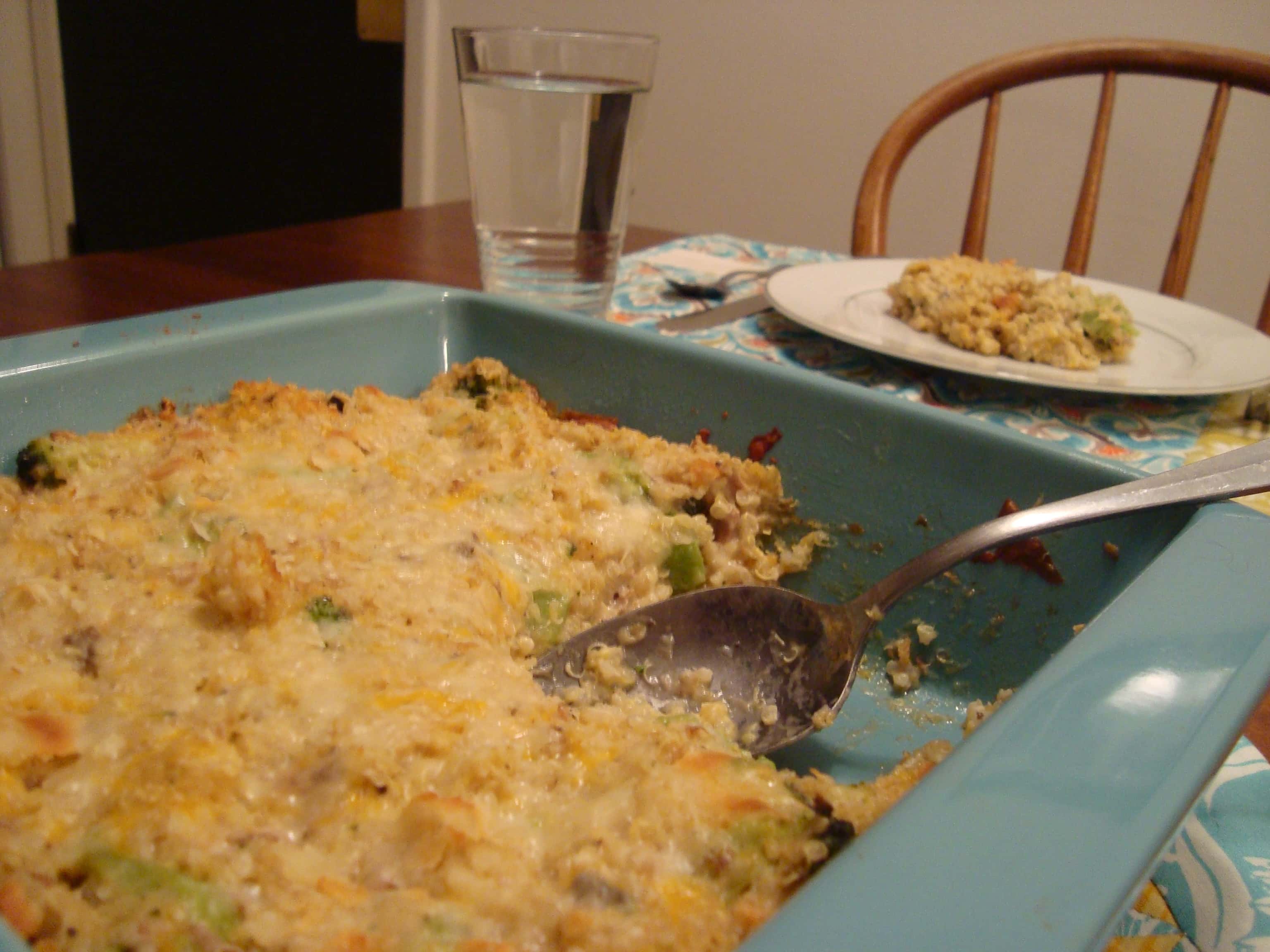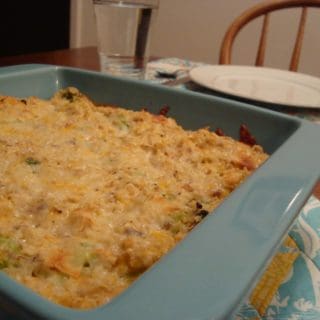 Ingredients
3/4

cup

uncooked quinoa

1 1/2

cups

water

1/4

teaspoon

salt

2

cups

fresh broccoli

cooked OR frozen broccoli, thawed

1

can tuna

drained (optional)

1

can

10 ounces condensed cream of mushroom soup

1/3

cup

Greek yogurt

2

tablespoons

milk

1 1/4

cups

shredded cheddar cheese

1/2

teaspoon

sugar

1/4

teaspoon

black pepper

1/4

teaspoon

paprika

Pinch

each of nutmeg and salt

Shredded Parmesan cheese
Instructions
Preheat oven to 350 degrees. Grease an 8x8 inch casserole dish with cooking spray.

Rinse quinoa. Place in a pot with water and 1/4 teaspoon of salt. Bring to a boil; cover, reduce heat medium-low and simmer for 18-20 minutes, or until water is gone. Fluff with a fork and allow to cool slightly. (Alternatively, use 1 1/2 cups leftover cooked quinoa.)

In a large bowl, combine soup, yogurt, milk, cheese, sugar, paprika, pepper and nutmeg. Add cooked quinoa, broccoli and tuna. Check for seasoning - I found mine needed a pinch of salt and a wee bit more pepper! Spoon into prepared casserole dish and sprinkle with a few tablespoons of Parmesan cheese. Bake for 35-40 minutes, or until the top is bubbly and golden.