Grain-free, paleo strawberry crumble uses almond flour and the natural sweetness of summer strawberries for a dessert that is healthful and easy to make!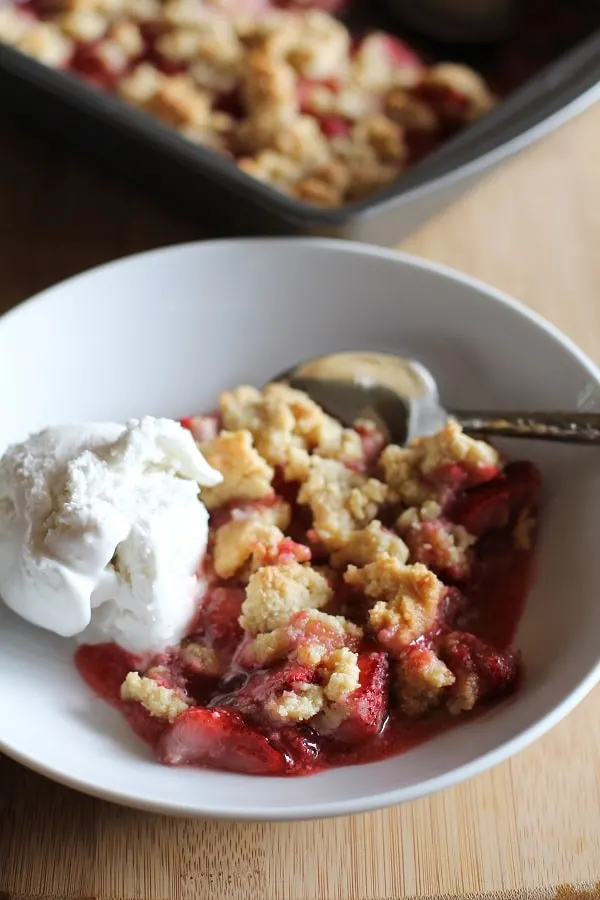 Happy Friday, my sweet readers! I have a treat for you today!

Remember our friend Julia? Of course you do – we were just oo-ing and ah-ing over her new cookbook last week with this Massaged Kale Salad with Creamy Blueberry Vinaigrette!
Well, she knows that things have been a little loco over here for me and offered to share a super fantabulous recipe with y'all today – how could I turn down that offer?? So, without further adieu…here she is with her Paleo Strawberry Crumble!
________________
Well hello there, EYHOites! Julia here from The Roasted Root – reporting back to say hello!
You may remember me from my guest posts on Gluten-free Cranberry Orange Muffins, and Apple Cinnamon Crock Pot Oatmeal. Our gal Stephie has also promoted both of my cookbooks right here, and has been a guest on my blog as well, so there has been a healthy amount of cross-pollination between Stephie Cooks and TRR.
True story: although we're stuck like glue and are just the closest of friends, Stephie and I have actually never met in real life. I'm here in Lake Tahoe and she's over yonder in Chicago, but we've been talking about meeting in the flesh for a couple of years.
Well…(cue drum roll) that's finally going to happen!
At the end of September, I'm heading to Illinois to spend a few days with the lovely Stephie, her darling beau, and her amazing parents. I'm just giddy with excitement and I can't wait to chit chat with my dear friend in person!
(Interjection from Stephie: I CAN'T WAITTTT!)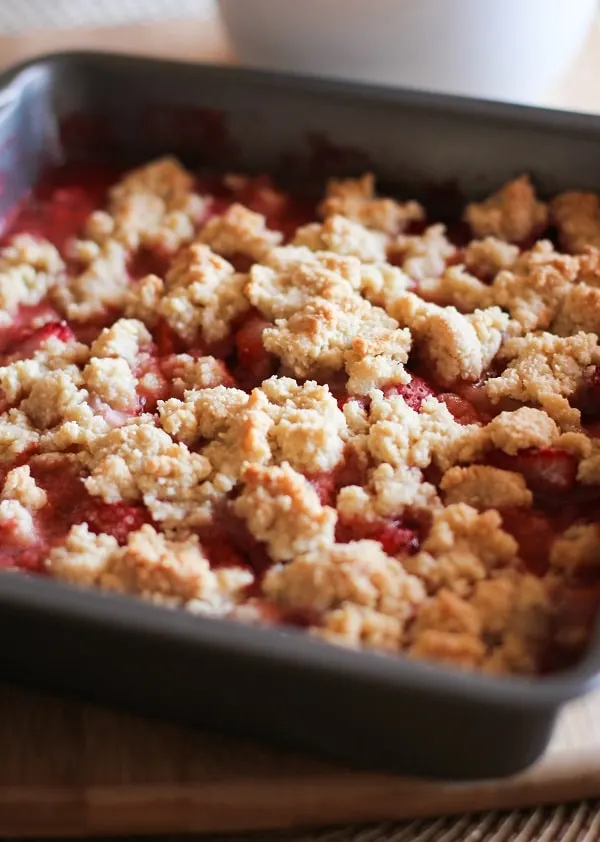 Stephie and I can both put away from serious dessert, which is why I thought I'd share a treat recipe with you today.
I find summer fruit always makes amazing baked goods, so I whipped up a grain-free, naturally sweetened, paleo strawberry crumble. This is officially the crumble that needs no occasion because the recipe is so easy to make, and it's actually quite healthful.
It's the every day, all day, crumble on repeat crumble. The crumble for breakfast crumble. The crumble like no one's watching crumble. The crumble because it's my party and I'll crumble if I want to crumble.
A couple of the ingredients for this recipe may seem unfamiliar or strange, but I assure you, they are easy to find in the natural food section of most grocery stores.
I used tapioca starch to thicken the strawberry filling, but you can replace it with corn starch. The crumble topping is made almost entirely of almond flour, which gives it a wonderful flavor (and protein!). A small amount of pure maple syrup is used to naturally sweeten this tasty treat.
And because we have decided Paleo Strawberry Crumble calories don't count, we serve it up with a hefty scoop (or twelve) of ice cream.
If you're looking to serve more than 3 people, I would recommend doubling the recipe, because this dessert is so easy to dole out in large portions. Plus, crumbles make scrumptious leftovers, so when in doubt: double up.
Many thanks to Stephie for having me back. It's been a pleasure as always. Until next time, SC-ites, crumble like you mean it!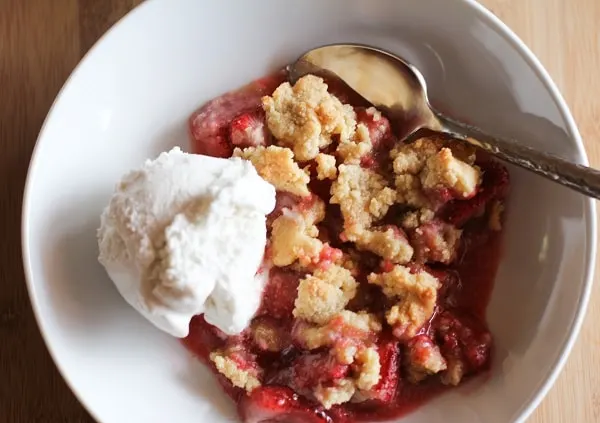 Recipe inspired by Peach Crisp from Elana's Pantry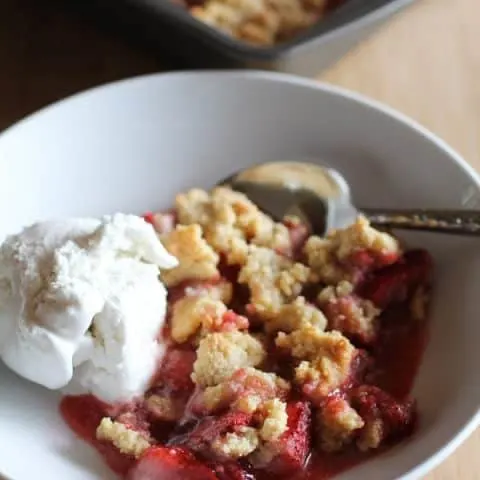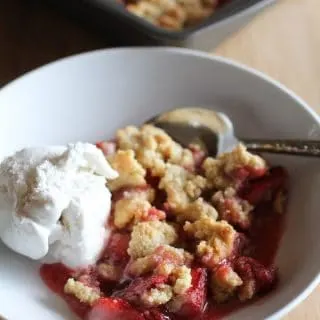 Paleo Strawberry Crumble
Grain-free strawberry crumble uses almond flour and the natural sweetness of summer strawberries for a dessert that is healthful and easy to make!
Print
Pin
Rate
Ingredients
4

cups

strawberries

halved

2

tablespoons

tapioca starch

2

teaspoons

vanilla extract

1

tablespoon

fresh lemon juice

1

tablespoon

pure maple syrup
For the crumble topping
1

cup

almond meal/flour

½

teaspoon

kosher salt

3

tablespoons

coconut oil or grapeseed oil

3

tablespoons

pure maple syrup
Instructions
Preheat the oven to 350 degrees F.

In a mixing bowl, toss together the strawberries, tapioca starch, vanilla extract, lemon juice, and maple syrup. Transfer to an 8" x 8" baking pan.

Mix together the ingredients for the toping in a mixing bowl. Evenly spread it over the strawberries and bake in the oven for 30 minutes, until the strawberries are juicy and bubbly and the topping is golden-brown.

Let stand for 10 minutes before serving with ice cream.
Nutrition
Calories:
366
kcal
|
Carbohydrates:
35
g
|
Protein:
7
g
|
Fat:
25
g
|
Saturated Fat:
10
g
|
Polyunsaturated Fat:
0.4
g
|
Monounsaturated Fat:
1
g
|
Sodium:
294
mg
|
Potassium:
273
mg
|
Fiber:
6
g
|
Sugar:
20
g
|
Vitamin A:
18
IU
|
Vitamin C:
86
mg
|
Calcium:
104
mg
|
Iron:
2
mg